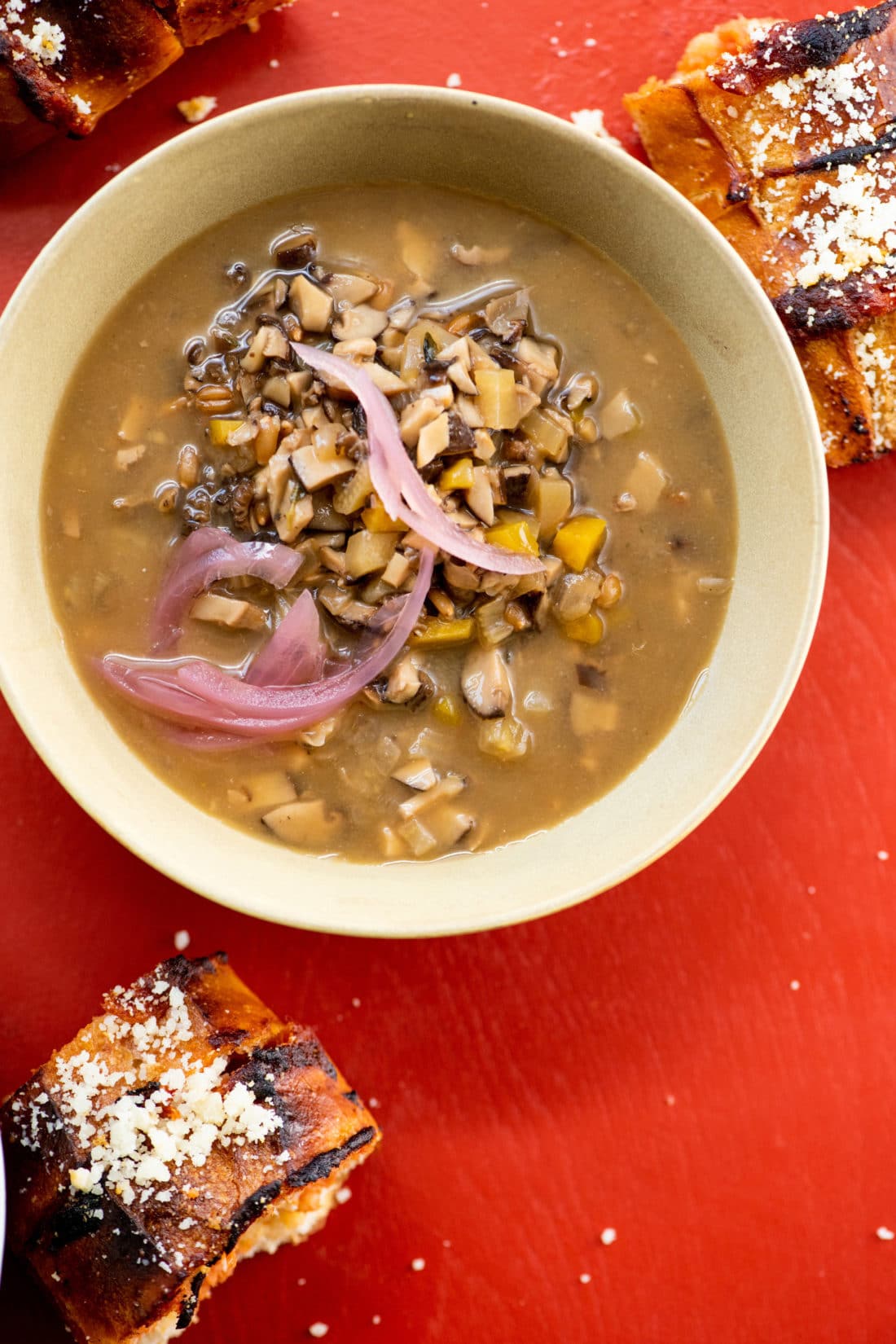 My family gets very excited by mushroom barley soup. I make it several times a winter, but the kick off of Mushroom Barley Soup Season is Thanksgiving day afternoon. This is always the first moment this thick hearty soup makes an appearance on the table.
It's actually my mother's table, and the soup is made by my sister. In a very Groundhog's Day situation (the movie, not the actual quasi-holiday) every year we have a three-way discussion (mom, my sister Lizzie, and me) just prior to Thanksgiving about how we are going to handle lunch on Thanksgiving Day, when the large early-ish dinner is on the horizon, and the kitchen needs to be clear of people and additional work.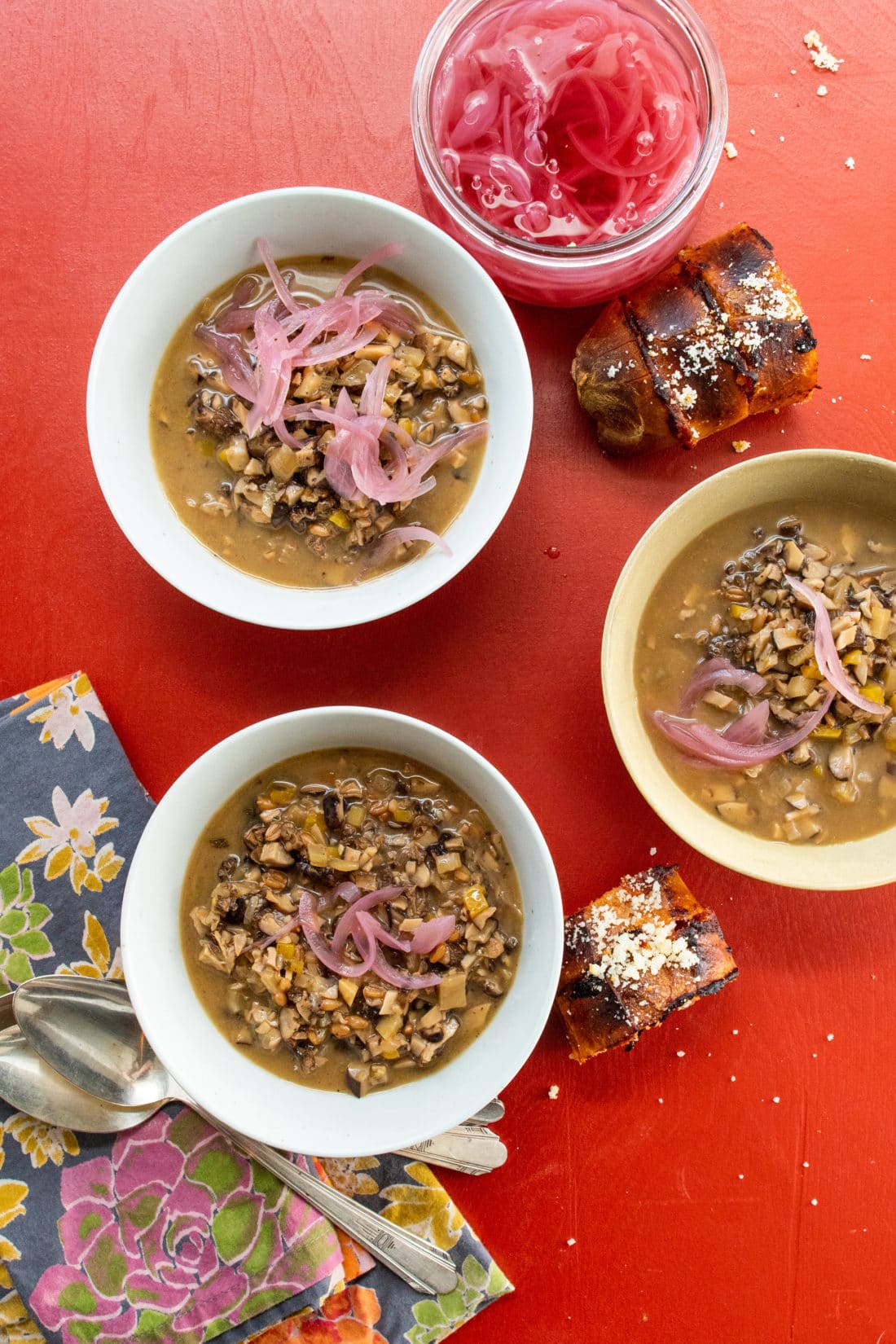 The conversation goes something (very much) like this:
Mom: "Well, what time are all the Freilichs coming? And your friends? And will they expect lunch?"
(The Freilichs are my in laws.)
Me: "They will come whe we tell them to come, and they will have eaten or not depending on when they get here, and what we tell them to do in terms of eating."
Mom: "Well, I don't know that we need to have a big lunch for everyone. I mean we're going to eat at 5:00. And there's going to be a lot to do in the kitchen."
(see: The Thanksgiving Timeline, for Reals)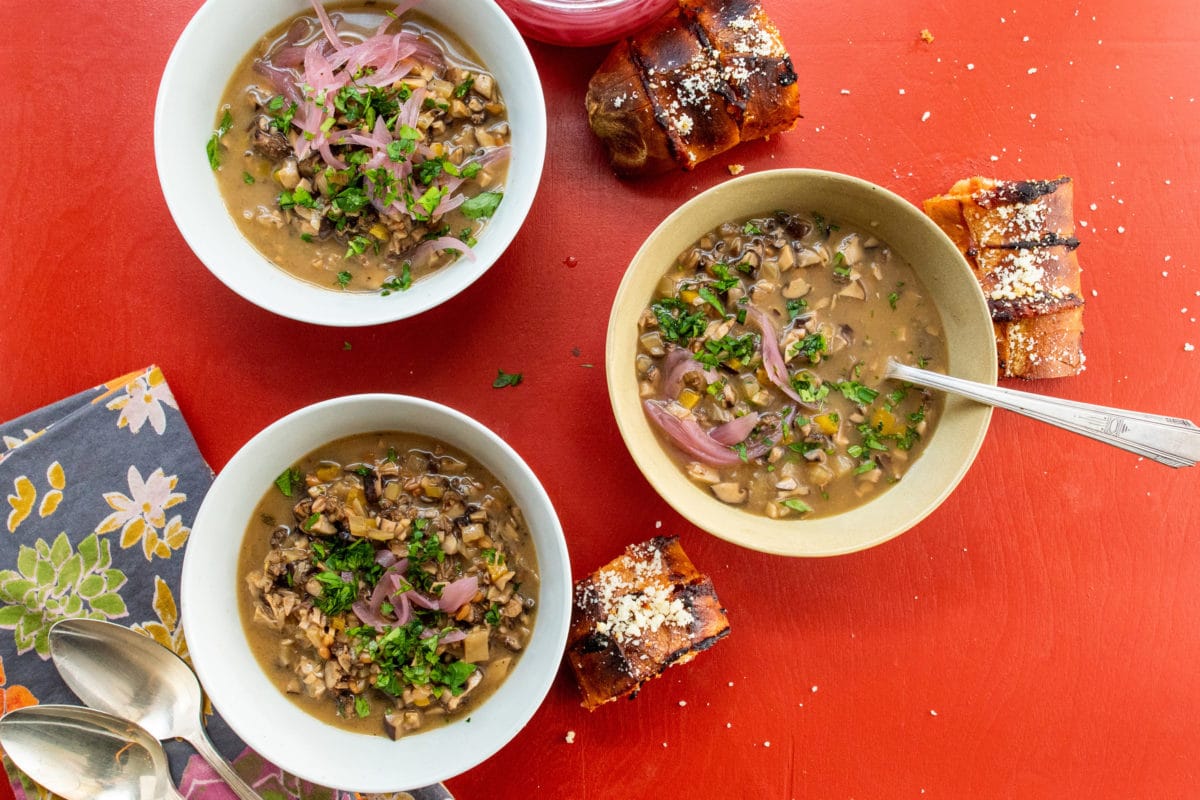 Me: "Great, I'll tell them to grab something before they come, and that they are welcome to hang out in the afternoon, but that we'll be cooking, and dinner will be at 5:00."
Mom: "Well, then we'll have to put out appetizers. I don't feel like making a lot appetizers."
Me: "Nope, we don't. Some cheeses and crudites are just fine."
Mom: "Well, we're going to want some lunch."
Me: "Sure, you might want lunch."
Mom: "Well, then it would seem weird if we were eating lunch and they came and we were still having lunch."
Me: "Yup, that would be a little awkward, but whatever is fine."
Mom: "*sigh* – let's just invite everyone to lunch. But let's make it simple. Soup and salad and cheese, ok?"
Me: "Yup, sounds good."
(Now, I am making myself sound calmer and more rational than I am every year. And I am also shortening this conversation by about 500%. But I think this is enough for you lovely people to get the gist.)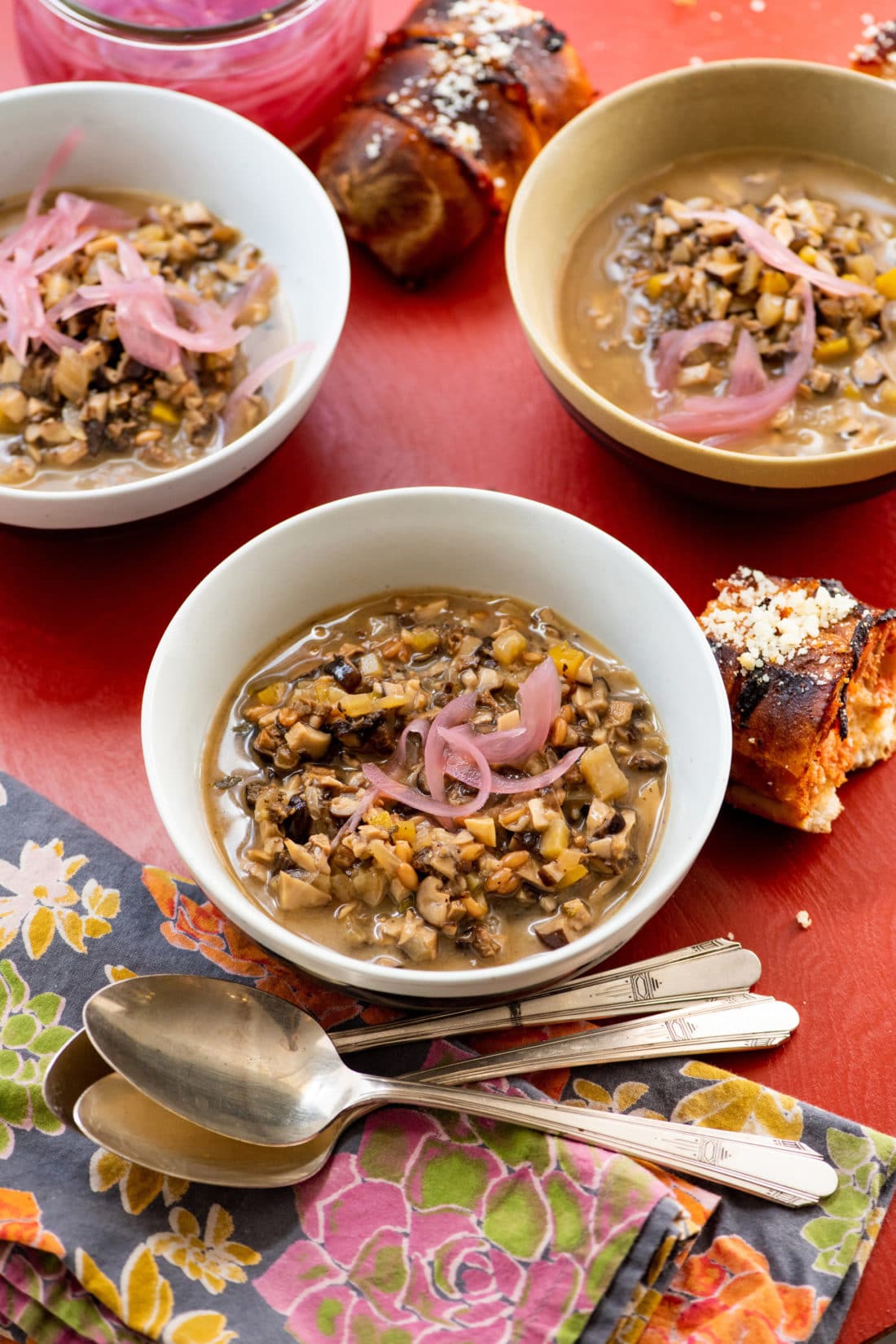 So, some years it's just the core cooking group for lunch (mom, me and Lizzie plus our immediate families — oh yes, my dad too, when he was alive) and some years there are early-bird friends and family present, but there are two main consistencies:
The above conversation needs to be had in its entirety, and if you try and skip ahead to the end, my mother will start over.
My sister makes very good Mushroom Barley Soup.
(Boy, I feel badly for anyone who just wanted a f%#king recipe).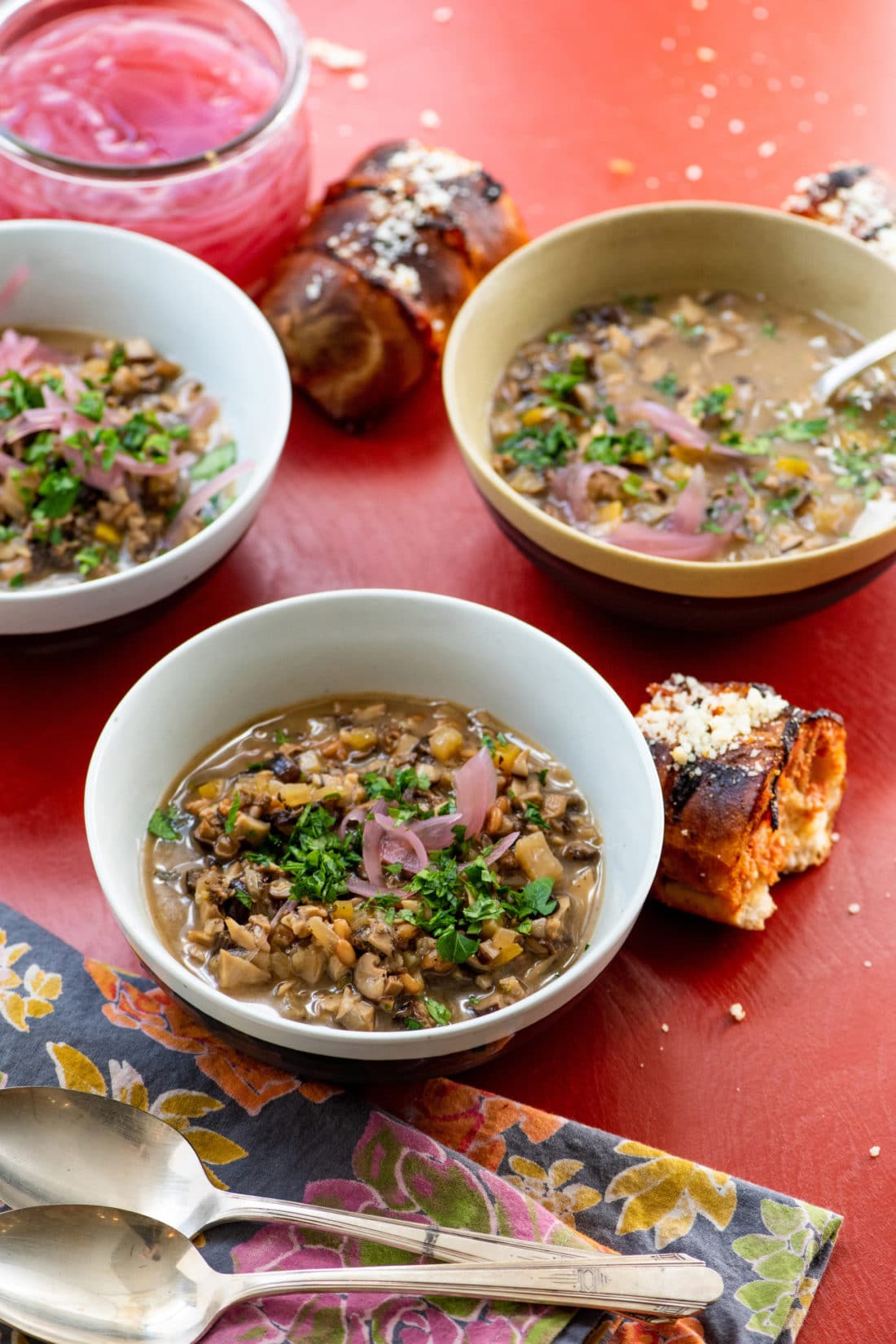 The lunch attendee list changes, the types of cheese change, occasionally a quiche appears, but there is always Mushroom Barley Soup for lunch. Which is delicious.
Later in the fall/winter, when I was all ready to go with my own first pot of MBS, I realized I had no barley. Sad face. But not so much, because I had spelt, which is kind of like barley, sweet and chewy and nutty, but firmer and with more chew.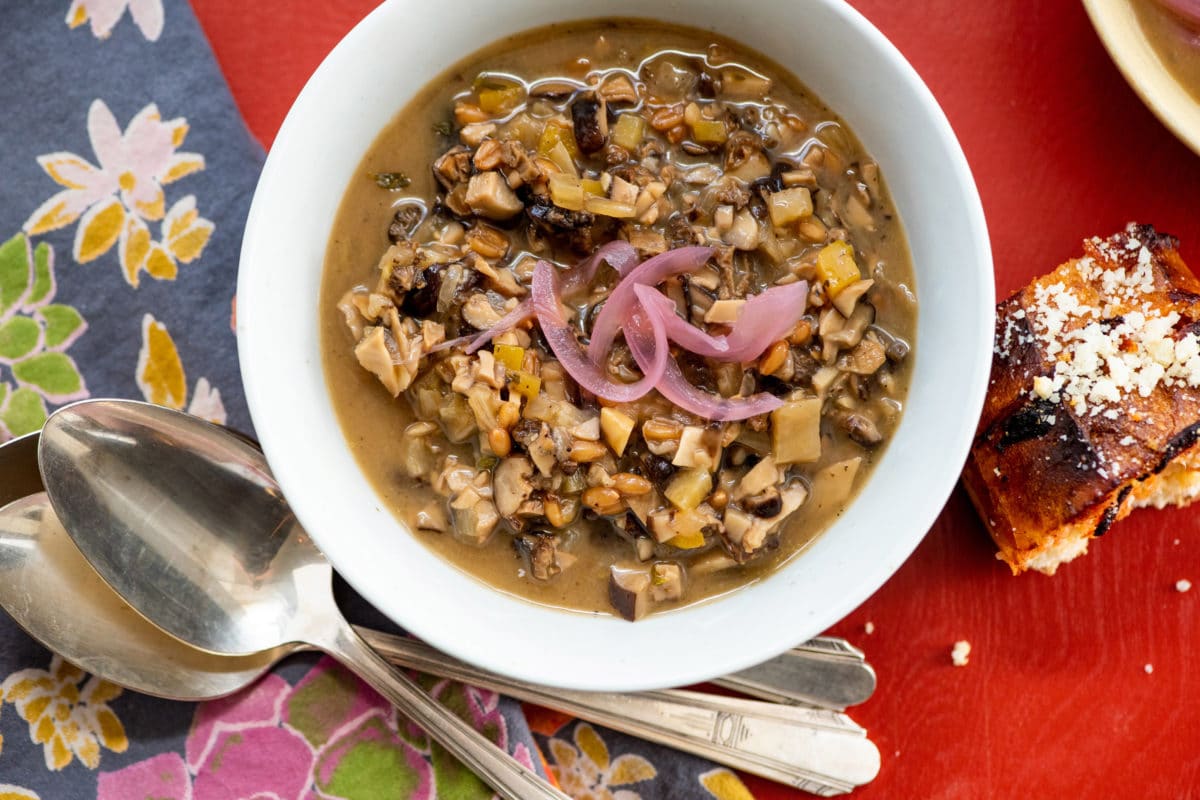 It takes a little longer to cook than barley, so check your package directions – it will probably take at least an hour to get nicely soft (but still with a lot of texture), possibly 1 1/2 hours if you like it more tender. The rest of the soup can cook along with the spelt til the spelt is done with no repercussions.
Move over barley, there's a new grain in town. Thick and satisfying and perfect on a cold winter day.

Tweet This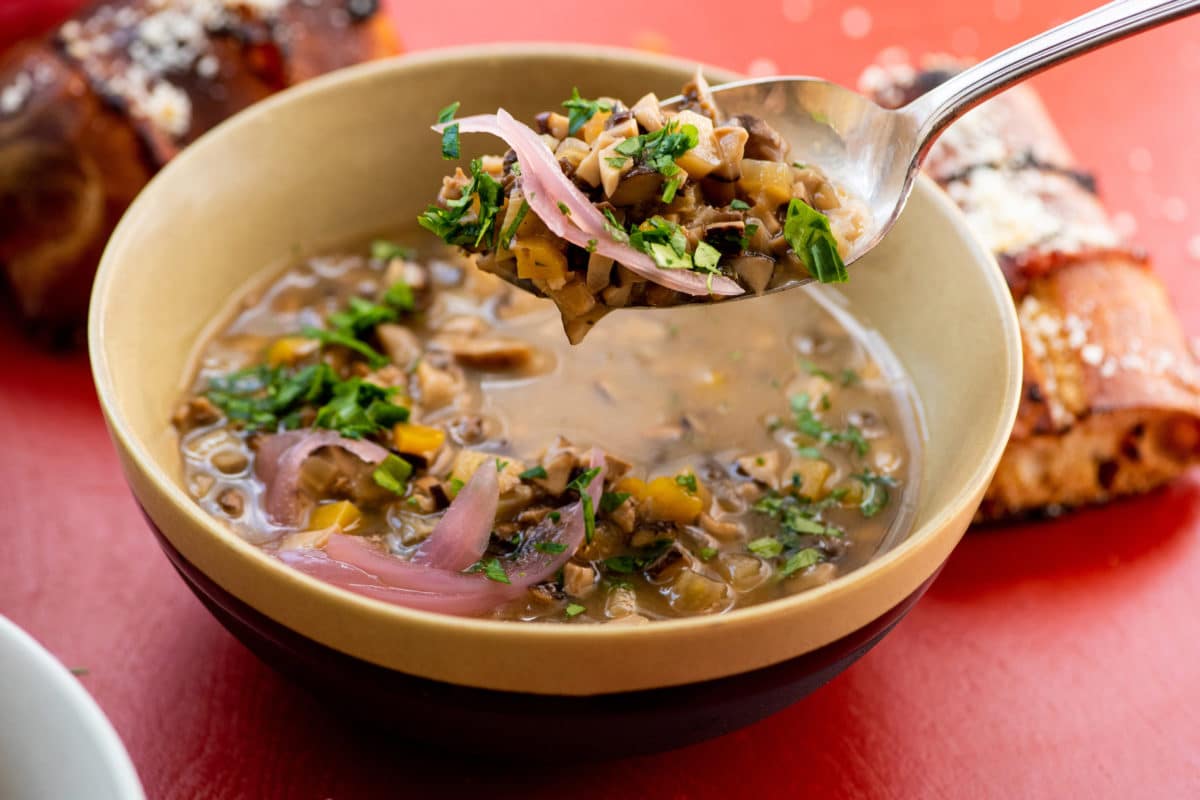 The little bit of flour makes the soup a bit thicker, which in turn makes the whole thing feel a little bit richer and like a meal, to my thinking. Use whatever mushrooms you like, from the most basic to the most exotic, depending on what budget you have, and what's available.
And make a big pot, invite the inlaws, what the hell.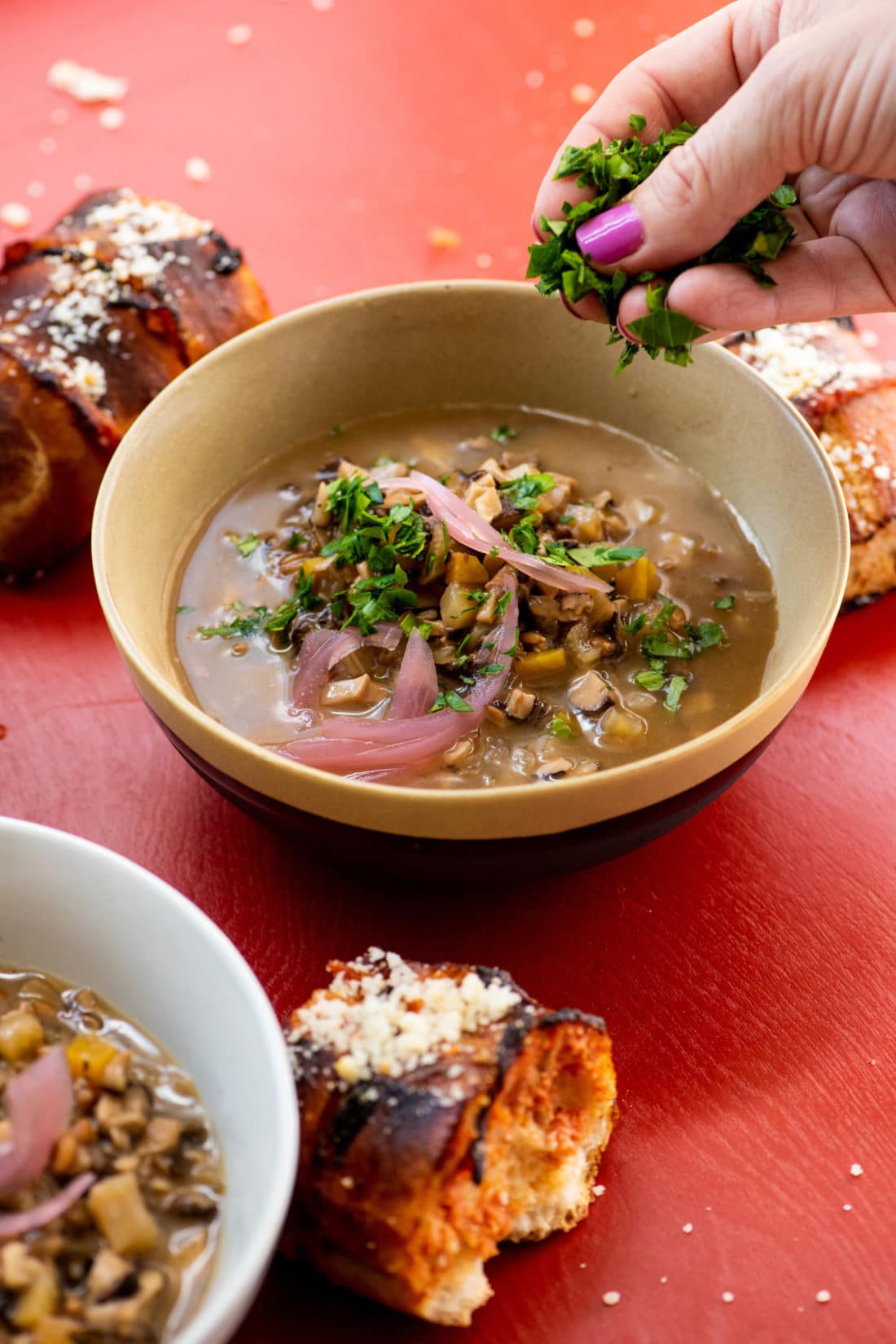 Still thinking about soup? Me, too.
Like this recipe? Pin it to your favorite board on Pinterest.

Pin This
Mushroom Spelt Soup
Move over barley, there's a new grain in town.
Total Time:
1
hour
50
minutes
Ingredients
1

ounce

dried mushrooms

such as shiitake or porcini

3

tablespoons

unsalted butter

1 ½

pounds

fresh mushrooms

stemmed and wiped clean

1

cup

chopped onion

1

cup

chopped fennel

½

cup

chopped carrots

2

garlic cloves

minced

1

teaspoon

dried thyme

or 2 teaspoons fresh thyme leaves

Kosher or coarse salt and freshly ground black pepper

to taste

2

tablespoons

all-purpose flour

8

cups

less-sodium chicken broth

plus more as needed

¾

cup

dried spelt

Minced parsley

to serve

Pickled onions

to serve, optional
Directions
Place the dried mushrooms in a bowl and cover with 2 cups of warm water. Let the mushrooms soak at room temperature for 30 minutes to soften.

Meanwhile, chop the fresh mushrooms.

Melt the butter in a medium-sized saucepan over medium heat. Add the onions, fennel, carrots and garlic. Season with salt and pepper. Sauté, stirring occasionally, until the vegetables are pretty soft, and very lightly browned, about 5 minutes. Add the thyme and fresh chopped mushrooms and cook, stirring frequently, until they release their liquid, and then the liquid evaporates and the mushrooms caramelize a bit. Stir in the flour and cook, stirring very frequently, for 3 minutes, until the flour lightly browns and coats the vegetables.

Add the chicken broth and bay leaves and increase the heat to high. When the soup is simmering, drain the soaking mushrooms, reserving the liquid. Strain the liquid into the soup through a fine mesh strainer (if you want to go the extra mile and line the strainer with cheesecloth to make sure you remove every bit of possible dirt, go for it, but it's not necessary unless your liquid looks very dirty). Rinse the soaked mushrooms and cut off and discard any parts that are hard or gritty. Chop the mushrooms coarsely and add them to the soup with the spelt. Continue to simmer, uncovered, until the spelt is tender, 60 to 90 minutes, stirring from time to time. Add more broth or water as needed to keep the consistency you want. Check the seasonings towards the end and add salt and pepper if needed.


Remove and toss the bay leaves. Ladle into bowls, top with parsley and pickled onions (if using) and serve hot.
Nutrition Information
Calories:
123.26
kcal
|
Carbohydrates:
17.94
g
|
Protein:
5.84
g
|
Fat:
4.37
g
|
Saturated Fat:
2.27
g
|
Cholesterol:
9.03
mg
|
Sodium:
757.79
mg
|
Potassium:
444.82
mg
|
Fiber:
3.2
g
|
Sugar:
3.57
g
|
Vitamin A:
1185.8
IU
|
Vitamin C:
4.32
mg
|
Calcium:
26.87
mg
|
Iron:
1.53
mg
The nutrition values are provided as an estimate. It is not intended as a substitute for the advice of a qualified healthcare professional.
Made this recipe? Post a photo of your delicious creation on Instagram with our hashtag #dinnersolved