This post may contain affiliate links. Please read our privacy policy.
Dried mushrooms are quite simply mushrooms that are dehydrated, or dried. As they dry, the flavor of dried mushrooms becomes concentrated and intense. When they are rehydrated, they have a meatier texture than fresh. Unlike fresh mushrooms, dried mushrooms do not need to be refrigerated, and they have a longer shelf life and richer flavor, making them an ideal pantry ingredient.
Try them in recipes like Parmesan Garlic Mushroom Chicken and Beef Brisket with Wild Mushrooms, or scroll down for a robust, satisfying recipe for Chicken, Shiitake, and Barley Soup!
There are many varieties of dried mushrooms; the most common are shiitakes, porcini, morels, and chanterelles. Sometimes dried mushrooms come in a mix. Shiitake and porcini tend to be more affordably priced, while morels and chanterelles are pricier.
What Do Dried Mushrooms Look Like?
There are many different kinds of dried mushrooms, but in general, dried mushrooms are brown and dark tan in color, with some varieties being a dark or light cream color. Often, dried mushrooms have their stem intact. They look like what they sound like!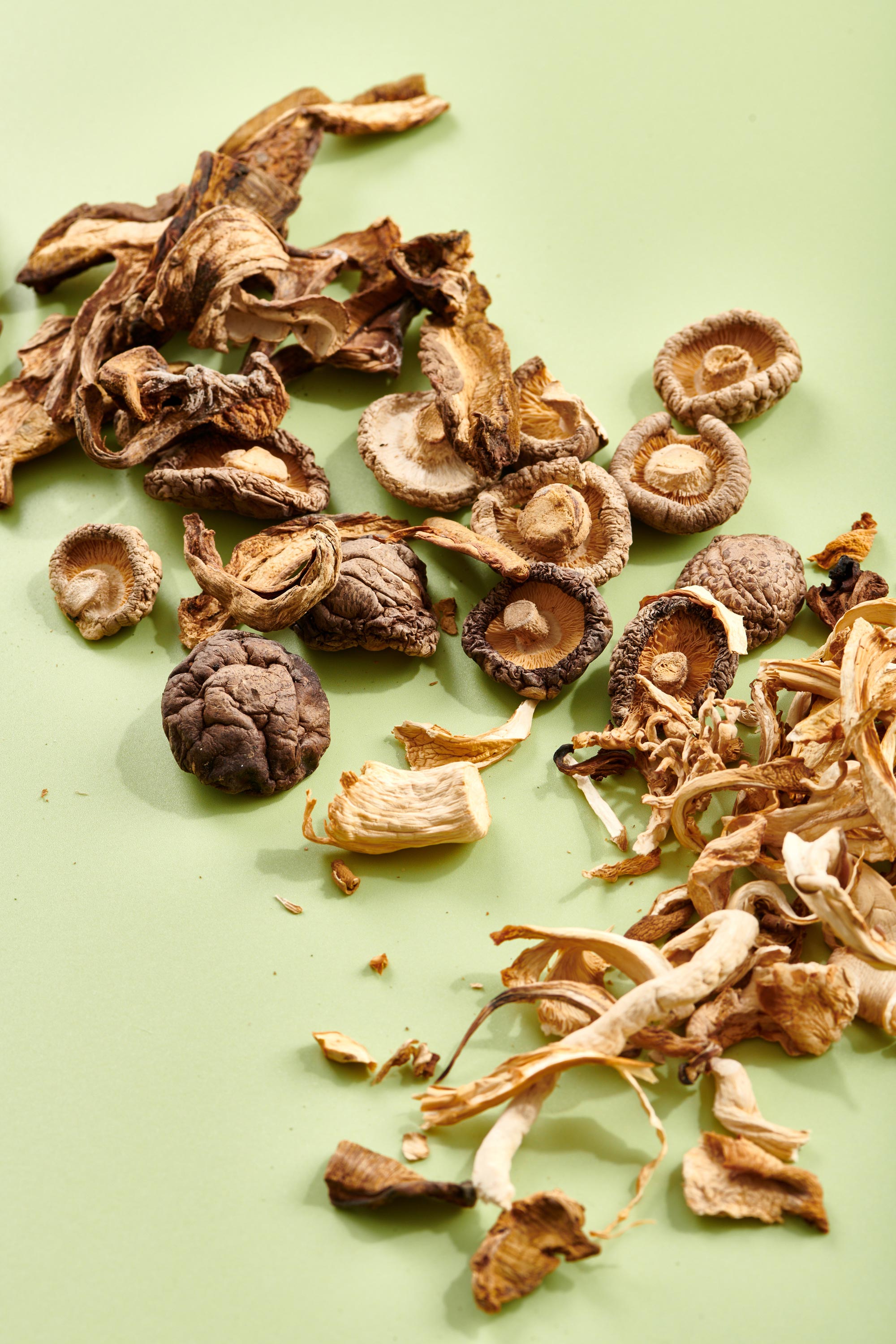 What Do Dried Mushrooms Taste Like?
You can mix and match as the flavors appeal to you, but as a guide: shiitake are the most versatile and have a meaty texture and smoky flavor, ideal for Asian dishes. Porcini are very earthy and common with Italian dishes. Chanterelles are fruitier in flavor and great in egg dishes and cream sauces. And morels, identifiable by their honeycombed caps, have a nutty and meaty taste ideal with spring ingredients (which is the season for fresh morels).
Where to Find Dried Mushrooms
Dried mushrooms are readily available in specialty and high-end markets, as well as in many regular grocery stores. They are usually packaged in clear containers or bags, and can often be found in the pasta and grain aisle.
How Do I Pick the Best Dried Mushrooms?
Look for full, intact mushrooms without many little bits and pieces. There should be no signs of moisture or mold, as that indicates they were not well preserved.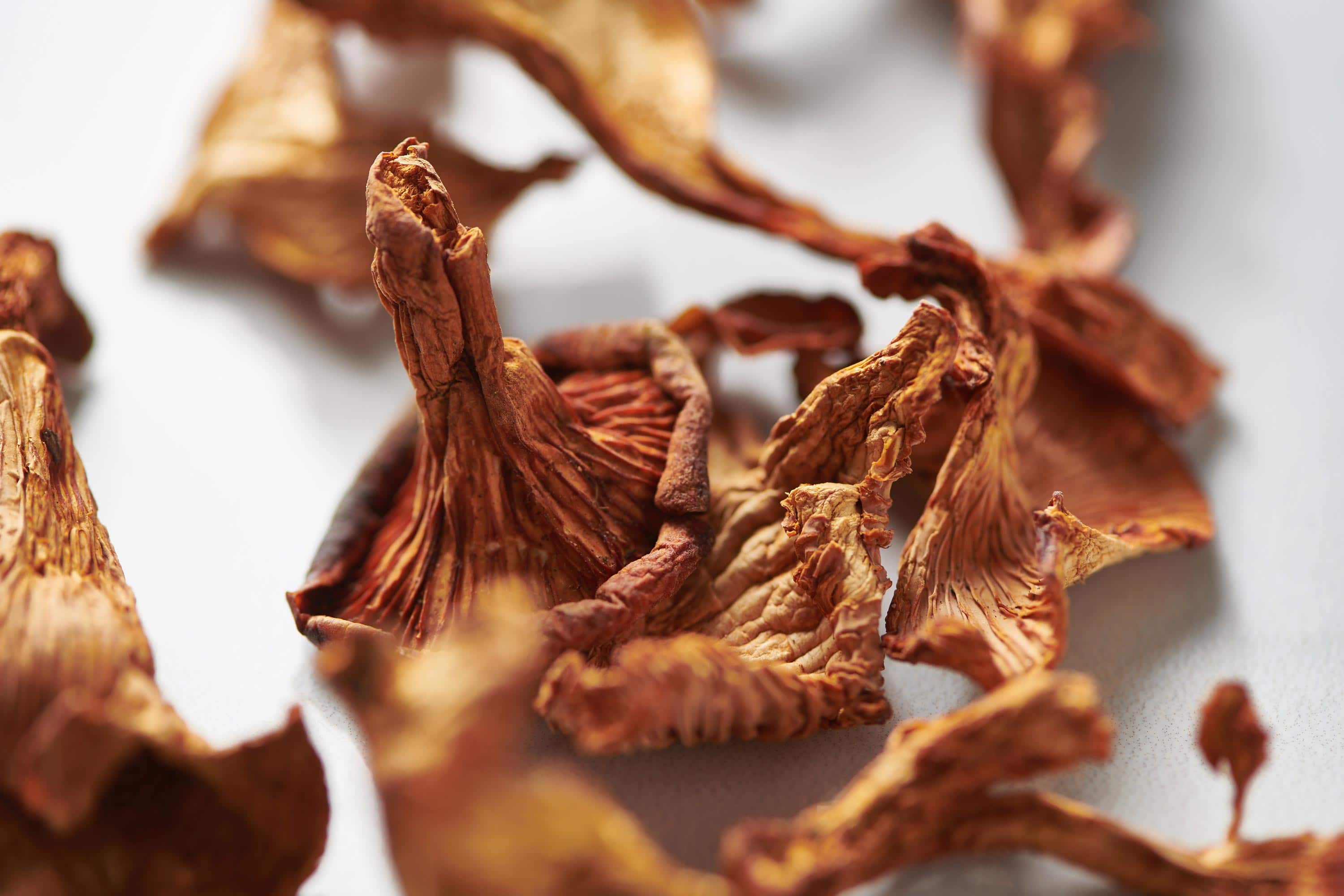 How to Prepare Dried Mushrooms
You have to soak dried mushrooms before cooking with them. This will not only plump them up but also remove any grit, making them ready to use. Then, depending on the recipe you are using them for, you can dice, chop, or slice them.
How to Cook With Dried Mushrooms
Always start by giving dried mushrooms a good soak in hot water to rehydrate and clean them. Simply place them in a bowl, fully submerged in boiling or very hot water, cover, and let sit for 20 to 30 minutes. The result will be plumped-up mushrooms.
You can strain and save the soaking liquid to use in the same recipe if it calls for liquid (easily substituted for broth or water for a more mushroomy flavor overall), or you can use it to make soups or sauces.
Rehydrated dried mushrooms can then be used in all ways fresh mushrooms can but add extra flavor and a more substantial texture. Like most fresh mushrooms, they should be cooked first.
Sauté the rehydrated mushrooms with fresh mushrooms and shallots and garlic for a great and simple side dish (add some of the soaking liquid, too, to deglaze the pan!). Or slice or chop them and cook them with rice, in pasta dishes, egg dishes, stir-fries, soups and stews, and sauces, and use them to make braised meats of all kinds.
Or use them to make Vegan Fish Sauce, which allows you to make all kinds of Southeast Asian dishes vegan!
How Do I Store Dried Mushrooms?
Dried mushrooms should be stored in an airtight container and in a cool, dry location. Dried mushrooms can last up to a year if stored this way. Placed in a freezer, dried mushrooms can last indefinitely. How do you know if they've lost their mushroom mojo? Give them a smell. If you smell nothing, they have lost their potency and should be thrown out. If at any point you see any mold or signs of decay, toss them.
Everything you need to know about how to buy, store, prepare, and cook dried mushrooms. Plus a recipe for Mushroom Shiitake Soup!

Tweet This
FAQs
When are dried mushrooms in season?
Since they are dried, dried mushrooms are in season year-round.
Are dried mushrooms nutritious?
Dried mushrooms have a nice amount of nutrients in them. Their main nutrient is a high level of Vitamin D, which helps keep bones, teeth, and muscles healthy. Surprisingly, they also have protein — around 10% protein by dry weight which is comparable to ingredients like beans.
Recipes With Dried Mushrooms
---
Chicken, Barley, and Mushroom Soup
This delicious soup is almost like a stew; it's rich (but quite healthy!) and so, so comforting. A bit of lemon perks up the earthiness of the mushrooms (you'll use a combo of dried mushrooms and fresh), and the barley and chicken. This soup also freezes beautifully.
These are nights that call for a big pot of something sturdy that can stay on the stove over low heat, and be ladled out as people get home and get hungry. This soup is a great solution to those nights when a family dinner may be taking place in stages.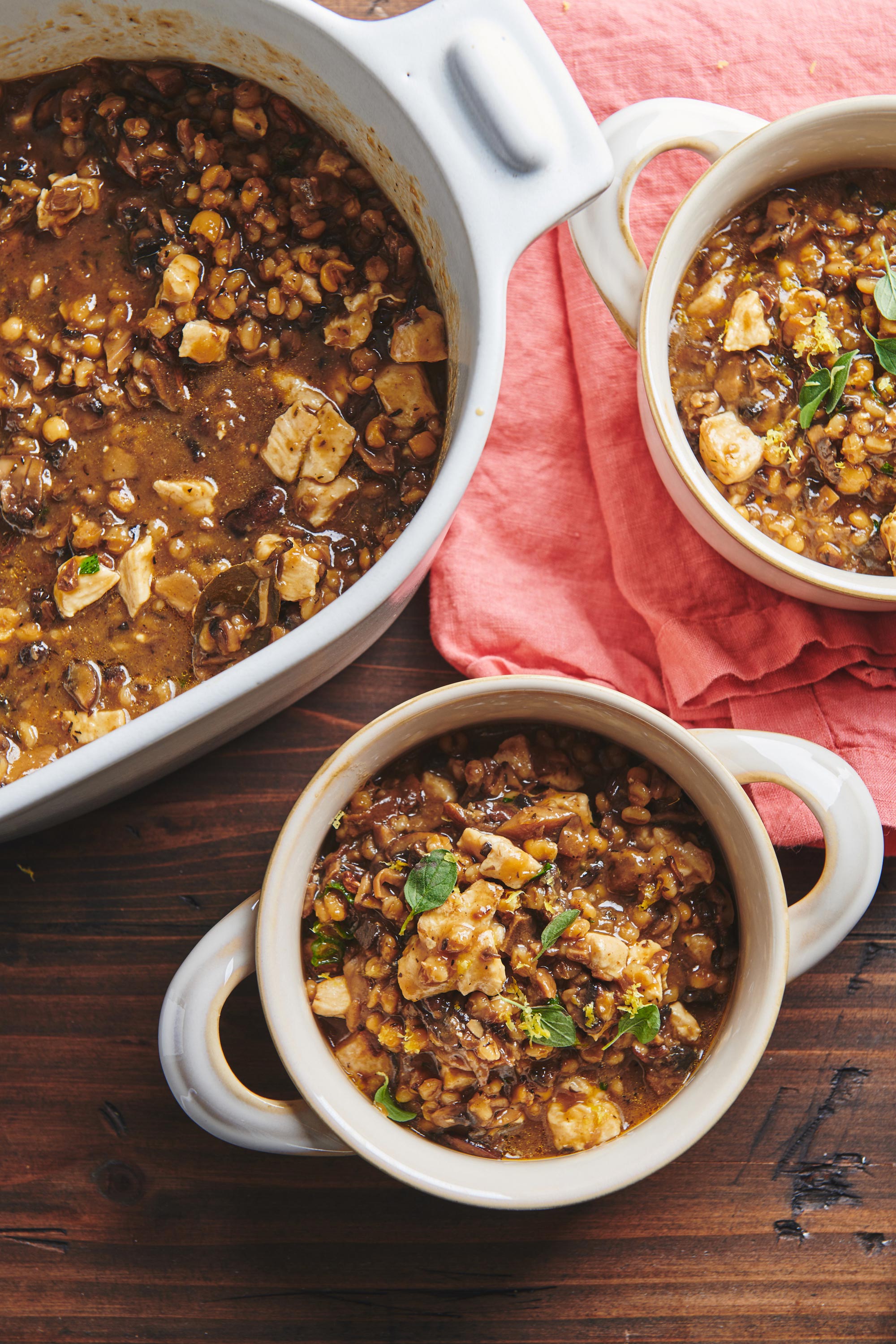 Ingredients
Dried shiitake mushrooms – You can pick another type of dried mushroom if you prefer, like morels or chanterelle.
Fresh shiitake mushrooms – You can sub in other fresh mushrooms here as well! All fresh shiitake mushrooms make for a richer mushroom soup, all button mushrooms will result in a lighter soup, and you can use whatever mushrooms you like.
Leeks – Use the white and light green parts only, and wash them well to remove any grit.
Carrots
Boneless, skinless chicken thighs – Dark meat stays juicier, but you can use chicken breasts instead if you prefer white meat.
Pearl barley
Chicken broth – I like to use less-sodium broth.
Oregano – You can use 1 teaspoon minced fresh oregano or 1/2 teaspoon dried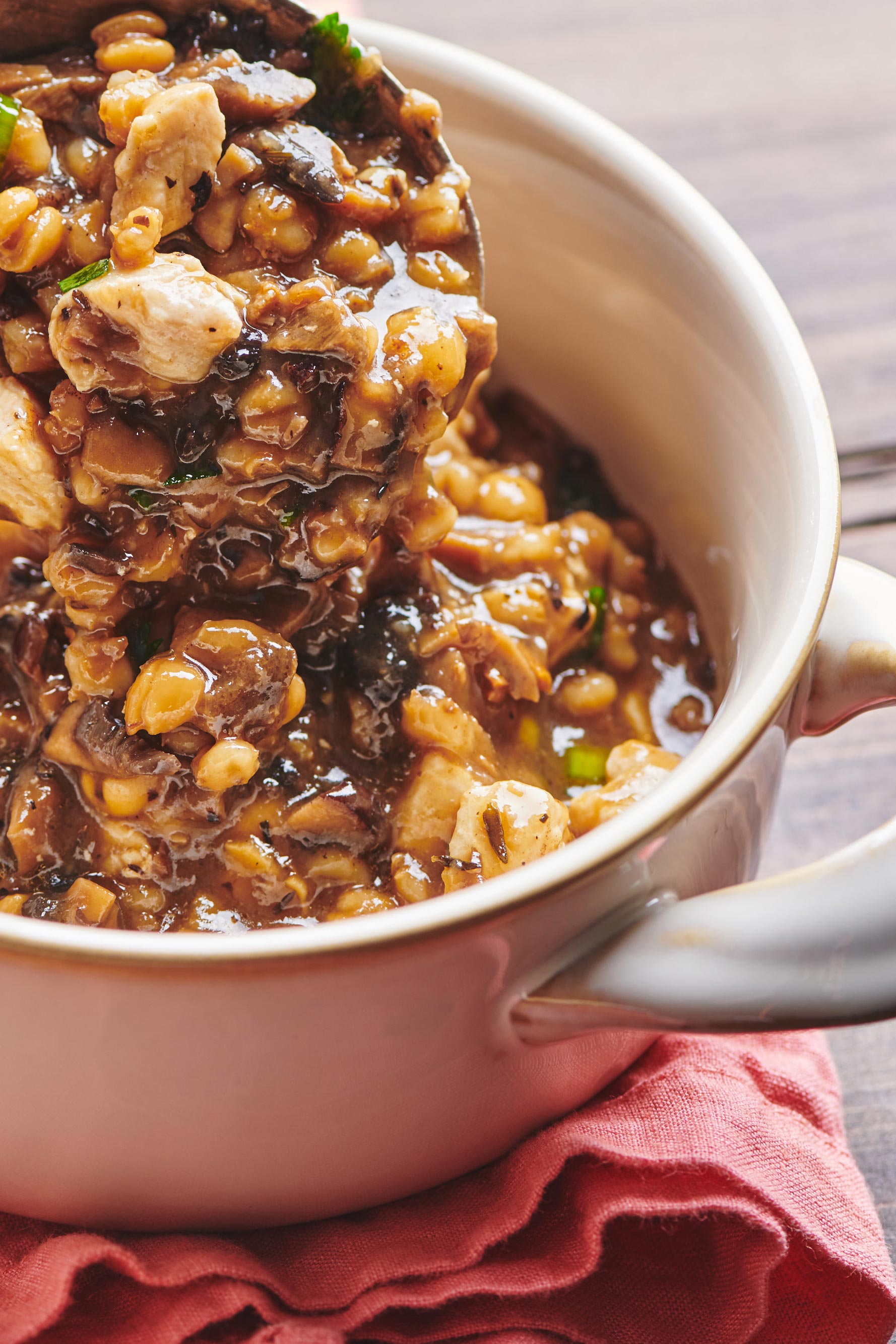 Like this recipe? Pin it to your favorite board on Pinterest.

Pin This
Chicken, Barley and Mushroom Soup
Everything you need to know about storing, using, and rehydrating dried mushrooms – plus a recipe for a hearty cold-weather soup featuring dried mushrooms, chicken, and barley. Substantial, comforting, and perfect for a cold weekday night.
Ingredients
2

ounces

dried shiitake mushrooms

1

pound

fresh shiitake mushrooms

(or other mushrooms)

2

tablespoons

olive oil

3

leeks

(white and light green parts only, washed and coarsely chopped)

2

carrots

(peeled and chopped)

Kosher salt and coarsely ground pepper

(to taste)

1

pound

boneless, skinless chicken thighs

(trimmed and cut into ¼-inch pieces)

½

cup

pearl barley

6 to 8

cups

less-sodium chicken broth

Zest of two lemons

(divided)

1

teaspoon

minced fresh oregano

(or 1/2 teaspoon dried)

Whole fresh oregano leaves

(to garnish, optional)
Instructions
Place the dried mushrooms in a bowl, bring 1 cup of water to a boil, then pour it over the dried mushrooms and let them soak for 30 minutes. Remove the mushrooms from the liquid, give them a squeeze to remove excess liquid, then chop them. Pour the soaking liquid through a fine-mesh strainer and reserve. Meanwhile, trim the fresh mushrooms, removing the stems of the shiitakes completely, wipe them with a damp paper towel to remove any dirt, and coarsely chop them.

While the mushrooms finish soaking, in a large soup pot, heat the olive oil over medium heat, then add the leeks, carrots, and chopped fresh mushrooms. Season with salt and pepper, and sauté for 8 minutes until the vegetables are starting to become tender, and any liquid the mushrooms have released evaporates. Let the mushrooms sauté until they start to brown slightly. Add the chicken and barley, and sauté until the chicken is starting to take on some color, and everything is well combined with the oil and vegetables.

Add 6 cups of the broth, the reserved mushroom soaking liquid, and the chopped soaked dried mushrooms, raise the heat to medium-high, and bring to a simmer. Reduce the heat to medium-low, partially cover, and simmer the soup for 30 minutes. Then add oregano and half of the lemon zest, and continue to simmer for about another 30 minutes, until the barley is cooked and tender. Add up to 2 more cups of broth as needed/desired as the soup finishes cooking if it seems too thick. Serve hot, with a sprinkle of lemon zest and some oregano leaves over each serving if desired.
Notes
Instead of dried shiitake mushrooms, you can pick another type of dried mushroom if you prefer, like morels or chanterelle.
You can sub in other fresh mushrooms here for the shiitakes as well. All fresh shiitake mushrooms make for a richer mushroom soup, all button mushrooms will result in a lighter soup, and you can use whatever mushrooms you like.
Nutrition
Calories:
207
kcal
,
Carbohydrates:
23
g
,
Protein:
15
g
,
Fat:
7
g
,
Saturated Fat:
1
g
,
Cholesterol:
54
mg
,
Sodium:
771
mg
,
Potassium:
561
mg
,
Fiber:
5
g
,
Sugar:
4
g
,
Vitamin A:
3118
IU
,
Vitamin C:
7
mg
,
Calcium:
46
mg
,
Iron:
2
mg
Nutrition information is automatically calculated, so should only be used as an approximation.
Like this? Leave a comment below!