What Are Dried Mushrooms?
Dried mushrooms are quite simply mushrooms that are dehydrated, or dried. As the dry, the flavor of dried mushrooms becomes concentrated and intense. When they are rehydrated they have a meatier texture than fresh. Unlike fresh mushrooms, dried mushrooms do not need to be refrigerated, and they have a longer shelf life and richer flavor, making them an idea pantry ingredient.
There are many varieties of dried mushrooms, the most common being shiitakes, porcini, morels, and chanterelles. Sometimes dried mushrooms come in a mix. Shiitake and porcini tend to be more affordably priced while morels and chanterelles are pricier.
What Do Dried Mushrooms Look Like?
There are many different kinds of dried mushrooms but in general, dried mushrooms are brown and dark tan in color, with some varieties being a dark or light cream color. Often, dried mushrooms have their stem intact. The looks like what they sound like!
Where Can I Find Dried Mushrooms?
Dried mushrooms are readily available in specialty and high-end markets, as well as in many regular grocery stores. They usually are packaged in clear containers or bags, and can often be found in the pasta and grain aisle.
How Do I Pick the Best Dried Mushrooms?
Look for full, intact mushrooms without many little bits and pieces. There should be no signs of moisture or mold as that indicates they were not well preserved.
What Do Dried Mushrooms Taste Like?
You can mix and match as the flavors appeal to you but as a guide: shiitake are the most versatile and have a meaty texture and smoky flavor, ideal for Asian dishes. Porcini are very earthy and common with Italian dishes. Chanterelles are fruitier in flavor and great in egg dishes and cream sauces. And morels, identifiable by their honeycombed caps, have a nutty and meaty taste ideal with spring ingredients (which is the season for fresh morels).
How Do I Prepare Dried Mushrooms?
You have to soak dried mushrooms before cooking with them. This will not only plump them up but also remove any grit, making them ready to use. Then, depending upon the recipe you are using them for, you can dice, chop or slice them.
How Do I Cook Dried Mushrooms?
Always start by giving dried mushrooms a good soak in hot water to rehydrate and clean them. Simply place them in bowl, fully submerged in boiling or very hot water, cover and let sit for 20 to 30 minutes. The result will be plumped up mushrooms.
You can strain and save the soaking liquid to use in the same recipe if it calls for liquid (easily substituted for broth or water for more mushroomy flavor overall), or you can use it to make soups or sauces.
Dried mushrooms can then be used in all ways fresh mushrooms can but add extra flavor and a more substantial texture. Like most fresh mushrooms they should be cooked first.
Sauté the rehydrated mushrooms with fresh mushrooms and shallots and garlic for a great and simple side dish (add some of the soaking liquid too, to deglaze the pan!). Or slice or chop them and cook them with rice, in pasta dishes, egg dishes, stir-fries, soups and stews, sauces, and use them with to make braised meats of all kinds.
How to Cook Dried Mushrooms: Everything you need to know about how to buy, store, prepare, and cook dried mushrooms. Plus 8 recipes using dried mushrooms!

Tweet This
When are Dried Mushrooms in Season?
Since they are dried, dried mushrooms are in season year round.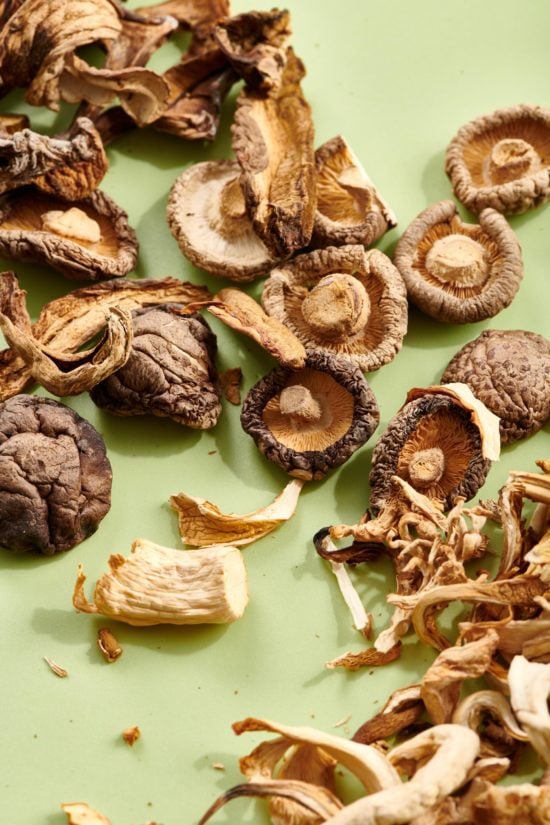 How Do I Store Dried Mushrooms?
Dried mushrooms should be stored in an airtight container and in a cool, dry location. Dried mushrooms can last up to a year if stored this way. Placed in a freezer, dried mushrooms can last indefinitely. How do you know if they've lost their mushroom mojo? Give them a smell. If you smell nothing, they have lost their potency and should be thrown out. If at any point you see any mold or signs of decay, toss them.
Are Dried Mushrooms Nutritious?
Dried mushrooms have a nice amount of nutrients in them. Their main nutrient is a high level of Vitamin D, which helps keep bones, teeth and muscles healthy. Surprisingly, they also have protein – around 10% protein by dried weight which is comparable to ingredients like beans.
---
8 Recipes that Use Dried Mushrooms:
So filled with umami flavors, you will be hard pressed to decide whether these should be a side dish or a main course.
---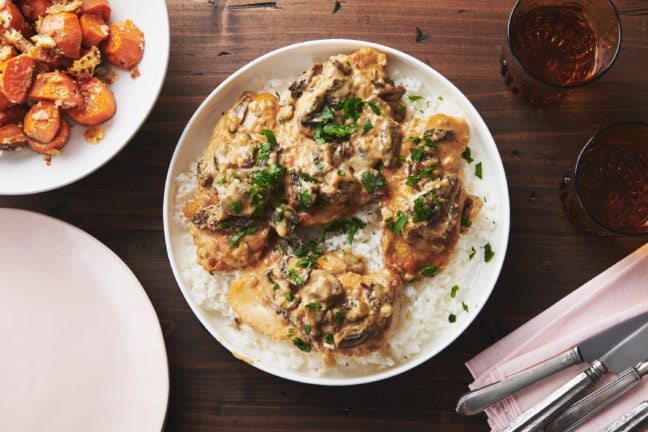 This chicken dish is simple, lush and total comfort food at its best. Even better: dinner in 30 minutes!
---
A hearty cold weather soup for mushroom lovers. Rich and satisfying (and also vegan)!
---
This highly slurpable ramen soup is stuffed with vegetables, tofu, noodles and loads and loads of flavor.
---
This is truly a meal of a soup, perfect for a cold weekday night or a break from holiday overindulgence.
---
Move over barley, there's a new grain in town.
---
Just when you thought brisket couldn't get more depth of flavor, along comes a slew of mushrooms.
---
Just because you're vegan doesn't mean your Asian dishes shouldn't have a nice hit of that rich umami flavor usually associated with fish sauce.
---