Chicken with Mushrooms in Cream Sauce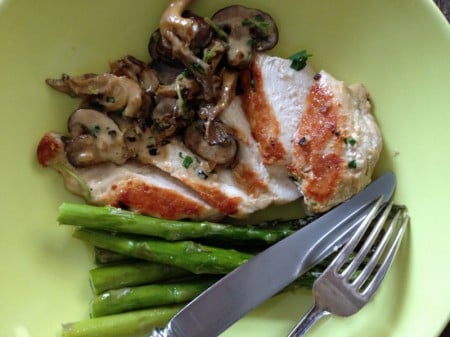 Cream sauces were very stylish in the Edwardian days of Downton Abbey.  Lush and rich and decadent, much like the people who ate them.  Serve with asparagus and any starch from quinoa (not very era-appropriate, but a whole grain is always a good idea when you are indulging in a cream sauce) to rice.
Moseley is gone, Edith is knocked up, Baxter makes me nervous, Mary is getting feisty again, and Bates knows.  And this is what we'll be eating as the next layer unfolds.
Chicken with Mushrooms in Cream Sauce
Print
4 teaspoons olive oil, divided

1 teaspoon minced garlic

8 ounces cleaned and sliced mushroom, any assortment

4 large boneless skinless chicken breasts (about 2 ½ pounds)

Coarse or kosher salt and freshly ground pepper to taste

1 onion, minced

¾ cup dry white wine

¾ cup heavy or light cream

2 tablespoons minced parley, tarragon, or pea shoots
1. Heat two teaspoons of the olive oil in a large skillet over medium heat.  Add the garlic and stir for one minute until the garlic becomes fragrant.  Add the mushrooms and turn the heat up to medium-high.  Sauté for about 8 minutes, until the mushrooms are tender and golden brown.  Transfer the mushroom mixture to a plate or bowl and set aside.
2. Heat the remaining 2 teaspoons olive oil in the same skillet over medium high heat.  Season the chicken with salt and pepper and add the chicken to the skillet.  Sear for about 5 minutes on each side until the chicken is browned and almost cooked throughout, but not quite (see Fork in the Road).  Take the chicken out of the pan and place it on top of the mushrooms.
3. Return the skillet to the heat, and add the onion.  Sauté the onion for 4 minutes, until slightly tender, then pour in the white wine and scrape up any bits stuck to the bottom of the pan.  Allow the wine to reduce by half, then add the cream and the herb of your choice and bring to a simmer.  Return the chicken and the mushroom to the pan and simmer for about 4 minutes until the chicken is fully cooked and the sauce has thickened.  Slice in elegant diagonal slices to serve.  Nobody wants to see a member of the landed gentry hacking at their dinner.