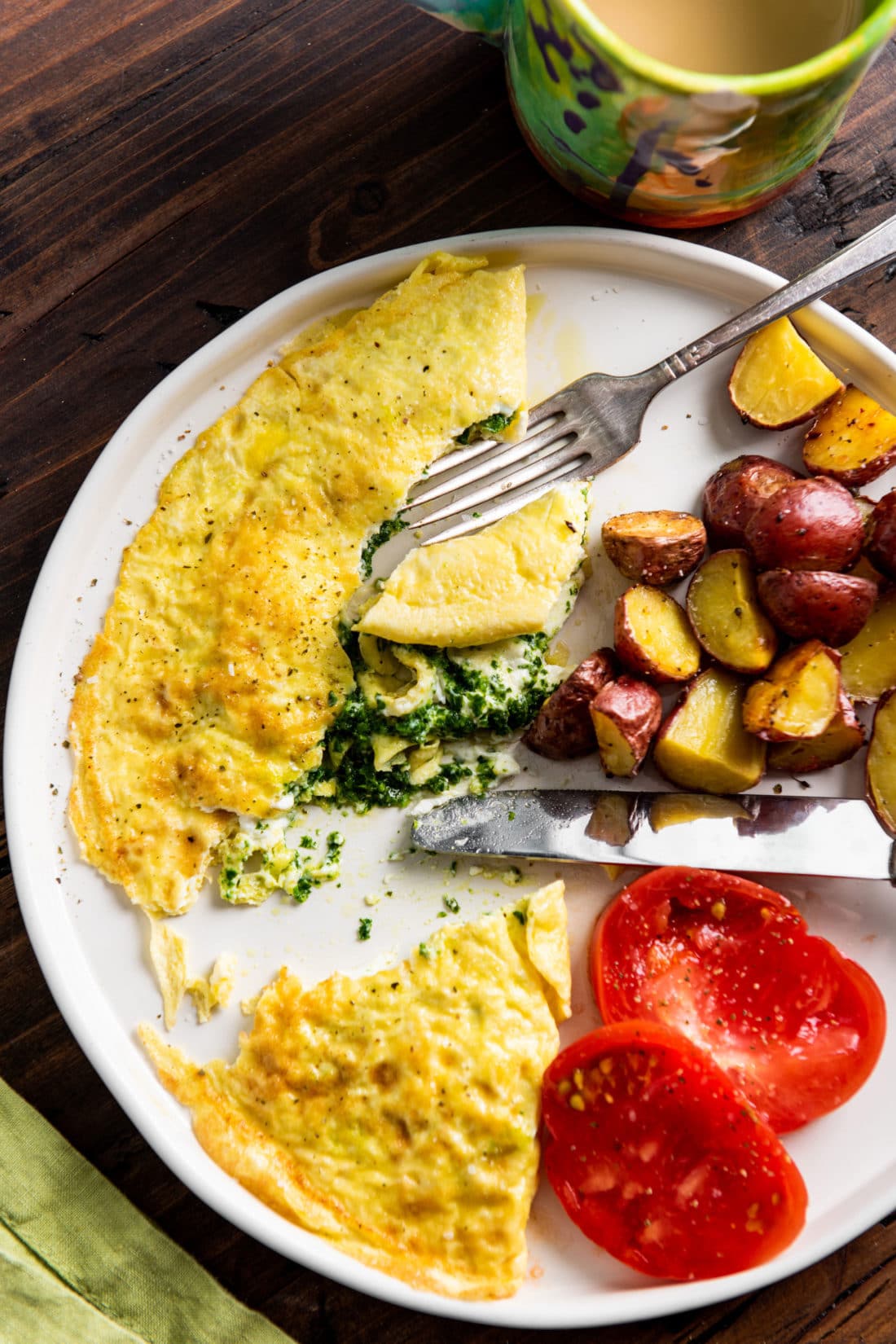 An omelet is one of the more civilized ways I know to start the day, and once you get the hang of it, you can crank out one every 4 minutes or so, no kidding. Click here for a quick step-by-step tutorial on omelet making on FoodNetwork.com.
Once you get the hang of the basic technique, then the fun is in the fillings. Other cheeses can be used in place of the goat cheese. Feel free to whisk a tablespoon of fresh minced herbs into the eggs before they go into the pan—parsley, chives tarragon, and chervil are some classic choices, alone or in combination.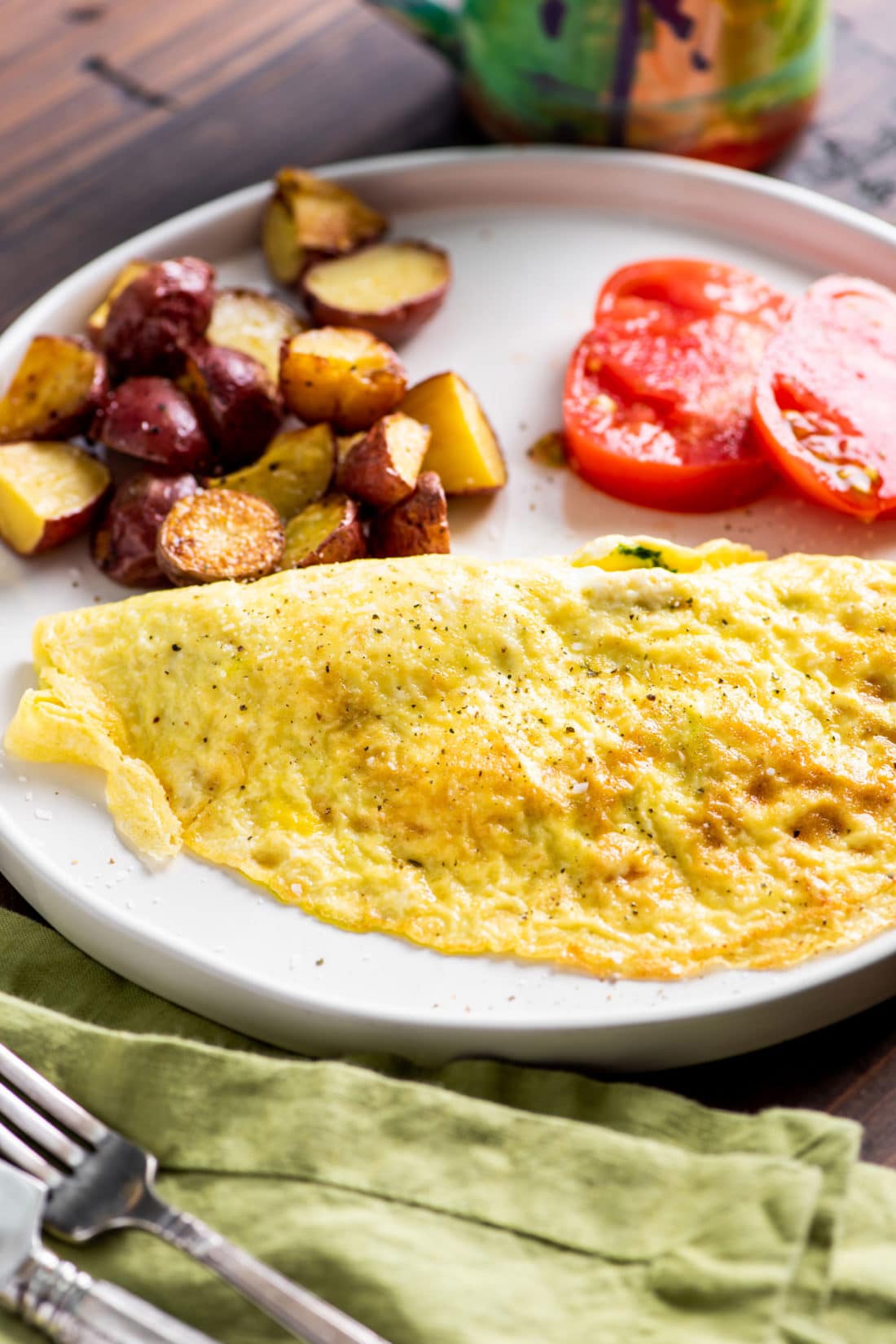 Tips for Making Omelets
A tip for general omelet making: For a folded omelet, you'll want about 3 to 6 tablespoons of filling, and the filling should be crumbled or chopped into very small pieces so that the eggs will easily fold over it. When the eggs have set on the bottom, sprinkle half of the eggs with whatever filling you choose, or put it in a swatch down the middle. Cook for another 15 to 30 seconds; allowing the omelet to finish cooking through. Adjust the heat as needed.
Don't overstuff your omelet; it makes it hard to flip and serve neatly. Serve this with roasted potatoes or hashbrowns of some sort, and maybe some sliced tomatoes for color.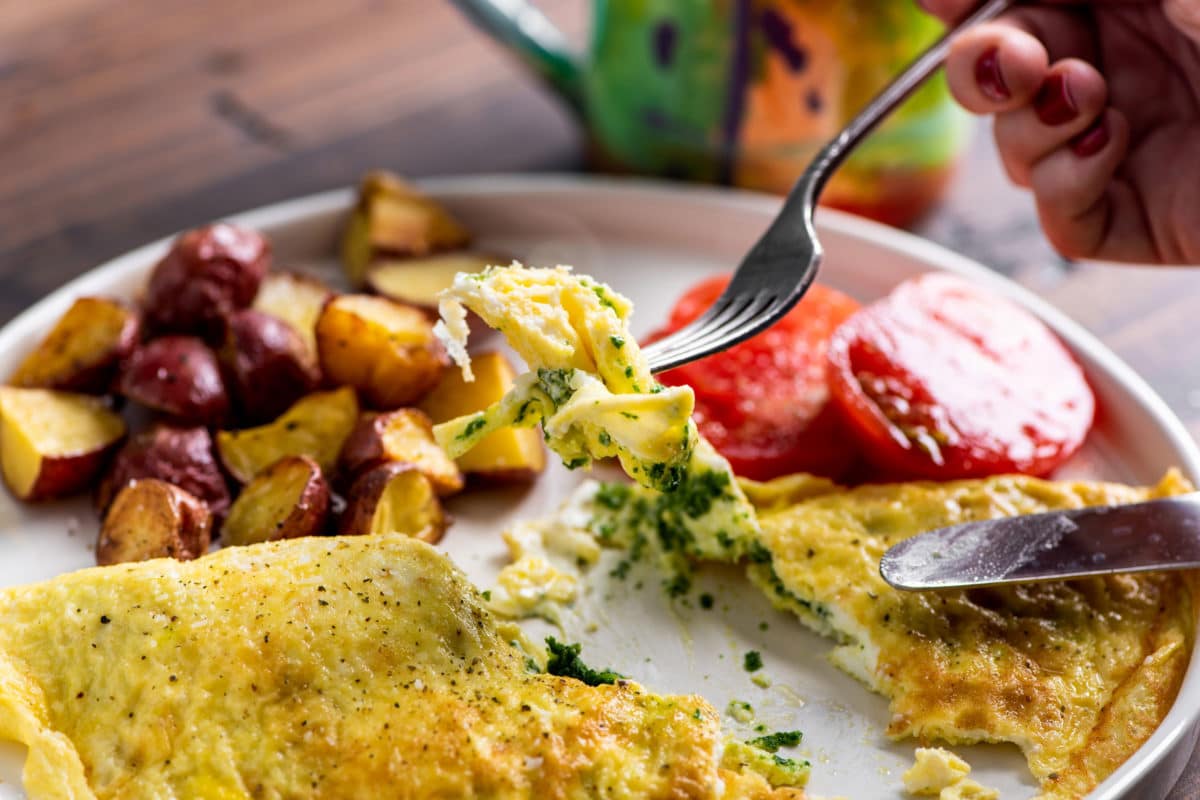 A flavorful, versatile and easy-to-make kale pesto pairs with creamy goat cheese for a delicious omelet filling.

Tweet This
Other Ways to Use Leftover Pesto
You'll have leftover pesto if you make the whole recipe. Use it:
on top of a toasted piece of bread brushed with olive oil, then maybe topped with mozzarella or goat cheese as a crostini.
as a sandwich or wrap spread.
mixed with plain Greek yogurt, crème Fraiche or sour cream as a dip.
Here are a bunch of pesto-centric recipes in which you could sub in the kale pesto.
If you've mastered the omelet or want to give your breakfast eggs a new shape, try making a frittata, which is an Italian omelet with the fillings mixed in: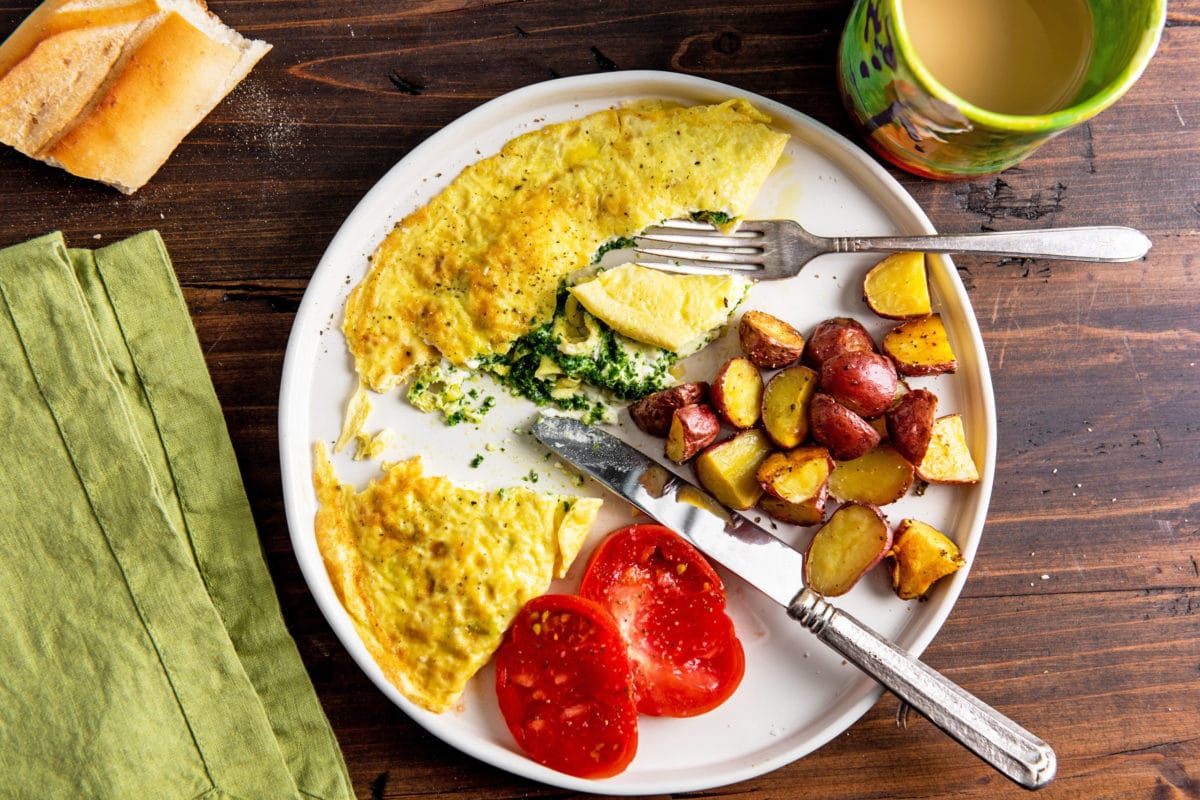 Like this recipe? Pin it to your favorite board on Pinterest.

Pin This
Kale Pesto and Goat Cheese Omelet
Stuffed with good things and lots of flavor.
Ingredients
3

large eggs

or 2 jumbo

Kosher salt and freshly ground pepper

to taste

1

tablespoon

unsalted butter

1

tablespoon

Kale Pesto

2

tablespoons

crumbled aged goat cheese triple crème cheese

I used Coupole, from Vermont Creamery

Pinch of chopped fresh thyme or other herb to garnish

optional
Directions
Crack the eggs into a small bowl, and use a fork to beat them with the salt and pepper.

Heat an 8-inch omelet pan, or shallow skillet, preferably nonstick, over medium-high heat. Add the butter, let it melt, and swirl the pan so that it coats the bottom evenly. Pour the eggs into the pan and quickly shake and swirl the pan so that the eggs cover the entire bottom of the pan. Let the eggs firm up on the bottom, about 20 seconds, then use a rubber spatula to lift the edges of the omelet up so that any uncooked egg on the top runs underneath. Sprinkle half of the eggs with the Kale Pesto and the cheese and let it cook for another 30 seconds; the top should be moist but not quite runny (unless you like it runny). Flip the uncooked side of the eggs over the filling, and slide it onto a plate. Garnish with fresh herbs, and a final sprinkle of salt and pepper, if desired.
Nutrition Information
Calories:
421.11
kcal
|
Carbohydrates:
2.16
g
|
Protein:
22.61
g
|
Fat:
35.36
g
|
Saturated Fat:
16.36
g
|
Cholesterol:
535.22
mg
|
Sodium:
432.27
mg
|
Potassium:
182.16
mg
|
Sugar:
1.23
g
|
Vitamin A:
1654.3
IU
|
Calcium:
137.27
mg
|
Iron:
2.84
mg
The nutrition values are provided as an estimate. It is not intended as a substitute for the advice of a qualified healthcare professional.
Made this recipe? Post a photo of your delicious creation on Instagram with our hashtag #dinnersolved