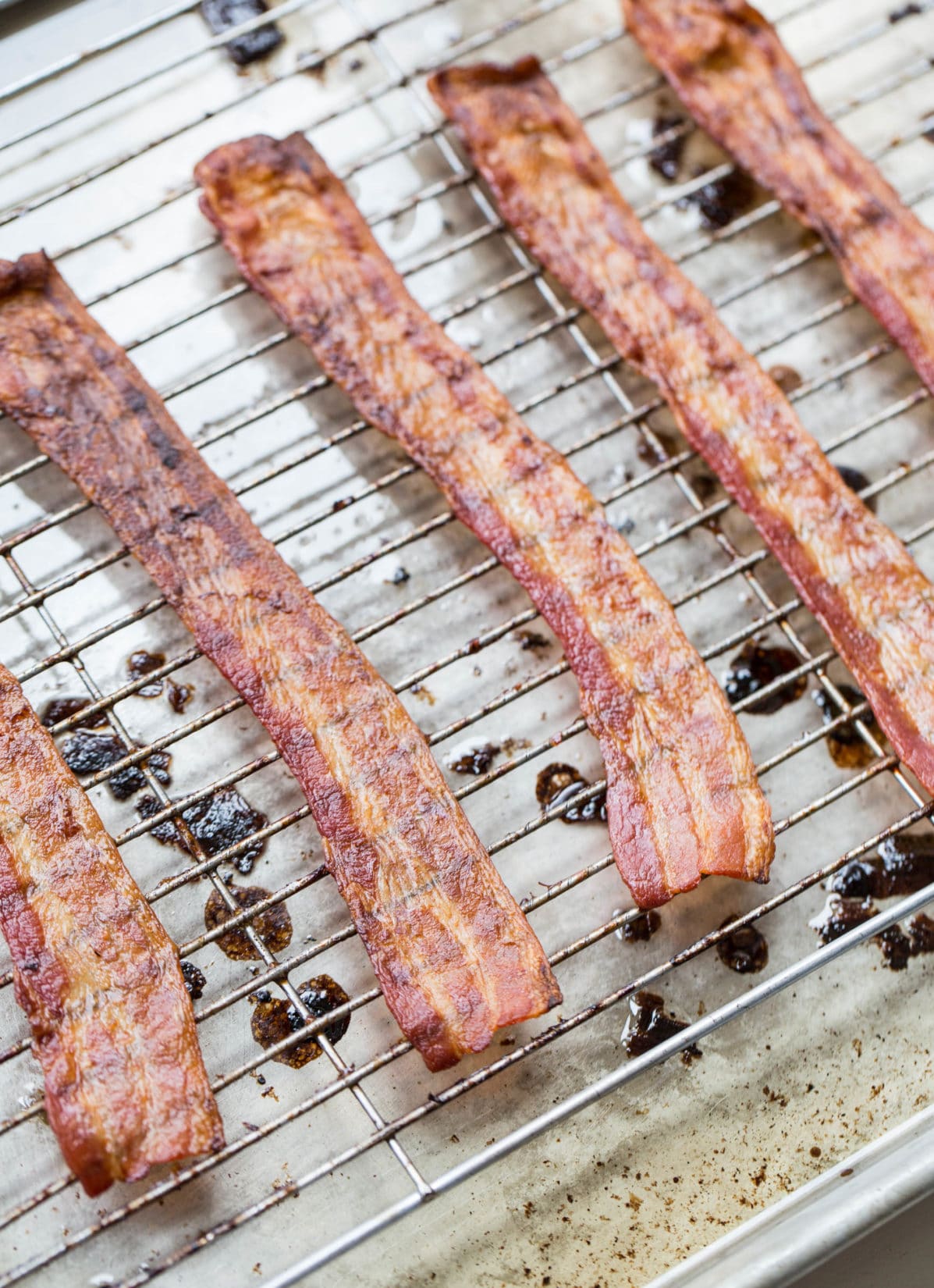 Ladies and gentlemen, are you frustrated by unevenly cooked bacon? Are you embarrassed by bacon curled up into unseemly snarls? Are you tired of skidding around on a skating rink of grease in front of your stove as you suffer the splattering hot grease that comes out of the frying pan?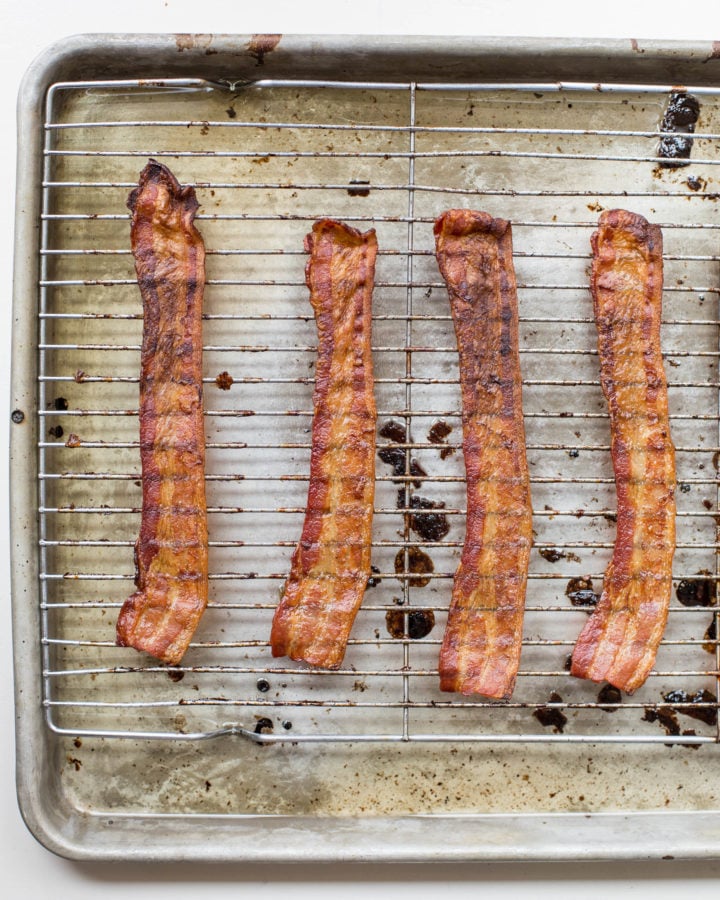 Well, you don't have to suffer anymore. You just need to start baking your bacon. Here's how.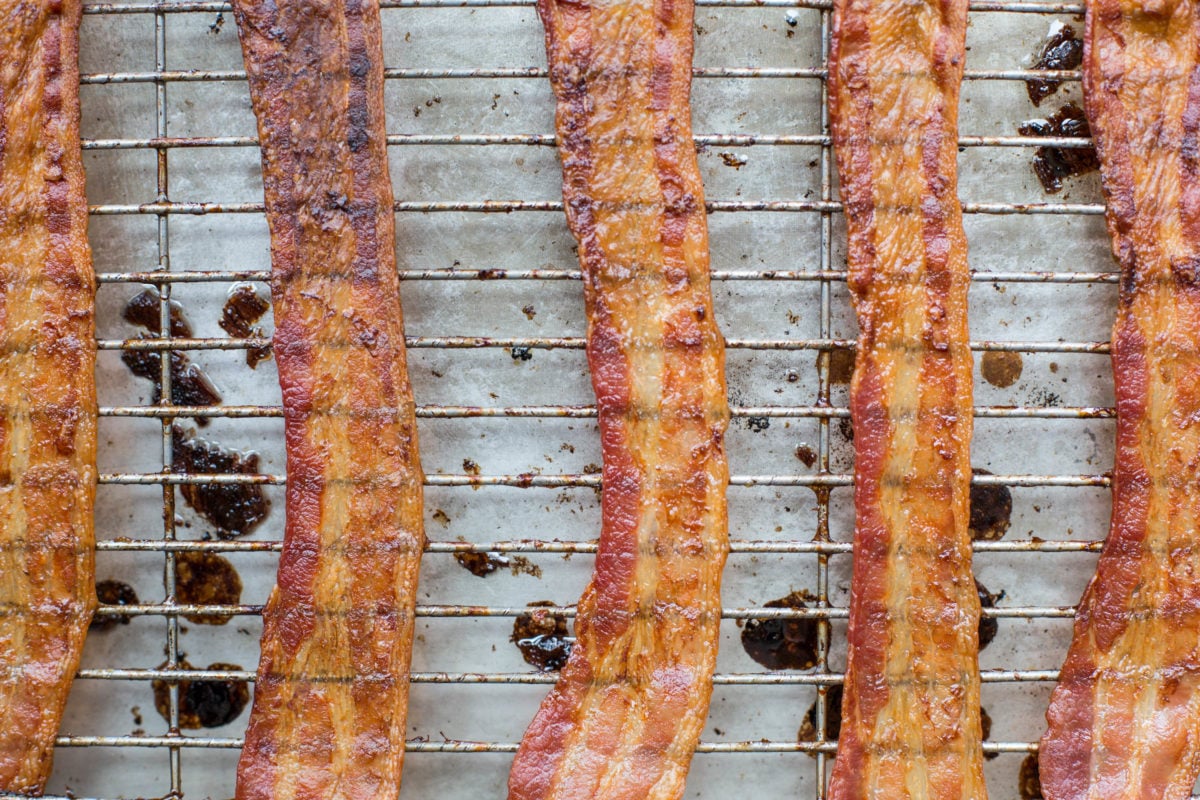 Baking Bacon:
Preheat the oven to 350°F. Place a wire cooling rack (the kind you cool cookies on) into a rimmed baking sheet. You can line the baking sheet with foil first if you want to make cleanup a bit easier, though I find that it has to be a concerted effort to really seal the foil around the pan so that no bacon grease seeps under. If you have the patience, it will pay off later.
Lay your strips of uncooked bacon in straight rows on the rack; the strips can touch but they shouldn't overlap. Bake until it is as crispy as you like it, and drain on paper towels.
How Long to Bake Bacon
The amount of time definitely depends on how thick your bacon is. This works with bacon of any thickness, but you do have to keep an eye on things. Thin bacon will take about 12 minutes in 350°F oven, thick bacon about 20 minutes at 350°F. It also depends on how crispy you are looking for your bacon to be.
You need to start baking your bacon. Here's how.

Tweet This
That's it! Oven baked bacon.
Ways to Use Bacon:
Serve it up with some eggs and toast…..or use it in a recipe. Once I started baking bacon I also started making it a lot more – this may be a good thing, or a bad thing—time will tell.
See the oven bacon recipe below. What will you use your baked bacon in?
How to Bake Bacon
Baking bacon is a game changer – and you get perfectly straight pieces in bigger batches every time!
Directions
Preheat the oven to 350°F. Place a wire cooling rack inside of a rimmed baking sheet.

Lay the bacon in a single layer on the wire rack; the pieces can touch but they shouldn't overlap.

Bake for 12 to 20 minutes, depending on thickness and desired crispness. Transfer the cooked bacon to a paper towel lined plate or surface to soak up excess oil and cool slightly.
Nutrition Information
Calories:
236
kcal
|
Carbohydrates:
1
g
|
Protein:
7
g
|
Fat:
23
g
|
Saturated Fat:
8
g
|
Cholesterol:
37
mg
|
Sodium:
375
mg
|
Potassium:
112
mg
|
Vitamin A:
21
IU
|
Calcium:
3
mg
|
Iron:
1
mg
The nutrition values are provided as an estimate. It is not intended as a substitute for the advice of a qualified healthcare professional.
Made this recipe? Post a photo of your delicious creation on Instagram with our hashtag #dinnersolved