This post may contain affiliate links. Please read our privacy policy.
On an average day, my breakfast and lunch consists of a smattering of bites of often-incongruent food that I'm testing. So either of those meals could be a few bites of quinoa salad, half a Mexican brownie, or the leftover piece of Asian salmon and some pureed parsnips, all eaten standing up while I'm whisking something. Not everyone's idea of a harmonious well-balanced meal, but I kind of like it.
But sometimes—rarely—I get to actually plan ahead and think about what I might want to put on a plate and sit down and eat. And now breakfast and lunch are more communal events, so I need to be a little less graze-ish and a little more thoughtful.
Bacon, Egg, and Cheese on a Roll
This is the sandwich you can make for your family for breakfast, for lunch, and maybe even for dinner. Fast, inexpensive, satisfying, easy. You can use whatever rolls you have, or even bread, whatever type of bacon you have around, whatever type of cheese.
You'll also want to check out a Breakfast Bagel Sandwich – similar, but different, and aso another excellent choice. You can also just sub in a toasted bagel for the roll in this sandwich.
New York Bacon, Egg and Cheese
I didn't realize how much of a New York thing a bacon, egg and cheese (more accurately pronounced as one word: baconeggandcheese) sandwich was. You can get them in delis and bodegas all around the city, and also at the many breakfast carts stationed on NYC corners. Sometimes this sandwich is also referred to as BEC or "deli-style".
Many New Yorkers start their day with a BEC, picked up on the way to work. It's also worth noting that it's thought of as the ultimate hangover cure, and if you wake up feeling a little worse for the wear, a bacon, egg, and cheese sandwich will help you get your groove back, that's a fact.
How to Make a BEC Sandwich
The step of toasting the rolls in the pan with a bit of butter makes all the difference, so try not to skip that.
When you are cooking the eggs you are thinking more along the lines of an omelet, letting the eggs firm up on the bottom, and lifting the sides so the runny eggs can run underneath. But you know what? If you want to scramble them and add the cheese towards the end you do that. Perfection is hardly the goal here – the eggs are going into a sandwich for heaven's sake.
Sprinkle over the cheese, and fold over the sides so you have a rectangular omelet. I used Havarti, but again, it's very flexible. Cheddar, American cheese, Monterey jack Pepper Jack, all good options.
Transfer the omelet to a cutting board and cut in in half. If you are using ciabatta rolls, as I did, this will make the eggs a good size to fit on the rolls.
Add the bacon, tearing or cutting it so it fits on top of the eggs (though a piece of bacon sticking outside of an egg sandwich is pretty blissful).
This is the breakfast (or lunch or dinner) sandwich we all dream about, that perfect combo of simple ingredients.

Tweet This
Unless you just hate spiciness, you really should add a squiggle of hot sauce over the top. For me, it makes the sandwich.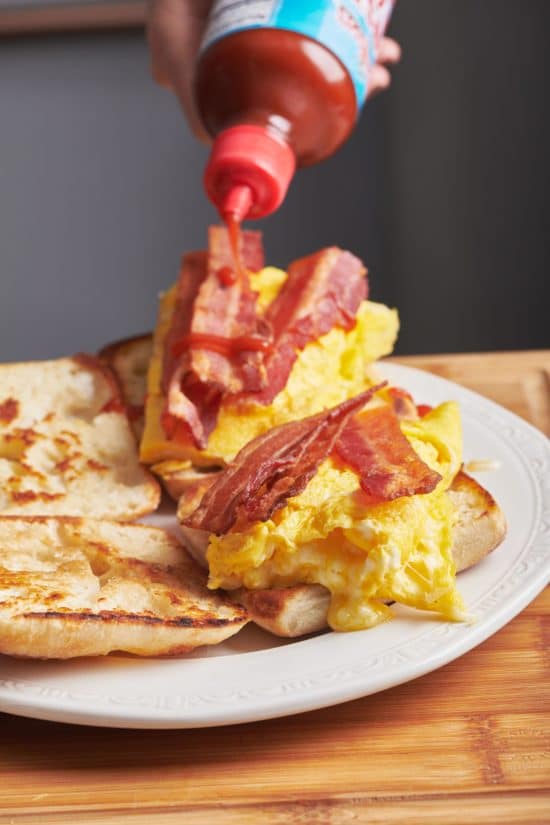 I made so many happy noises while I was eating this lunch that my dog started whimpering and I had to scramble him some eggs of his own just because I felt like I was being cruel by enjoying myself so much.
Other Sandwich Recipes:
Other Breakfast Recipes:
Like this recipe? Pin it to your favorite board on Pinterest.

Pin This
The Classic Bacon, Egg and Cheese Sandwich
This is the sandwich we all crave, somehow both simple and magical all at the same time. A cure for what whatever ails you.
Ingredients
2

ciabatta rolls

4

teaspoons

unsalted butter

divided

4

slices

bacon

4

large eggs

Kosher salt and freshly ground pepper

to taste

½

cup

grated Havarti

or other cheese

Sriracha or other hot sauce

to taste
Instructions
Slice the rolls in half horizontally. Heat a heavy pan, such as cast iron, over medium high heat and melt 2 teaspoons of the butter. Place the roll cut sides down in the pan, and let the halves sizzle until the bottoms turn golden, 1 to 2 minutes. Remove and set aside.

Place the bacon in the pan over medium high heat and cook until it is crispy, about 4 minutes on each side. Remove the bacon to a paper towel lined plate, pour off any fat left in the pan and (carefully; that pan is hot!) use a wad of paper towels to wipe out the inside of the pan.

Crack the eggs in a bowl and lightly beat them with the salt and pepper. Melt the remaining 2 teaspoons butter in the pan. Pour in the eggs and as the bottom sets use a spatula to lift up the edges of the eggs and let the uncooked eggs run underneath. When the bottom is almost cooked but the top is still slightly wet sprinkle over the cheese. Let the eggs cook for another minute, then fold the sides of the eggs over the middle, so that it takes on a rectangular omelet shape. Slide the omelet out of the pan onto a cutting board and cut in half, so that each piece takes on a similar shape to the ciabatta rolls.

Place the cooked eggs on the bottom of the browned roll. Place the bacon on top of the eggs, give it all a loving squirt of Sriracha or other hot sauce, and cover with the top of the roll.

Serve the sandwich warm, and take 10 minutes out of your day and read a magazine, and think of this moment warmly all week.
Notes
This is the sandwich you can make for your family for breakfast, for lunch, and maybe even for dinner.  Fast, inexpensive, satisfying, easy.   You can use whatever rolls you have, or even bread, whatever type of bacon you have around, whatever type of cheese.
Nutrition
Calories:
711
kcal
,
Carbohydrates:
28
g
,
Protein:
36
g
,
Fat:
50
g
,
Saturated Fat:
24
g
,
Cholesterol:
430
mg
,
Sodium:
1138
mg
,
Potassium:
248
mg
,
Fiber:
1
g
,
Sugar:
1
g
,
Vitamin A:
1194
IU
,
Calcium:
408
mg
,
Iron:
2
mg
Nutrition information is automatically calculated, so should only be used as an approximation.
Like this? Leave a comment below!