This post may contain affiliate links. Please read our privacy policy.
This Fried Eggs and Smoked Salmon over Polenta Cakes is almost dumb-fancy, right? Not what you make for a weekday breakfast, right? Not what I normally serve up your way, right?
But a few years back, this is what was happening for Father's Day brunch in our house. I posted it the night before, to see if my husband reads my blog. He does not read my blog. Sometimes he reads my blog. But I get a pretty nice breakfast on Mother's Day, and this is what headed Gary's way for Pop's Day.
For a while now, there has been an ever-growing school of culinary thought that centers on the notion that anything good gets better when you put a fried egg on top. I think this is hard to argue with. Unless you are a vegan. In which case, there are many reasons you should not be hanging out on this recipe page.
And the growth of a movement there's always a moment where it tips and a backlash forms, but really, I've not lost interest in this idea, within reasonable parameters. I'm not tossing a fried egg on my brownies. But, it's a nice way to make a plain side dish into something more substantive, and the way a runny yolk enhances whatever lays beneath is quite appealing.
This Fried Eggs and Smoked Salmon over Polenta Cakes recipe is also an homage to my dream-that-will-never-die that my entire family will love polenta (and grits, almost the same thing)  as much as I do. It's a work in progress.   What are wrong with these people? Also try Polenta with Sauteed Mushrooms.
Making Polenta Ahead
And I know this dish looks a little long, and maybe complicated. It's not. Read it through quickly and you'll see. It involves stirring and pan frying and that's it. Also you are going to make the polenta the night before, and just fry up the cakes in the morning. But ALSO—don't be a martyr or a whatever like I was if you're not in the mood – there are beautiful tubes of polenta ready to slice and fry. Do that. I have no idea what I was trying to prove that morning.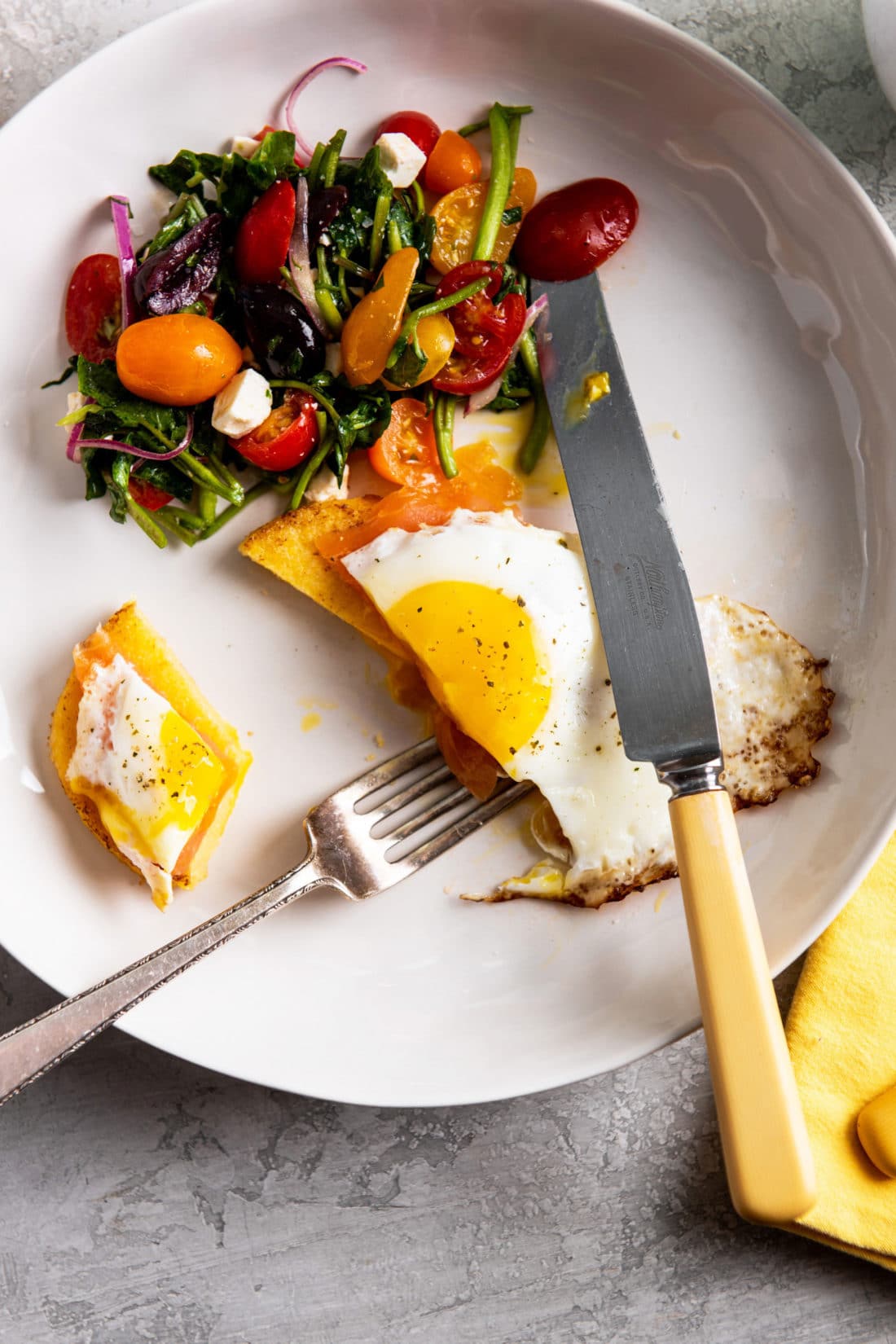 But make the polenta ahead if you actually want to go the long route like I did.  I'm not insane enough to imagine you have time to let polenta cook, cool, and then fry in the morning.  And I'm guessing Gary would have rather I used that time to fry a few strips of bacon.
Anything gets better when you put a fried egg on top and this breakfast or brunch dish is no exception.

Tweet This
Smoked Salmon Recipes:
Love smoked salmon? Try these smoked salmon recipes.
Like this recipe? Pin it to your favorite board on Pinterest.

Pin This
Fried Eggs and Smoked Salmon over Polenta Cakes
A special breakfast/brunch notion.
Ingredients
For the Polenta Cakes
1

cup

chicken or vegetable broth

1

cup

milk

½

cup

stone ground polenta or grits

¼

cup

grated Parmesan cheese

1

tablespoon

unsalted butter

Coarse or kosher salt and freshly ground pepper

to taste

1

tablespoon

olive oil
For the Arugula Salad
2

teaspoons

sherry vinegar

or other vinegar of your choice

1

tablespoon

extra virgin olive oil

Kosher salt and freshly ground pepper

to taste
For the Eggs
2

teaspoons

butter

4

extra large eggs

Coarse or kosher salt and freshly ground pepper

to taste
Instructions
Put the broth and milk in a heavy medium-sized pot and bring to a nice simmer over medium high heat. Lower the heat to medium and slowly sprinkle the polenta in, whisking constantly. Whisk frequently until the polenta has becomes like thick oatmeal consistency, 6 to 8 minutes. Add the Parmesan, butter, salt and pepper and stir to combine thoroughly.

Grease a large plate and spoon the polenta into four circles on the baking sheet, patting them into patties about 3 to 4 inches in diameter. Refrigerate for at least 30 minutes until very stiff and cool throughout (you can cover the cakes and refrigerate for up to 2 days).

Toss the arugula with the olive oil, vinegar, salt and pepper.

Heat a very large skillet over medium high heat. Add the olive oil. Then place the four polenta cakes in the skillet and cook for 4 to 5 minutes, until the bottom is nicely browned, then flip and cook for another 4 to 5 minutes. Place a handful of arugula on each of four plates, and place a polenta cake next to the arugula.   Drape a piece of salmon over each cake.

For the eggs, heat the butter in the same skillet, crack open the eggs into the skillet and cook them until they are as you like them. Place each egg on a salmon-draped polenta cake, season with salt and pepper and serve hot.
Notes
Make the polenta ahead and chill This will make for a quick breakfast! And if you're in a true time crunch or you just don't want to take the extra steps, there's nothing wrong with grabbing the tube of ready-made polenta, either.
Nutrition
Calories:
310.29
kcal
,
Carbohydrates:
19.58
g
,
Protein:
12.09
g
,
Fat:
20.22
g
,
Saturated Fat:
7.7
g
,
Cholesterol:
188.41
mg
,
Sodium:
425.91
mg
,
Potassium:
215.47
mg
,
Fiber:
0.32
g
,
Sugar:
3.43
g
,
Vitamin A:
582.96
IU
,
Vitamin C:
4.11
mg
,
Calcium:
166.41
mg
,
Iron:
1.15
mg
Nutrition information is automatically calculated, so should only be used as an approximation.
Like this? Leave a comment below!