When I asked the cook at my kids' school what the most popular dishes were, he said, "Pizza, meat sauce, breakfast for lunch, and this," and with "this" he picked up and thudded down the most enormous container of prepared teriyaki sauce I'd ever seen. "If I put this on everything they would love it."
Turns out, teriyaki sauce isn't hard to make at all, and you can, in fact, put it on almost anything. Here's the recipe, and you have the option of using the sauce with either chicken or steak, and also try it with shrimp, salmon, or tofu.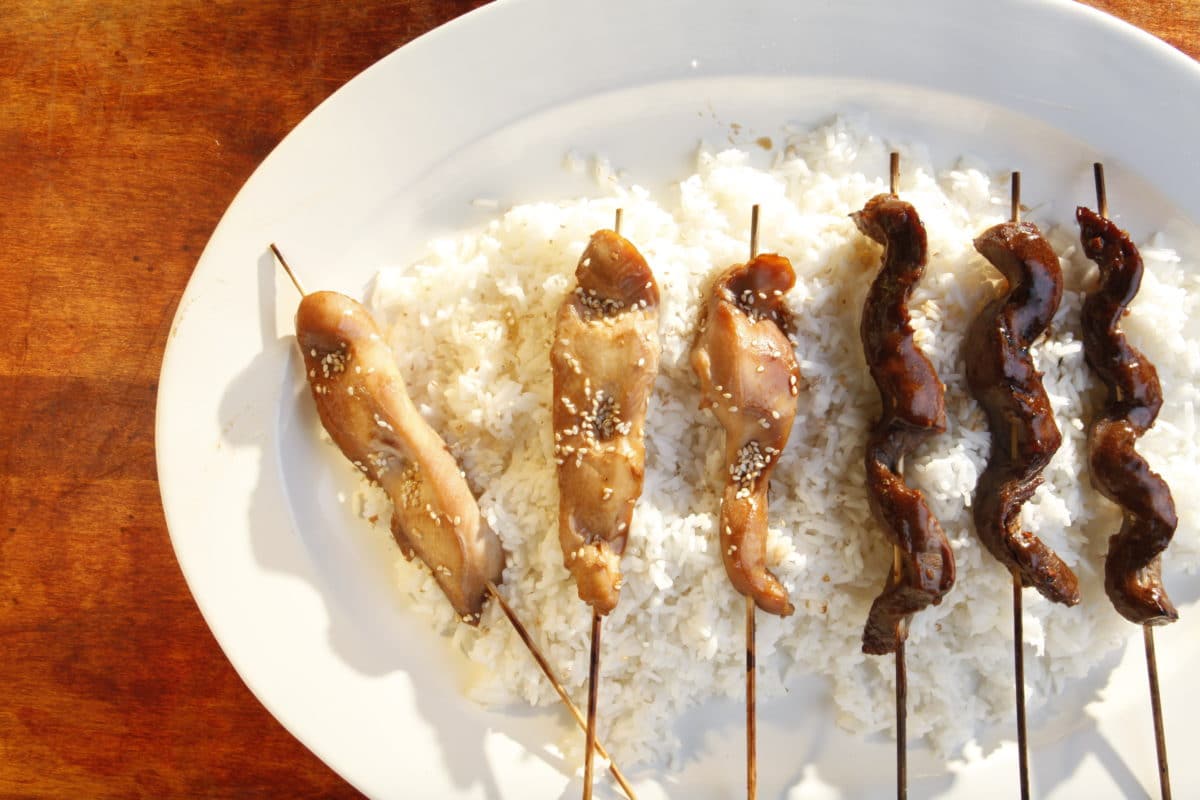 Chicken Teriyaki or Beef Teriyaki? Both Teriyaki.
If you are having a bunch of people over and want to offer a choice, it's nice to make half the skewers with chicken and half with beef. Cutting the meat into strips takes the same amount of time, and the platter will look bountiful. You're still only making one batch of the teriyaki sauce, so it really doesn't require any extra work.
The directions below are for broiling, but if you have access to a grill, go for it!
Teriyaki anything begs for rice, and if you're feeling all "theme-y" about the whole meal, you might want to whip up a quick Japanese Restaurant Salad to go with, and maybe the sautéed green vegetables. Some steamed or roasted broccoli or roasted asparagus would work nicely, too (plus the dressing from the Japanese Restaurant Salad also makes a nice sauce for the veggies). Or Sugar Snap Pea Salad.
The unfailing, timeless, seasonless appeal of teriykai sauce is inarguable.

Tweet This
Toasting Sesame Seeds
Heat a small skillet over medium heat (do not use a nonstick skillet for this). Add the sesame seeds and cook, stirring frequently, until they are aromatic and golden in color, 1 to 2 minutes. Watch the sesame seeds carefully and transfer them from the skillet to a heat-proof bowl the minute they start to color; they can burn very quickly.
Safely Using the Marinade as a Sauce
If you want to use the teriyaki marinade as a sauce on the side, all you need to do is boil it for five minutes after you've removed the chicken, fish, or meat, and it will be safe to serve over rice or whatever else you like (if you've marinated tofu, this step is unnecessary). The boiled marinade will thicken and get a nice syrupy consistency.
What the Kids Can Do
They can help make the teriyaki marinade and toss the chicken or meat with the sauce, and if they are old enough to skewer the chicken or steak, they can do that as well.
Other Japanese-Inspired Recipes:
Like this recipe? Pin it to your favorite board on Pinterest.

Pin This
Teriyaki Chicken and Beef Skewers
The unfailing, timeless, seasonless appeal of teriykai sauce is inarguable.
Ingredients
2

tablespoons

finely minced peeled fresh ginger

1

tablespoons

finely minced garlic

⅔

cup

low-sodium soy sauce

or 1⁄2 cup regular soy sauce and 2 tablespoons water

2

teaspoons

canola or vegetable oil

plus oil for the baking sheet (optional)

3

tablespoons

mirin

optional

¼

cup

firmly packed brown sugar

1

teaspoons

cornstarch

2

pounds

chicken tenders

or 2 pounds skinless, boneless chicken breasts or thighs, cut into 1⁄2 inch–wide strips, or 2 pounds sirloin steak, cut into 1⁄2-inch slices

1

Nonstick cooking spray

optional

1

Toasted sesame seeds

optional; see Toasting Sesame Seeds at right

18 to 20

8-inch wooden or metal skewers
Directions
Place the ginger, garlic, soy sauce, oil, mirin, if using, brown sugar, and cornstarch in a small bowl or in a small container with a lid and stir well or shake to combine.

Pour the teriyaki marinade into a 1-quart heavy-duty zipper-top plastic bag or a larger plastic container with a lid. Add the chicken or steak and mix to coat well. Seal the bag or container and let the chicken or steak marinate in the refrigerator for 8 to 24 hours (the longer it marinates, the more pronounced the teriyaki flavor will be). You'll want to flip the baggie or toss the meat in the container a couple of times during the marinating process so that it marinates evenly.

If you are using wooden skewers, at least 30 minutes before cooking soak them in water to cover in order to prevent them from burning. Lightly oil a rimmed baking sheet or spray it with nonstick cooking spray.

Preheat the broiler (see Note).

Remove the chicken or steak from the marinade, setting aside the marinade. Skewer 1 or 2 pieces of chicken or steak on each skewer lengthwise, threading them so they are on securely. Place the skewers on the prepared baking sheet and broil until the teriyaki sauce turns a nice burnished color and the chicken is cooked through or the meat is cooked to your liking, 2 to 4 minutes on each side for chicken, another minute or so for medium steak.

Pour the reserved marinade into a small saucepan and bring to a boil over high heat. Reduce the heat to medium and let the marinade simmer until it becomes slightly reduced and glazelike, about 4 minutes.

Serve the skewers on a platter sprinkled with the sesame seeds, if desired. Pass around the boiled marinade in a small pitcher or bowl for drizzling over the meat or whatever starch or vegetables you are serving alongside.
Nutrition Information
Calories:
252.58
kcal
|
Carbohydrates:
16.1
g
|
Protein:
33.73
g
|
Fat:
5.38
g
|
Saturated Fat:
0.98
g
|
Cholesterol:
96.77
mg
|
Sodium:
1187.91
mg
|
Potassium:
632.3
mg
|
Fiber:
0.27
g
|
Sugar:
11.43
g
|
Vitamin A:
45.36
IU
|
Vitamin C:
2.23
mg
|
Calcium:
22.4
mg
|
Iron:
1.2
mg
The nutrition values are provided as an estimate. It is not intended as a substitute for the advice of a qualified healthcare professional.
Made this recipe? Post a photo of your delicious creation on Instagram with our hashtag #dinnersolved