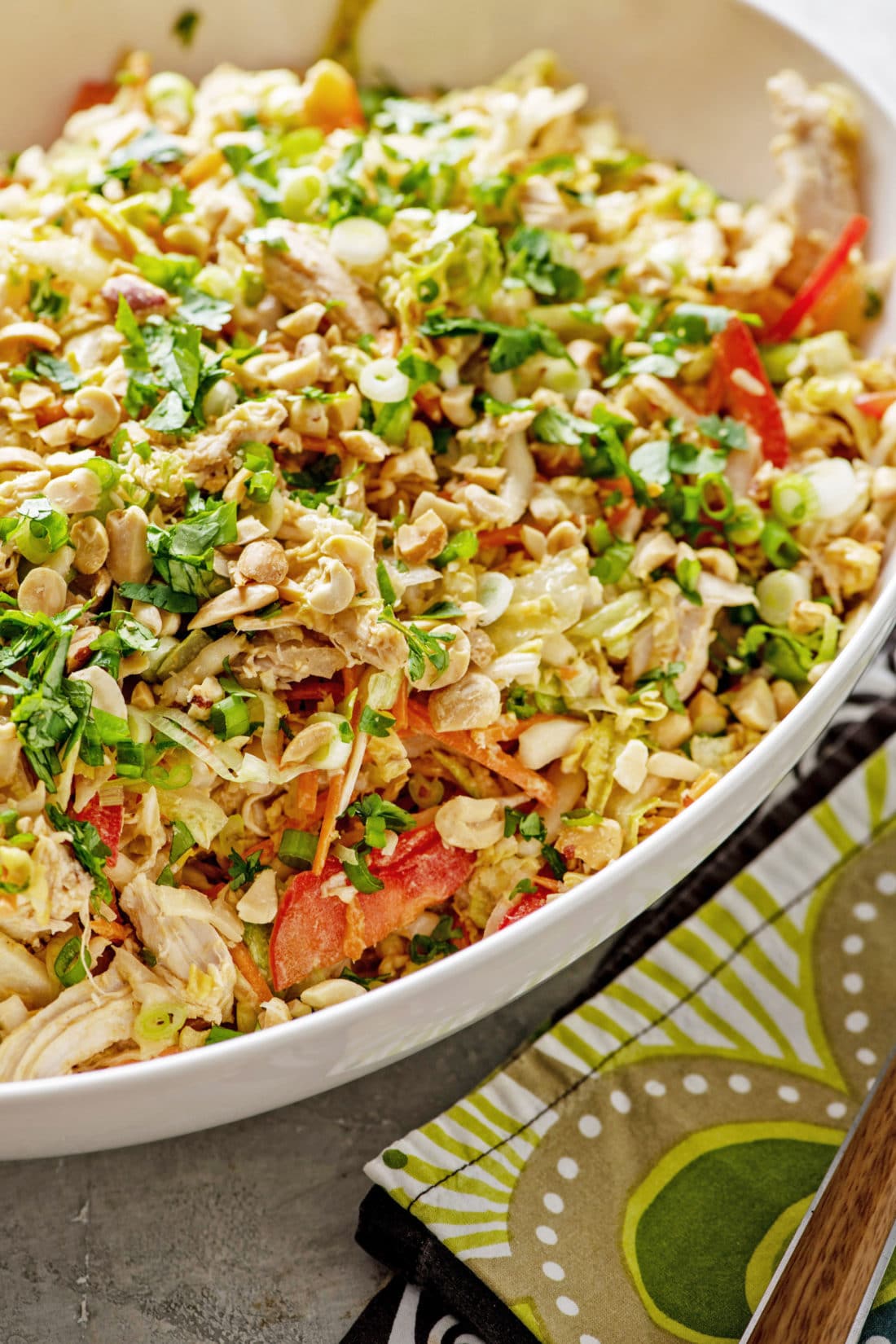 This is one of those dishes that calls to us on restaurant menus, that satisfies the desire for a combination of textures, colors, and a symphony of flavors that makes our mouths feel happy. And luckily it is easy to create at home. It's satisfying and exciting and hard to stop shoveling in.
Indonesian Food
So, what is Indonesian food? Hard to capture in just a few sentences, since it's actually a big category, with a variety of influences. Indonesia is actually comprised of about 6,000 islands, and there are over 300 culinary influences represented. Isn't that crazy? Sumantran, Javanese, Polynesian, Malaysian, Chinese, Middles Eastern, European, Indian…bits and pieces of these cuisines are all represented in various places in Indonesian recipes.
In dipping a toe into this cuisine, one quickly realizes that you might in fact need to jump into the deep end of the pool and start swimming furiously to get a real handle on it. Someday I will…today I'm simply offering up this Indonesian chicken salad. Savory and packing some heat (two characteristics of many Indonesian dishes), this dish is probably one of the Indonesian-inspired dishes you are most likely to see on an American restaurant menu.
Asian Chicken Salads
Similar salads might be called Chinese Chicken Salad (which may have water chestnuts, bean sprouts, mandarin orange slices, and crunchy noodles) or Asian Chicken Salad. Usually the ingredients are fairly finely chopped, slivered or shredded—it's really nice to get a little of everything (or mostly everything) in each forkful.
Indonesian Chicken Salad Dressing
Often all of these salads have dressings similar to this one—with peanut butter, soy sauce, vinegar or citrus juice, ginger, and some form of heat.  I used Sriracha sauce, which originated in Thailand and is available everywhere, from Walmart to almost every supermarket.  It has been my go-to hot sauce for years, though I do continuously play around with different hot sauces, and you should feel free to use whatever chili sauce you have on hand.
You can use any leftover cooked chicken you have, as long as it's simply seasoned.  Or, you can definitely use a rotisserie chicken, or to easily make super tender chicken for shredding, click here. Another thought – make a vegan version with Crispy Tofu instead of chicken!
A collection of amazing Asian flavors come together in this salad. Crunchy vegetables stand up to the tender chicken and a spicy peanut dressing.

Tweet This
Vegetarian Asian Salad
The crunchy vegetables stand up to the tender chicken and creamy rich peanutty dressing in such a nice way. You could make a vegetarian version simply by skipping the chicken, or perhaps adding some cubes of sautéed tofu. The amount of ginger and garlic and hot sauce can be dialed up or down to achieve whatever level of flavor intensity you like.
What is in Indonesian Chicken Salad:
The dressing is made of:
Creamy peanut butter – this gives the dressing its nutty flavor, and thickens it up. Use natural peanut butter if possible for the best peanut flavor.
Rice vinegar – adds a gentle acidity
Garlic – just a little for a bit of heat and flavor.
Soy sauce or tamari – for saltiness and umami
Lime juice – more acidity and a nice citrus lift
Minced fresh ginger – this makes the dressing, adding a bit of heat and that inimitable fresh ginger flavor. Do not sub in powdered ginger here.
Sriracha or other hot sauce – brings a nice amount of heat. dial the amount up or down as you like
Kosher salt and freshly ground pepper to taste
For the Salad:
Thinly sliced green cabbage and romaine lettuce – I prefer Napa which has a lighter texture and slivers up very finely. You could also use iceberg lettuce instead of the romaine, but you do want a crunchy lettuce here to stand up to the thick rice dressing.
Grated carrots and slivered bell pepper – for color and crunch, and a bit of sweetness.
Shredded cooked chicken – the star protein. You can use your own cooked chicken, or shred a purchased rotisserie chicken. Feel free to use either dark or white meat, or a combination.
Sliced scallion – every salad need a member of the onion family. Use both the white and green parts. Slivered red onion is a good substitute.
Crushed roasted peanuts – to top the salad with a nutty crunch.
Fresh cilantro leaves – some people don't like cilantro but if you do, it's the perfect herbal finishing touch to the salad.
This Indonesian-style chicken salad would be a great addition to a picnic menu, a potluck gathering, or a lunch buffet. And, if you thought chicken salad was boring….well, this recipe should make you reconsider.
Other Non-Boring Chicken Salad Recipes:
Like this recipe? Pin it to your favorite board on Pinterest.

Pin This
Indonesian Chicken Salad
This is the salad for people who might not think a main-course salad is really a thing. (And if you've ever ordered Chinese Chicken Salad on a menu, this is for you.)
Ingredients
For the Spicy Peanut Dressing
½

cup

creamy peanut butter

preferably natural

¼

cup

rice vinegar

1

clove

garlic

finely minced

2

tablespoons

soy sauce

low-sodium or tamari (which is gluten-free)

2

tablespoons

lime juice

2

teaspoons

finely minced fresh ginger

1

teaspoon

Sriracha or other hot sauce

Kosher salt and freshly ground pepper to taste
For the Salad
4

cups

thinly sliced green cabbage

preferably Napa

4

cups

thinly sliced romaine (iceberg is another possibility

2

carrots peeled and grated

1

red yellow or orange bell pepper

or a combo of half of two different colored peppers, cored, seeded and very thinly slivered

4

cups

shredded cooked chicken

4

scallions

trimmed and sliced (white and green parts)

½

cup

crushed roasted peanuts

¼

cup

fresh cilantro leaves

optional

Lime wedges to serve
Directions
Make the Dressing: In a food processor combine the peanut butter, rice vinegar, garlic, soy sauce, lime juice, ginger, Sriracha and salt and pepper – you can also which this all together in a bow of you prefer.

Make the Salad: In a large bowl combine the lettuce, cabbage, carrots, bell pepper and chicken. Pour oven the dressing and toss to combine. Pile into a shallow serving bow and top with the scallions, peanuts and cilantro leaves. Serve with the lime wedges.
Nutrition Information
Calories:
391.48
kcal
|
Carbohydrates:
13.81
g
|
Protein:
34.38
g
|
Fat:
23.33
g
|
Saturated Fat:
4.92
g
|
Cholesterol:
70
mg
|
Sodium:
598.11
mg
|
Potassium:
787.38
mg
|
Fiber:
4.88
g
|
Sugar:
5.28
g
|
Vitamin A:
7071.13
IU
|
Vitamin C:
45.3
mg
|
Calcium:
94.44
mg
|
Iron:
2.68
mg
The nutrition values are provided as an estimate. It is not intended as a substitute for the advice of a qualified healthcare professional.
Made this recipe? Post a photo of your delicious creation on Instagram with our hashtag #dinnersolved