This post may contain affiliate links. Please read our privacy policy.
Cabbage, that taken-for-granted vegetable, that sturdy dense produce, that food of many countries' history (and poor people's diets) has been slowly becoming more appreciated. The long time Rodney Dangerfield of vegetables, cabbage is finally getting the respect its due.
Cabbage was most likely domesticated in Europe over 3000 years ago. It made its appearance on the tables of ancient civilizations such as the Greeks, Romans and Egyptians, but it has figured more prominently in more recent centuries.
Most famously, in Ireland cabbage was one of the only sources of sustenance in a potato famine-ravaged country in the mid 19th century. And yes, one of the strongest cabbage associations is with the classic Irish dish Corned Beef and Cabbage, and of course Colcannon.
Cabbage has always been appreciated for being abundant, cheap, and very hardy. But when a vegetable is prized for being cheap and abundant, it also can get snubbed, which would be a shame. I use cabbage all the time, and almost always have a head in the fridge. It bulks up all kinds of dishes in a helpful way, it's good for you, and it's versatile, taking well to pretty much any cuisine I am dipping a toe into at the moment.
Cooking Cabbage
It can be eaten raw or sautéed, steamed, braised, roasted, stewed, and made into soups. Also in many cultures cabbage is preserved to last even longer (think kimchi in Korea, sauerkraut in Eastern Europe). The leaves are used in all stripes of cabbage rolls in all kinds of cultures.
Cutting Cabbage
If you are using the leaves for wrapping fillings, then you will want to remove them whole from the head of cabbage, and following the recipe instructions, which may include blanching them, or removing the thick rib that attached it to the core. If you are chopping or slicing the cabbage, cut it in half right through the core, then cut the core from the cabbage, and chop of slice according to the recipe directions.
I like slicing it very, very thin for slaws. You can also cut the cored cabbage into chunks and feed them through the tube of a food processor, using the shredding or the slicing blade. The shredding blade will give you pretty finely chopped cabbage, so make sure that's what you want.
How Long to Cook Cabbage
In some preparations, like coleslaws and salads, the answer may be not at all. In other preparations, like a braise, you might cook it for a long while, under it becomes quite soft and tender. You also might give it a very quick saute, if you are using it in a stir-fry for instance. The cooking time definitely depends on the way the cabbage has been cut, the type of cooking method, and the desired texture.
Storing Cabbage
Don't wash the cabbage before storing. If it came wrapped, leave it in the plastic and store it in the fridge, preferably in the vegetable drawer. If it came unwrapped, you can put it in a plastic bag. Once cabbage is cut, wrap the remainder in plastic wrap and refrigerate. Cabbage should last up to two weeks in the fridge easily.
Is Cabbage Nutritious?
Yes! It's very high in vitamin K and also vitamin C. It also has a nice dose of B6 and folate, and provides fiber. And it's low in calories – cabbage has about 22 calories per cup.
Cabbage is abundant, cheap, and very hardy, but it's also delicious and versatile. Here's how to choose, store and prepare this amazing vegetable.

Tweet This
---
9 Delicious Cabbage Recipes
Onto the recipes!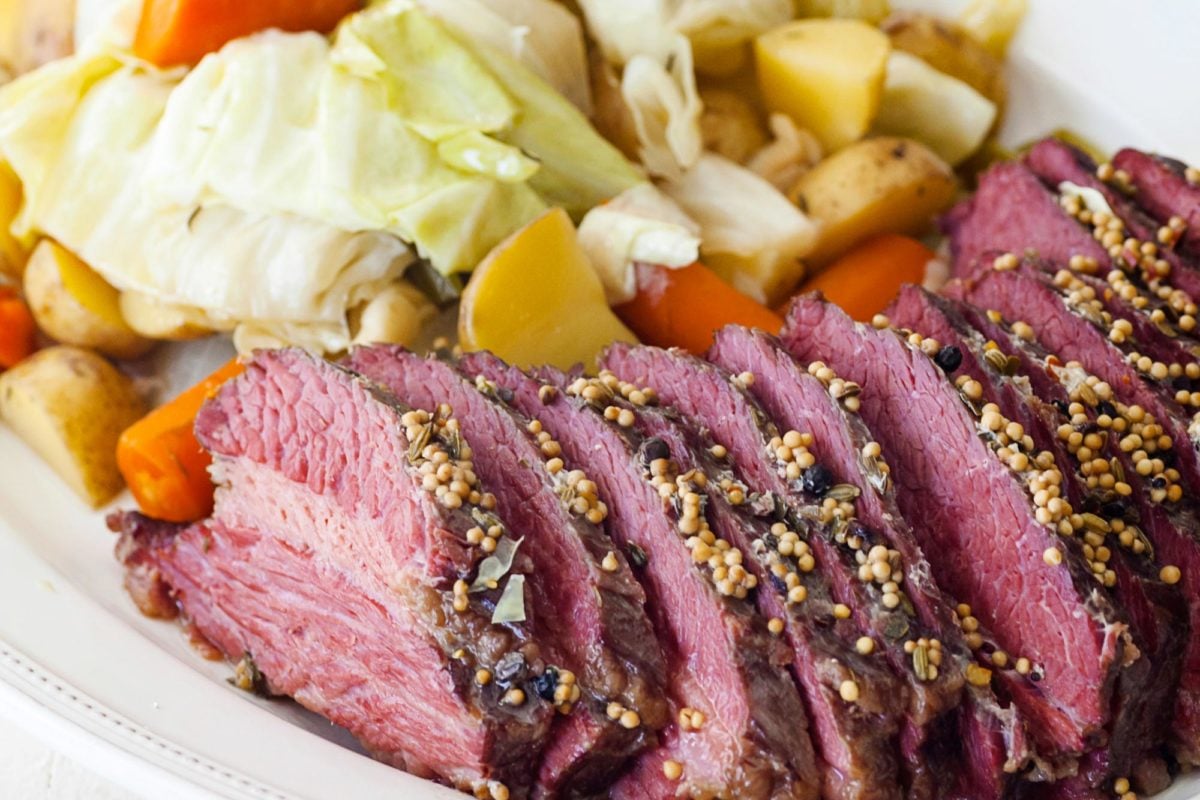 This traditional Irish meal is perfectly suited to be cooked in the slow cooker – the vegetables come out perfectly as well!
---
Crisp bacon with aromatic onions make up the base. Then the cabbage is added, along with the beer of your choice, and in 30 minutes you have a dish that may be modest in cost and appearance, but quite lofty in flavor.   Nice for a St. Patrick's Day menu.
---
Send winter out with a bang with this slow cooker dinner.  What with the cabbage and the pork and the apples it couldn't be more comforting.  It also smells amazing, a terrific dish to come home to.
---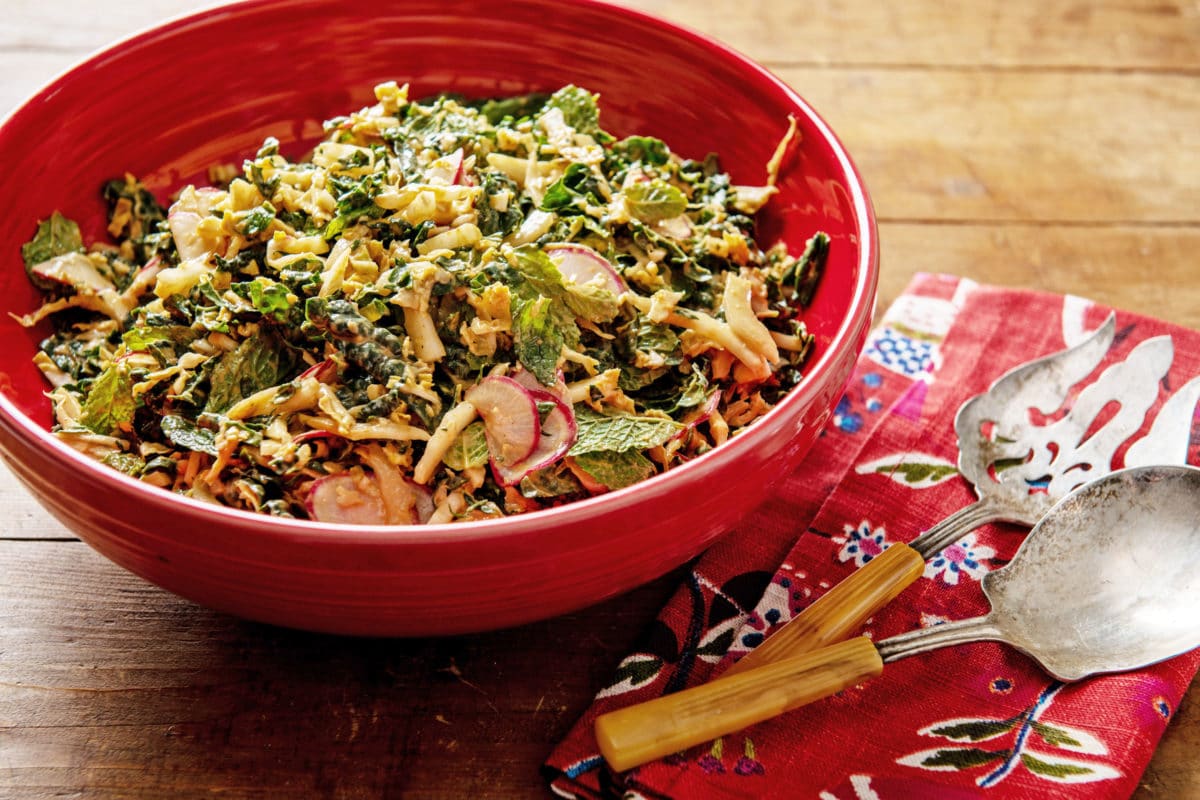 The cabbage definitely holds its own against the dressing, in a rugged slaw like way, and you can use any kind of kale you want.  For those of you who don't think a green salad can be satisfying and satiating, this is a must-try.
---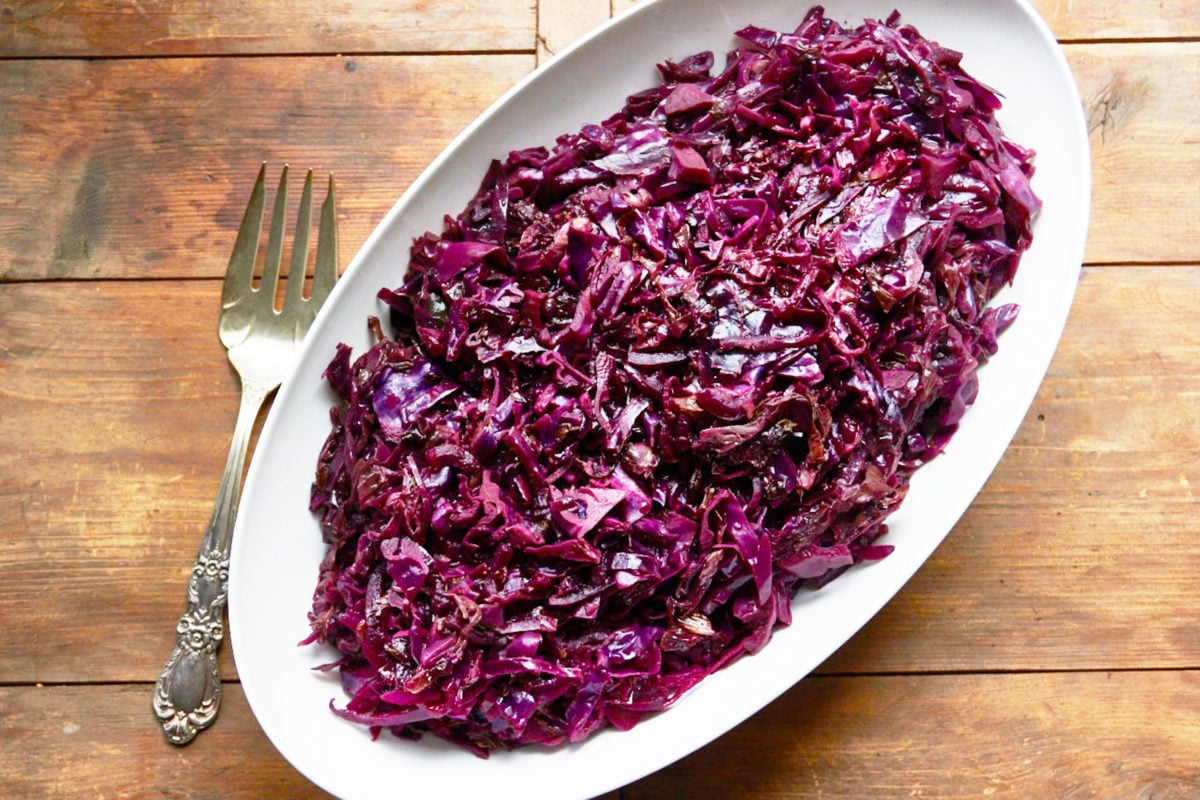 A gorgeous addition to any holiday table.  Think of this for Passover, which is one the horizon.  The stovetop braising softens the bitterness of the lettuce and the sharpness of the onion, but they do contribute wonderful layers of flavor to the dish.  It has a little sweetness coming from the honey and the orange juice, a bit of tartness from the lemon, and a bit of both from the balsamic vinegar.
---
In a hot oven with just a handful of seasonings, a simple wedge of cabbage turns into something magical.  It's roasted at a very high temp so that the whole thing softens, and the edges get crispy and caramelized.
---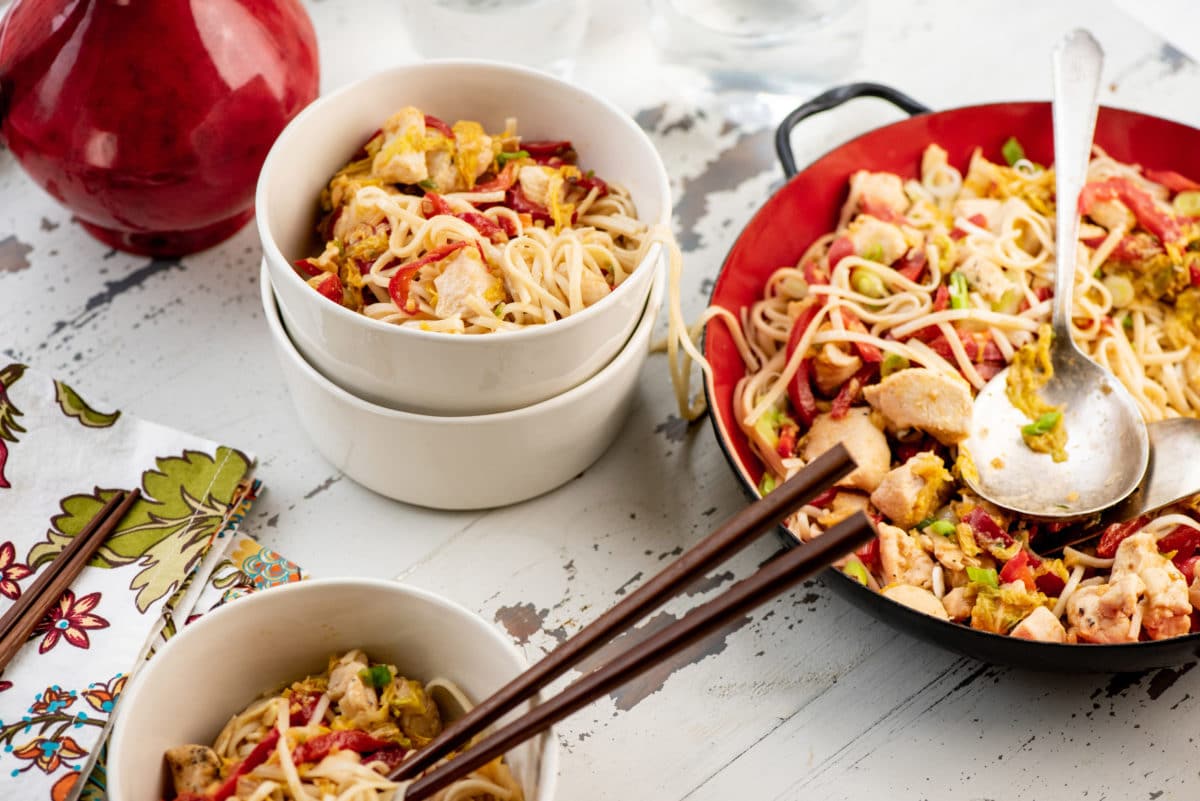 This flavorful, noodle stir fry is very quick to make, and very delicious.  If you don't have Napa cabbage you can use another sturdier kind of cabbage, but make sure to sliver it very thinly, as you want it to soften nicely as it cooks.
---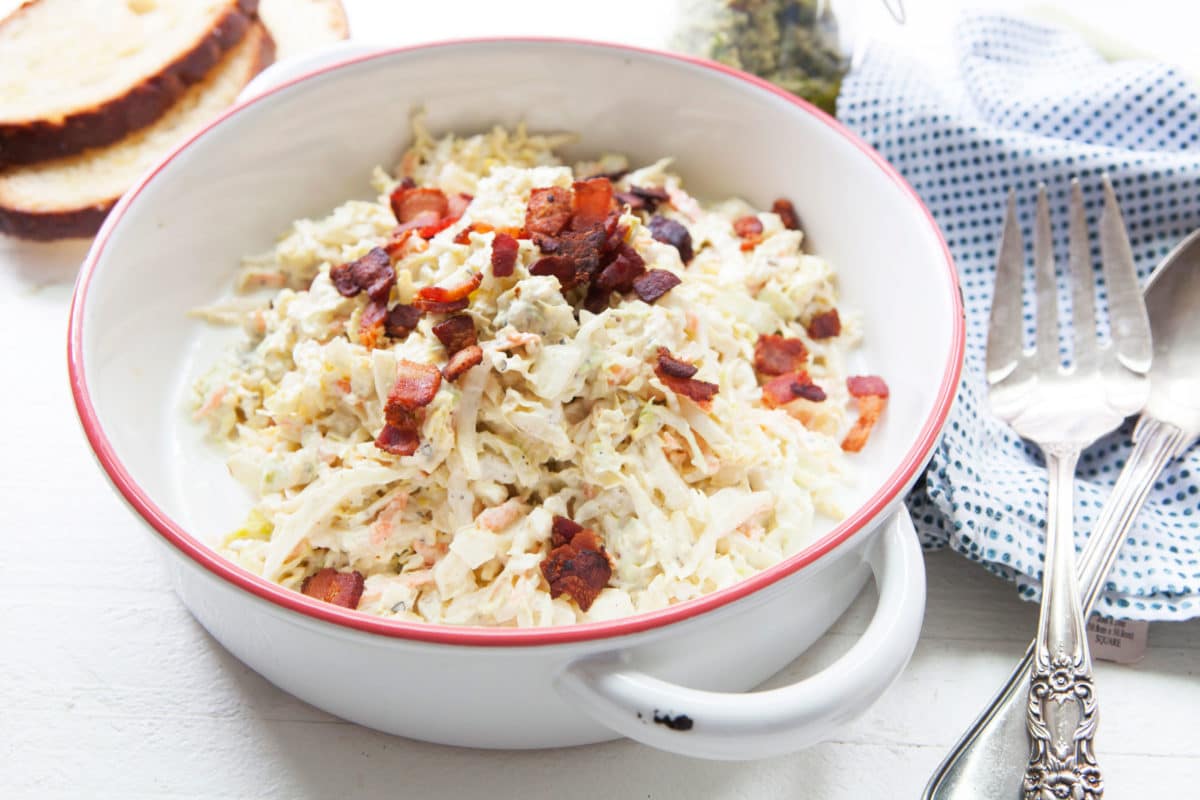 This is kind of like a steakhouse wedge salad in a slaw form.  This would be great at any upcoming summer barbecue, or piled on a pulled pork sandwich.
---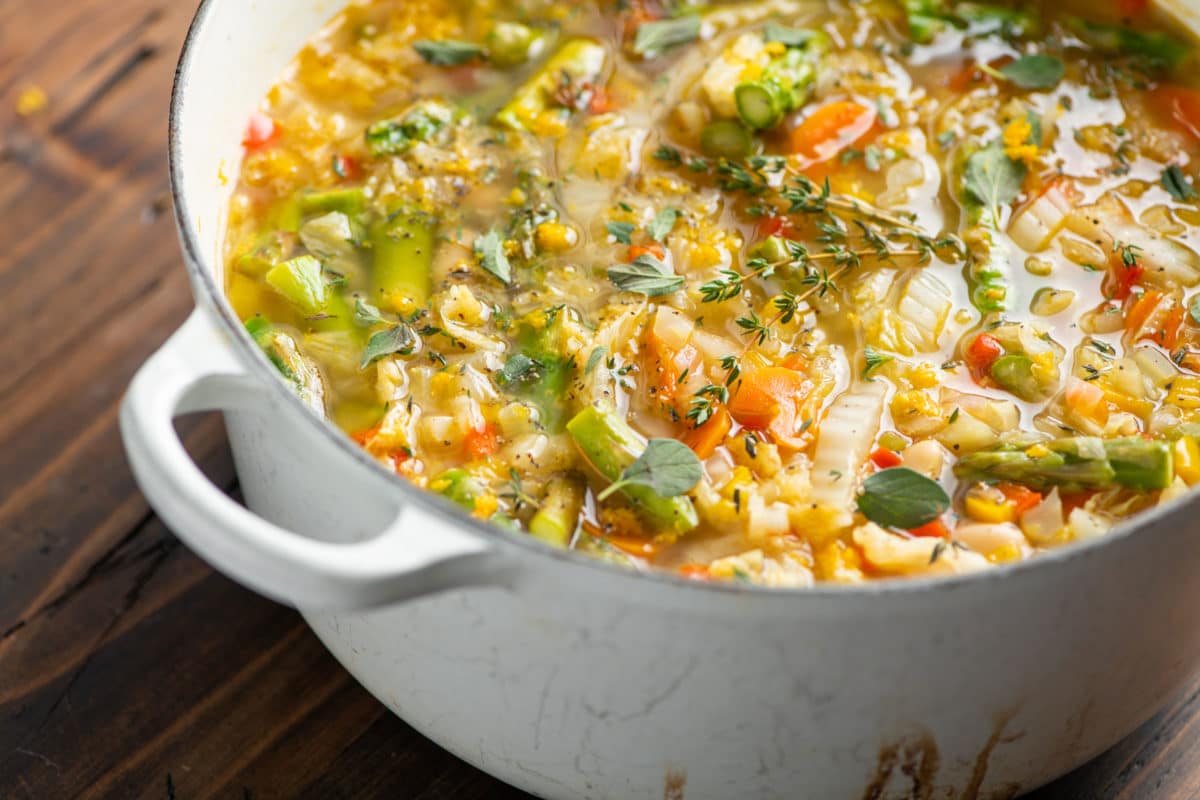 Soup is the single most brilliant way to use up what you have in your fridge.  Cabbage is but one of the myriad vegetables in this soup, and you can keep changing it up, and using this recipe as a basic vegetable soup template.
---