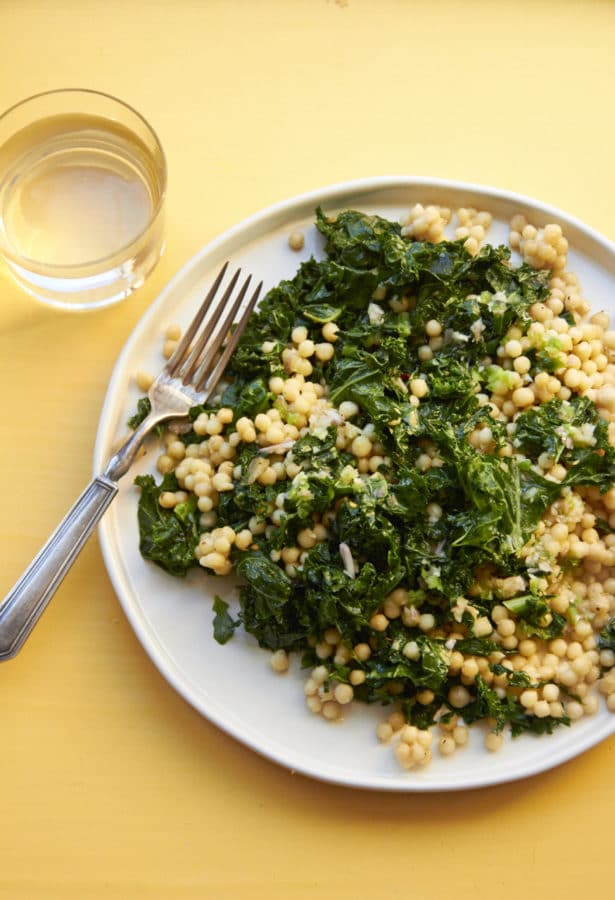 Like many cooks, one of my greatest pleasures is to find a new ingredient in a food store, and bringing it home to play with.  And like many cooks, once I bring home some unknown item I sometimes tuck it away into the fridge or pantry and then kind of forget about it. Then it surfaces, sometimes with an expiration date, and now the pressure's on.
I had bought a big bag of moghrabieh in a restaurant/grocery store on some trip, somewhere. Moghrabieh is a type of Lebanese large-pearl couscous, and the bag been lingering behind the farro and spaghetti in my pantry closet for some time. And as I was slow roasting a serious leg of lamb it said "ahem, remember me?"
I don't know how this little pearly durham wheat semolina pasta knew just when to make its presence known, but it was quite prescient, somehow knowing that it would make the perfect partner for this rich red meat seasoned up with a nice amount of Middle Eastern/Mediterranean spices. If you've ever made Israeli or Mediterranean couscous then you'll recognize this even larger pearled pasta. If you see Moghrabieh on a shelf, or online, and you are a couscsous fan, snap it up.
Check the couscous package directions, as different brands may have different advice about amounts of liquid, and time (the size of the pasta may also vary), and adapt these directions to include what your package says.
And if you can't find mograbiah, then please do make this with Israeli or Lebanese couscous, or even the Moroccan fine grained version – they will all be delicious.
Other Couscous Salad Recipes:
Lebanese Couscous with Sautéed Kale and Lemon Dressing
Big fat pearls of couscous are blended up with that now infamous green. An excellent all-in-one side.
Ingredients
4

tablespoons

olive oil

divided

¼

cup

minced onion

Kosher salt and freshly ground pepper

to taste

2

cups

Lebanese or Israeli couscous

mograbiah

4

cups

water

½

cup

minced shallots

1

clove

garlic

finely minced

5

ounces

baby kale

1

teaspoon

finely minced seeded jalapeno

1

tablespoon

fresh lemon juice

½

red onion

thinly slivered, then roughly chopped
Directions
Heat two tablespoons of the olive oil over medium-high heat in a medium saucepan and add the onion. Sauté until the onion is tender and lightly browned, about 4 minutes. Add the couscous and stir until the couscous begins to turn golden and smell toasty, about 4 to 5 minutes. Add the 4 cups water and salt to taste and bring to a boil. Reduce the heat, cover and simmer for about 15 minutes, or until the couscous is tender, and the liquid is absorbed. Line a rimmed baking sheet with aluminum foil, spray it with nonstick cooking spray (or a brush of oil), and spread the couscous out on the baking sheet to cool to room temperature.

Meanwhile, roughly chop the kale. Rinse well in a colander, then shake the colander to get rid of excess moisture. Heat a large pot over medium high heat. Add 1 more tablespoon of olive oil, then add the shallots and sauté for 4 minutes. Add the garlic, and stir for another minute. Add the kale, season with salt and pepper and sauté for about 5 minutes, until the kale is wilted (if you like it softer, cook it a bit longer).

In large bowl, combine the remaining tablespoon olive oil, the jalapeno, lemon juice, red onion, and salt and pepper, then transfer the cooled couscous to the bowl and toss to combine and coat the grains. The grains may have clumped up a bit – tossing them with the dressing should separate them. Toss in the sautéed kale, taste, and adjust the seasonings as needed. Serve slightly warm or at room temperature.
Nutrition Information
Calories:
190
kcal
|
Carbohydrates:
29
g
|
Protein:
5
g
|
Fat:
6
g
|
Saturated Fat:
1
g
|
Sodium:
14
mg
|
Potassium:
140
mg
|
Fiber:
2
g
|
Sugar:
1
g
|
Vitamin A:
1421
IU
|
Vitamin C:
19
mg
|
Calcium:
34
mg
|
Iron:
1
mg
The nutrition values are provided as an estimate. It is not intended as a substitute for the advice of a qualified healthcare professional.
Made this recipe? Post a photo of your delicious creation on Instagram with our hashtag #dinnersolved