When Gary and I were first dating/living together (the difference between the two is a pretty small margin. We were young and apparently quite carefree) he told me he really liked asparagus, but hasn't eaten that much of it. It was not a Freilich household vegetable, but once he discovered it as a young adult he realized what had been missing.
So our first spring together I made it. A lot. And then at some point he mentioned that while he did in fact like asparagus, he didn't necessarily want to eat it as every meal. My memory is hazy as to whether or not I took offense, but I do remember him saying it, so clearly the moment stuck with me.
I now regulate my asparagus output to what I think is a reasonable and universally acceptable pace. And unlike some vegetables, which I will prepare all year round (broccoli or spinach, for instance) , asparagus is pretty much confined to the spring months, when it is really truly in season.
It makes it feel more special, and of course it is the only way to attempt any effort on local eating. Which by the way is at the same time both a good thing, and can also get kind of annoying when you get super militant about it.
A few extra minutes gets you a simple cheesy, crunchy topping that turns asparagus into a very special side dish.

Tweet This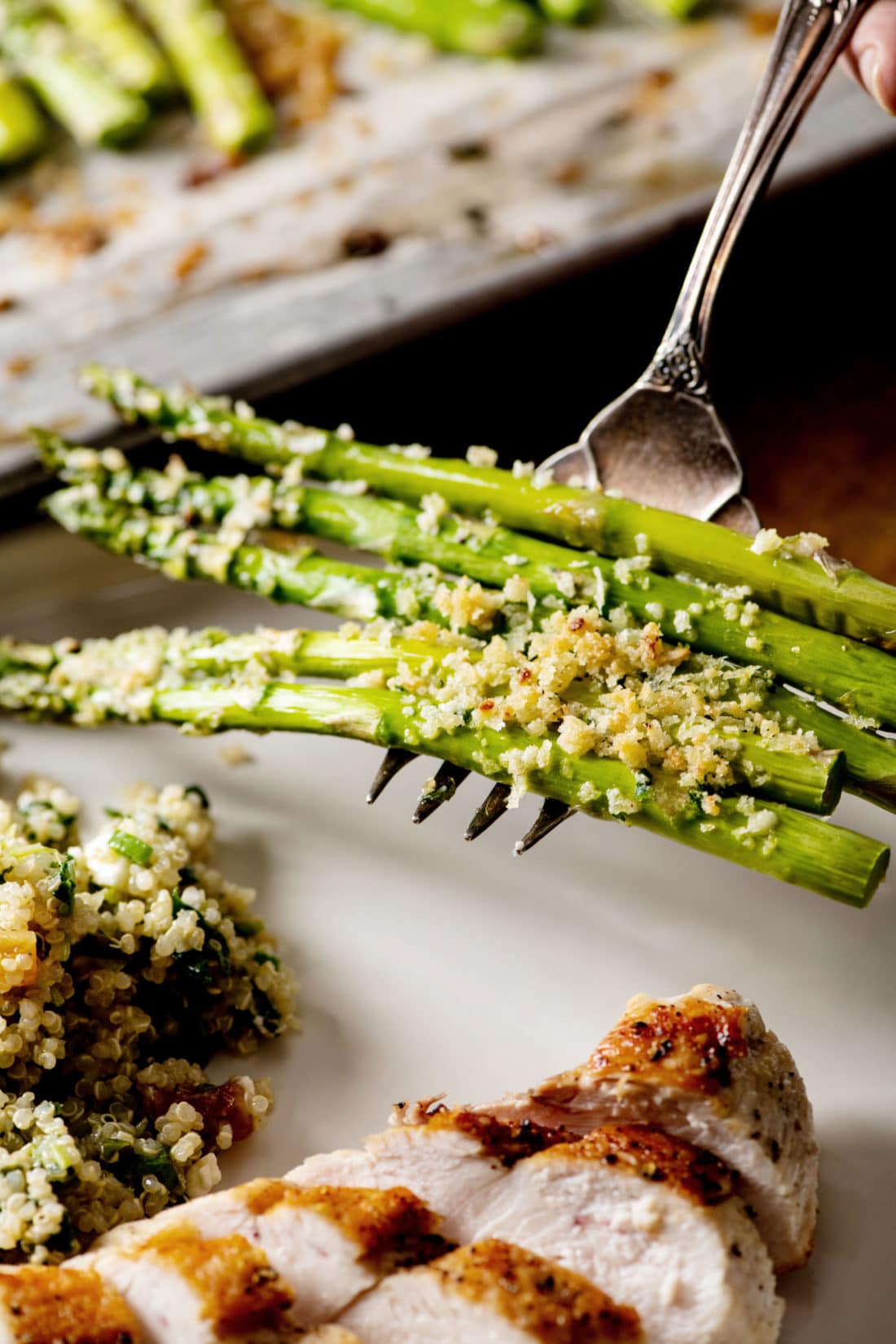 This version is just a notch more effort than simply roasting asparagus, but has a lot of flair. It would be great with Salmon with Tarragon Vinaigrette, Filet Mignon with Pistou and Green Salad, or Herbed Boneless Leg of Lamb with Mustard Crust.
You want to use fairly thick asparagus for this since you need to roast them until the panko mixture has a chance to brown in the oven. Thin asparagus would cook too quickly; by the time the Panko mixture was nice and toasty the asparagus would be pretty limp.
If you want to double this go right ahead, but if you want to triple it make sure to use two baking sheets and divide the asparagus and bread crumbs between them. You need the asparagus to stay in a single layer to cook evenly and for the breadcrumb layer to do its thing. Rotate them halfway through cooking so that each sheet has its chance to be on top and brown up nicely.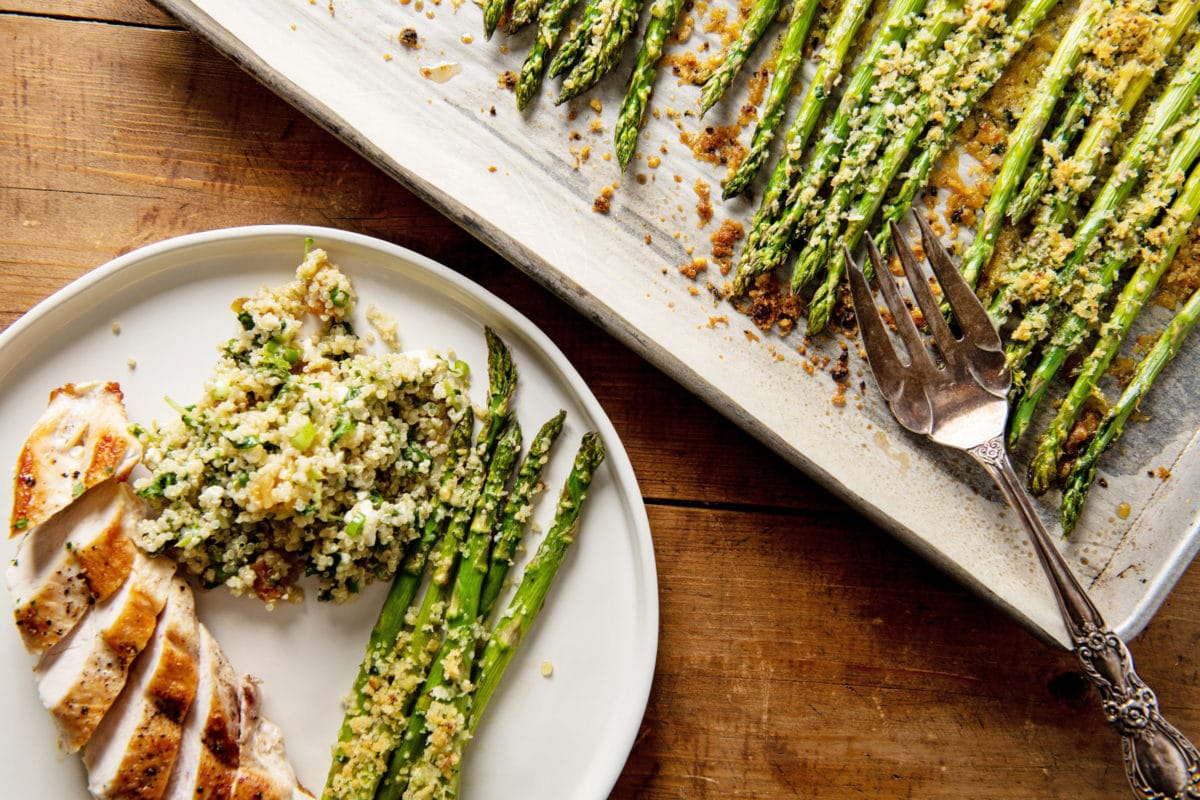 If You Like Asparagus at Least as Much as Gary Does:
Like this recipe? Pin it to your favorite board on Pinterest.

Pin This
Garlicky Roasted Asparagus with Parmesan
A notch above plain roasted asparagus, but not a whole lot more effort.
Ingredients
1

pound

½-inch thick asparagus

trimmed

2

tablespoons

olive oil

divided

1

tablespoon

finely minced garlic

½

cup

grated Parmesan cheese

¼

cup

Panko breadcrumbs

1

teaspoon

finely minced parsley

Kosher salt and freshly ground pepper

to taste
Directions
Preheat the oven to 425° F.

Place the asparagus on a rimmed baking sheet and drizzle over 1 tablespoon of the oil. Toss the asparagus with the oil, and spread out on the baking sheet.

In a small bowl combine the remaining tablespoon olive oil, garlic, Parmesan, Panko, parsley, and salt and pepper. Sprinkle the mixture evenly over the asparagus. Bake for 10 to 15 minutes, depending on their thickness, until the asparagus is just tender and the Panko mixture is golden brown.
Nutrition Information
Calories:
156.24
kcal
|
Carbohydrates:
8.27
g
|
Protein:
7.93
g
|
Fat:
10.92
g
|
Saturated Fat:
3.22
g
|
Cholesterol:
11
mg
|
Sodium:
221.34
mg
|
Potassium:
244.69
mg
|
Fiber:
2.55
g
|
Sugar:
2.5
g
|
Vitamin A:
965.41
IU
|
Vitamin C:
6.97
mg
|
Calcium:
176.32
mg
|
Iron:
2.72
mg
The nutrition values are provided as an estimate. It is not intended as a substitute for the advice of a qualified healthcare professional.
Made this recipe? Post a photo of your delicious creation on Instagram with our hashtag #dinnersolved