Beef Eye of Round Roast
One of the easiest and most satisfying dinner possible involves a roast of some kind, and roast beef is the classic. The preparation is usually quite simple, and while it's in the oven it requires no attention from you.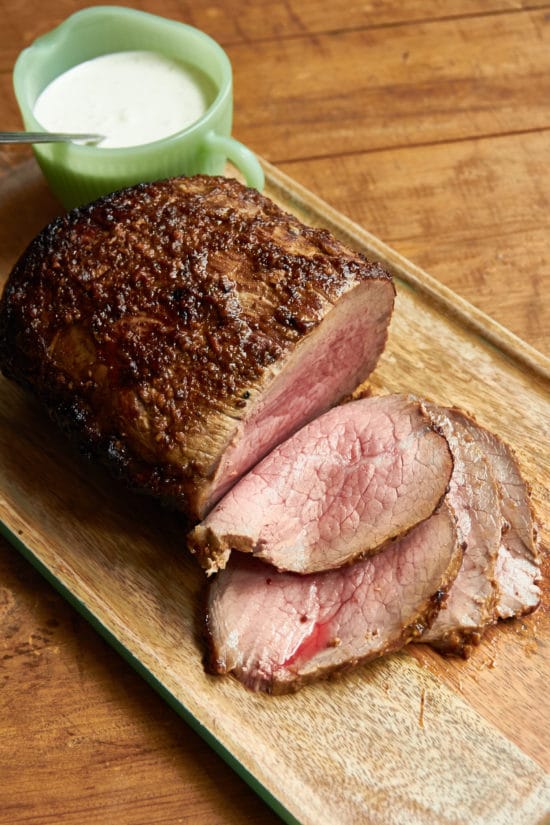 The only other real factor is measuring the cooking time so that it is cooked to your liking. You can always put a roast back in the oven, but you can't un-cook the roast, so err on the side of rarer. This is especially relevant to the less expensive "roast" cuts, which are not as tender as the pricier tenderloins, but make for a perfectly satisfying and economical dinner.
Internal Temperature of Roast Beef
Also, let your roast sit for about 15 to 20 minutes once out of the oven to reclaim its juices, and during that time it will continue to cook a little more.  So, for rare you want to take it out with an internal temperature of 120 degrees or 125 degrees, medium rare is 125 to 130 degrees.  Then, as it sits, the internal temperature will continue to climb a bit, so that when it's ready to carve, it will be just the way you want it.
I went for a very well-priced boneless beef eye round roast to explore the notion of a economical roast beef. This simple roast has a 4-ingredient rub (not counting the salt and pepper) that creates a crusty glaze with hearty flavors which permeate the meat, and also fill your kitchen with the smell of a fabulous meal in the making.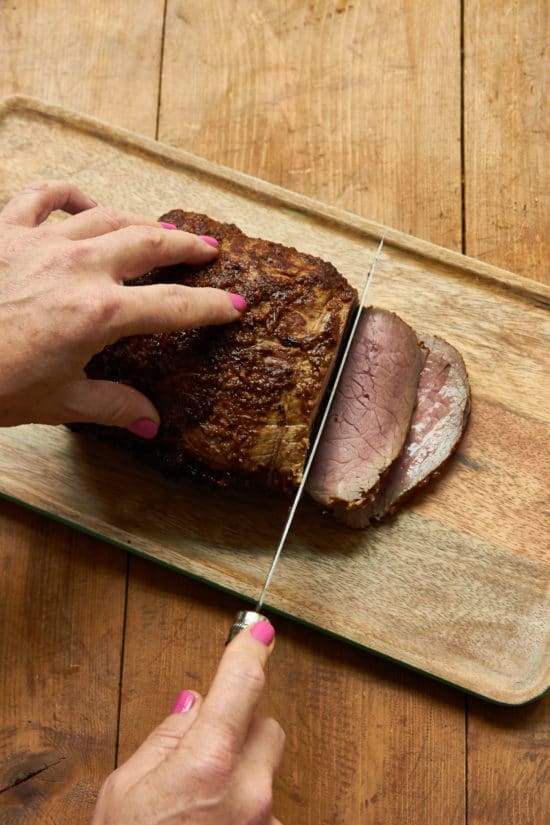 There's a reason why roast beef is such a Sunday night classic. Economical, homey, and simple to prepare. The crust on this roast makes it extra delicious.

Tweet This
What to Serve with Roast Beef
Serve roasted potatoes with this, or a baked potato, or mashed potatoes, or some buttered noodles or spaetzle.  Then maybe some roasted carrots or butternut squash to round out the meal, or Butternut Squash Casserole for a holiday.  Pass the Horseradish Sauce on the side, and let everyone take some or not as they please.  Slice the meat very thinly – this helps it in the tenderness department.
Leftovers are sandwiches waiting to be born (don't forget the sauce!).
More Delicious Roast Meat Recipes:
In the mood for a roast? Try one of these delicious recipes.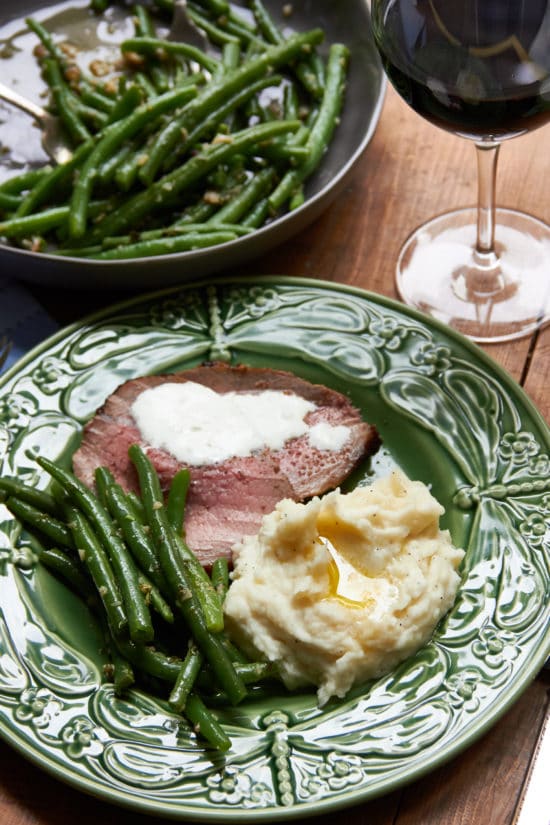 Like this recipe? Pin it to your favorite board on Pinterest.

Pin This
Roast Beef with Mustard Garlic Crust and Horseradish Sauce
There's a reason why roast beef is such a Sunday night classic. Economical, homey, and simple to prepare. The crust on this roast makes it extra delicious.
Ingredients
For the Roast Beef with Mustard Garlic Crust
1

2 ½- to 3-pound boneless beef eye round roast

Kosher salt and freshly ground black pepper

to taste

3

tablespoons

olive oil

2

tablespoons

Dijon mustard

preferably coarse grain

2

teaspoons

balsamic vinegar
For the Horseradish Sauce
½

cups

sour cream

2

tablespoons

jarred horseradish

1

tablespoon

lemon juice

Kosher salt

to taste
Directions
Season the roast well with salt and pepper. Heat 1 tablespoon olive oil in a large ovenproof (preferably

cast iron

) sauté pan over medium-high heat, and add 1 tablespoon of the oil. When hot, sear the beef on all sides, until nicely browned, about 8 minutes in total.  Transfer the beef to a plate for a few minutes, and pour off most of the remaining fat in the pan.

Meanwhile, in

small bowl

, whisk together the remaining 2 tablespoons olive oil, the minced garlic, Dijon mustard, balsamic vinegar, ½ teaspoon kosher salt, and pepper to taste.

Brush or smear the mixture all over the roast, and return the beef to the skillet fat side down.  Roast in the oven until an instant read thermometer registers 125°F for medium-rare (25 to 30 minutes),  or 130°F for medium (30 to 35 minutes; the temperature will continue to climb for a bit after it is removed from the oven.)

Let the roast rest on a cutting board for 10 minutes for it to finish cooking and for the juices to reabsorb into the meat.

While the beef is cooking, make the Horseradish Sauce: in a small bowl blend together the sour cream, horseradish, lemon juice and salt. Thinly slice the meat and serve with the sauce, and the starch of your choice (ideally mashed potatoes!)
Nutrition Information
Calories:
319
kcal
|
Carbohydrates:
2
g
|
Protein:
38
g
|
Fat:
17
g
|
Saturated Fat:
5
g
|
Cholesterol:
113
mg
|
Sodium:
166
mg
|
Potassium:
615
mg
|
Fiber:
1
g
|
Sugar:
1
g
|
Vitamin A:
90
IU
|
Vitamin C:
2
mg
|
Calcium:
54
mg
|
Iron:
4
mg
The nutrition values are provided as an estimate. It is not intended as a substitute for the advice of a qualified healthcare professional.
Made this recipe? Post a photo of your delicious creation on Instagram with our hashtag #dinnersolved