This post may contain affiliate links. Please read our privacy policy.
I know the title is braggy, and I'm sorry, but this Streusel Apple Pie deserves as much hyperbolic praise as it can get. The apples are blanketed and bound up with a custardy coating, and a thick layer of sweet, crumbly streusel topping makes this like an amazing apple crisp in a pie crust. It's the best apple pie topping ever (says me). Also, streusel is a highly enjoyable word to say.
This is the ultimate Thanksgiving apple, and I make 2 or 3 every year, along with a perfect Pumpkin Pie. But it's so delicious you won't be able to make it just once a year. It's a treat on a random autumn day, maybe made with apples you picked yourself or got from a farm stand. A big dollop of homemade whipped cream or a scoop of vanilla ice cream (homemade or storebought) would be perfect.
In this Streusel Apple Pie, the apples are blanketed and bound up with a custardy coating, with a thick layer of sweet, crumbly streusel topping.

Tweet This
Apple Streusel Pie Ingredients
For this apple streusel pie recipe, you'll need mostly pantry ingredients for the streusel topping, then grab a few things from the store for the filling:
For the Streusel Topping:
For the Filling:
How to Make Apple Streusel Pie
Make the streusel topping: Add the granulated sugar, brown sugar, flour, cinnamon, ginger, and salt to your food processor and pulse to mix. Add in the butter and pulse until crumbly, then set aside.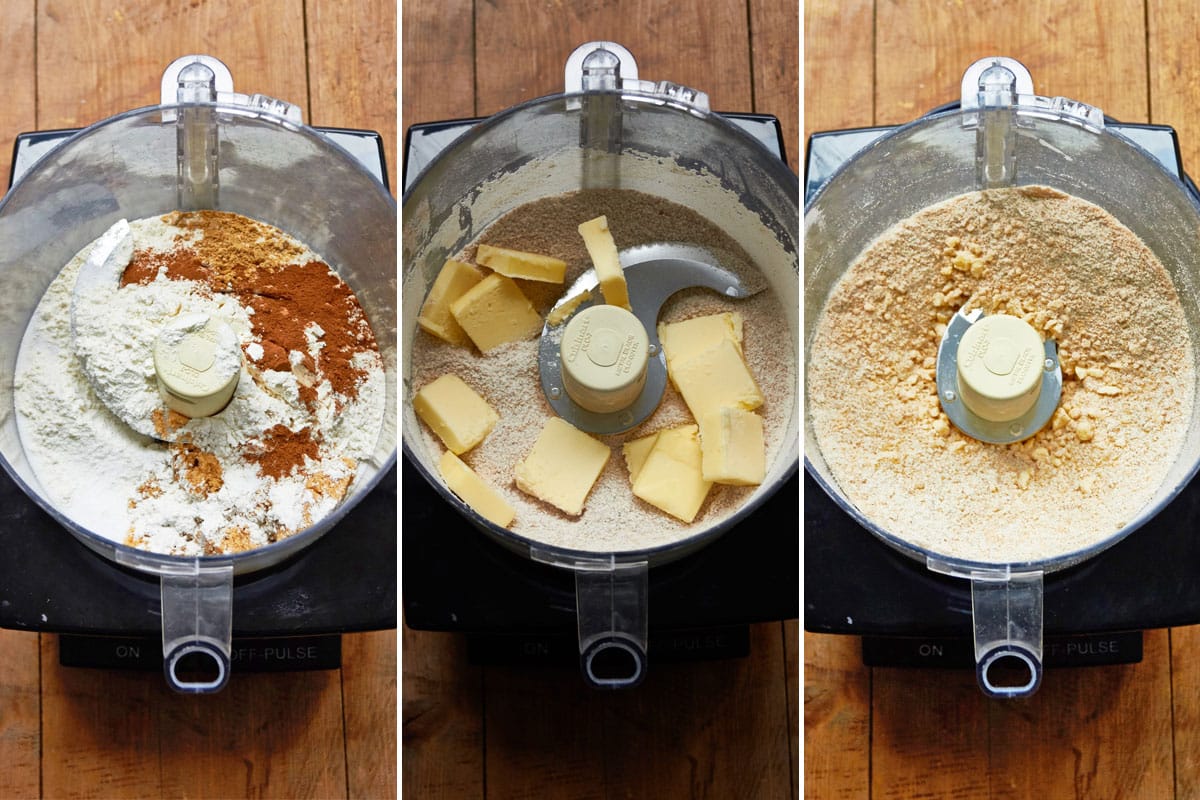 Prepare the pie: Place the sliced apples in the pie crust. There's no need to arrange them in any fancy way; just throw them in!
Make the custard: Mix together the sugar, flour, cinnamon, and cloves. In a separate bowl, beat the egg and add the cream and vanilla. Then, add the sugar mixture to the egg and cream.
Fill the pie: Pour the custard into the pie shell over the apples.
Bake: Bake the pie for 20 minutes at 350 degrees. Crumble the streusel topping evenly over the partially baked filling and bake for about 50 minutes longer. The top should be browned, and the apples should be cooked through.
Cool and serve: Cool on a wire rack for at least 45 minutes before serving. Top with vanilla ice cream or whipped cream, and enjoy!
Streusel Topping for Apple Pie
You can make the streusel topping in a number of ways: you can use your fingers to cut in the cold butter or two knives, but the easiest way I know, especially if you are making a sizable amount, is to use the food processor. See How to Make Great Streusel Topping in the Food Processor — a perfect crumb topping recipe for apple pie or just about any other fruit pie you can think of.
How Long to Bake Apple Pie
Apple pie needs to bake long enough so the apples become fork-tender but do not turn to mush. It also needs to bake long enough for the crust to cook through and not remain doughy, even on the bottom.
This apple pie recipe bakes for a total of about 70 minutes. For the first 20 minutes, the pie bakes with just the apple filling in the crust, then it bakes for another 50 minutes or so after the streusel topping has been added.
FAQs
What's the difference between Dutch apple pie and regular apple pie?
This type of apple pie, with its streusel topping, is also known as Dutch apple pie. The streusel, a combination of sugar, flour, and butter, and in this case, cinnamon and ginger, is what makes it "Dutch" versus regular apple pie, which involves a pastry top.

Dutch apple pies sometimes involve a binder or custard filling along with the apples, as does this pie.
What are the best apples for apple pie?
Unless you have an apple that really loses its texture quickly when it is cooked, most apples are pretty great for apple pies. I like to use a combination. I always have some slightly tart Granny Smiths as part of the mix. Some other apples that make great apple pies are:

– Honeycrisp
– Golden Delicious
– Rome
– Jonathan or Jonagold Apples
– Braeburn
– Northern Spy
– McIntosh
What is streusel topping made of?
I can't think of a pie, or many desserts for that matter, that streusel topping will not improve. That lovely, crumbly, sweet topping is really just pure joy. Streusel is a combination of butter, flour, and sugar, sometimes with other ingredients added in, such as oats, nuts, and spices, particularly cinnamon. Sometimes, it's called a crumble topping.
Pro Cooking Tips
What to Serve With Apple Streusel Pie
More Apple Dessert Recipes
Like this recipe? Pin it to your favorite board on Pinterest.

Pin This
Best Apple Streusel Pie
Sliced apples are blanketed with a custardy filling, with a thick layer of sweet, crumbly streusel topping in our favorite apple pie recipe.
Ingredients
For the Streusel Topping:
⅓

cup

granulated sugar

¼

cup

firmly packed light or dark brown sugar

½

cup

plus 2 tablespoons all-purpose flour

1

teaspoon

ground cinnamon

½

teaspoon

ground ginger

½

teaspoon

kosher salt

8

tablespoons

(1 stick) cold unsalted butter

(cut into small pieces)
For the Pie Filling:
6

large Granny Smith apples

(or a mixture of Granny Smith and any other firm baking apple; peeled, cored, and sliced about 1⁄2-inch thick)

1

unbaked 9-inch deep-dish pie shell

1

cup

granulated sugar

3

tablespoons

all-purpose flour

½

teaspoon

ground cinnamon

¼

teaspoon

ground cloves

1

large egg

1

cup

heavy whipping cream

1

teaspoon

pure vanilla extract
Whipped cream or vanilla ice cream

(optional, but well worth it, for serving)
Instructions
Preheat the oven to 350 F.

Make the streusel topping: Combine the 1⁄3 cup of granulated sugar, the brown sugar, 1⁄2 cup plus 2 tablespoons of flour, 1 teaspoon of cinnamon, the ginger, and salt in a food processor and give it a good whirl. Add the pieces of butter and pulse until the butter is incorporated and the mixture is crumbly. Do not overprocess; you don't want a paste. Set the streusel topping aside.

Make the pie: Put the apples in the pie shell.

Combine the 1 cup of granulated sugar, the 3 tablespoons of flour, the 1⁄2 teaspoon of cinnamon, and the cloves in a small bowl.

Beat the egg in a large bowl, then add the cream and vanilla and blend well. Add the sugar mixture to the egg mixture and stir to blend. Pour the custard mixture over the apples; if the mixture comes more than three-quarters of the way up the side of the crust, stop pouring so it won't bubble up and overflow.

Place the pie on a baking sheet in the oven and bake it for 20 minutes. Carefully remove the pie from the oven, making sure the custard mixture doesn't pour over the side. Evenly and carefully (take your time), distribute the streusel topping over the top of the pie. Carefully (again) return it to the oven and bake until the top is browned and a knife inserted into the pie ensures that the apples are cooked through, about 50 minutes longer.

Let the pie cool on a wire rack for at least 45 minutes until room temp or barely warm, then serve with whipped cream or vanilla ice cream, if desired (and who wouldn't desire that?).
Notes
If you don't have a food processor, you can make the streusel topping by using your fingers to rub the cold butter into the dry ingredients until the topping is fairly uniform and crumbly.
It is a good idea to put a baking sheet under the pie pan as it bakes (you can put it right under the pie pan or on a rack below if you have the oven space), as the streusel topping can tend to bubble over the side a bit. Trust me when I tell you that your kitchen will get more than a little bit smoky if that happens.
Make sure the pie cools on a wire rack until it is either just barely warm or comes to room temperature. The custard will then have a chance to firm up. If you cut the pie while it is still too warm the filling will be loose and not hold together into slices.
Slice the pie with a sharp knife to get the neatest pieces.
Nutrition
Calories:
610.83
kcal
,
Carbohydrates:
81.62
g
,
Protein:
4.47
g
,
Fat:
31.36
g
,
Saturated Fat:
16.57
g
,
Cholesterol:
91.32
mg
,
Sodium:
269.85
mg
,
Potassium:
219.17
mg
,
Fiber:
4.16
g
,
Sugar:
54.28
g
,
Vitamin A:
890.6
IU
,
Vitamin C:
6.46
mg
,
Calcium:
47.83
mg
,
Iron:
1.46
mg
Nutrition information is automatically calculated, so should only be used as an approximation.
Like this? Leave a comment below!