I hate when I start by apologizing for the look of a dish, truly I do. Really more than you know. I can already feel the Instagram dismay from this dish. And let me assure you it was NOT the photographer's fault – it's just not the sexiest looking dish.
But let's not judge this book by its cover, shall we? Let's remember that beauty is only skin deep, looks can be deceiving, all that is gold does not glitter, and still waters run deep.
Yeah, it's true that shredded brussels sprouts and balsamic vinegar is not a breathtaking combination. The bacon helps a little (though it is optional, should you be looking for a vegetarian dish). But one bite of this, and all will be forgiven.
What is "good" balsamic vinegar?
There are balsamic vinegars, and there are balsamic vinegars. And there are vinegars that pretend to be balsamic, but in fact are just little imposters.
True balsamic vinegar (known as aceto balsamico in Italian) is made only in Modena, Italy and has been aged for a minimum of 12 years, up to 25, in a strictly delineated process. It is made from grape must (musto), which are essentially crushed grapes, with the skin and seeds and everything included. It is dark, and fairly thick, and has a notable level of sweetness playing into the tanginess. This is pretty pricy stuff, but if you love it, and want to splurge, here is a great place to use it.
What most of us buy in the stores is commercially made balsamic, which is a combination of grape must and white wine vinegar, which is added to shorten the fermentation process. This vinegar is usually aged between three months and three years.
Look for bottles in the market that say Balsamic of Modena PGI, which means it is truly from Modena Italy. Even if it's from Modena still might be quite affordable. However, the fancy stuff, eg the handcrafted, more aged versions are quite a notch above. They usually have DOP or PDO on the label. And if you don't see Modena on the label, it's not really balsamic at all. Lots more to know about balsamic vinegar: click here if you want to dive deeper!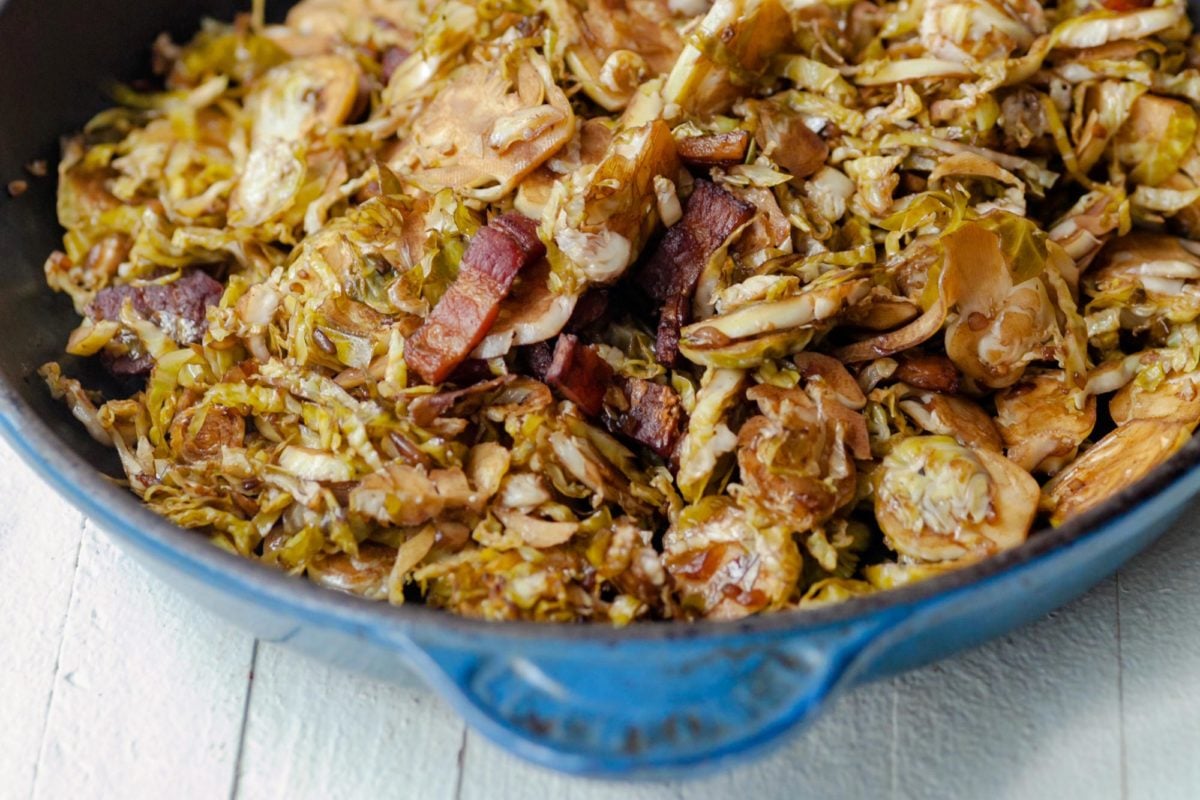 What to Serve with Balsamic Glazed Shredded Brussels Sprouts with Bacon:
We loved with paired with a simple spinach salad and Chicken Cacciatore made in the Instant Pot. Or, serve these balsamic glazed brussels sprouts alongside: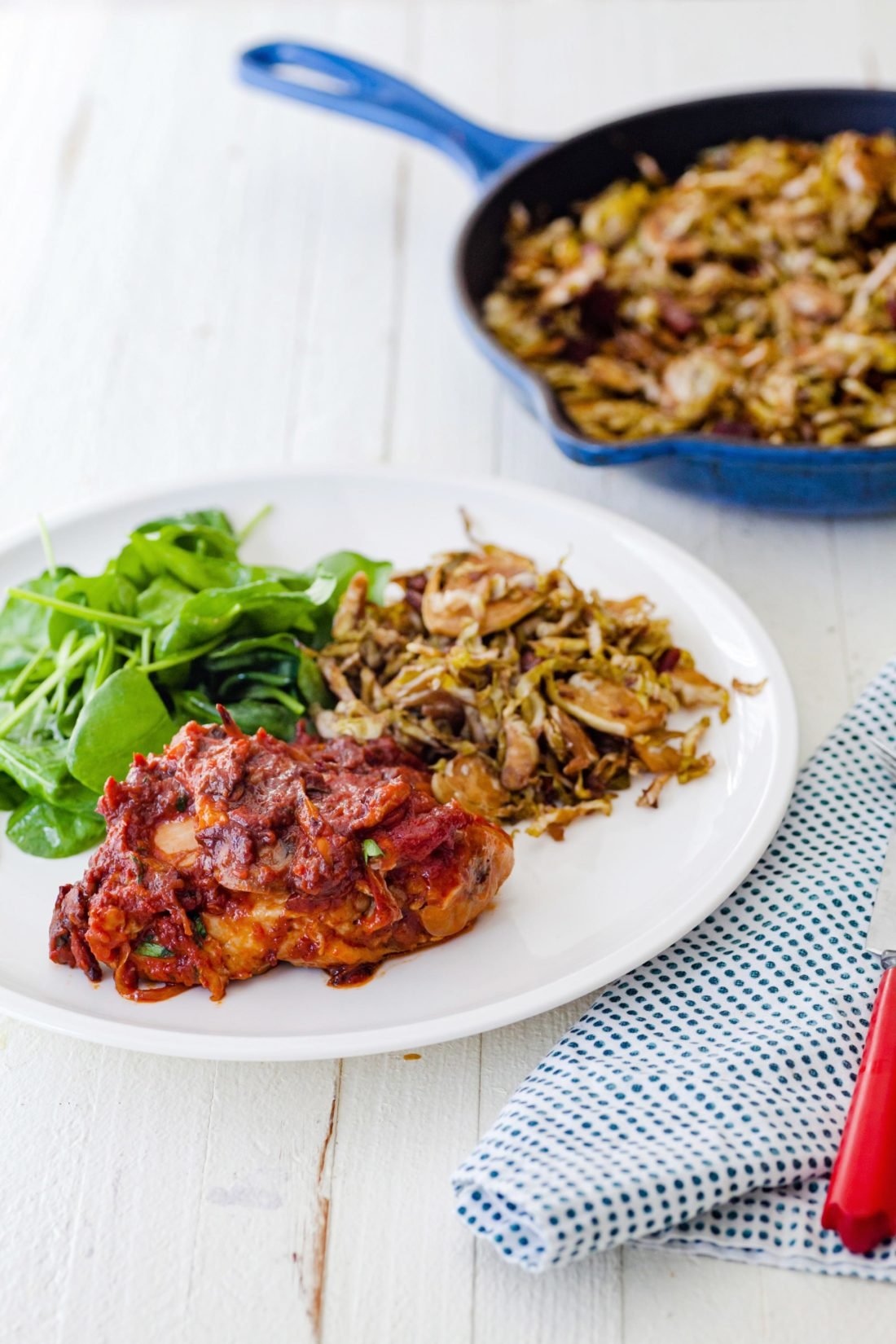 This would be a terrific fall menu:
And these Brussels sprouts
Other Brussels Sprouts Recipes:
Also see How to Cook Brussels Sprouts!
Like this recipe? Pin it to your favorite board on Pinterest.

Pin This
Balsamic Glazed Shredded Brussels Sprouts with Bacon
Don't you love a simple 20-minute side dish has so much personality? This is an amazing cold weather side vegetable for all kinds of mains.
Directions
Heat a large skillet over medium high heat, and add the olive oil.  Add the shallots and sauté for 3 minutes until tender. 

Add the slivered Brussels sprouts, season with salt and pepper, and sauté for 5 to 10 minutes, until the Brussels sprouts are wilted, or as soft as you would like them.  Stir in the balsamic vinegar and let it simmer and coat the Brussels sprouts.

Serve hot or warm, with the bacon and/or Parmesan if desired.  
Nutrition Information
Calories:
180
kcal
|
Carbohydrates:
15
g
|
Protein:
9
g
|
Fat:
10
g
|
Saturated Fat:
1
g
|
Sodium:
371
mg
|
Potassium:
348
mg
|
Fiber:
5
g
|
Sugar:
4
g
|
Vitamin A:
570
IU
|
Vitamin C:
65
mg
|
Calcium:
55
mg
|
Iron:
1
mg
The nutrition values are provided as an estimate. It is not intended as a substitute for the advice of a qualified healthcare professional.
Made this recipe? Post a photo of your delicious creation on Instagram with our hashtag #dinnersolved