Are you ready for a splurge? A beef dinner for the ages? If so, you are ready for a beef tenderloin. It's the ultimate meat eaters holiday entree, a main dish that says right away that there is something to celebrate.
What is Beef Tenderloin?
A tenderloin, or filet of beef, usually comes from the short loin. The muscle gets very little use, and so has less connective tissue, and is very tender, probably the most tender cut of beef.
This cut of beef is also sometimes called chateaubriand or filet of beef or tenderloin roast.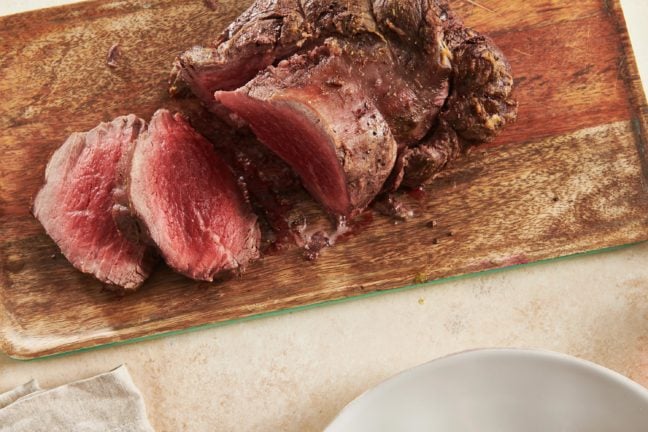 Several steaks are actually cut from this region, including the filet mignon, chateaubriand steaks (steaks cut from the larger portion of the tenderloin), and tournedos (steaks cut from the smaller end of the tenderloin).
Whole tenderloins may be sold with the connective tissue still attached ("unpeeled") or with the connective tissue and any excess fat removed ("peeled"). As you might imagine the peeled or trimmed tenderloins are more expensive then the unpeeled, but they require very little preparation work from the cook, so the extra dollars may be worth it (you are clearly already splurging).
You may also buy different pre-cut steaks cut from the tenderloin, such as filet mignon and tournedos. Since this is an expensive cut of meat to begin with, it is worth going to a butcher, or at least a market with a meat department, to make sure you are getting what you are paying for.
Roasted Filet of Beef
Roasting or grilling are two of the best ways to cook a filet of beef. Roasting is a dry-heat method of cooking that usually involved higher heat, and it works best for roasting tender cuts of meat. Grilling is great in the warmer weather, but let's hone in on the roasting idea, since that's what's happening here.
One roasting method is to roast at a constant temperature all the way through. The timing is longer if the roasting temperature is on the lower side, and (as stands to reason) shorter with a higher cooking temperature.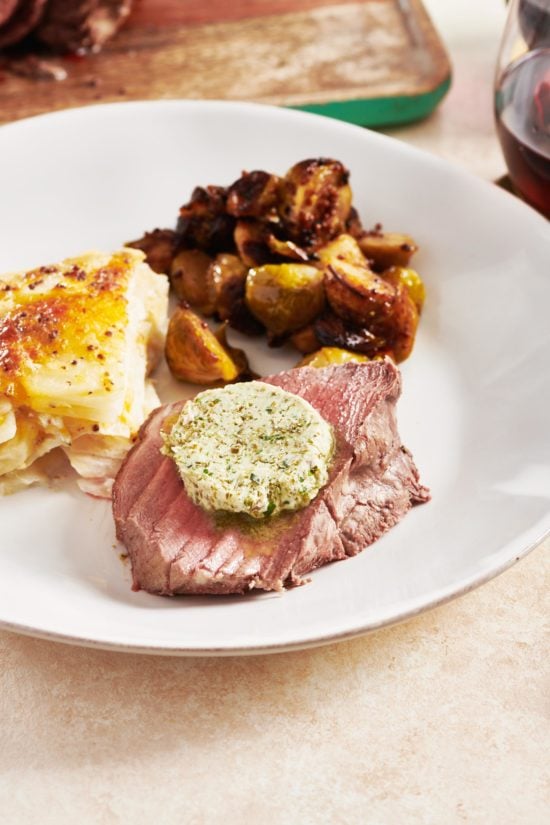 Another popular roasting technique is to start with very high heat, and then lower it for the second part of the cooking time. This helps seal the roast and forma crust,but leave the inside juicy and pink. Sometimes the meat is seared before it goes into the oven regardless of the oven temp. This helps activate the browning. If you want to dig into this, read all about the Maillard reaction here.
Different chefs swear by their methods, but truly any of these methods can work. You must pay attention to the internal temperature of the meat, and take it out precisely when it reaches your desired temperature. If the recipe gives explicit instructions (as it should) then follow them for best results.
Cooking Time for Beef Tenderloin Roast
The cooking time will vary according more to the thickness of the filet than the length, or even the weight. It is really smart to have a meat thermometer when you are cooking meat, especially an expensive cut like this. It should take about 25 minutes, depending on thickness, and the accuracy of your oven.
Beef Tenderloin: How to cook the most tender cut of beef to perfection.

Tweet This
This bears repeating: all meat needs to rest after leaving the heat. A just-right resting time means that your meat will still be warm, but also juicy and tender. For a tenderloin cut, you should be able to slice it easily with a butter knife.
Here's the scientific skinny on why meat needs to rest. As the proteins heat up while meat is cooking, they coagulate, meaning they uncoil and bond with one another. The liquid that was held within these coils then starts to be released, and move towards the center of the roast (or whatever piece of meat you are cooking). Then when the meat comes out of the oven, as it cools, the liquids are able to be reabsorbed by the protein molecules as they change yet again.
So don't be tempted to slice into that filet as soon as you pull it from the oven; let it rest for 10 to 20 minutes. You'll want to take it out just before it's done to your liking as the 10 to 20 minute resting period will also allow the temperature to rise a bit before plateauing and then cooling.
Beef Tenderloin Temperature and Doneness
If you want rare beef, you'll want to pull if from the oven when the internal temperature reading is 120 degrees on an internal or meat thermometer. For medium rare take it from the oven at an internal temperature of 125 degrees. 135 degrees is medium, and you probably don't want to cook it longer than that. If people at your table like it more well done, save the ends of the filet for them.
For a larger filet of beef, 5 to 6 pounds, you will need to add 5 to 8 minutes of cooking time. Use that meat thermometer!
Compound Butter Topping
Compound butter is softened butter that has been blended with other ingredients and seasonings. It can be sweet or savory, and this savory version is a flavorful mixture of capers, shallots, chives and tarragon. When you place a small pat of the butter atop a slice of warm meat it melts in sultry way over the beef, adding even more richness and flavor. You can freeze compound butter for up to a month.
What to Serve with Beef Tenderloin Roast:
Other Filet Mignon Recipes:
Like this recipe? Pin it to your favorite board on Pinterest.

Pin This
Beef Tenderloin Roast
How to cook the most tender cut of beef to perfection (and top it with a pat of herby butter for the ultimate luxury).
Butter Chilling Time
2
hours
Total Time:
2
hours
40
minutes
Ingredients
For the Tarragon Caper Compound Butter
For the Beef Tenderloin
1

beef tenderloin

(3 to 3 ½ pounds), tied

2

tablespoon

unsalted butter

, at room temperature

2

teaspoons

kosher salt

1

teaspoon

coarsely ground black pepper
Directions
Make the compound butter: Place the capers, shallot, chives, tarragon, ½ cup butter and pepper in the bowl of a small food processor and process until well blended.

Scrape the butter out on the center of a piece of plastic wrap, and use the plastic wrap to form the butter into a 4-inch long log about 2 inches in diameter. Wrap it well, and refrigerate for at least 2 hours and up to 5 days.

To cook the filet, preheat the oven to 475°F. Pat the filet dry with paper towels, and place the filet on a rimmed baking sheet. Rub the two tablespoons butter all over the meat, and evenly sprinkle the salt and pepper over the surface.

Place the filet in the oven at roast for about 23 to 25 minutes for rare (an internal temp of 120°F, and 27 to 30 minutes for medium rare (an internal temp of 125°F), depending on the thickness of the meat. Let the meat sit in a cutting board, tented with foil for 20 minutes before slicing into thick slices (or thin, your call!). Remove the compound butter from the fridge while the meat rests.

Place a slice of the compound butter on top of the warm slices of meat as you serve them.
Nutrition Information
Calories:
676
kcal
|
Carbohydrates:
1
g
|
Protein:
36
g
|
Fat:
58
g
|
Saturated Fat:
27
g
|
Cholesterol:
177
mg
|
Sodium:
737
mg
|
Potassium:
629
mg
|
Fiber:
1
g
|
Sugar:
1
g
|
Vitamin A:
479
IU
|
Vitamin C:
1
mg
|
Calcium:
23
mg
|
Iron:
5
mg
The nutrition values are provided as an estimate. It is not intended as a substitute for the advice of a qualified healthcare professional.
Made this recipe? Post a photo of your delicious creation on Instagram with our hashtag #dinnersolved