What Are Lardons?
You know, I am so glad you asked because the answer is both stupidly simple and also possibly life changing. Because most thing involving bacon can be life changing.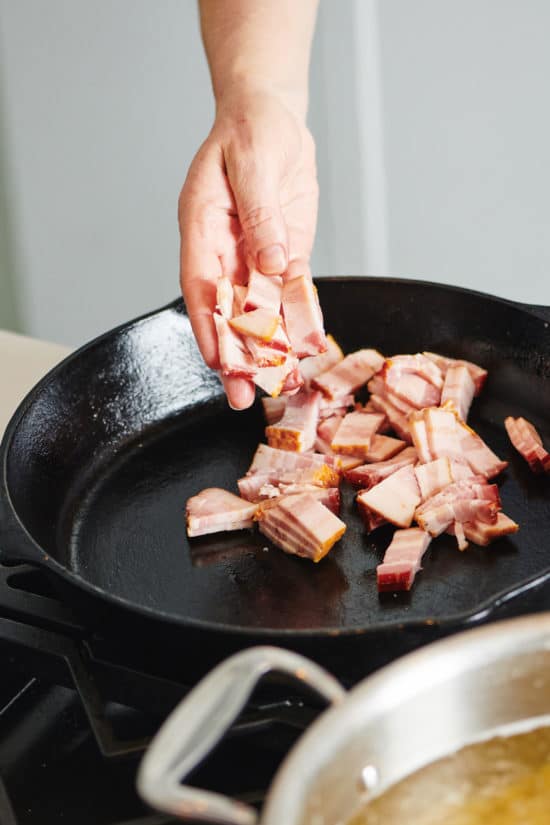 Lardons is a fancy word for sliced and fried bacon bits (but bigger and better). Sometimes they are called lardoons or even larding. And here is why lardons are such a perfect realization of the already pretty perfect food, bacon. When made well, they are just the right balance between crisp and chewy, with enough heft so that you really feel like you are biting into something, but the crackle of salty crisp bacon.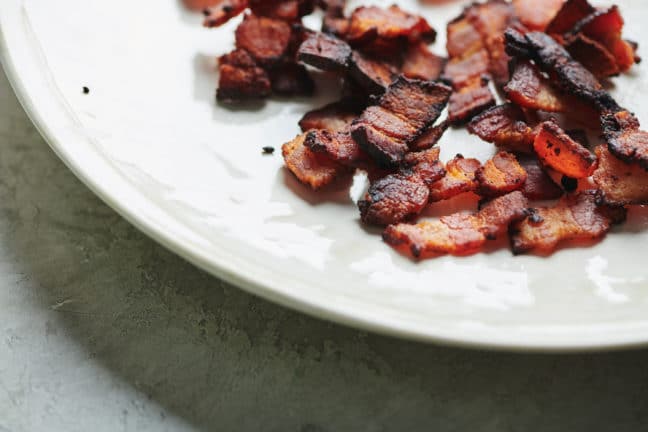 Lardons come from French cuisine. Originally and traditionally lardons were made from salt-cured pork, not smoked bacon. You can feel free to use whatever you like. Other cuisines—lots of other cuisines—includes small bit of cooked pork in their dishes, but the word lardons is French.
More often than not you will find lardons to be simply cross-sliced thick cut bacon, each little strip about ¼ x 1 inch. Slim but toothsome. I have also eaten and made lardons with more substantial dimensions, and those can be a treat in another way.
Cutting the bacon before you cook it means you have a little more control over the shape and thickness of the pieces. You can of course crumble bacon after you cook it, and have a similar effect, but it's not as neat or uniform.
How to Make Lardons
Have a plate lined with paper towels ready for the cooked bacon. Take about 6 pieces of thick cut bacon, and cut them crosswise into ¼ to 1/3- inch slices. You can also make cubed lardons, and then you'll want to cut the bacon into about 1/3-inch small dice.
Heat a large heavy skillet over medium heat. Add the bacon and cook, stirring occasionally until the fat has rendered out and the bacon is cooked and slightly crispy (It will crisp up a bit further as it cools). Don't let the heat get too high or let them get too crisp—the difference between lardons and bacon bits or crumbled cooked bacon is to allow the little matchsticks to have a bit of chew.
Transfer the cooked lardons to the paper towel-lined plate to drain.
If you can use them while they are still warm, wow, will you be in for a treat. But they are fine at room temperature. You can make these ahead of time and keep them at room temperature in a tightly sealed container for a day, or refrigerate for up to 5 days. Bring to room temperature before using, or warm in a low oven or over low heat in a pan.
How Long Do Lardons Take to Cook?
It depends on the thickness of your bacon, the heat of the burner, and how much you put into the pan in one batch, but usually somewhere between 4 and 7 minutes. Keep the heat in the medium range so they cook nicely and evenly.
What Kind of Bacon Should I Use to Make Lardons?
Use thick cut bacon if possible. Thinly sliced bacon will not have enough thickness to give you the textural contrast between the crisp exterior and the meaty interior of the lardons. If you can get extra thick cut bacon, go for it!
And of course you could thinly slice some regular cut bacon and get skinnier little lardons, lighter and crisper in texture, and those will be mighty fine as well.
Is There a Difference Between Expensive Bacon and Cheap Bacon?
Absolutely. But first, let's just say that pretty much any bacon is delicious. And that I also think there's almost no such thing as bad pizza. There is okay pizza. There is good pizza. There is great pizza. There is amazing pizza. But even bad pizza is kind of fine. And I feel the same way about bacon.
Now having said that, if you get great bacon, especially if you can find salt-cured pork, you will make some spectacular lardons.
How Do I Use Bacon Lardons?
Lardons are classically used in salad, such as a traditional Bistro Frisee salad, complete with a poached egg. They are also included in various French stews, omelets, quiches, tarts and potato dishes. Make extra when you prepare them, because you will be a) very sad to see them gone and b) tempted to nibble on more than a few as you wait to add them to a dish.
---
Recipes That Use Bacon Lardons:
Lardons are classically used in salad, but you can use them in any recipe that would benefit from adding bacon.
This Lardons, Goat Cheese and Spinach Frittata is one of my new favorite frittatas. An easy weekend breakfast recipe.
---
A little bistro in your very own house.
---
Two of my favorite vegetables, bound together in love and bacon.
---
Starring the two best vegetables of late summer, with bacon as a supporting actor.
---
Dinner feeling a little drab? Add this burst of color and flavor.
---
A hearty summer soup that deserves main course status.
---
This is kind of like a steakhouse wedge salad in a slaw form.
---
This is more of a "wedge" salad than a wedge salad, if you will. All of those amazing flavors and textures, but a bit easier to eat.
---
At once elegant and peasant-ish, these few ingredients come together in a kind of classy way.
---