This post may contain affiliate links. Please read our privacy policy.
Here is why lardons are such a perfect realization of the already pretty perfect food, bacon. When made well, they are just the right balance between crisp and chewy, with enough heft so that you really feel like you are biting into something, but the crackle of salty crisp bacon.
Cutting the bacon before you cook it means you have more control over the shape and thickness of the pieces. You can, of course, crumble bacon after you cook it and have a similar effect, but it's not as neat or uniform, and the pieces don't have that thick toothsomeness. Add lardons to Bistro Salad with Warm Goat Cheese, Chicken Corn Chowder, or Creamy Blue Cheese and Bacon Coleslaw.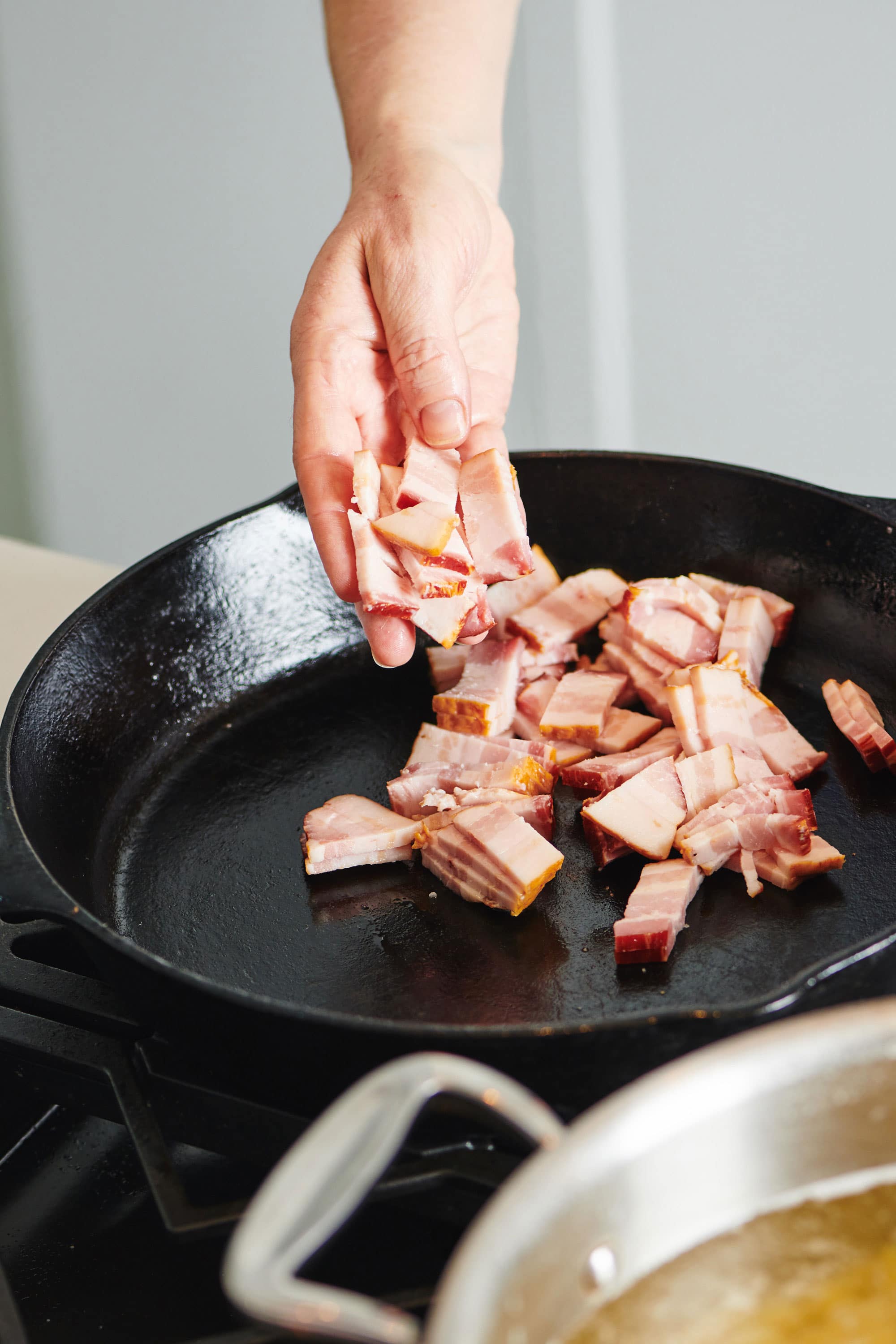 More often than not, you will find lardons to be simply cross-sliced thick-cut bacon, each little strip about ¼ x 1 inch. Slim but toothsome. I have also eaten and made lardons with more substantial dimensions, and those can be a treat in another way.
How to Make Bacon Lardons
Cut the bacon: Have a plate lined with paper towels ready for the cooked bacon. Take about 6 pieces of thick-cut bacon, and cut them crosswise into ¼ to ⅓-inch slices. You can also make cubed lardons, and then you'll want to cut the bacon into about ⅓-inch small dice.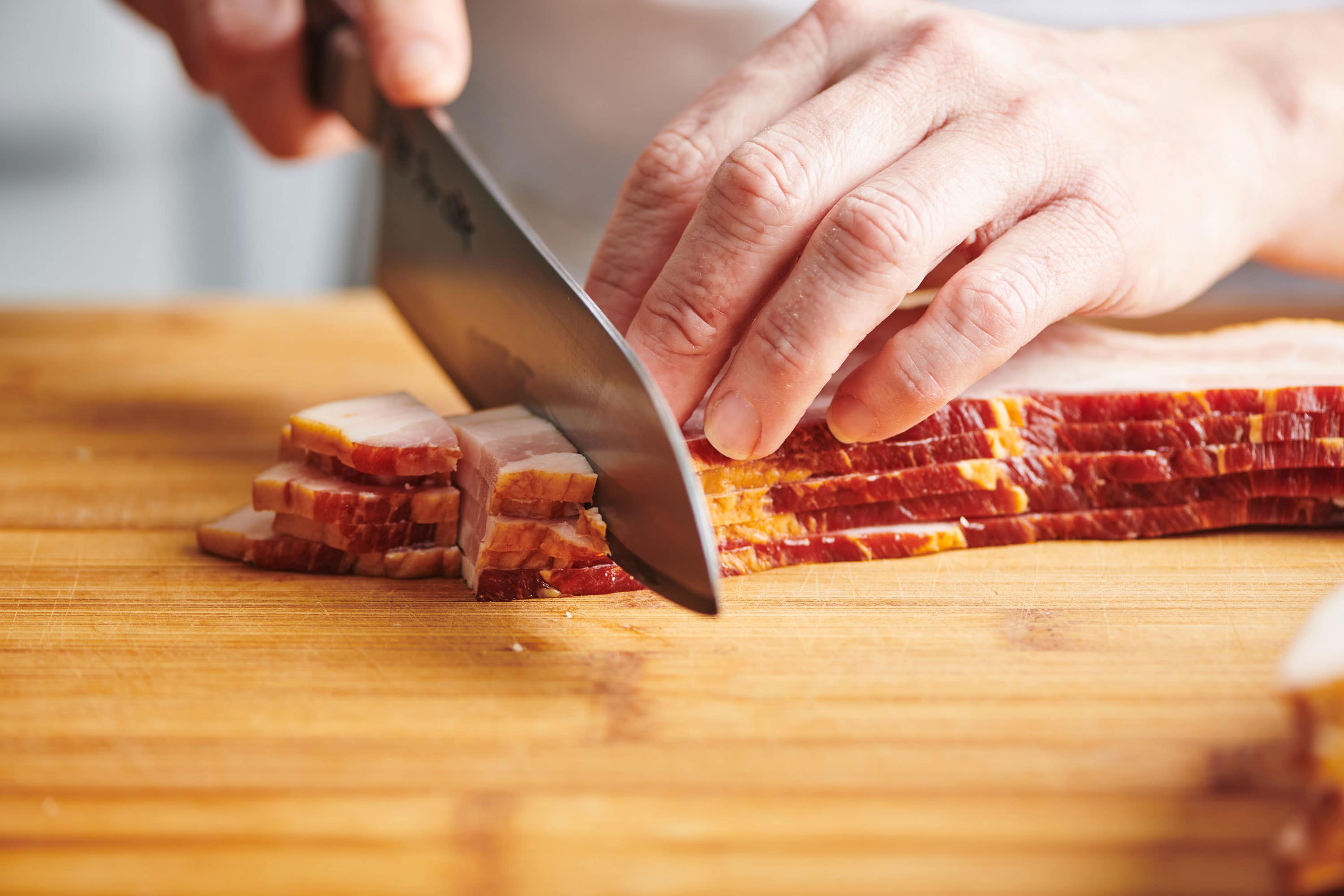 Cook the bacon lardons: Heat a large, heavy skillet over medium heat. Add the bacon and cook, stirring occasionally, until the fat has rendered out and the bacon is cooked and slightly crispy (It will crisp up a bit further as it cools). Don't let the heat get too high or let them get too crisp — the difference between lardons and bacon bits or crumbled cooked bacon is to allow the little pieces to have a bit of chew.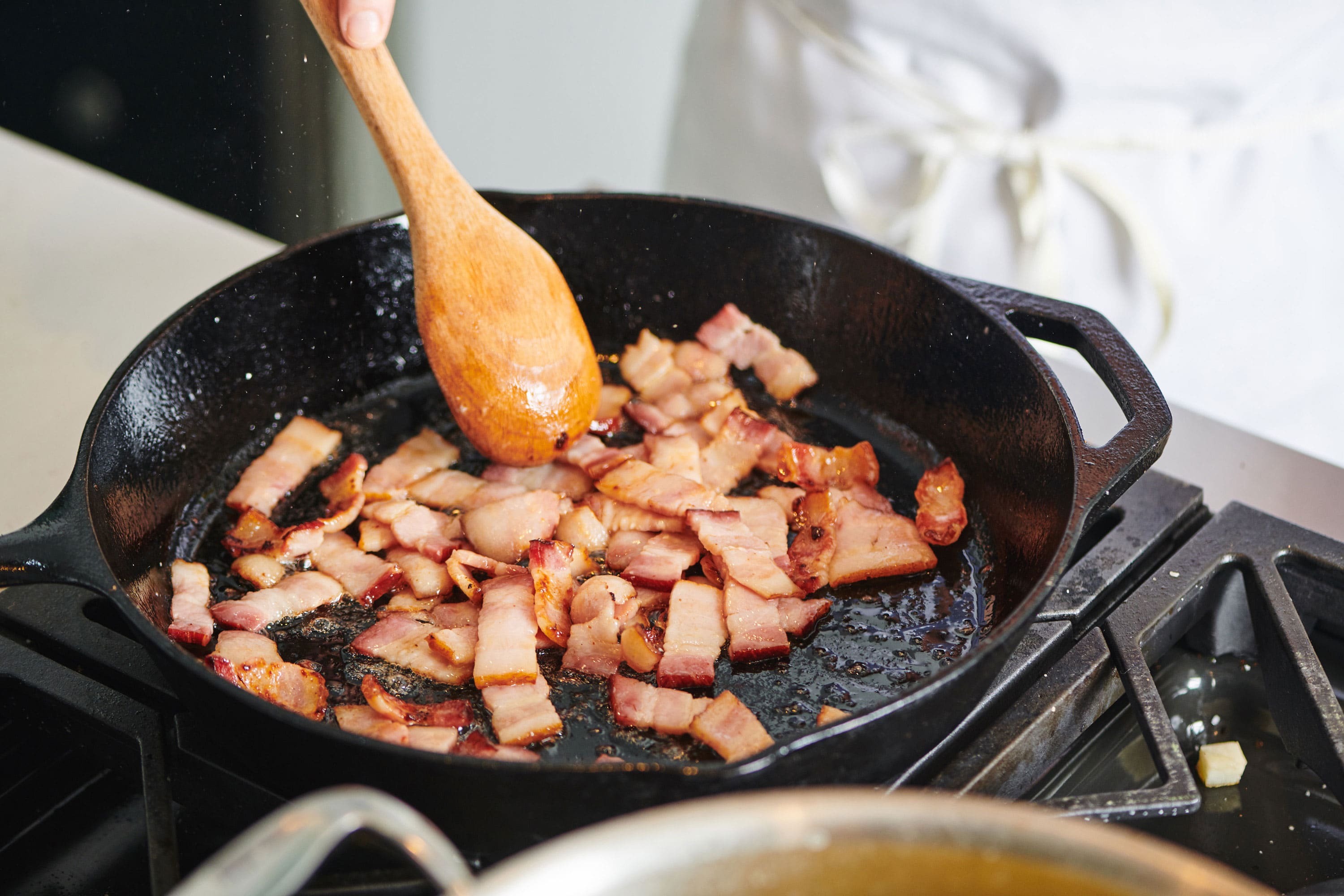 Drain the lardons: Transfer the cooked lardons to the paper towel-lined plate. If you can use them while they are still warm, wow, will you be in for a treat! But they are fine at room temperature.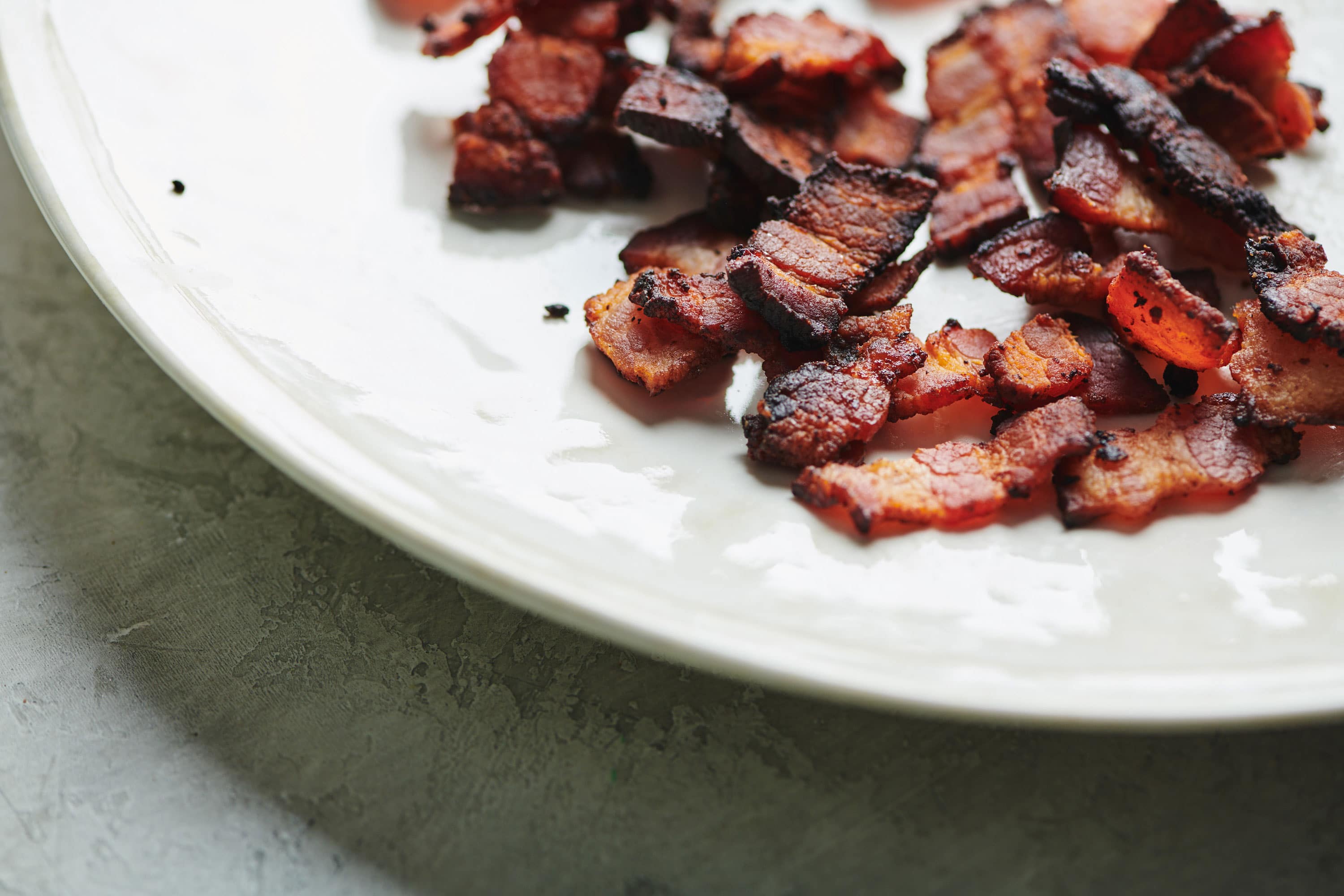 Make Ahead and Storage
You can make these ahead of time and keep them at room temperature in a tightly sealed container for a day or refrigerate for up to 5 days. Bring to room temperature before using, or warm in a low oven or over low heat in a pan.
FAQs
What are lardons?
You know, I am so glad you asked because the answer is both stupidly simple and also possibly life-changing. Because most things involving bacon can be life-changing.

Lardons is a fancy word for sliced and fried bacon bits (but bigger and better). Sometimes they are called lardoons or even larding. Lardons come from French cuisine. Originally and traditionally, lardons were made from salt-cured pork, not smoked bacon. You can feel free to use whatever you like. Other cuisines — lots of other cuisines — include a small bit of cooked pork in their dishes, but the word lardons is French.
How long do lardons take to cook?
It depends on the thickness of your bacon, the heat of the burner, and how much you put into the pan in one batch, but usually somewhere between 4 and 7 minutes. Keep the heat in the medium range so they cook nicely and evenly.
What kind of bacon should I use to make lardons?
Use thick-cut bacon if possible. Thinly sliced bacon will not have enough thickness to give you the textural contrast between the crisp exterior and the meaty interior of the lardons. If you can get extra thick-cut bacon, go for it!

And, of course, you could thinly slice some regular-cut bacon and get skinnier little lardons, lighter and crisper in texture, and those will be mighty fine as well.
Is there a difference between expensive bacon and cheap bacon?
Absolutely. But first, let's just say that pretty much any bacon is delicious. And I also think there's almost no such thing as bad pizza. There is okay pizza, there is good pizza, there is great pizza, and there is amazing pizza. But even bad pizza is kind of fine. And I feel the same way about bacon.
Now having said that, if you get great bacon, especially if you can find salt-cured pork, you will make some spectacular lardons.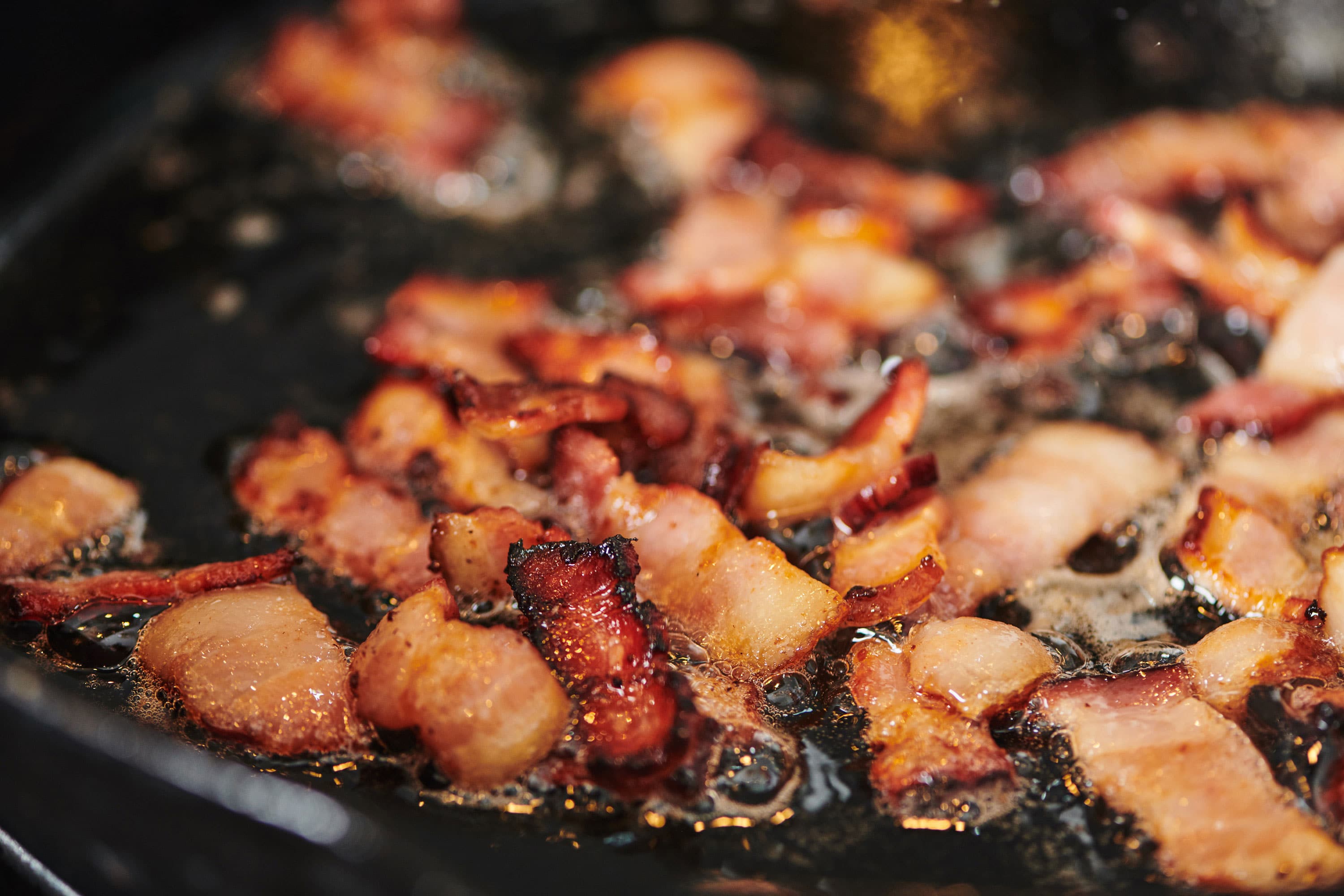 How To Use Bacon Lardons
Lardons are classically used in salad, such as a traditional Bistro Frisee salad, complete with a poached egg. They are also included in various French stews, omelets, quiches, tarts, and potato dishes. Make extra when you prepare them because you will be a) very sad to see them gone and b) tempted to nibble on more than a few as you wait to add them to a dish.
You can also use them in recipes like Sauteed Kale and Brussels Sprouts with Bacon, Endive, Radicchio, and Citrus Salad with Bacon Vinaigrette, or Creamy Blue Cheese and Bacon Coleslaw. Or try the Lardons, Goat Cheese, and Spinach Frittata below.
Also, see How to Cook Bacon in an Air Fryer and How to Bake Your Bacon.
---
Lardons, Goat Cheese, and Spinach Frittata
This is the perfect thing to make for the egg and bacon lovers in your life.
Lardons, Goat Cheese, and Spinach Frittata
Lardons, Goat Cheese, and Spinach Frittata is a favorite frittata, and an easy weekend breakfast recipe.
Ingredients
2

slices

extra thick-cut bacon

6

large eggs

Kosher salt and freshly ground pepper

(to taste)

1

tablespoon

unsalted butter

1

shallot

(minced)

1

cup

roughly chopped baby spinach leaves

(rinsed and shaken dry in a colander)

3

tablespoons

crumbled goat cheese
Instructions
Preheat the broiler and set the rack so that it is about 5 to 6 inches away from the heat source.

Slice the bacon crosswise into ⅓-inch strips. Place a 7- to 8-inch ovenproof skillet, preferably nonstick, over medium-low heat and add the bacon. Cook, stirring occasionally, until the bacon is browned and crisped, about 6 minutes, then transfer it with a slotted spoon to a paper towel-lined plate. Pour off the fat from the pan.

In a medium bowl, beat the eggs with salt and pepper.

Heat the butter in the same skillet over medium heat until melted, then add the shallot and sauté for 4 minutes until golden and slightly softened. Add the slightly damp spinach, season with salt and pepper, and sauté until the spinach is barely wilted.

Pour the eggs into the pan and stir to combine. Let the eggs cook undisturbed for 1 or 2 minutes, until the bottom is set, then use a rubber spatula to lift the sides of the frittata and let the uncooked egg on top run underneath the cooked bottom of the frittata. Sprinkle the bacon lardons and the goat cheese over the top of the frittata and transfer it to the broiler. Broil for just a minute or so; keep an eye on the frittata and take it out when the top has just set, but don't allow it to get more than very lightly golden brown.
Notes
You can make the lardons ahead of time and keep them at room temperature in a tightly sealed container for a day or refrigerate for up to 5 days. Bring to room temperature before using, or warm in a low oven or over low heat in a pan.
Nutrition
Calories:
457
kcal
,
Carbohydrates:
4
g
,
Protein:
26
g
,
Fat:
37
g
,
Saturated Fat:
16
g
,
Cholesterol:
540
mg
,
Sodium:
517
mg
,
Potassium:
379
mg
,
Fiber:
1
g
,
Sugar:
2
g
,
Vitamin A:
2511
IU
,
Vitamin C:
5
mg
,
Calcium:
118
mg
,
Iron:
3
mg
Nutrition information is automatically calculated, so should only be used as an approximation.
Like this? Leave a comment below!