Are you a die-hard slow cooker fan? A slow cooker appreciator? A person who wishes she put her slow cooker to more regular use? However you slow-cook-roll, hopefully these 5 recipes will make you happy.
Yes, many of us have come to love our Instant Pots. But my slow cooker is bigger than my Instant Pot, and so when I'm cooking for a multitude, or just making a big old batch of something, I reach for that guy.
One of my fondest cooking-for-a-crowd memories (and coincidentally one of my sons' more embarrassing ones) was when I decided to lug my slow cooker full of Red Lentil, Fennel and Chicken Slow Cooker Soup to a football game for the end of season game-side potluck on a particularly chilly day, and became very popular. My boys loved the soup –they just weren't too crazy about being the children of "that slow cooker mom". Though when a number of their friends happily dug right in, and were generous with their praise, they grudgingly admitted that maybe it wasn't such a ridiculous idea after all.
Are you a die-hard slow cooker fan? A slow cooker appreciator? Here are 5 slow cooker recipes to set and forget.

Tweet This
---
5 Great Slow Cooker Recipes to Set And Forget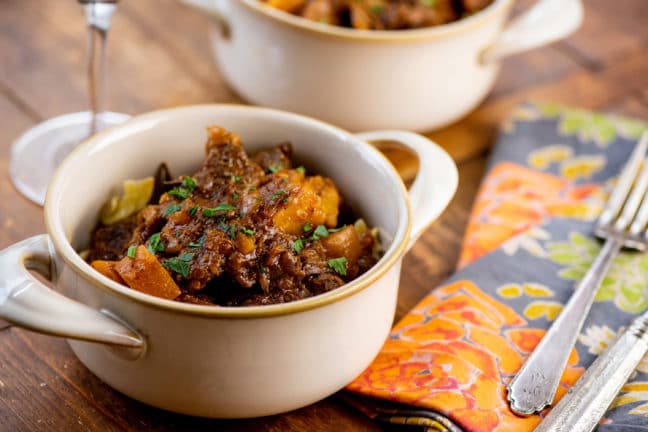 Let's just say the words "beef," "barbecue" and "beer" in the same sentence don't make Gary sad.
Few things make my family happier than a dish involving slowly cooked meat. And in a slow cooker I don't even have to think about minding it, so yeah, this is a keeper. Also barbecue. Also beer.
---
If you like hot dips, and you like pimento cheese, this just may be your Northstar Dip. I can't think of a gathering this ridiculously good hot dip wouldn't improve.
---
This thick and satisfying soup has tailgating or sidelines or post-game meal written all over it. A multi dimensional soup.
---
This is a monthly staple in our house.
---
Crock pot plus BBQ sauce plus pork loin equal a great easy pulled pork dinner.
---