Making macaroni and cheese and baking it in a sheet pan (or a baking pan) is a party-friendly change of pace for this universally loved dish. And this is definitely one of my game-day (by game day I mean game watching day, lest there be any mistake) go-tos.
It's also a nice way to make macaroni and cheese for people who like a nice ration of crust to the lower layer of creamy, which is many of us.  If you want to see the whole thing coming together in action, click here for the video!
Making Mac and Cheese in a Sheetpan
Baking the mac and cheese in a thin layer means that you can cut it into squares to serve, either nice big squares to be eaten with a fork, or smaller ones, say 1 x 2 inches, which once slightly cooled can be picked up with your fingers. If you decide to bake this in a 9×13 inch baking dish you can cut them into fatter squares, kind of lasagna-esque in appearance, only mac and cheese.
However you decide to bake them, you can then either transfer them to a platter, or just serve them right from the pan, once it's cooled enough for people to touch without repercussion.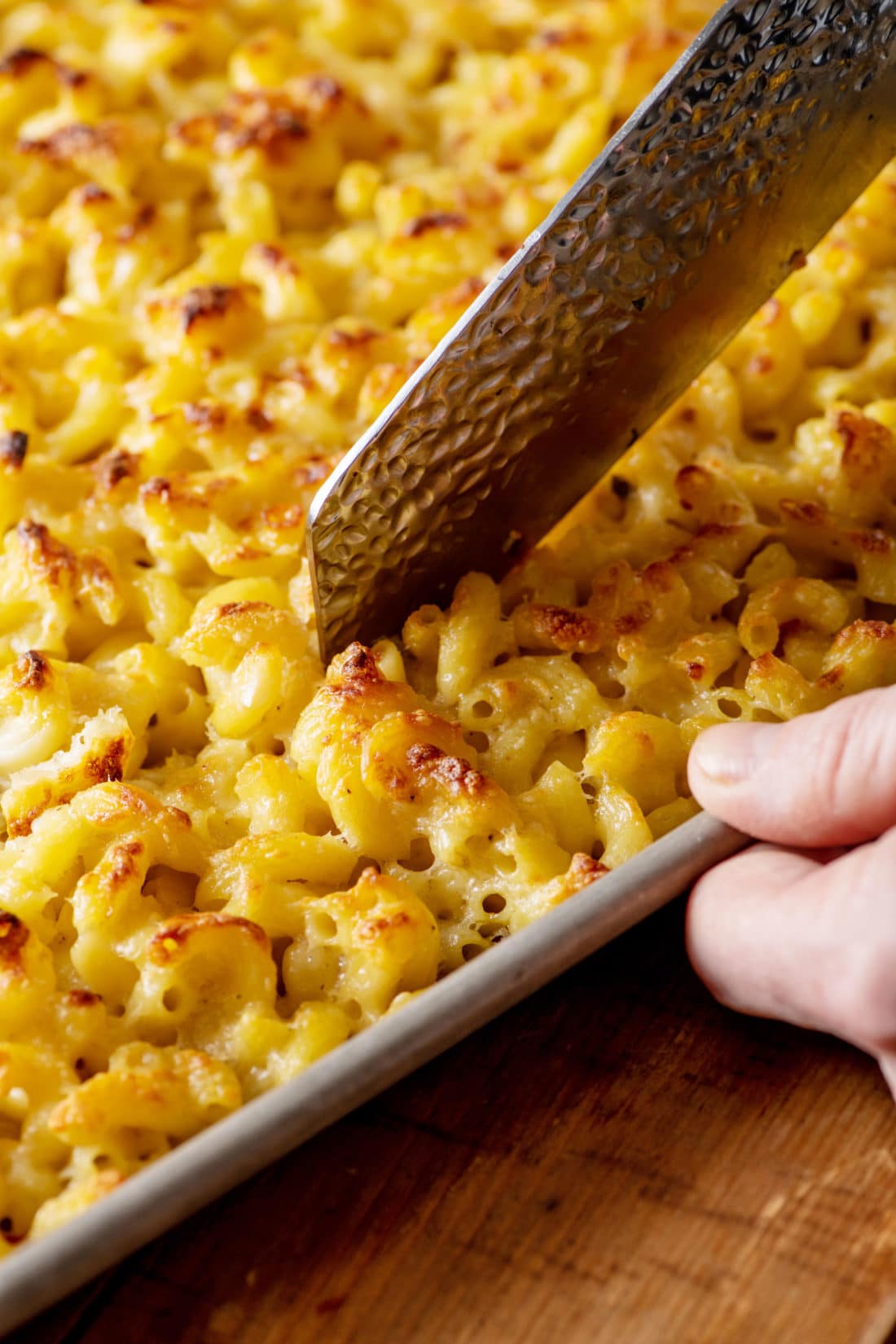 Serving these warm or even room temperature is fine—and the cooler they are the easier they are to lift. And the smaller the pasta shape, the easier it is to cut into clean squares. Little elbows are perfect, but I've made them with rotini and the top of the mac and cheese pan looks very cool with all of those spirals nestled into the saucy base.
After 25 minutes the top should be touched with golden brown, but if you want a bit more brown on top, change the oven setting to broil for 1 to 2 minutes, watching it carefully to make sure you are getting to browned, but not to burned.
What Kinds of Cheese to Use in Mac and Cheese
The fine New England and New York farmers who together make Cabot cheese have a lot of award-winning cheese for us to choose from. Did you know that Cabot is owned by farmers, a co-op since 1919? I'm very happy to be working with Cabot, especially as they celebrate their Centennial (100 years of cheese and dairy, that is impressive).
This recipe calls for half Cabot Pepper Jack cheese, spiked with hot peppers, and half Cabot Sharp Cheddar, but you can use 1 pound of any shredded melty cheese you like—all cheddar, all Jack, with peppers, no peppers, and pretty much and level of sharpness you like for the cheddar. You can buy Cabot shredded cheese (ridiculously easy), or grate blocks of cheese, or even buy those cool pre-sliced cuts and chop them up with a heavy knife to get them into small, nubby pieces.
Add-Ins for Mac and Cheese
The addition of bacon is a crowd pleaser, but plain mac and cheese squares are also terrific, and if you know there will be any vegetarians at your game day party, make at least some bacon-free.
And if you want to add a bit of green and bump up the nutritional value, you could stir in a couple of handfuls of chopped uncooked spinach, chard leaves, or baby kale as you finish the sauce. At this point it becomes an all-in-one meal. Mac and cheese with portfolio!
What the Kids Can Do
Kids can measure all of the ingredients and if they can be safely near a hot stove they can help stir together the sauce. They can spread the macaroni and cheese in the sheetpan. And they can cut the squares with an age appropriate knife.
Baked Sheetpan Mac and Cheese has a great ratio of crust to creaminess, and can even become finger food when cut into small squares. Great for game day parties.

Tweet This
If you are interested in even more cheesy recipes from Cabot (soups! Biscuits! Casseroles!) check out their website. These people know their dairy, for sure.
Other Game Day Recipes:
And because one cheesy game day recipe is not enough, here are a few more that will round out the menu nicely:
Like this recipe? Pin it to your favorite board on Pinterest.

Pin This
Sheetpan Macaroni and Cheese Squares
Mac and cheese becomes portable!
Ingredients
Kosher salt

to taste

1

pound

elbow macaroni

rotini, or other small pasta shape

2

cups

whole milk

1

large egg

4

tablespoons

unsalted butter

2

tablespoons

all-purpose flour

2

cups

(8 ounces) shredded sharp cheddar cheese

2

cups

(8 ounces) shredded Pepper Jack cheese

1

teaspoon

Dijon mustard

Freshly ground black pepper

4

strips crisp cooked bacon

crumbled (optional)
Directions
Place a baking rack on the top third of the oven, and preheat the oven to 425°F. Spray a rimmed baking sheet or a 13 x 9 inch pan with nonstick spray.

Bring a large pot of water to a boil, and salt it generously. Allow the water to return to a boil and cook the pasta according to package directions. Drain the pasta.

Beat the egg into the milk until incorporated (little tip: to save washing an extra bowl, measure the milk in a liquid measuring cup, then whisk the egg in.) Melt the butter in the same pot you used to cook the pasta over medium heat. Add the flour and stir frequently for 1 to 2 minutes until the mixture turns golden.

Slowly pour in the milk mixture, stirring or whisking constantly. Turn the heat to medium-high, and stirring often, bring the milk to just barely to a simmer. Immediately reduce the heat to low and cook, continuing to stir frequently, until the mixture has thickened slightly, about 3 minutes.

Add the cheddar cheese and the Pepper Jack slowly, one handful at a time, stirring after each addition until it is melted; the cheese sauce should be very thick and quite smooth. Stir in the mustard and season with salt and pepper as you wish. Add the drained pasta to the cheese sauce and stir until well combined. Add the bacon, if using, and stir until it is well distributed.

Turn the mixture into the prepared baking pan and spread it out so that it covers the bottom of the pan evenly. Bake for 25 minutes for the sheet pan, about 30 minutes for the 13×9-inch baking pan, or until the mac and cheese is firm and the top is lightly browned in spots. Remove from the oven and let it sit for 10 minutes on a wire rack. Cut into squares with a sharp knife, and serve warm or at room temperature, using a spatula.
Nutrition Information
Calories:
367
kcal
|
Carbohydrates:
32
g
|
Protein:
17
g
|
Fat:
19
g
|
Saturated Fat:
11
g
|
Cholesterol:
67
mg
|
Sodium:
294
mg
|
Potassium:
190
mg
|
Fiber:
1
g
|
Sugar:
3
g
|
Vitamin A:
536
IU
|
Calcium:
333
mg
|
Iron:
1
mg
The nutrition values are provided as an estimate. It is not intended as a substitute for the advice of a qualified healthcare professional.
Made this recipe? Post a photo of your delicious creation on Instagram with our hashtag #dinnersolved