This post may contain affiliate links. Please read our privacy policy.
The last couple months of the year are also known as the puff pastry months of the year in my house, and in any house that has a lot of entertaining going on. These cheese straws are the ideal appetizer or small bite for the holidays, perfect with cocktails, and so easy to make. I find that no matter what other hors d'oeuvres I put out, these cheese straws tend to be the first to go. And people are just stunned that you made them yourself (so maybe don't tell them how easy they are?).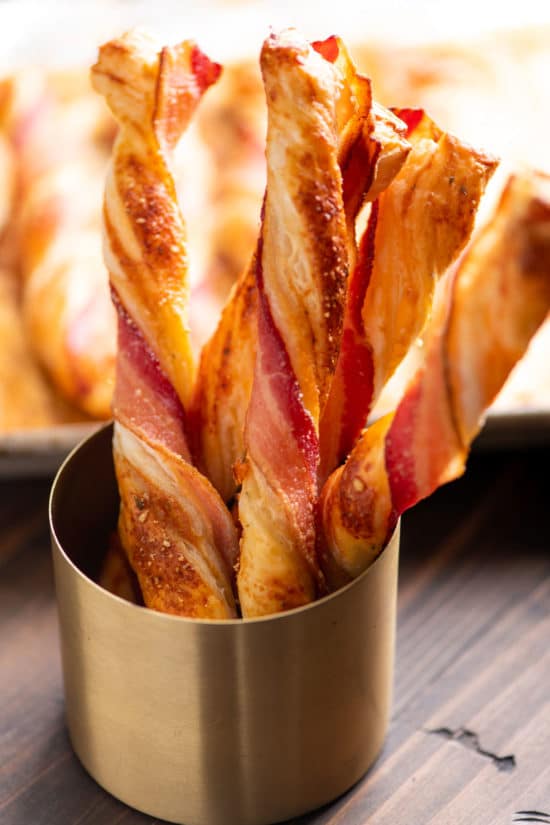 Pre-Made Puff Pastry
Puff pastry is a total secret weapon, making everyday foods look super special, and morphing itself into everything from appetizers, to tarts both savory and sweet, enveloping cheese for brie en croute, and beef for Beef Wellington. Purchased puff pastry is probably the ultimate holiday entertaining hack.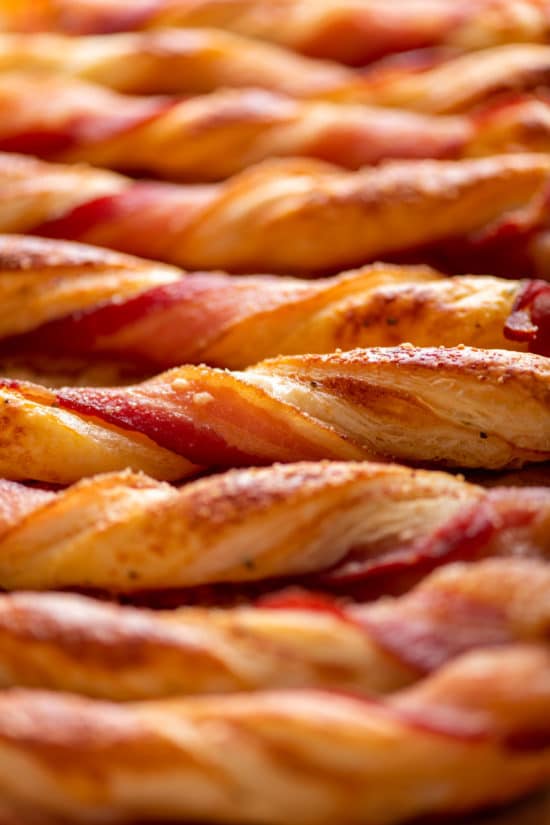 Puff Pastry Bacon Cheese Straws
Refrigerated or defrosted frozen puff pastry is the star of one of the most classic hors d'oeuvres out there, the cheese straw. Cheese straws or twists were one of the first things I made as a kid where I felt the power and the pleasure of making something that really impressed (and that… shhh… wasn't really hard). I picture my 8 year old self passing them at some party my parents were hosting. I can only hope that I wasn't too eye-rollingly self-satisfied as I held up some little tray saying smugly, "Cheese straw?"
You can use Parmesan or Grana Padano, or really and dry hard grating cheese in these.  A touch of sage or rosemary bumps up the flavor even a bit more.  Use whichever herb you like better or have on hand.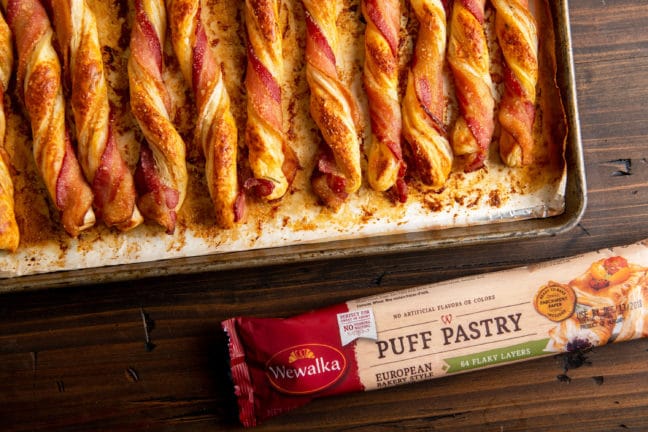 Refrigerated Puff Pastry Dough
Some puff pastries come frozen, and then you plan ahead and defrost it. But you also can find refrigerated puff pastry, sometimes even rolled up on its own parchment paper. You unroll it, cut it to meet your needs, do what you will with it, and then bake it, right on its own parchment. In this case you can also use the parchment it to fold the dough in half to encase the cheese filling – a neat little helpful trick.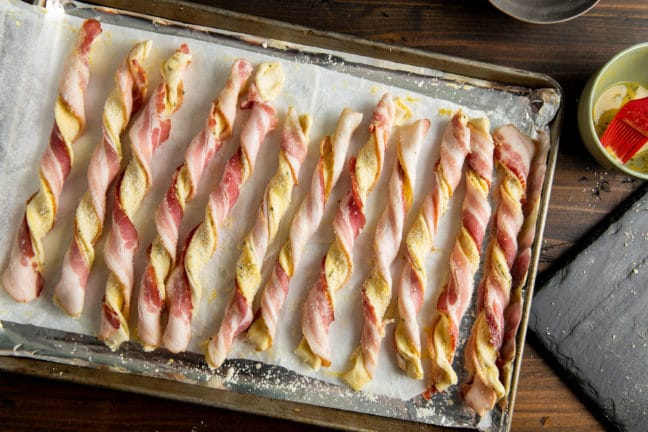 Bacon Puff Pastry Twists
You can use any kind of packaged bacon to make these, or go for some high end bacon. Either way you have the kind of nibble or appetizer that people stop talking to eat. Then they start talking again—often saying things like "Oh my god" and "these are insane." Make sure the bacon is thinly sliced, otherwise it won't bake in the same amount of time as the puff pastry.  I am also going to try these with prosciutto.
Puff Pastry Cheese Straws with Bacon: Flaky puff pastry gets all twisted up with cheese and bacon. An easy, classic appetizer for parties.

Tweet This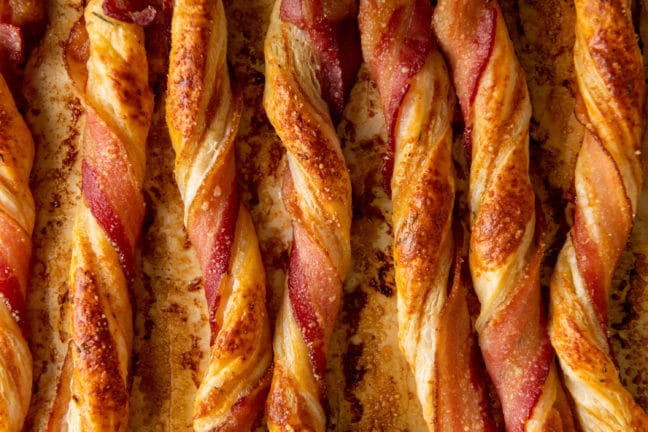 I'm no math genius (though when you cook all day you can't exactly be a math slouch either), but I do know that the power of bacon + cheese + puff pastry is not to be underestimated. If you bring these to a pot luck you will feel sorry for other people who brought appetizers. They didn't have a chance really—whatever they brought was going to struggle for attention.  Cheese puff pastry straws are just going to win every time.
What to Serve with Puff Pastry Straws: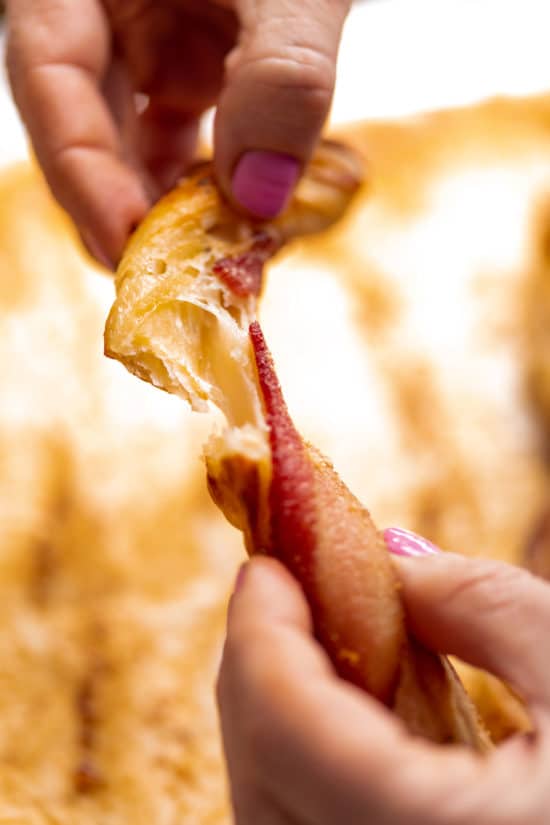 Other Savory Puff Pastry Recipes:
Like this recipe? Pin it to your favorite board on Pinterest.

Pin This
Puff Pastry Cheese Straws with Bacon
Flaky puff pastry gets all twisted up with cheese and bacon. An easy, classic appetizer for parties (and probably worth ruining your appetite for).
Ingredients
1

large egg

1

tablespoon

Dijon mustard

1

teaspoon

finely minced sage

or ½ teaspoon finely minced rosemary

½

cup

finely Parmesan or Grana Padana cheese

divided

12

pieces

thin sliced bacon

(don't use thick sliced bacon for this recipe)
Instructions
Preheat the oven to 400°F. Line a rimmed baking sheet with parchment.

In a small bowl combine the egg with the mustard and sage or rosemary and season with salt and pepper.

Unroll the puff pastry onto a rimmed baking sheet. Brush the egg mixture over the puff pastry all the way to the edges. Evenly dust half of the cheese over half of the puff pastry, on one side of the rectangle. Use the parchment to help fold the side of the puff pastry without the cheese over the cheese dusted side so that the cheese is now inside the folded puff pastry. Then peel off the top of the parchment and let it lay back on the baking sheet. Gently pinch the edges and press down lightly on the pastry to make it adhere to the cheese inside.

Slice the puff pastry into 12 strips. Brush the top of the strips with the remaining egg wash and sprinkle over the remaining cheese. Gently press down so the cheese adheres.

Place a piece of bacon on a flat surface, then place one of the strips on top of the bacon, allowing it to stretch very gently so that it is the same length as the piece of bacon. Twist the dough and bacon about 4 times to create a spiral, and place them onto the parchment on the baking sheet, leaving at least 1/2-inch between each straw.

Bake for 25 to 35 minutes, until the bacon is crisped and the puff pastry is golden brown and cooked through. Serve warm or at room temperature.
Notes
Variation
Cheddar Bacon Straw. Trade in the Parmesan for ½ cup finely grated good cheddar cheese.
Nutrition
Calories:
796
kcal
,
Carbohydrates:
38
g
,
Protein:
19
g
,
Fat:
63
g
,
Saturated Fat:
19
g
,
Cholesterol:
80
mg
,
Sodium:
852
mg
,
Potassium:
210
mg
,
Fiber:
1
g
,
Sugar:
1
g
,
Vitamin A:
131
IU
,
Calcium:
117
mg
,
Iron:
3
mg
Nutrition information is automatically calculated, so should only be used as an approximation.
Like this? Leave a comment below!