Swiss Chard Shakshuka
You may have seen versions of this dish in some hipper brunch places, some shiny food magazines, in any of the upscale Israeli or Middle Eastern eateries springing up in cities all over the country.  Not to mention Instagram accounts.  That's because this is a dramatic looking dish, and some fine, fine eating.
But this is not a new, flash in the pan dish. This is a dish that has been around for a long time, and that various regions and countries claim as their own (North Africa, Tunisia, Israel, to name a few).
I tend to stick to my stove and borrow a bit of everyone's culture (with appreciation and acknowledgment!), and make my own squished-together, begged-borrowed-and-stolen version of other people's national dishes. Essentially it's eggs gently cooked in a vibrant tomato sauce. While this dish couldn't be more savory, it is actually very popular as a breakfast in these necks of the woods.
This recipe produces a generously seasoned tomato sauce, and you are welcome to reduce the amount of cumin and paprika if you want a more gently flavored shakshuka. The sprinkle of feta on top is a great fresh burst of salty/creamy at the end.
This version is crammed with softly cooked chard, which is one of the greatest greens around. We all have gotten to know kale – maybe more than some of us actually wanted to. Let's be sure to check out this great leafy green as well. It is pretty gorgeous in its raw state, often with thick stems in many colors of the rainbow. You'll be drawn to it at the farmers markets because of its sexy big leaves and pretty colors. Don't resist. The colors of the stems hold up pretty well when cooked, too.
As for the name shakshuka… remember the theme song, from Ferris Bueller's Day Off, "Oh, Yeah?"? That what the name of this dish makes me think of, that part where they go, "shaka-shu-kah," or something like that. I know; kind of shallow.
More Swiss Chard Recipes: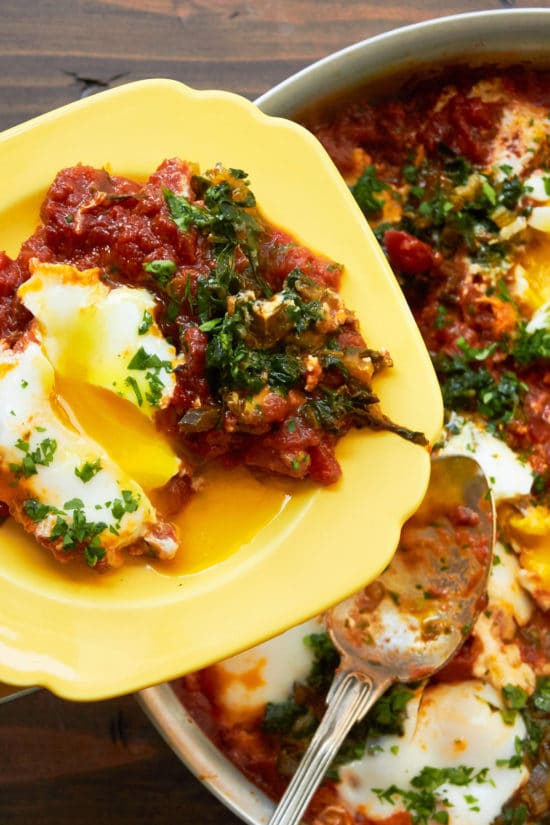 Like this recipe? Pin it to your favorite board on Pinterest.

Pin This
Shakshuka with Swiss Chard
This version of a very popular breakfast dish is crammed with softly cooked chard and spiced with cumin and paprika.
Ingredients
1

large bunch Swiss chard

3

tablespoons

extra-virgin olive oil

divided

4

shallots

minced

1

teaspoon

minced garlic

1

35-ounce can crushed tomatoes in juice

1

teaspoon

ground cumin

1

teaspoon

ground paprika

Pinch of crushed red pepper

Kosher salt and freshly ground black pepper

to taste

8

large eggs

¼

cup

crumbled feta cheese

Chopped parsley

to serve
Directions
Separate the stems of the chard from the leaves. Thinly slice the stems, and set aside, then thinly slice the leaves, and set aside.

In a large skillet with a lid, heat 1 tablespoon of the olive oil, and saute the chard leaves for about 4 minutes, until wilted. Season with salt and pepper and set aside.

In the same skillet heat the remaining 2 tablespoons of the olive oil. Add the shallots, garlic and chard stems and cook over moderate heat, stirring occasionally, until the stems are slightly softened, about 3 minutes. Add the tomatoes, cumin, paprika, crushed red pepper and salt and pepper, then simmer until the sauce is thickened, about 20 to 25 minutes.

Using tongs or a fork, transfer the sautéed hard leaves in 8 relatively even portions over to the simmering sauce, and make little piles of them, spaced somewhat evenly (see, there's a chard theme, it doesn't have to be perfect!) throughout the pan of sauce. Use the back of a spoon to make an indent in one clear area of the tomato sauce, and crack one of the eggs into it. Repeat until the eggs are distributed throughout the sauce, amongst the piles of chard. Cover the pan and let the eggs cook for about 8 to 10 minutes, until the whites are set but the yolks are still jiggly.

Sprinkle the feta over the top, and then the parsley. Serve immediately.
Nutrition Information
Calories:
174
kcal
|
Carbohydrates:
12
g
|
Protein:
9
g
|
Fat:
11
g
|
Saturated Fat:
3
g
|
Cholesterol:
168
mg
|
Sodium:
294
mg
|
Potassium:
499
mg
|
Fiber:
3
g
|
Sugar:
7
g
|
Vitamin A:
1014
IU
|
Vitamin C:
14
mg
|
Calcium:
100
mg
|
Iron:
3
mg
The nutrition values are provided as an estimate. It is not intended as a substitute for the advice of a qualified healthcare professional.
Made this recipe? Post a photo of your delicious creation on Instagram with our hashtag #dinnersolved