Homemade Scallop Ceviche
The beautiful clean flavor of scallop ceviche is impossible to beat. Scallops are safe to eat raw, as long as you make sure they are very fresh. The lime (or other citrus) juice cooks the scallops making any present bacteria safe to eat. The brightness of this dish is so appealing: the freshness, the simplicity. Once the scallops turn opaque, they are in essence cooked, and not harmful, but just plain delicious. But don't just wait to order it in a restaurant – make it at home!
If there is a preparation of raw fish that doesn't appeal to me, I have not come across it. The amount of sushi I eat has certain friends worried about my mercury levels (please – I can't imagine that mercury is what's going to take me down….just seems too silly).   If anyone ever told me what I've spent over my lifetime on sushi I imagine I'd be fairly shocked and embarrassed.
At its most basic ceviche is fish or seafood cured with citrus juice. And then you can keep on going from there, adding in other flavors and ingredients. I absolutely love it—it's just one of the cleanest and most refreshing and bright foods on the planet.
Ceviche
The types of fish and seafood that can be used vary: much of it features firm, white fish such as sea bass or flounder (thick or thin, either works), but different types of seafood can also be used, like shrimp or scallops, as in this recipe. If you wanted to use sea scallops instead of the bay you could thinly slice them cross-wise and follow the recipe similarly, and that would be perfect. That preparation would look pretty snazzy fanned out on a plate.
Bay Scallop Ceviche
First, make sure the scallops you choose are actually bay scallops. Sadly there are quite a few seafood items that get marketed as scallops which are i fact actually scallop-shaped little bits of fish. Buy from a fish counter you know and trust.
Nantucket bay scallops are in season from the beginning of November through March, and if you've ever had them, you'll know why people make such a fuss about them.
Also, if they are on the larger size, you may want to cut them in half horizontally so they cure – or cook — evenly. Something about small bits of ceviche is more appealing than larger chunks.
Do not even think about making ceviche with anything but the absolute freshest fish or seafood. It just isn't worth it. You would not use anything but the most pristine seafood to make sushi (or expect that in a sushi restaurant) so continue that line of thought here.
How does Ceviche get Cooked?
While ceviche isn't completely raw, it's also not cooked. Sounds like I'm hedging here, but what happens is that the acid in the citrus juices used to marinate the fish or seafood actually "cook" the fish. We turn to the smart folks at Serious Eats for more detail: "As the pieces of fish sit in the marinade, the citric acid from the juice slowly causes the flesh's proteins to denature, in very much the same way that heating will. The result is raw fish with the opaque appearance and firmed texture of cooked fish."
Fresh, easy, and bright and sparkling. A colorful blend of citrusy marinated scallops with a touch of heat and a textural shot of vegetables.

Tweet This
There are a lot of ceviches throughout South America, and also in Central America and Mexico. Ceviche is thought to have originated in Peru or Ecuador (depends on who you ask, of course). It seems to have its roots in the ancient Inca civilizations of those regions.
How to Eat Ceviche
Ceviche is great to eat straight with a fork, or scooped up with tortilla or plantain chips. I also like wrapping a small amount in cup-shaped pieces of lettuce and eating them just like that.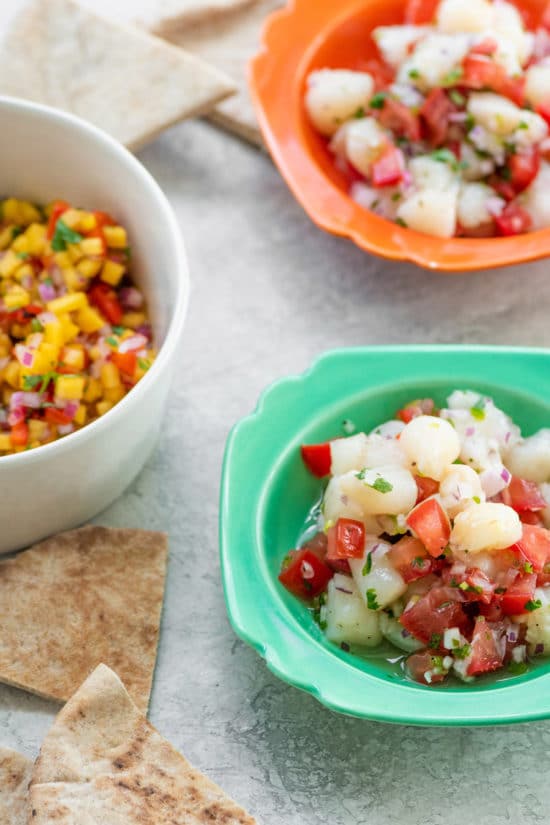 And if you happen to have some left, and you don't think you're going to eat it within the day, you can actually cook it. Tip the whole thing into a hot pan with a bit of olive oil heated in it, and give it a quick sauté. It needs mere minutes – those bay scallops cook fast). Serve it over some pasta as another iteration of your scallop creation.
More Seafood Recipes to Try: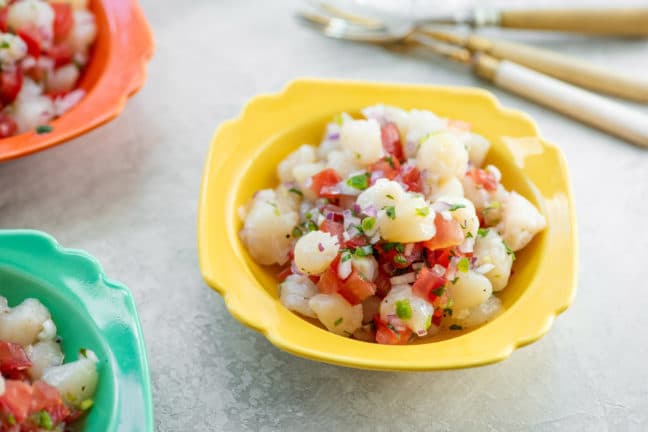 Like this recipe? Pin it to your favorite board on Pinterest.

Pin This
Scallop Ceviche
A colorful blend of marinated scallops with nice heat and color.
Total Time:
2
hours
15
minutes
Ingredients
1

pound

tiny bay scallops

2

tablespoons

honey

½

cup

fresh lime juice

1

cup

diced seeded tomatoes

2

tablespoons

seeded and minced poblano pepper

¼

cup

chopped fresh cilantro or parsley

½

cup

minced red onion

2

tablespoons

minced shallots

Kosher or coarse salt and freshly ground pepper

to taste

Tortilla or plantain chips or scoop sized pieces of lettuce

such as bibb or butter to serve
Directions
In a large bowl stir together the honey and lime juice. Add the scallops, along with the tomatoes, poblano pepper, cilantro or parsley, onion, shallots, and salt and pepper. Toss and marinate in the fridge for at least 2 hours and up to 24.

Serve cold, in small bowls, or with chips, or on lettuce.
Nutrition Information
Calories:
137
kcal
|
Carbohydrates:
19
g
|
Protein:
15
g
|
Fat:
1
g
|
Saturated Fat:
1
g
|
Cholesterol:
27
mg
|
Sodium:
449
mg
|
Potassium:
402
mg
|
Fiber:
1
g
|
Sugar:
11
g
|
Vitamin A:
410
IU
|
Vitamin C:
20
mg
|
Calcium:
19
mg
|
Iron:
1
mg
The nutrition values are provided as an estimate. It is not intended as a substitute for the advice of a qualified healthcare professional.
Made this recipe? Post a photo of your delicious creation on Instagram with our hashtag #dinnersolved