This post may contain affiliate links. Please read our privacy policy.
This summer has been so busy that Gary didn't actually get his fair share of gin and tonics. Maybe that's a messed up way to measure the speed to summer, but it's an indicator (he did fine with rosé, so nobody get panicky). My dad used to mix up his first gin and tonic of the year as soon as the weather started to get warmer, and I know there are many people who consider gin and tonic to be the quintessential summer drink — and then don't drink them during the colder months. It's a practice Gary picked up from him, and stirring up the first one of the season is always a reason to think of my father, which makes the drink both refreshing and poignant.
So I offered to make him one the other day and then saw a couple of other random fresh and green ingredients in the fridge, and this drink was born in about 2 minutes. Usually, I make G&Ts with the classic wedge of lime, but I was feeling frisky. Also, this tip from my late father: to make a gin and tonic without having to stir it and still have everything nicely blended, put the ice cubes in a glass, squeeze the lime wedge over the ice, pour in the gin, then add the tonic which bubbles everything together. Drink.
Anyone who makes cocktails regularly, or who reads about cocktails regularly, is probably familiar with the muddling technique. But if you're not, don't even start to feel panicky (I couldn't even find my muddler when I was making this cocktail, but as you'll see, that's not going to stop us).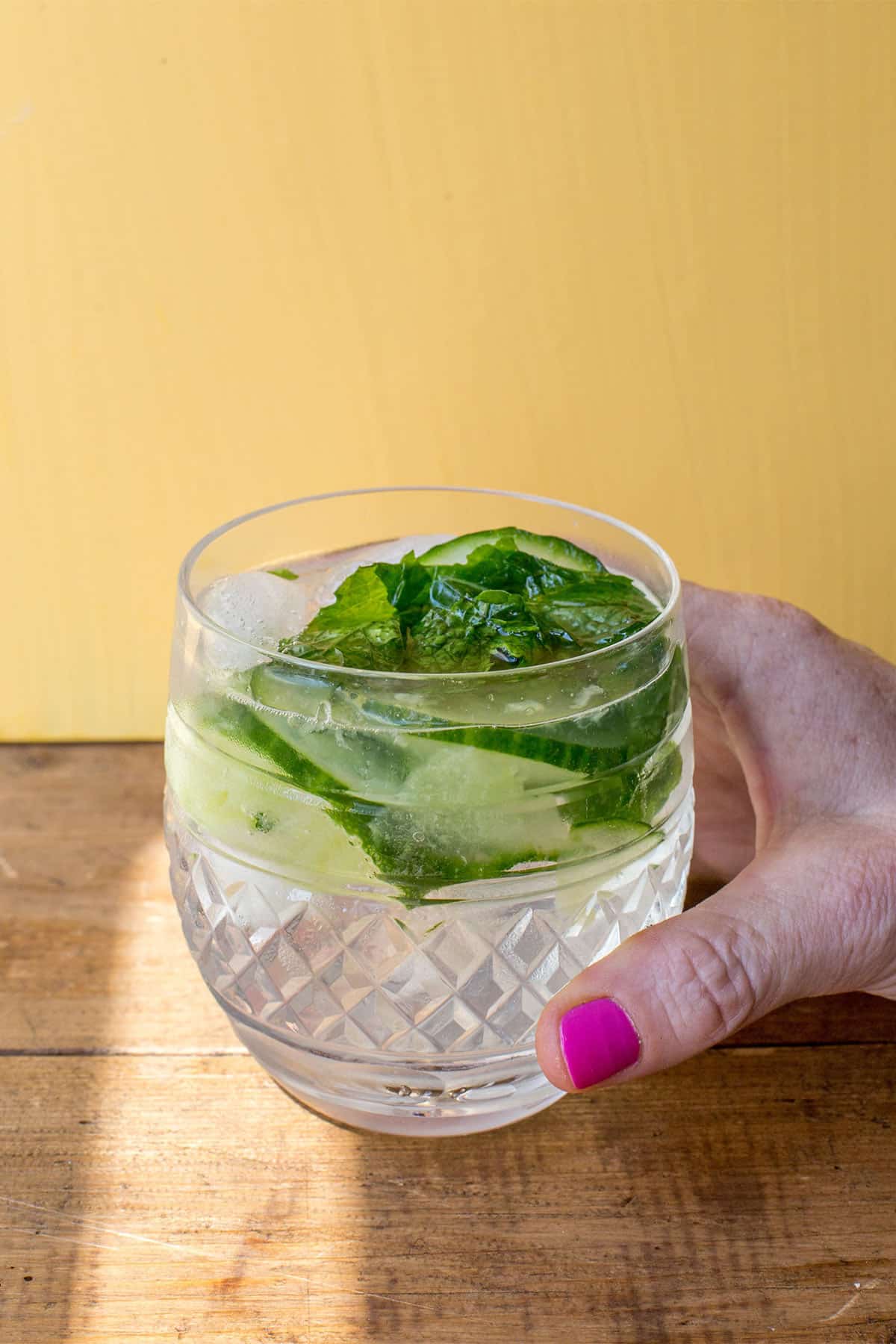 A muddler is basically a bartender's pestle, and you use it to crush up various ingredients so that they flavor the drink more completely, release juices and oils, and the like. I don't have a muddler, so I improvised by using a handheld citrus juicer, which is one of my favorite kitchen tools in general. Worked like a charm.
Some publishing friends and I have been chatting about the notion of a Detox/Retox Cocktail book, which essentially….well, hopefully, you get what that would be all about. I think this drink would be an obvious contender — cucumber and mint? Why this cocktail is practically a salad! But instead of dressing, there's gin!
Clearly, I am not a person holding a degree in nutrition.
But can you think of anything more refreshing on a hot summer evening? Except maybe a Basil Ginger Lemon Saketini.
Bottoms UP.
Cucumber Mint Gin and Tonic
This Cucumber Gin and Tonic was made for those hot summer nights (tell me more, tell me more….). And no muddler, no problem — check out the little cocktail hack in this recipe!
Ingredients
6

thin slices cucumber

6

fresh mint leaves

¼

lime

1 ½

ounces

gin

4

ounces

tonic water
Directions
Fill a glass 1/2 full with ice. Squeeze the cucumber and mint leaves in a citrus press (one of my go-to kitchen tools) over the ice, then dump the squished cucumber and mint into the glass. Squeeze the lime over the glass and toss that in as well. Pour in the gin, then pour in the tonic and give a quick stir. Serve it up.
Notes
If you do have a muddler, place the cucumber and mint in the bottom of the glass and mash them well. Add the ice, gin, and tonic water, and enjoy!
Nutrition Information
Calories:
143
kcal
|
Carbohydrates:
9
g
|
Protein:
2
g
|
Fat:
1
g
|
Saturated Fat:
1
g
|
Sodium:
14
mg
|
Potassium:
408
mg
|
Fiber:
3
g
|
Sugar:
4
g
|
Vitamin A:
471
IU
|
Vitamin C:
16
mg
|
Calcium:
57
mg
|
Iron:
1
mg
The nutrition values are provided as an estimate. It is not intended as a substitute for the advice of a qualified healthcare professional.
Made this recipe? Post a photo of your delicious creation on Instagram with our hashtag #dinnersolved