Last night I hoovered down a big old slab of this simple but just plain awesome fish for dinner, and picked all stray extra mushrooms and leeks off of the kids plates. One extra piece got tucked into the fridge.
So, it's the next day (the day of the writing of this fascinating blog post) and I've just left for a business trip. I have been sitting on this plane thinking about this salmon, saddened by the miles that are stretching between us. I am usually on to the next thing, the next recipe, but I loved this dish so much I really can't wait to make this again.
I also miss my family and my dog. But I find myself thinking about the salmon right now.
And the leek and mushroom topping. Which I will also make and heap onto crostini in the not-too-distant future.
I used shiitake mushrooms, but you can also use the more readily available button or cremini mushrooms instead.
If mushrooms aren't your family's thing, you could use chopped broccoli or sliced asparagus instead of the mushrooms. Or saute the leeks for about 10 minutes, and then add a whole lot (like 3 or 4 cups) of chopped fresh spinach and then sauté the combo for just a minute or two more as the spinach will wilt quickly.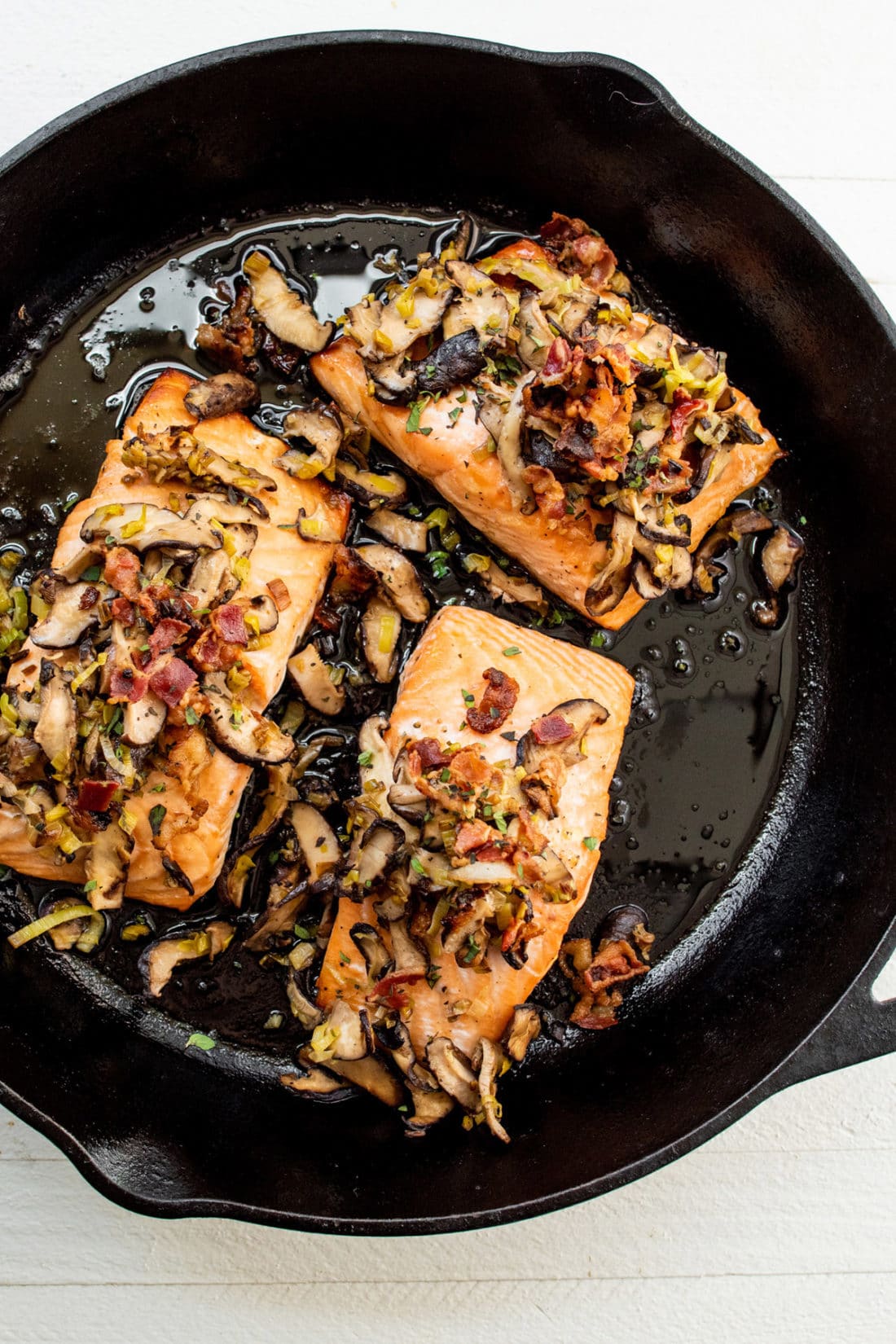 Leeks can be very dirty so make sure to wash them thoroughly before you cook with them. They are easy enough to rinse off, but a little dirt can spoil a dish. Don't have leeks? Use 1 cup of chopped onions.
The bacon and the parsley and the lemon zest are all optional—not exactly something you might do on a weeknight, but I happened to have a few leftover pieces of cooked bacon in the fridge, and half a bunch of parsley, and some lemon zest I had grated for a previous recipe (I know, it's weird, but do keep in mind what my day job is). Clearly an extra step if you don't have these things lying around, but again, a fully discretionary one.
The tiny amount of soy sauce adds a bit of depth (umami, if you will) to the marinade, but is definitely not enough to give the dish a full on Asian vibe. Soy sauce is a good thing to remember when you feel like your sauces or marinade needs a little more something—Worcestershire sauce is also good for that (but do know it has anchovies, so is not vegetarian).
One of those easy-but-sophisticated dishes that you will want to put on the go-to dinner recipes list.

Tweet This
If you don't need to turn on the oven for any other reason definitely take the option of flipping the fish instead. If you do need the oven on because you are roasting potatoes or what not, just finish it by flipping it in the pan. Possibly less perfect in presentation, but definitely a more eco-friendly thing to do if the oven isn't already in use.
Other than rice, the perfect side for this, I might go for Crispy Sauteed Potatoes next time.
Some Other Mediterranean-ish Salmon Dishes:
Like this recipe? Pin it to your favorite board on Pinterest.

Pin This
Orange Salmon with Leeks and Mushrooms
This was one of my favorite salmon dishes ever. I actually missed the leftovers when I left for a business trip.
Total Time:
4
hours
40
minutes
Directions
In a shallow container combine the orange juice, 3 tablespoons olive oil, soy sauce, salt and pepper. Add the salmon filets, turn to coat with the marinade, then cover the container and marinate in the refrigerator for 4 to 6 hours.

Preheat the oven to 450°F. if you want to finish the fish in the oven (continuing on the stovetop is also an option).   Heat the remaining tablespoon of oil in a large ovenproof skillet over medium heat. Add the leeks and sauté for about 6 minutes, until slightly softened. Stir in the mushrooms and garlic, season with salt and pepper, and sauté until the mushrooms have released any liquid, and that liquid has evaporated, and the mushrooms have started to brown, 8 to 10 minutes. Turn the mushrooms into a bowl. Carefully wipe out the pan.

In the same skillet, heat the butter over high heat. Remove the fish from the marinade and pat dry with paper towels. Place the salmon skin side down in the pan and cook, without moving the salmon, for about 5 minutes until the bottom is crispy. Transfer the pan to the oven if preheated and roast for another 5 minutes, or until the salmon is done to your liking. Or flip the salmon in the pan and cook for another 3 to 5 minutes.

Serve the salmon sprinkled with bacon and parley, if desired. Serve the warm mushroom leek mixture on the side.
Nutrition Information
Calories:
474
kcal
|
Carbohydrates:
14
g
|
Protein:
37
g
|
Fat:
30
g
|
Saturated Fat:
6
g
|
Cholesterol:
105
mg
|
Sodium:
403
mg
|
Potassium:
1179
mg
|
Fiber:
2
g
|
Sugar:
6
g
|
Vitamin A:
1128
IU
|
Vitamin C:
24
mg
|
Calcium:
53
mg
|
Iron:
3
mg
The nutrition values are provided as an estimate. It is not intended as a substitute for the advice of a qualified healthcare professional.
Made this recipe? Post a photo of your delicious creation on Instagram with our hashtag #dinnersolved