This post may contain affiliate links. Please read our privacy policy.
If you need to make a meal feel special, adding a pan of homemade scalloped potatoes is a very good way to accomplish that goal. Layers of tender potatoes nestled into a creamy sauce with a golden top…just yum. This indulgent side pairs perfectly with a fancy New York Strip Steak or a festive Standing Rib Roast.
Scalloped potatoes traditionally have no cheese, but I couldn't decide whether to add some. Finally, I decided to channel the cheesy (pun intended) line that comes at the very end of that classic film Trading Places: "Can't we have both?" This is what my husband usually says when I ask a food-related question. And it's where I defaulted to when deciding to sprinkle a generous handful of Parmesan onto these scalloped potatoes. If you're looking for an even cheesier version of this dish, check out my Cheesy Potatoes au Gratin recipe.
These Creamy Scalloped Potatoes are the perfect way to round out any holiday meal.

Tweet This
Ingredients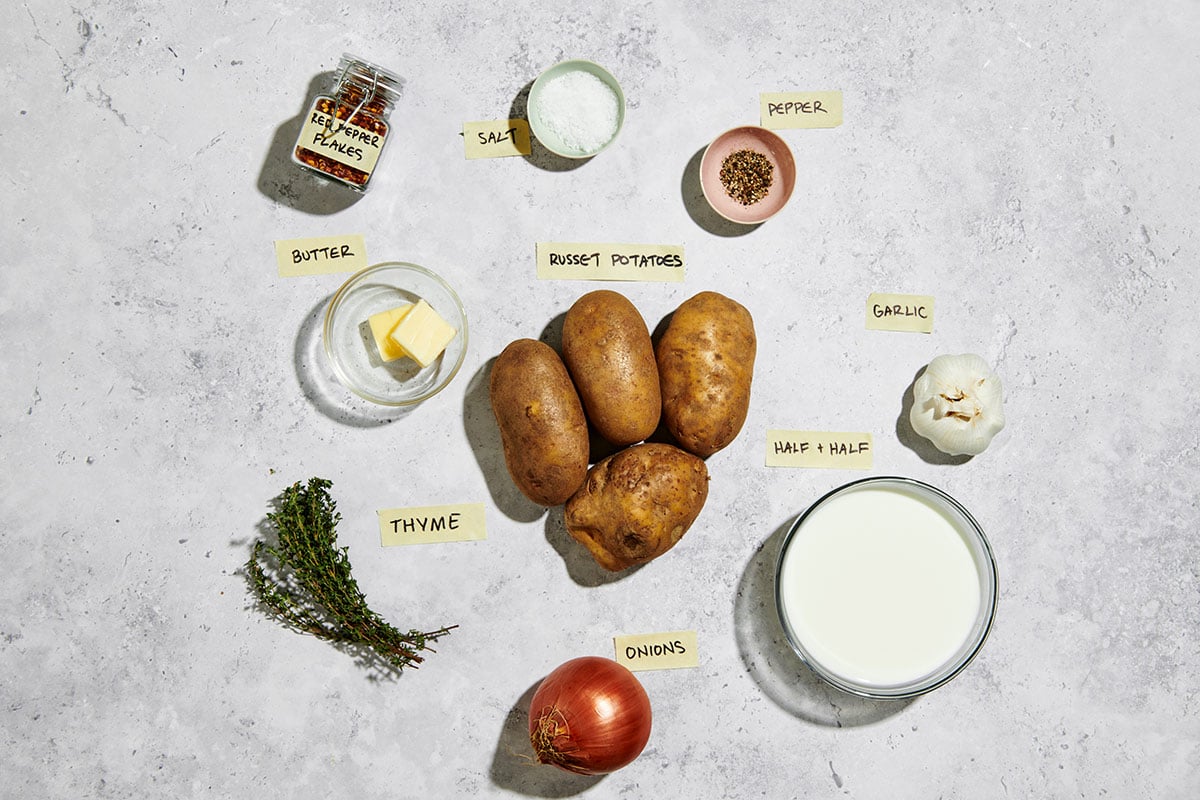 Butter – Makes this dish buttery and ultra-luxurious.
Garlic – Please use fresh!
Onions – The onions get sautéed in butter before baking to ensure they are super soft and melt into the dish.
Red pepper flakes – Add warmth and complexity to the dish without making it outright spicy. Feel free to omit these if you are spice-averse.
Thyme – I would recommend fresh thyme leaves in this recipe, but dried thyme will also work in a pinch.
Half-and-half – The high fat content in half-and-half helps prevent the sauce in the scalloped potatoes from becoming watery.
Idaho potatoes – These potatoes are high in starch, making the sauce extra creamy.
Tips and Variations
Traditional scalloped potatoes have no cheese. However, adding a generous sprinkle of Parmesan on top is a great variation. It gives you that cheesy flavor and crispy top with the same delicate creamy sauce underneath.
This pan, below, is the Cheesy Scalloped Potatoes.
This pan, below, is Scalloped Potatoes without cheese.
Both fairly gorgeous, no? And both were delicious. You can decide for yourself. If you decide to go the cheese route, you can also play with all sorts of cheeses, from cheddar to Gruyere to Swiss.
If you want the top to be a little more browned, turn the broiler on for a minute or two, watching carefully to make sure the top doesn't burn.
How to Make Scalloped Potatoes
Sauté the onion and garlic.
Make the sauce: Add the herbs and seasonings to the aromatics. Then add the half-and-half and bring to a simmer.
Layer the potatoes and sauce: Place half of the sliced potatoes in a baking pan, then pour half of the sauce over the potatoes. Layer the rest of the potatoes over, and pour in the rest of the sauce.
Bake: Cover the pan with foil and bake at 375 degrees for 30 minutes. Remove the foil and bake uncovered for another 30 minutes.
FAQs
What is the difference between scalloped potatoes and potatoes au gratin?
Many of us use these terms interchangeably, but there are some differences in the original versions. Firstly, potatoes au gratin are baked in a creamy sauce and topped with cheese; sometimes cheese is also included in the creamy sauce. Scalloped potatoes are made with a creamy sauce but usually without the cheese. Second, potatoes gratin have very thinly sliced potatoes, classically cut with a mandolin. Scalloped potatoes are often more thickly cut.
Is there cheese in scalloped potatoes?
In a traditional scalloped potato dish, there would be just cream and no cheese. However, as a lover of cheesy potatoes, I understand the urge to cover this dish in a layer of cheese that will crisp up in the oven. That is exactly why the cheese in this recipe is optional — choose your own adventure!
Why are my scalloped potatoes watery?
Scalloped potatoes can become watery if you are not using the right type of cream. This recipe calls for half-and-half. It is important to use half-and-half or heavy cream because the high fat content prevents the potatoes from becoming watery in the oven. If you're looking for a low-fat substitution, this is not the place for it.
What to Serve With Scalloped Potatoes
More Potato Side Dish Recipes
Like this recipe? Pin it to your favorite board on Pinterest.

Pin This
Creamy Scalloped Potatoes
An easy scalloped potato recipe is the perfect way to round out any holiday meal.
Ingredients
2

tablespoons

(¼ stick) unsalted butter

2

cloves

garlic

(minced)

1

cup

chopped yellow onions

¼

teaspoon

red pepper flakes

1

teaspoon

chopped thyme leaves

1

teaspoon

kosher salt

½

teaspoon

freshly ground pepper

2

cups

half and half

4

large Idaho baking potatoes

(about 2 ½ pounds; peeled and thinly sliced)
Instructions
Preheat oven to 375 F. Spray a 2-quart baking dish or 9-inch square pan with nonstick cooking spray.

Heat the butter in a deep skillet over medium-low heat. When the butter is melted, add the garlic and the onions and sauté for about 5 minutes until the onion is tender; don't let the vegetables brown — turn down the heat if necessary, and stir frequently. Stir in the red pepper flakes, thyme, salt, and pepper. Add the half-and-half and bring to a simmer, stirring occasionally.

Place half of the potatoes in the prepared baking pan. Carefully pour half of the hot liquid over the potatoes, using a spoon to scoop out some of the onions as you pour. Fill the pan with the rest of the potatoes, arranging them attractively if you care about such things, and pour over the rest of the liquid. Cover the pan with foil, and bake for 30 minutes. Remove the foil and bake uncovered for another 30 minutes. If you want the top to be a little more browned, turn the broiler on for a minute or two, watching carefully to make sure the top doesn't burn.

Let the potatoes sit for about 8 minutes before serving.
Notes
There's a debate on scalloped vs. gratin and what has cheese and what doesn't. Cheese or not, you're going to love the flavor here, as well as the gorgeous presentation.
Nutrition
Calories:
225.59
kcal
,
Carbohydrates:
30.5
g
,
Protein:
5.16
g
,
Fat:
9.95
g
,
Saturated Fat:
6.18
g
,
Cholesterol:
29.91
mg
,
Sodium:
324.96
mg
,
Potassium:
698.94
mg
,
Fiber:
2.25
g
,
Sugar:
1.84
g
,
Vitamin A:
332.04
IU
,
Vitamin C:
10.74
mg
,
Calcium:
87.91
mg
,
Iron:
1.35
mg
Nutrition information is automatically calculated, so should only be used as an approximation.
Like this? Leave a comment below!