This post may contain affiliate links. Please read our privacy policy.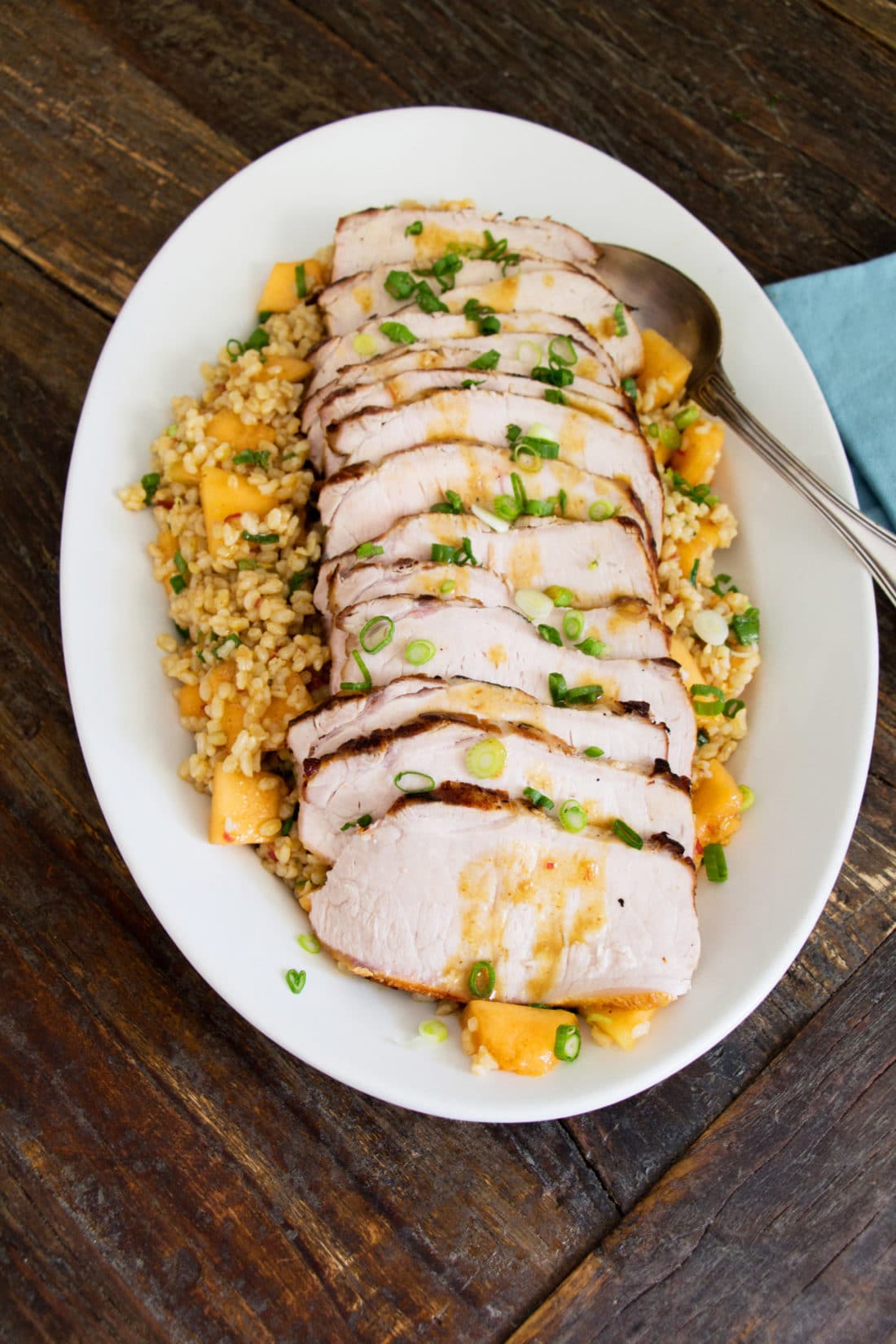 This is not the first pork loin recipe I've offered up. I don't know what took me so long to recognize that this cut of meat is a total and complete life saver.
It's cheap (I guess I should say economical, which sounds classier), it's easy to find, it takes well to all kinds of flavors. Also, I finally realized that short brining is not only easy and not a big deal at all, but the results make such a great difference.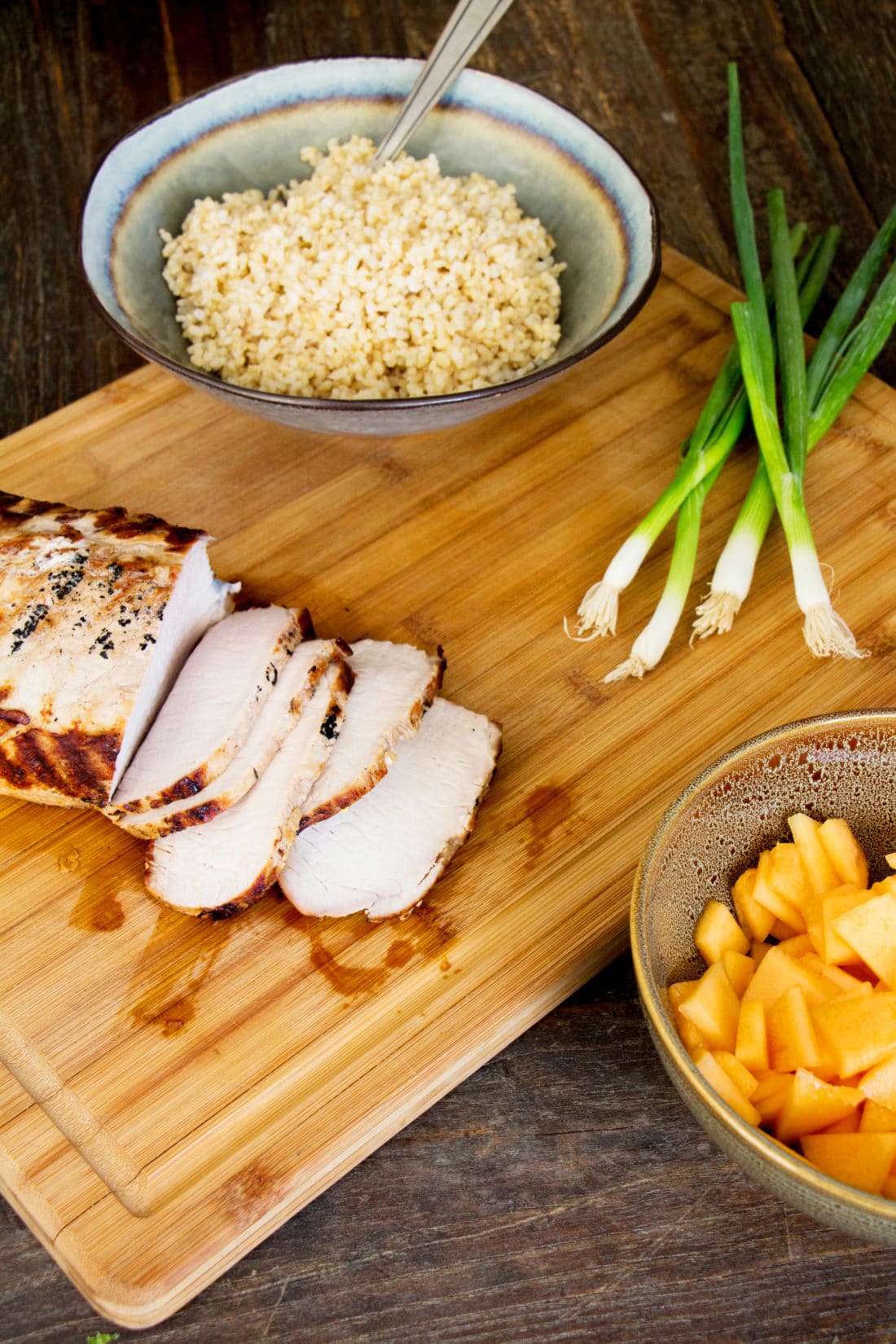 The combination of these two epiphanies has resulted in a pork loin festival in our house.
The introduction of some slivered cantaloupe into the rice dish may surprise you. It surprised me. I saw it included in an Indian curry dish somewhere recently, and it stuck in my mind. And then, this about this: melon with prosciutto—pretty classic and delicious combo, right? (Also check out this prosciutto and Asian pear crostini).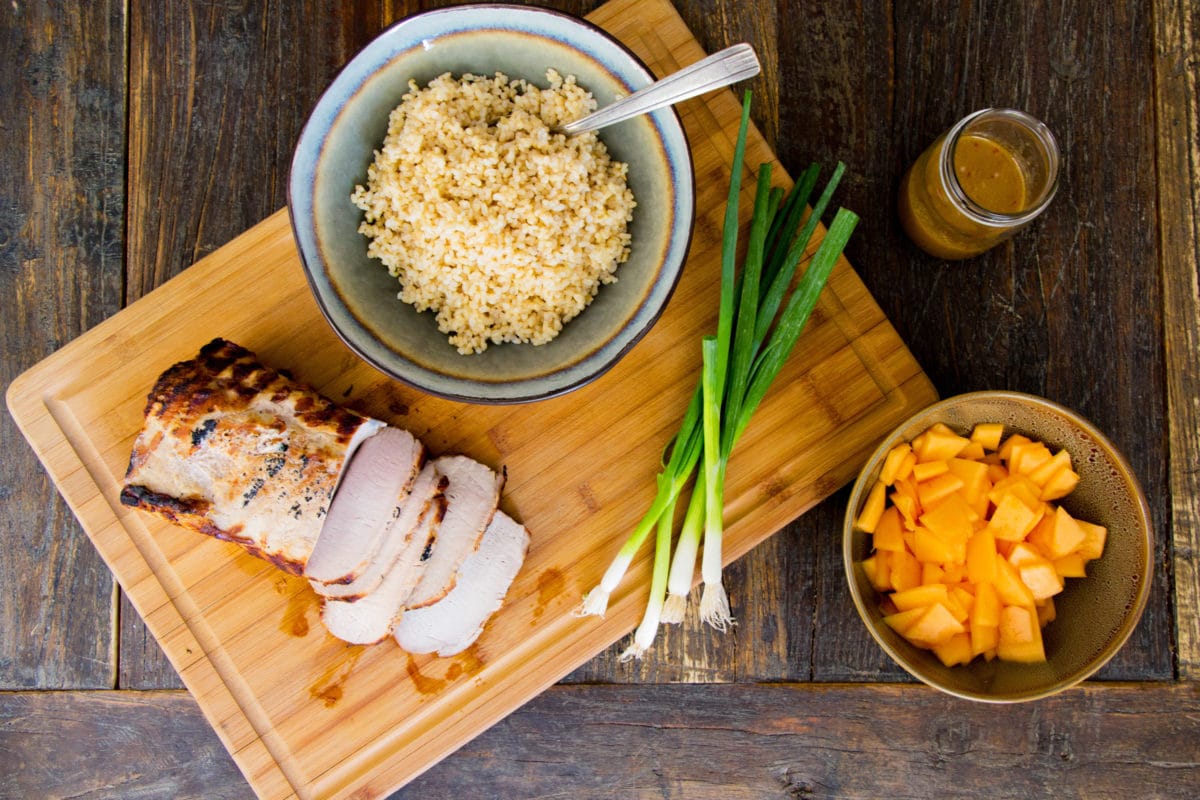 You could try other melons as well, to change things up. Or instead of the melon, maybe dice up some Grilled Pineapple for another sweet burst of fruit in the rice salad.
This is a perfect year round entertaining dish. It manages to be light and substantial and healthy at the same time, not to mention really attractive. You could make it ahead and serve it at room temperature, which is also a big old plus.
And while we all might think of pork roasts in the colder months, I actually think this is a perfect summertime dinner. Again, the room temperature option, great on warmer nights, and just something about it says "I would look good on an outdoor table."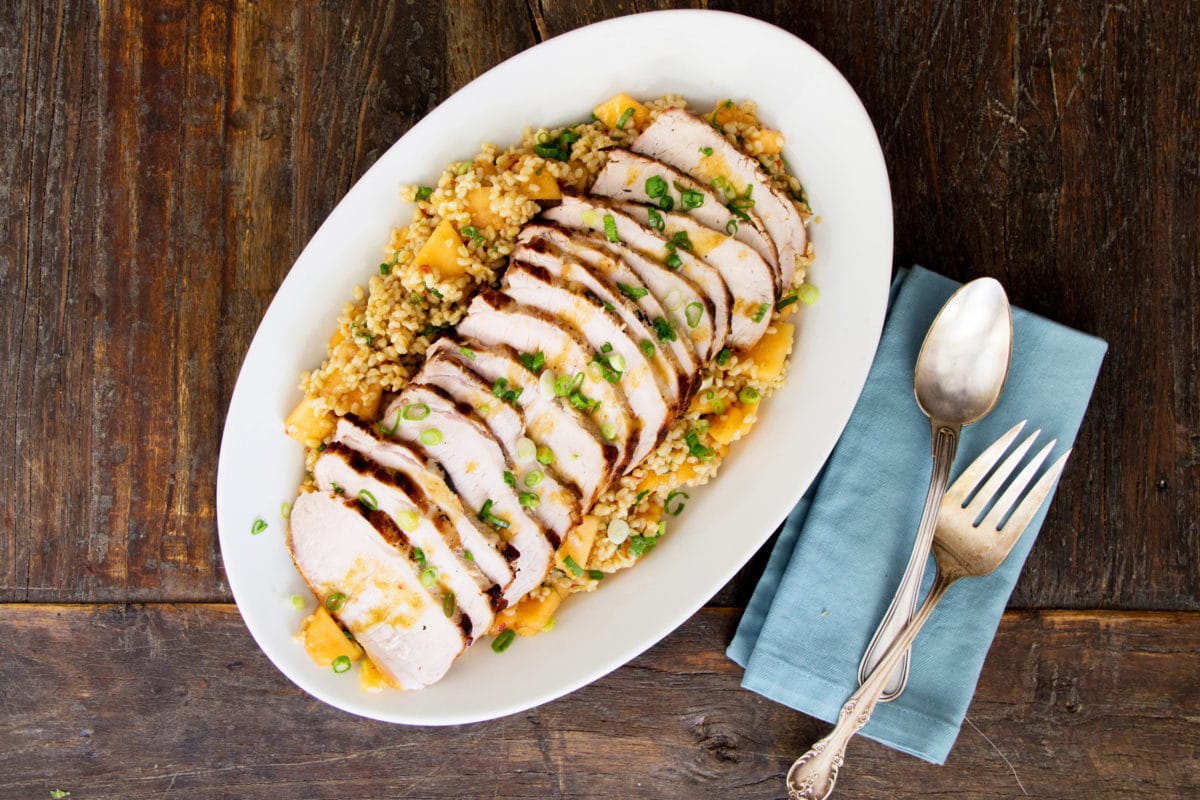 The pork is intended to be cooked on the grill BUT, you could certainly sear it in a pan and then roast it if it's not grilling season.
However you cook it, a meat thermometer inserted into the middle of the thickest part of the pork loin should register 140 F. (The FDA says higher, but they are missing out on some more juicy pork). Grilling is a very inexact science so do use the thermometer to check.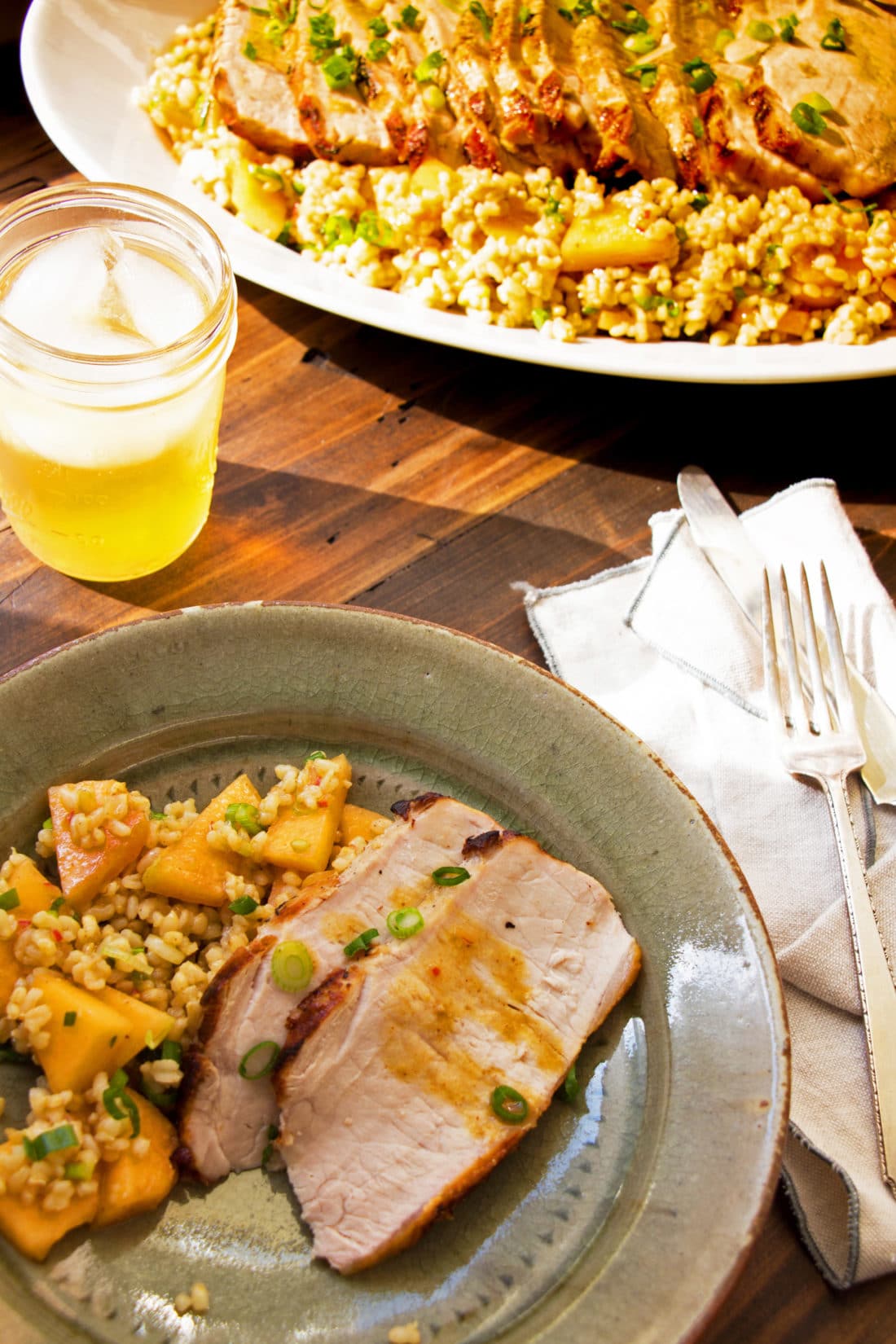 If you have a smaller group or just want to make this for your family, you use use smaller pork tenderloins, and just adjust the cooking time.
Gary said this was one of the best rice dishes I've made in a long time. I always try to look at the positive given a slightly ambiguous compliment like that.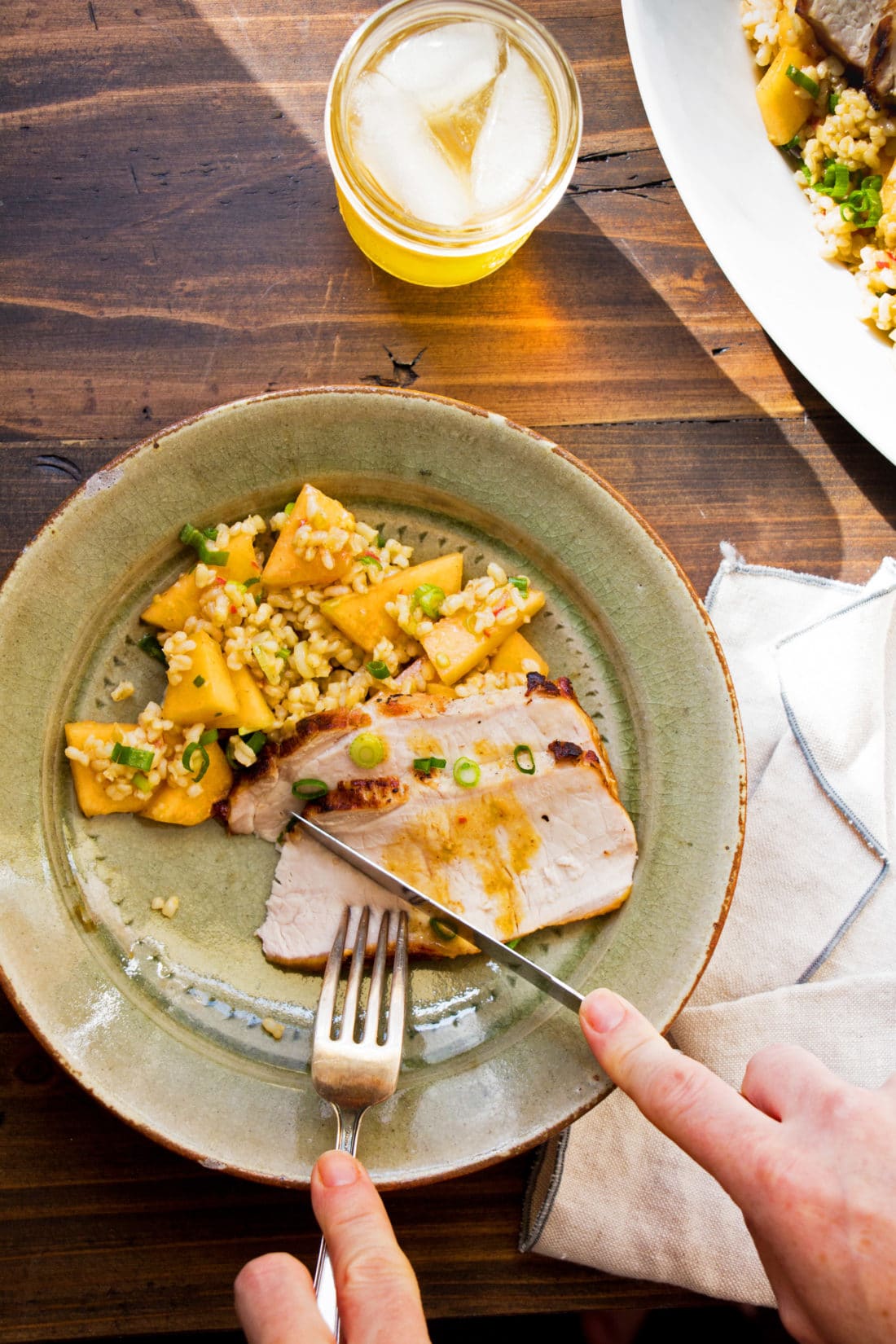 Grilled Pork Loin with Brown Rice Salad
A perfect year-round entertaining dish. You can also make this pork in the oven if you prefer.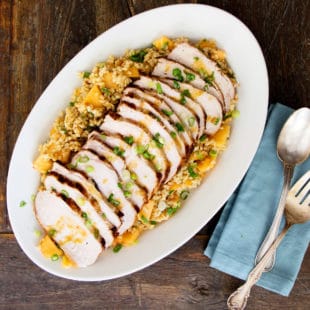 Ingredients
For the Pork Loin
2 to 3

pound

pork loin

⅓

cup

canola or vegetable oil

¼

cup

red onion

minced

3

tablespoons

Dijon mustard

2

tablespoons

honey

2

tablespoons

less sodium soy sauce

2

tablespoons

fresh lemon juice

1

teaspoon

grated fresh ginger

Freshly ground pepper

to taste
For the Brown Rice Salad
4

cups

cooked brown rice

at room temperature (prepare according to package directions)

½

medium cantaloupe

seeded

1

cup

sliced scallions

white and green parts
Instructions
Brine the pork loin (see note below).

When you are ready to cook the pork, make the dressing.  In a small container combine the oil, red onion, mustard, honey, soy sauce, lemon juice, grated fresh ginger, and pepper.

Remove the pork from the brine and pat the pork dry with paper towels.

Preheat a gas grill to medium. Place the pork on the grill and cover.  Grill for 25 to 40 minutes, turning the loin every 5 to 8 minutes, until it is evenly browned on the outside and a meat thermometer inserted into the middle of the thickest part of the pork loin registers 140 F.  Grilling is a very inexact science so do use the thermometer to check.  Remove the pork from the heat, tent it with foil, and let it rest for 8 to 10 minutes before slicing.

While the pork is cooking, make the brown rice salad.  Cut the cantaloupe into 6 wedges, remove the rind and slice the wedges crosswise into thin slices.  Toss the rice with the cantaloupe, half the scallons, and the dressing (save a couple of tablespoons of dressing for drizzling over the finished dish).  Spread the rice salad onto a serving platter.

Slice pork into 1/4-inch-thick slices, and arrange over the rice salad.  Sprinkle over the remaining sliced scallions, drizzle over the last bit of dressing, and serve warm or at room temperature.
Notes
Brining Pork
In a large sized container add 1/2 cup salt, 1/4 cup brown sugar, and 2 tablespoons peppercorns. Add 1 cup of boiling or very hot water, and stir until the salt and sugar are mostly dissolved. Add another 4 or 5 cups of very cold water, maybe a few ice cubes, making sure the water is cold. Place the pork chops in the brine, adding more water if necessary so that the pork is completely submerged, and refrigerate for 2 to 6 hours, but not longer or the pork may start to get mushy and too salty.
Nutrition
Calories:
457
kcal
,
Carbohydrates:
32
g
,
Protein:
41
g
,
Fat:
17
g
,
Saturated Fat:
3
g
,
Cholesterol:
107
mg
,
Sodium:
289
mg
,
Potassium:
862
mg
,
Fiber:
3
g
,
Sugar:
8
g
,
Vitamin A:
1291
IU
,
Vitamin C:
17
mg
,
Calcium:
34
mg
,
Iron:
2
mg
Nutrition information is automatically calculated, so should only be used as an approximation.
Like this? Leave a comment below!