Homemade Cream Puffs
You would think that homemade cream puffs, or profiteroles, would be tricky to make.  In fact, they are incredibly easy.  And then you can fill them with your favorite ice creams, and top them with your favorite sauces, and make a showstopper of a dessert that both kids and adults will adore.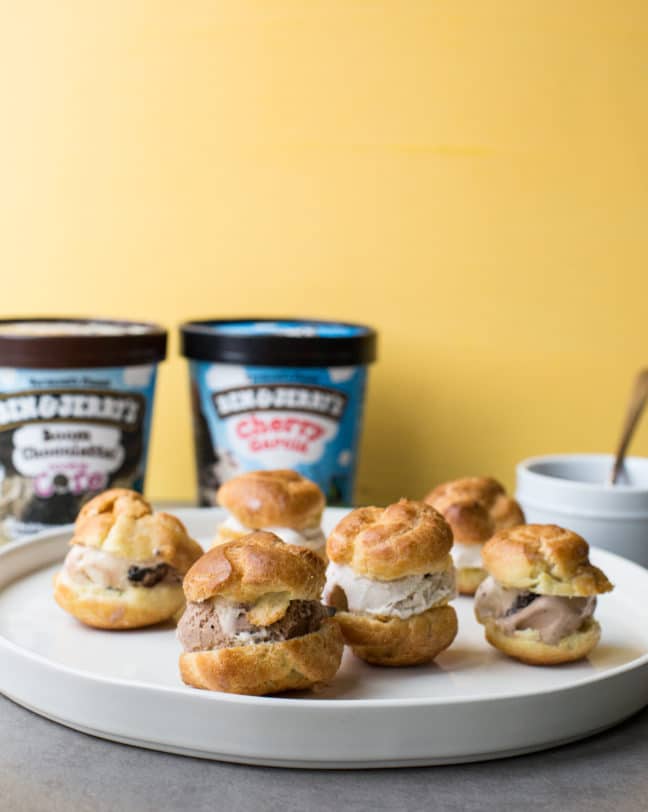 You can make the raspberry sauce below, or just buy a sauce already prepared. Any kind of berry sauce is delicious, as are chocolate sauce, butterscotch or caramel, sauces, and sauce that speaks to you. Just think about the flavor of the ice cream you are using to fill the cream puffs, and pick something to complement it.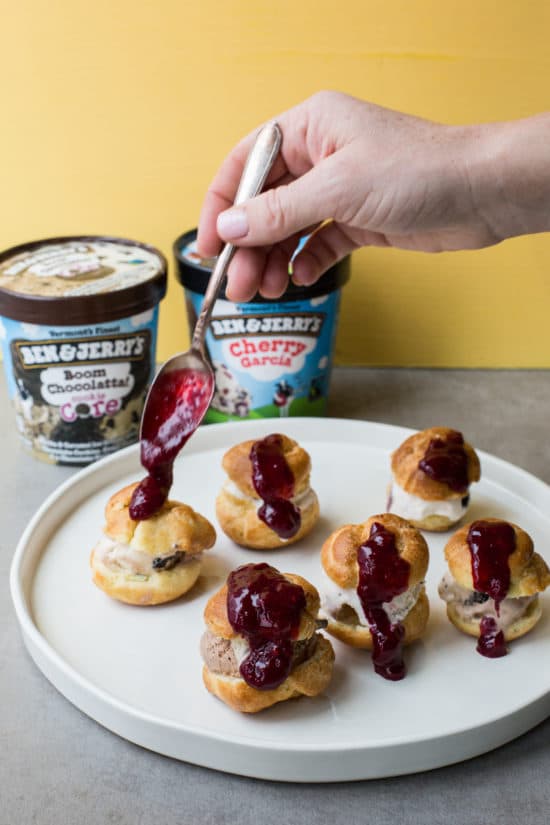 Mix and match ice cream flavors for a fun array of bite sized desserts. Try fruit flavors, such as raspberry or strawberry, different versions of chocolate or vanilla, newer popular flavors like salted caramel or cookies dough, and definitely explore some of the really cool artisial flavors on the market. Brandied Banana Brulee, anyone?
You can make the puffs ahead of time, and store them at room temperature in a tightly covered container. Fill and drizzle with the sauce just before serving.
You can also fill them ahead of time and store them in the freezer for up to one day. Let them sit at cool room temperature for 15 minutes before serving, and drizzle them with the sauce at the moment you serve them.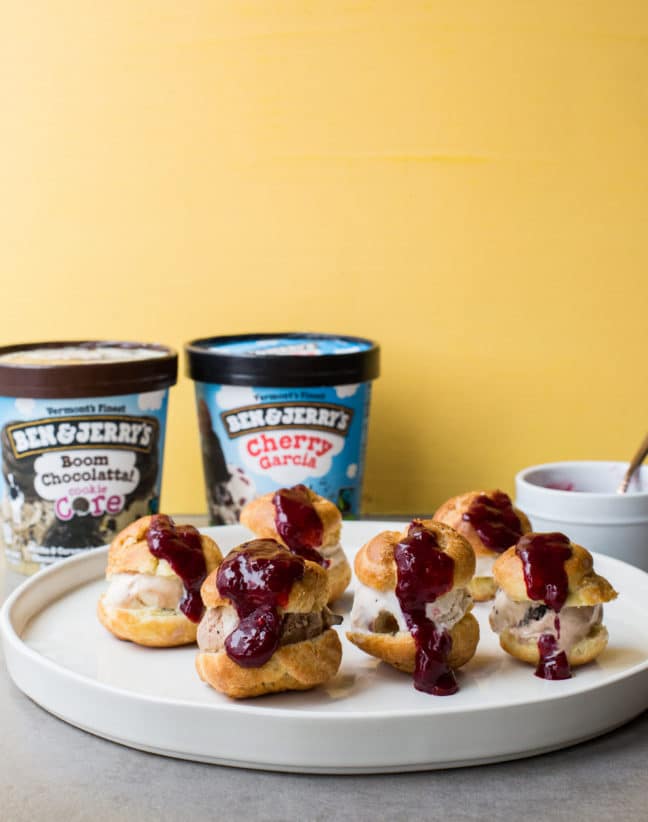 Other Ice Cream Desserts:
Like this recipe? Pin it to your favorite board on Pinterest.

Pin This
Cream Puffs with Ice Cream and Raspberry Sauce
Also called profiteroles, these are a slightly fancy but definitely fun way to do dessert.
Ingredients
¼

cup

water

¼

cup

milk

4

tablespoons

(½ stick) unsalted butter

Pinch kosher salt

½

cup

all-purpose flour

2

large eggs

Various flavors ice cream

about 2 cups total
For the Raspberry Sauce
1

package

(10 to 12 ounces) unsweetened frozen raspberries

thawed

¼

cup

sugar

or to taste

½

teaspoon

cornstarch

1

teaspoon

grated lemon zest

optional
Directions
Preheat the oven to 425°F. Line a baking sheet with parchment paper.

In a small saucepan combine the water, milk, butter, and salt and bring to a boil, allowing the butter to melt. Remove from the heat and dump in the flour all at once, then stir vigorously to make a paste. Stir until the mixture forms a ball, pulling away from the sides of the pan, and is a bit glossy.

Transfer the batter to a mixing bowl and use an electric mixer to blend the dough as you add the eggs one at a time, blending until incorporated (you can also use a spoon for this, but be prepared to work!).

Transfer the mixture to a pastry bag with a large plain tip, or a large, sturdy freezer-proof zipper top plastic bag. If using a plastic bag, trim a very small triangle from one of the bottom corners of the bag. Pipe the mixture into 1-inch balls onto the prepared baking sheet, leaving at least 1-inch in between each ball. Dip a finger in water and press down the piped tip at the top of each puff so the top is smooth. Bake for 20 to 25 minutes, until light and somewhat hollow inside, when you tap them. Use a small sharp knife to cut a little slit in the side of each to let the steam escape. Cool on the baking sheet on a wire rack.

While the puffs are baking make the raspberry sauce. Combine the raspberries, sugar, cornstarch, and zest, if using, in a small saucepan. Heat, stirring frequently, over medium heat until the sauce comes to a simmer. Simmer for 1 to 2 minutes until thickened, and taste to see if you want to add more sugar. Strain through a fine-mesh strainer into a bowl, pressing against the strainer with the side of a spoon to get as much sauce through as possible, and scrape the strained sauce from the bottom of the mesh strainer into the bowl. Discard the seeds. Let cool slightly.

Just before serving, slice the puffs in half horizontally, and use a tablespoon to fill with the ice cream of your choice. Top the puffs with the slightly warm raspberry sauce and serve immediately.
Nutrition Information
Calories:
195
kcal
|
Carbohydrates:
24
g
|
Protein:
4
g
|
Fat:
10
g
|
Saturated Fat:
5
g
|
Cholesterol:
76
mg
|
Sodium:
28
mg
|
Potassium:
130
mg
|
Fiber:
4
g
|
Sugar:
11
g
|
Vitamin A:
348
IU
|
Vitamin C:
15
mg
|
Calcium:
36
mg
|
Iron:
1
mg
The nutrition values are provided as an estimate. It is not intended as a substitute for the advice of a qualified healthcare professional.
Made this recipe? Post a photo of your delicious creation on Instagram with our hashtag #dinnersolved