I decide what recipes to develop and cook for any number of reasons. Sometimes I ate something wonderful on vacation, and want to replicate it at home. Sometimes I want to find the ultimate version of something, like brownies. Sometimes a friend or colleague says to me, "I want you to make X." And I do. So next up: easy ricotta pie – this one's for you, Victoria! The filling comes together in 10 minutes, and because I take the shortcut of using a refrigerated pie crust, it also gets into the oven in 10 minutes.
What is Ricotta Pie?
Ricotta pie is, simply put, like an Italian cheesecake starring ricotta cheese in the filling. It's a different type of dessert than NY-style cream cheese-based cheesecake. The texture is a bit more granular, while still creamy (as is ricotta cheese itself).
Overall, it's sweet, a dessert pie. In many cases lemon makes itself known as the main flavoring, and sometimes there is vanilla (as here) or almond extract added. The sweetness comes from sugar, but a moderate amount, so it's not an excessively sweet pie. The filling is quite moist, creamy and light, and has the gentle flavor and texture of ricotta cheese.
This ricotta pie calls for raisins, which are very common in ricotta pie. You can also use semisweet chocolate chips in place of the raisins. I used dried cherries during one testing, and dried cranberries in another. Some people use diced candied fruit instead.
How Long Can You Keep Ricotta Pie in the Fridge?
Ricotta pie should be completely cooled before refrigerating, well covered with plastic wrap. It will last in the refrigerator for up to 4 days. The pie can be left as room temperature for up to a day, but after that it should be refrigerated.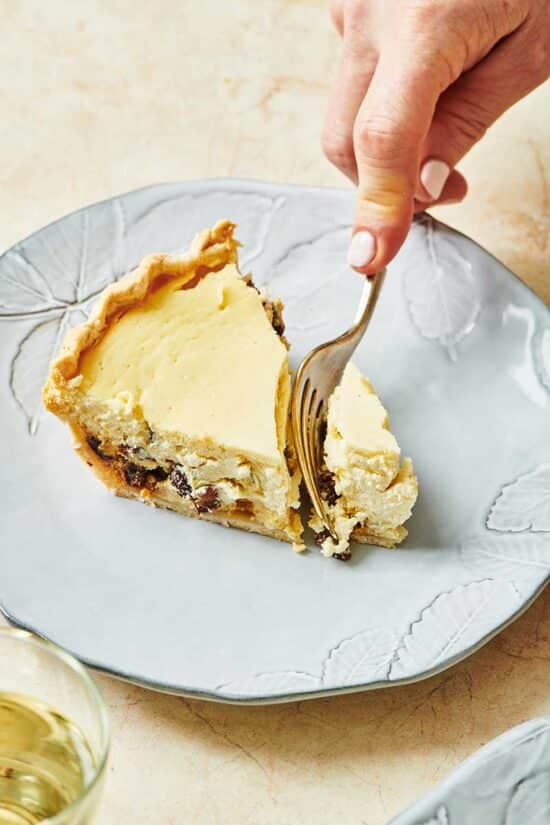 What Kind of Ricotta to Use in Pie
Fresh ricotta cheese is amazing, a real treat compared to the supermarket options. However, supermarket ricotta is just fine in this pie! But if you find fresh ricotta, which tastes, well, fresher, you will definitely see the difference.
If your fresh ricotta seems very loose, put it in a mesh strainer suspended over a bowl and leave it in the fridge overnight. Discard any liquid that collects in the bottom of the bowl and use the ricotta, which should be a bit firmer. I have tried it with both packaged and fresh cheese.
Ricotta Cheesecake: Creamy, sweet, and fluffy, this Italian-style cheesecake takes 10 minutes to pull together (thank you store-bought crust!). A simple, perfect ending to a holiday meal!

Tweet This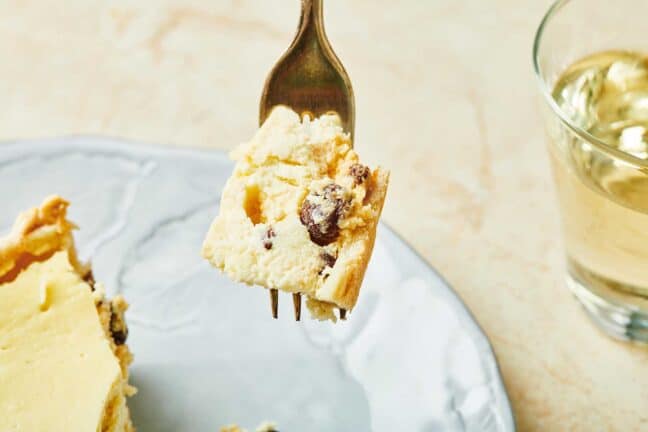 How to Serve Ricotta Pie
Ricotta pie is lovely on its own, without any adornment. Serve with any fruit sauce you like, from blueberry, strawberry, raspberry, or get more exotic. Passion fruit puree would be lovely over this pie!
Other Pie Recipes:
Like this recipe? Pin it to your favorite board on Pinterest.

Pin This
Ricotta Pie
Creamy, sweet, and fluffy, this Italian-style cheesecake takes 10 minutes to pull together (thank you store-bought crust!). A simple, perfect ending to a holiday meal!
Cooling and Chilling Time
2
hours
Ingredients
1

refrigerated or frozen and defrosted deep dish (9-inch) pie crust

5

large eggs

½

cup

cream

½

cup

sugar

1

teaspoon

pure vanilla extract

1

teaspoon

finely grated lemon zest

Pinch

kosher salt

1 ½

pounds

(3 cups) ricotta cheese

, preferably whole milk

½

cup

raisins

Confectioners' sugar

for dusting (optional)
Directions
Preheat the oven to 350°F.

Remove the premade pie crust from the fridge and let it sit while you prepare the filling.

In a large bowl whisk the eggs. Add the sugar, vanilla, lemon zest, and whisk to combine. Add the ricotta and raisins and blend with a silicone spatula or wooden spoon, blending and folding the mixture gently so that the fluffy texture of the ricotta remains. Scrape the filling into the pie shell.

Bake for about 50 minutes until just barely set; the middle will still be a bit jiggly when you gently shake the pan, but will firm up as it cools. Cool completely on a wire rack. Once the pie has come to room temperature, chill the pie for at least one hour before serving. You can keep the pie in the fridge for up to 4 days, covered with plastic wrap. Dust with confectioners' sugar, if using.
Nutrition Information
Calories:
412
kcal
|
Carbohydrates:
33
g
|
Protein:
15
g
|
Fat:
25
g
|
Saturated Fat:
13
g
|
Polyunsaturated Fat:
2
g
|
Monounsaturated Fat:
8
g
|
Trans Fat:
0.01
g
|
Cholesterol:
162
mg
|
Sodium:
204
mg
|
Potassium:
238
mg
|
Fiber:
1
g
|
Sugar:
13
g
|
Vitamin A:
746
IU
|
Vitamin C:
1
mg
|
Calcium:
208
mg
|
Iron:
2
mg
The nutrition values are provided as an estimate. It is not intended as a substitute for the advice of a qualified healthcare professional.
Made this recipe? Post a photo of your delicious creation on Instagram with our hashtag #dinnersolved