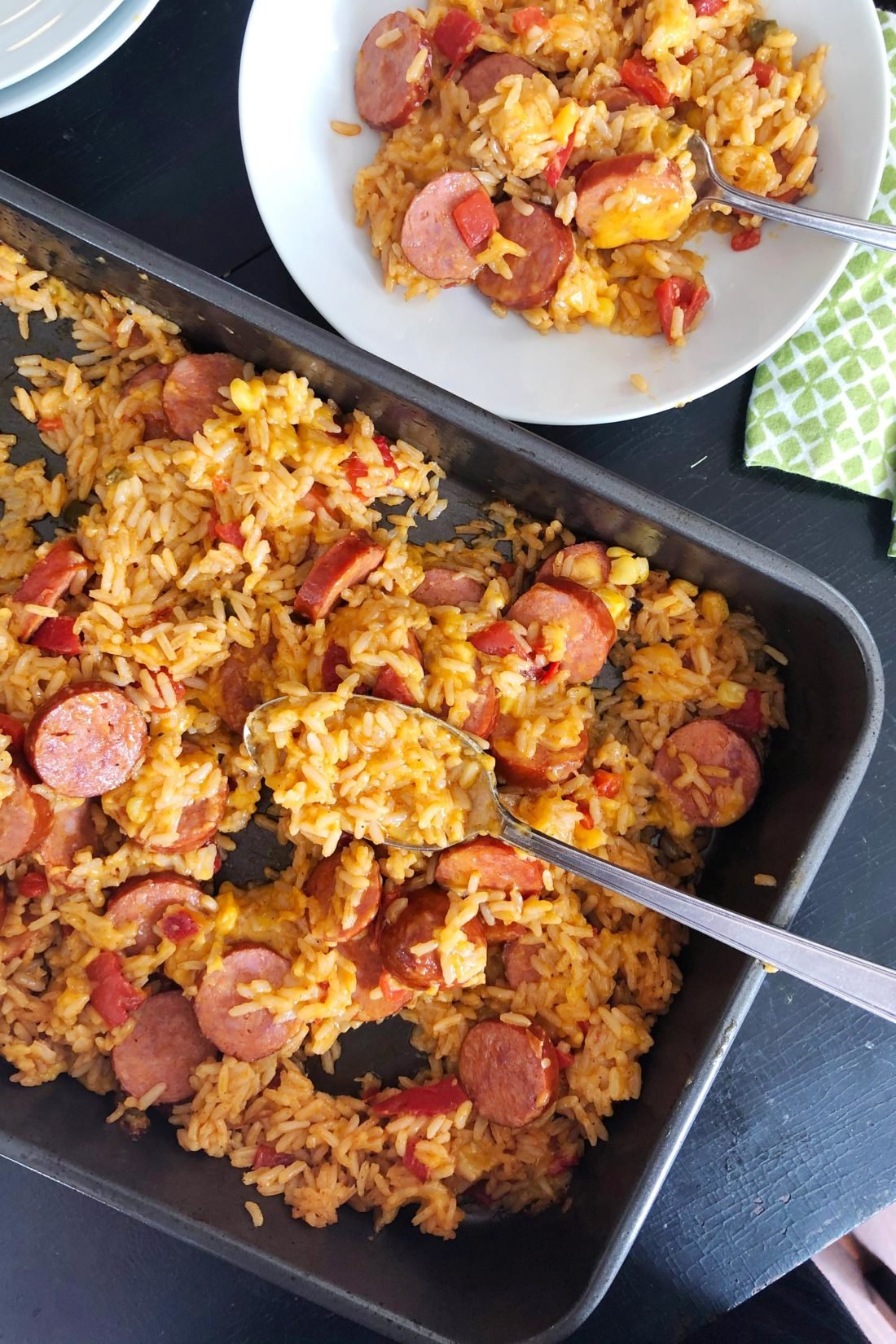 No one is unaware that these are tough times. We are (at best) stuck at home trying to avoid being put at risk, and every day starts to feel like Groundhog's Day, punctuated by the need to prepare 3 meals. Or perhaps you do need to go to work as an essential worker (and if so, THANK YOU from all of us! Those on the frontline better get celebratory parades in every city when this is all over. I'll be one of the folks on the sidelines with slightly gray roots screaming and crying with gratitude).
Cheesy Jambalaya and Cajun Sausage Bake: Two shortcut ingredients get you to a comforting, inexpensive, and imminently satisfying meal that the whole family will love.

Tweet This
Even those of us who love to cook (even those of us who cook and recipe develop for a living!) can start to feel weighed down by the grind. And many of us are working with limited pantries and limited budgets. Not to mention restricted time to prep those meals, whether it's because of children needing attention, work needing completing, or toilet paper that needs stalking.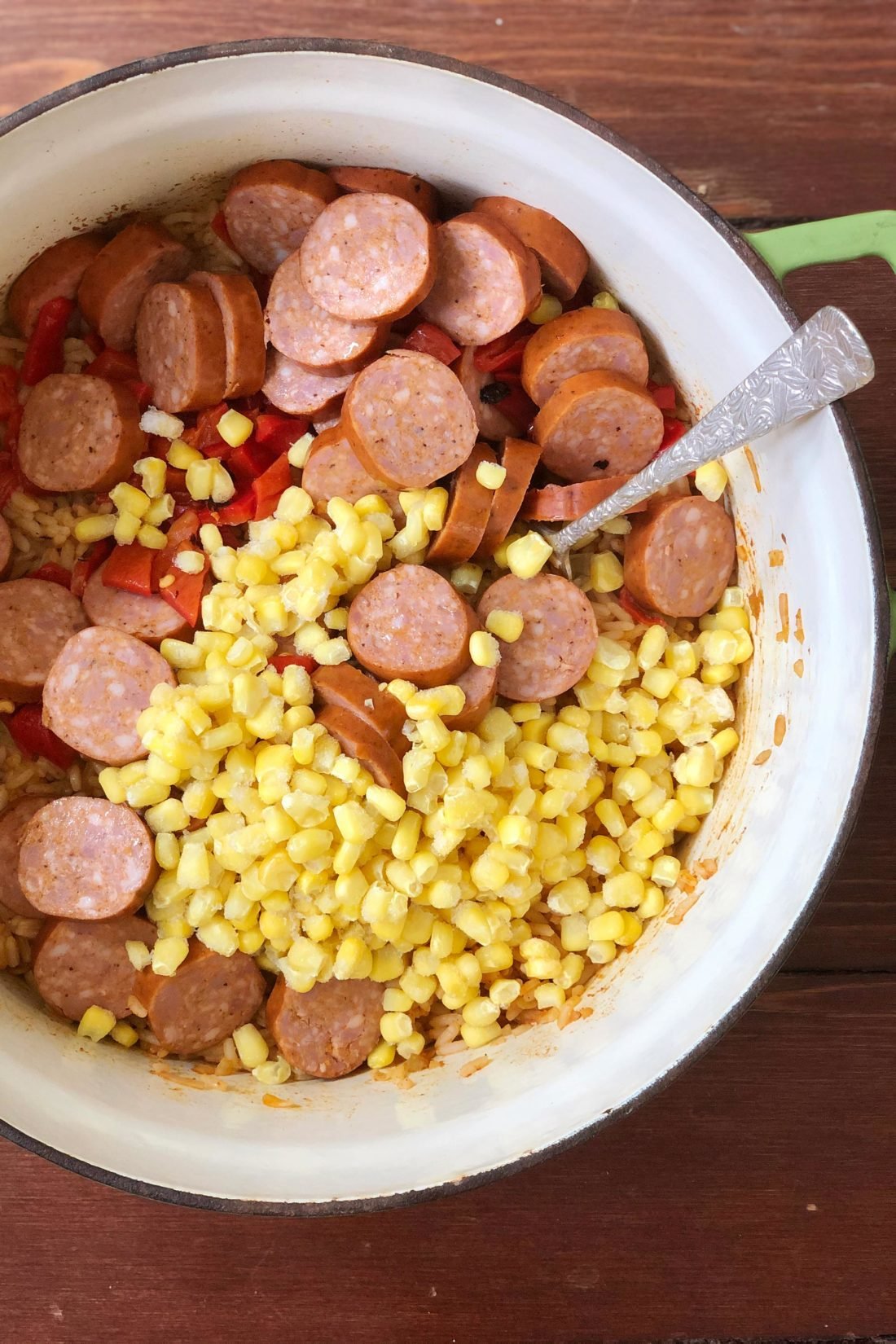 We are all hoping for more quick and easy and inexpensive meals that take minutes to prepare, and make everyone in the house feels sated and nourished and perhaps even loved. And that's how this Cheesy Jambalaya and Cajun Sausage Bake came to be.
I've worked with Zatarain's many times over the years, and recognize their terrific shortcut products as the great kitchen helps that they are. This recipe incorporates not only one of their flavorful rice mixes, but also their new smoked sausages, made from pork with all kinds of seasonings. I'm a big jambalaya fan, as you can see, so that's the rice mix I picked.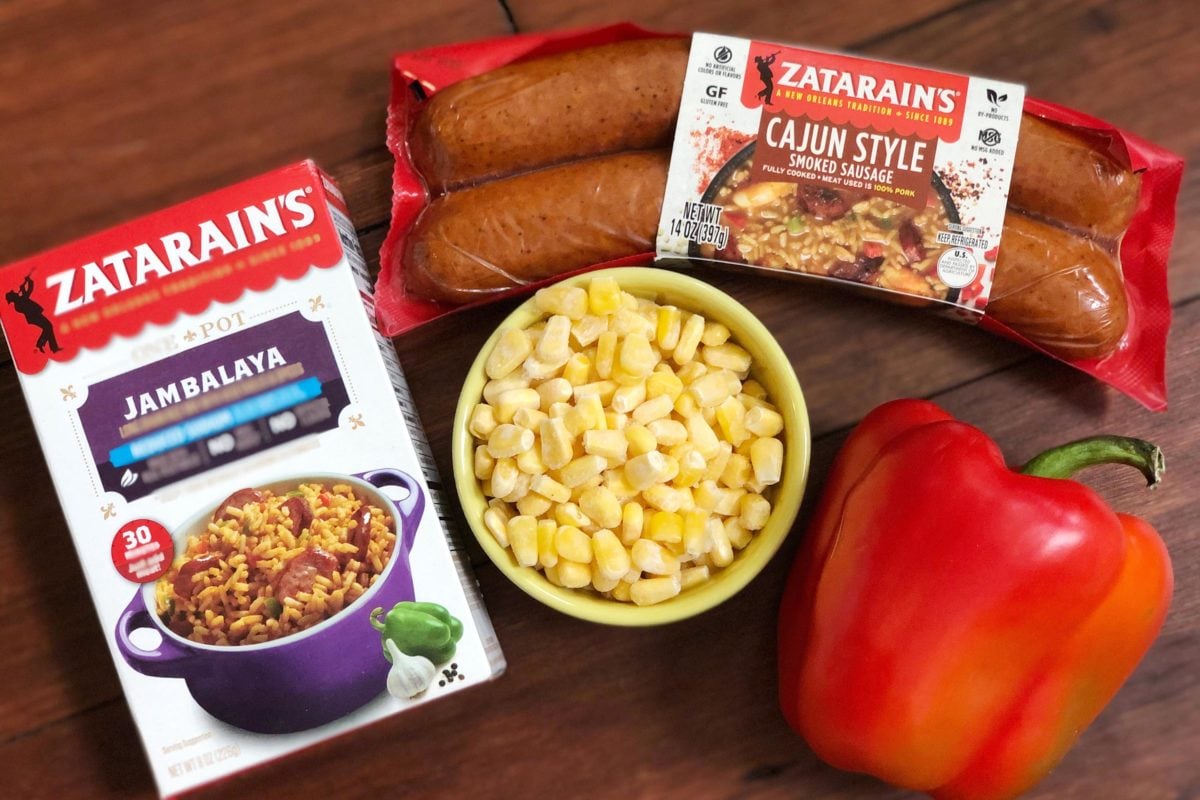 Shortcut Pantry Staples
Both the Zatarain's Rice Mixes and Zatarain's Smoked Sausage are excellent pantry staples to stock up on with your next grocery run during this time. The rice mixes will last for months, and the sausages, unopened in the fridge, will also last for at least a few months. You can find the. rice mixes everywhere, and the sausages (100% pork with no artificial colors, flavors, by-products, MSG or gluten) are available at Sam's Club and select grocery stores across the country.
Flexible Recipe
You can use this recipe as a blueprint for future recipes. Zatarain's has loads of rice mixes for you to choose from, and their smoked sausage comes not only in a Cajun version, but also Andouille style. Mix and match the rice mixes with the sausages to your heart's content (also try Uptown Red Beans & Rice).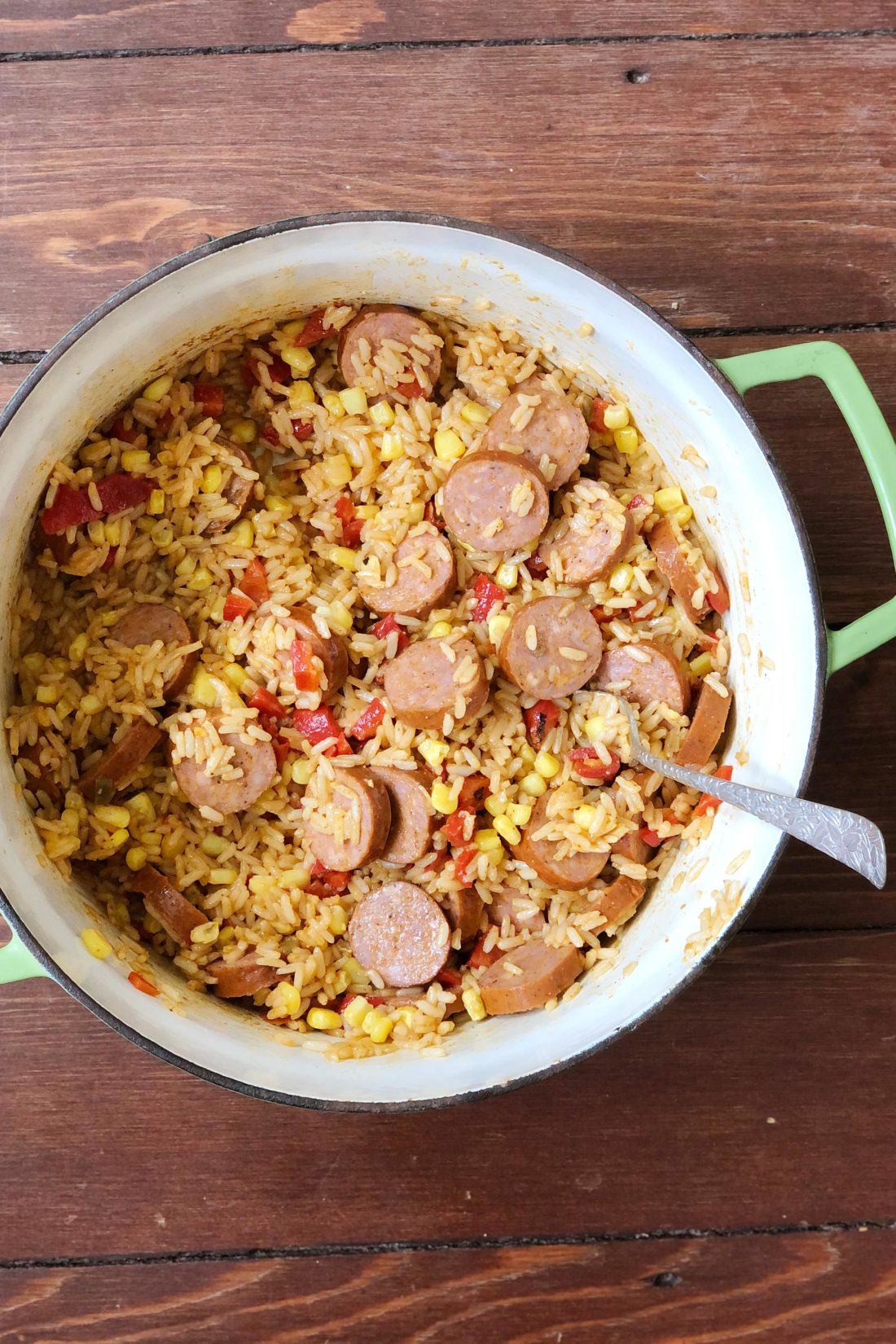 Since there is so much flavor in the rice blend and the sausage, it eliminates the need for you to add seasonings of your own, which tightens up that ingredient list pretty dramatically, I can tell you. No need to even reach for the salt and pepper – all of the spices are built right in, and there's even a little kick (but not so much spice as to scare anyone – if you want more spice, add a pinch or two of cayenne pepper or red pepper flakes).
And then play around with the cheeses and other add-ins. I suggest some cheeses, as well as some vegetables, but these are just ideas, and you can pick and choose depending on what you have around, or reach for other things, like diced zucchini or summer squash, diced tomatoes, other kinds of peppers, peas, and so on. If you didn't have any of these vegetables, you could stick with the rice mix, the sausage and whatever cheese you have around, and maybe just pair it with a salad.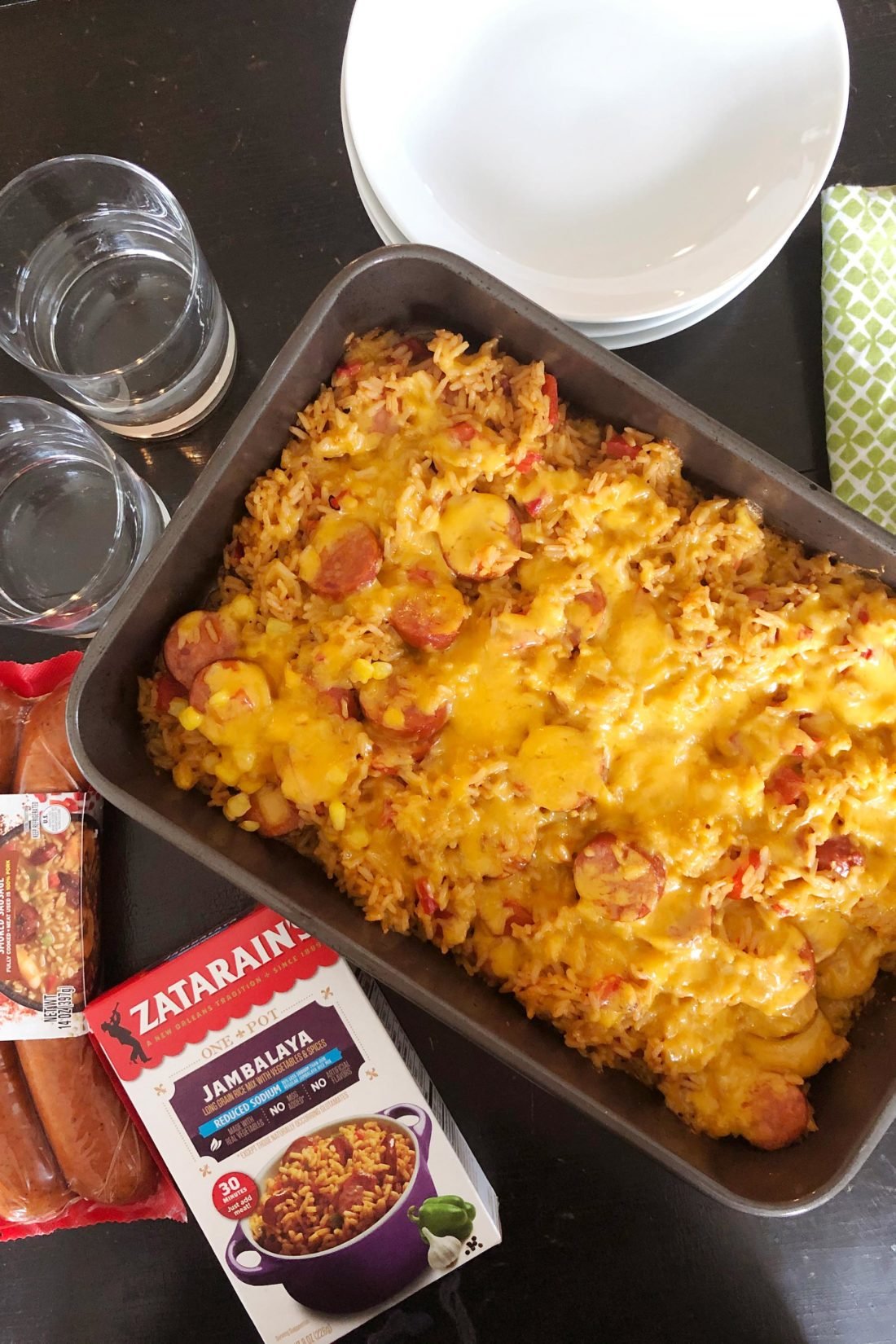 And bonus – the smell of this cooking and coming out of the oven, will for a moment make you forget all of the day's worries, and just make you plain old hungry. And for most of us, that's a wonderfully normal and welcome feeling.
Like this recipe? Pin it to your favorite board on Pinterest.

Pin This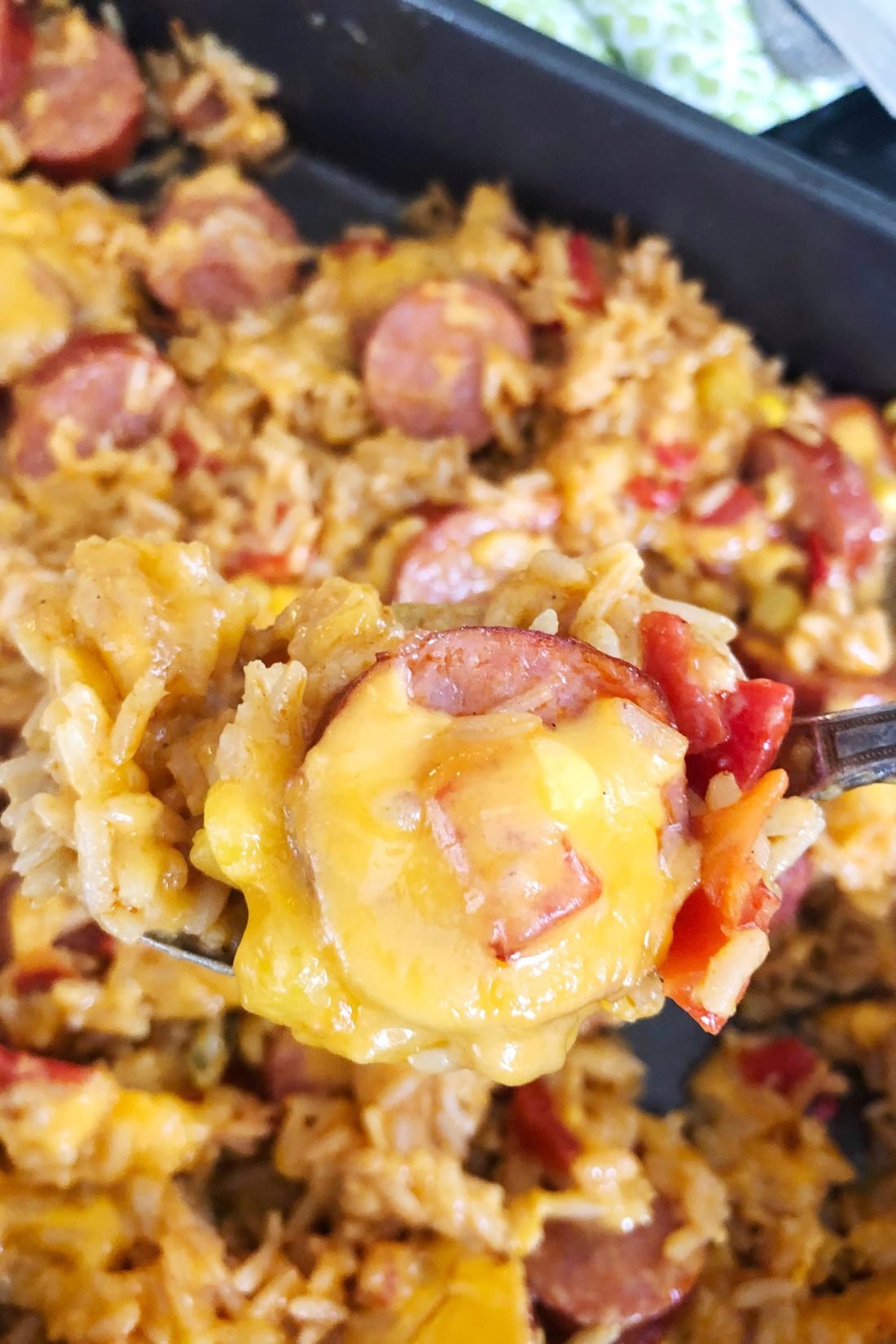 Cheesy Jambalaya and Cajun Sausage Bake
Two shortcut ingredients get you to a comforting, inexpensive family-friendly casserole.
Ingredients
1

8 ounce box Zatarain's Jambalaya Rice Mix

regular or reduced sodium

2 ½

cups

water

1

tablespoon

oil

whatever you have

1

14-ounce package Zatarain's Cajun Smoked Sausage

sliced into ⅓-inch or so thick slices

1

cup

corn kernels

frozen, canned or fresh; optional

1

cup

chopped cooked broccoli

frozen or fresh; optional

½

cup

chopped bell pepper

any color is fine; optional – roasted red peppers are also an option

1 ½

cups

shredded cheese

divided, such as cheddar, Monterey Jack, Munster, Havarti, swiss cheese, gruyere, or a combination
Directions
Preheat the oven to 325°F. Lightly spray a 9 x 13- inch baking pan with nonstick spray.

In a large saucepan, combine the rice mix, water and oil. Bring to a boil over medium high heat, then reduce the heat to low and cover the pot. Simmer for 25 minutes, covered, until the rice is tender. Remove from the heat and let stand for 5 minutes. Uncover the pot, and fluff the rice mix with a fork. Stir in the sliced sausage, and any or all of the following vegetables: corn, broccoli, and bell pepper, or anything else you have around that feels like a nice addition. Stir in ½ cup of the cheese until everything is evenly blended.

Transfer the contents of the pot to the prepared pan and spread it out evenly. Sprinkle over the remaining 1 cup cheese. Bake for about 15 minutes until the cheese is melted, and everything is hot all the way through. Serve hot.
Nutrition Information
Calories:
519
kcal
|
Carbohydrates:
35
g
|
Protein:
23
g
|
Fat:
31
g
|
Saturated Fat:
13
g
|
Cholesterol:
77
mg
|
Sodium:
994
mg
|
Potassium:
255
mg
|
Fiber:
2
g
|
Sugar:
2
g
|
Vitamin A:
808
IU
|
Vitamin C:
30
mg
|
Calcium:
369
mg
|
Iron:
2
mg
The nutrition values are provided as an estimate. It is not intended as a substitute for the advice of a qualified healthcare professional.
Made this recipe? Post a photo of your delicious creation on Instagram with our hashtag #dinnersolved