Easy Baked Cod Filets
This is one of the easiest fish dishes ever. The cod is literally roasted with just oil, salt and pepper, and then a small drizzle of lemon yogurt gives it extra personality. But the simplicity of this dish truly allows the flavor of the fish to shine on through, so get a piece of super fresh fish.
You can use cod, halibut, or scrod, any white flaky fish. Actually, you could use any fish you wanted—perch, salmon, all that you're doing is adding a bit of creamy citrus-ness to the situation. 
Baked Cod: A foolproof, simple recipe that lets the flavor of the fish shine (with extra personality thanks to a drizzle of lemon yogurt).

Tweet This
How Long to Bake Cod
The rule of thumb for cooking fish in most cases is 10 minuter per inch of thickness. If you are baking larger pieces of fish, even if they are not thicker, you'll need to add more time. For this baked cod, if your filets are 1-inch thick, they should take 10 minutes to bake at 400 degrees.
Lemon Yogurt Sauce for Cod
The yogurt sauce is basically made of two ingredients: Greek yogurt, and lemon. That's it (okay, okay, salt and pepper). You will use both the zest and the juice of the lmon, which is the best way to get the most flavor out of a single piece of citrus fruit.
You can be a little fancy in topping the fish with the sauce, with the help of a plastic baggie. No agility or technique involved here, just a squiggle over the fish. If you want to skip the yogurt in the baggie part, you can just top each filet with a spoonful of the lemony sauce. It will save a plastic bag, which is a good thing environmentally, but you won't get that slightly sexy zigzag drizzle of sauce.
Sauces for Fish
Drizzling or dolloping a piece of simply roasted fish with a sauce is such an easy way to make dinner interesting. Try sesame drizzle, olive drizzle, green goddess sauce, chimichurri sauce, salsa verde—this is a smart use for leftover sauces of all stripes.
Round out your plate with Bulgur Wheat with Caramelized Onions and Parsley, Roasted Carrots with Tapenade Dressing and Parmesan Roasted Brussels Sprouts for a very pretty meal. If you are making any roasted vegetables to go with the fish, you can slide the cod into the oven for the last 10 or so minutes of roasting time, maximizing your oven space and energy.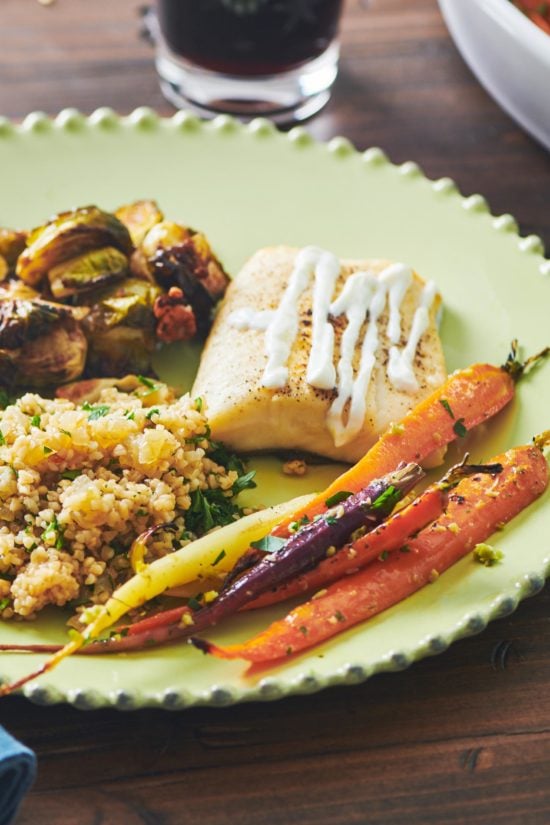 What to Serve with Baked Cod:
More Fish and Seafood Recipes:
In the mood for more fish? Try these easy fish recipes:
Like this recipe? Pin it to your favorite board on Pinterest.

Pin This
Baked Cod
A truly simple fish dish, but with nice personality thanks to a drizzle or dollop of lemon yogurt.
Ingredients
4

6 to 8 ounces filets of cod

(about 1-inch thick)

1

tablespoon

olive or vegetable oil

Kosher salt and freshly ground pepper

to taste
For the Lemon Yogurt Sauce (Optional)
Directions
Preheat the oven to 400°F. Spray a shallow baking dish or rimmed baking sheet with nonstick cooking spray.

Place the fish in the prepared baking dish and rub the tops with the oil. Season with salt and pepper. Roast the cod for about 10 minutes until it is cooked through and flaky—if the pieces of cod are thinner or thicker than 1-inch, tyou may need to reduce or extend the cooking time by a couple of minutes..

While the fish is roasting, place the yogurt, lemon juice and zest in a sealable plastic bag. Seal the bag and mush it all around until blended. When you are ready to serve the fish, snip a tiny corner off of the baggie, and drizzle it over the fish. Serve hot.
Nutrition Information
Calories:
232
kcal
|
Carbohydrates:
1
g
|
Protein:
43
g
|
Fat:
5
g
|
Saturated Fat:
1
g
|
Cholesterol:
99
mg
|
Sodium:
132
mg
|
Potassium:
972
mg
|
Sugar:
1
g
|
Vitamin A:
91
IU
|
Vitamin C:
3
mg
|
Calcium:
64
mg
|
Iron:
1
mg
The nutrition values are provided as an estimate. It is not intended as a substitute for the advice of a qualified healthcare professional.
Made this recipe? Post a photo of your delicious creation on Instagram with our hashtag #dinnersolved