People who love filet mignon, love filet mignon. That includes my guys. It's probably the top of the line in terms of tenderness, and pricy enough to earn it special occasion status. And luckily for us so easy to cook at home, and quite a bit cheaper than ordering it out. I just did a little web rabbit-hole dive and a 10-ounce filet mignon is priced at $53 at a popular high-end New York City restaurant. Wowsers.
How to Choose Filet Mignon
Filet mignon is from the tenderloin part of the cow, a muscle that gets very little use, and therefore remains, as the name suggests, tender. It's actually pretty lean, with little fat, but that doesn't affect its softness.
Pick filets that are fairly thick, about 1 ½ to 1 3/4-inches. Thinner filets run the risk of overcooking on the inside before the outer crusts have a chance to caramelize properly. Again, if you end up with thinner filets, just pan sear them and skip the roasting.
If you are making a number of them, it's worth buy a whole tenderloin and cutting them yourself to achieve steaks that are even in thickness, and possibly save some money. If you are buying the meat at a butcher, he or she will usually do this for you. Again, about 1 1/2 inches is a good thickness to get a nice sear on the outside, and achieve pinkness in the middle.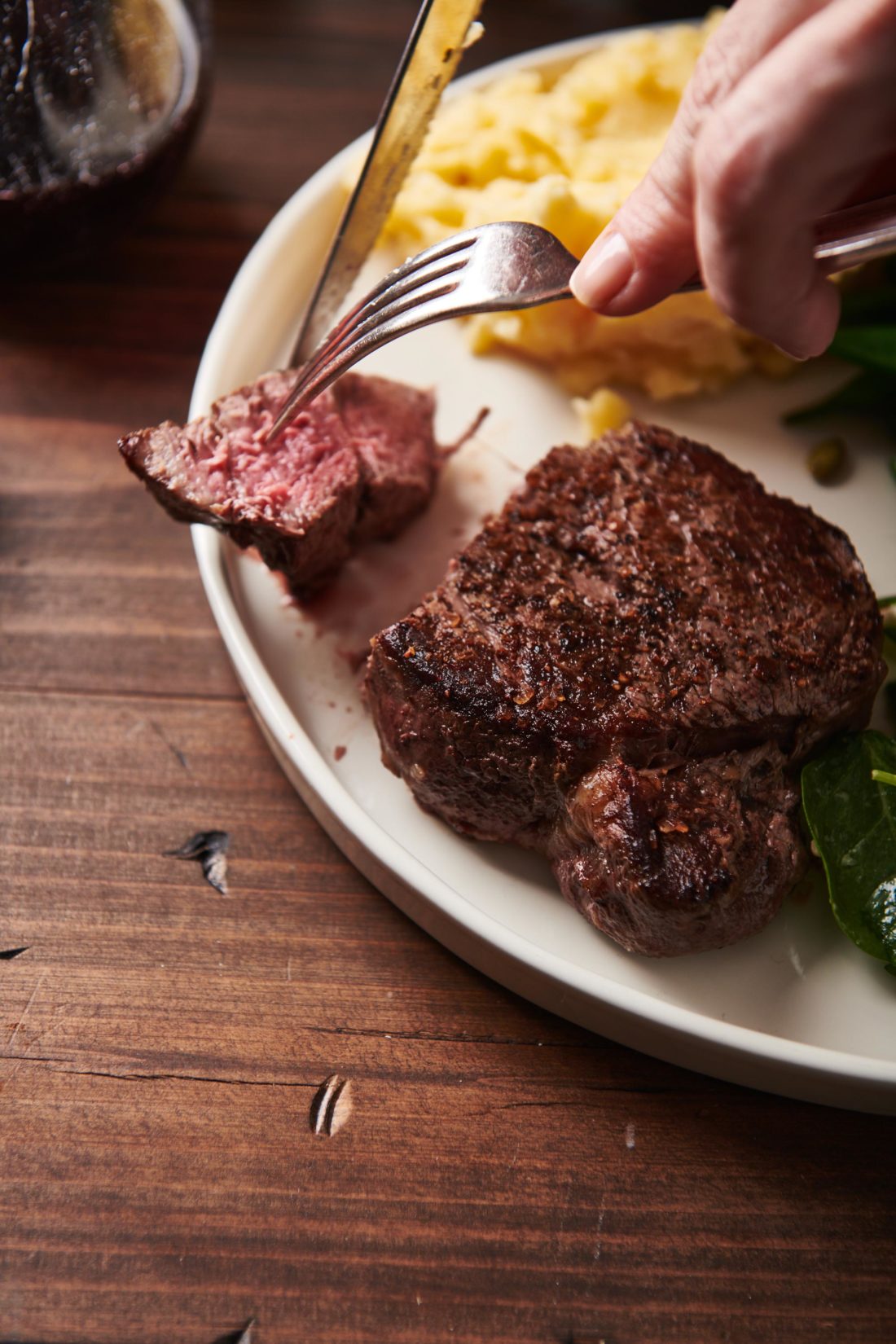 Seasoning Filet Mignon
Pat the filets super dry before searing them in the hot pan. Moisture is not your friend when it comes to getting a nicely caramelized crust on your steak. A sprinkle of kosher salt and a grind of pepper on both sides, and make sure you don't season them until just before they are ready to be cooked, or the salt will start to cause moisture to release from the meat.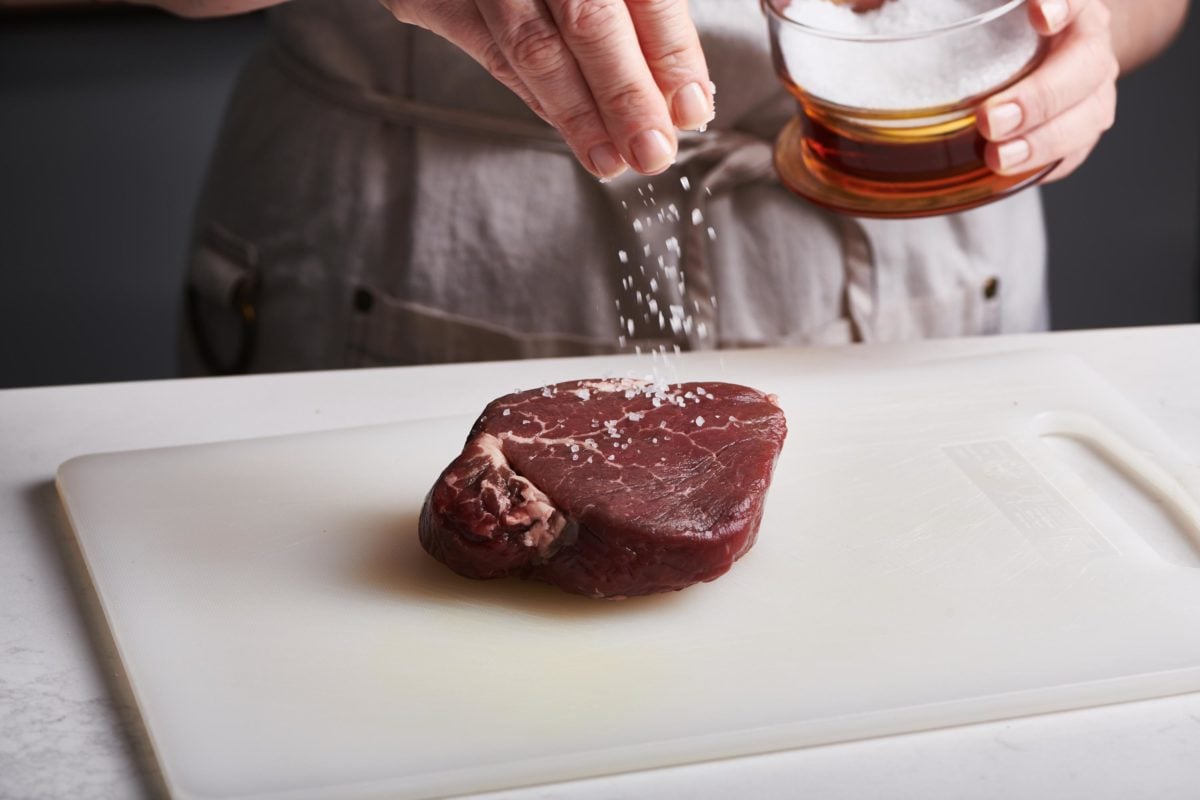 How to Cook Perfect Filet Mignon
You can definitely grill filet mignon with great results, but let's focus in on the year-round option of pan searing and roasting. If your filets are on the thinner side, around 1-inch thick, you might be able to skip the oven part, and still end up with perfectly cooked filets. Or, for thicker filets, if you like a serious outer crust and want to let it to in the pan for about 5 minutes per side, you can also get to medium rare without using the oven.
How to make tender, juicy restaurant-quality filet mignon steaks at home, for a fraction of the price.

Tweet This
A cast iron skillet is the optimal pan for this. Then you want to have some oil in the pan, either a thin coat in the pan, or if you prefer you can rub the oil directly onto both sides of the filet. Use a heavy pan – this is necessary for conducting high heat evenly, without allowing the oil and browned bits to burn in the pan. Use a pan that fits the steaks comfortably without crowding them, but not one that it too big, as the excess space will allow for more opportunity for the oil to burn.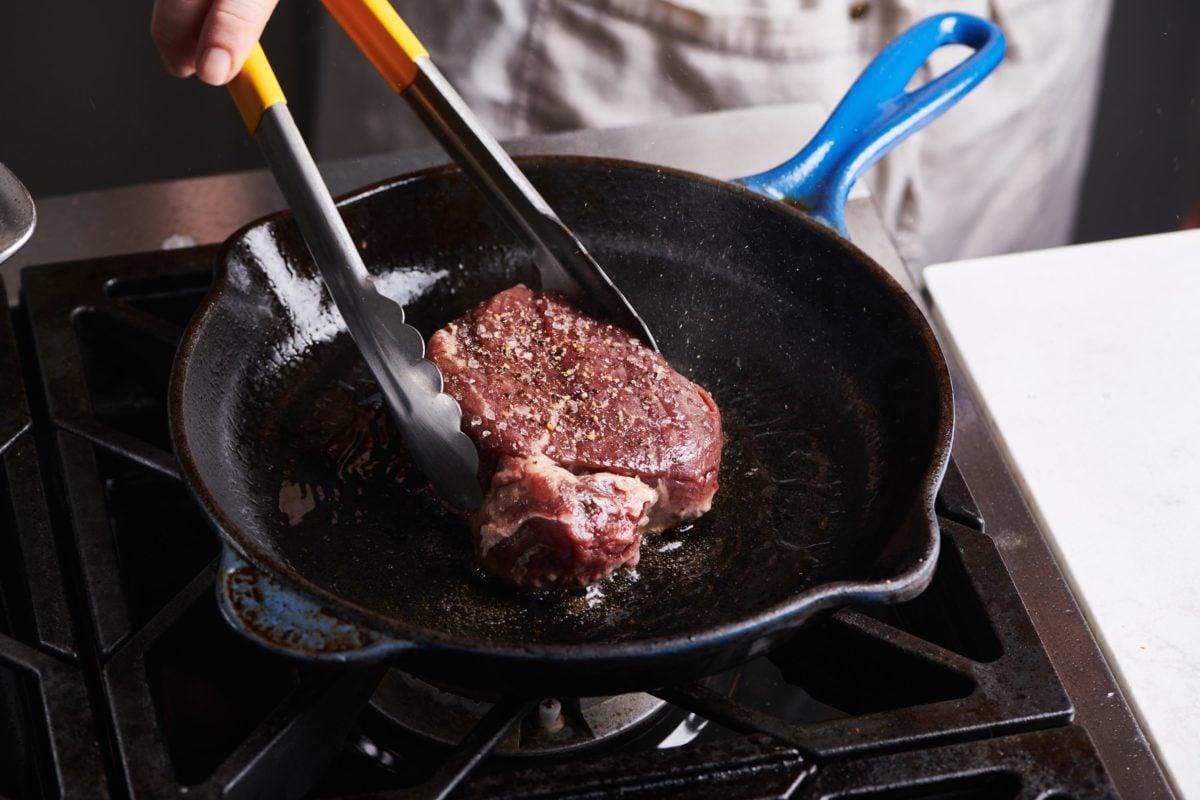 Then place a teaspoon of butter on top of each steak and transfer the seared steaks to a preheated oven to finish cooking.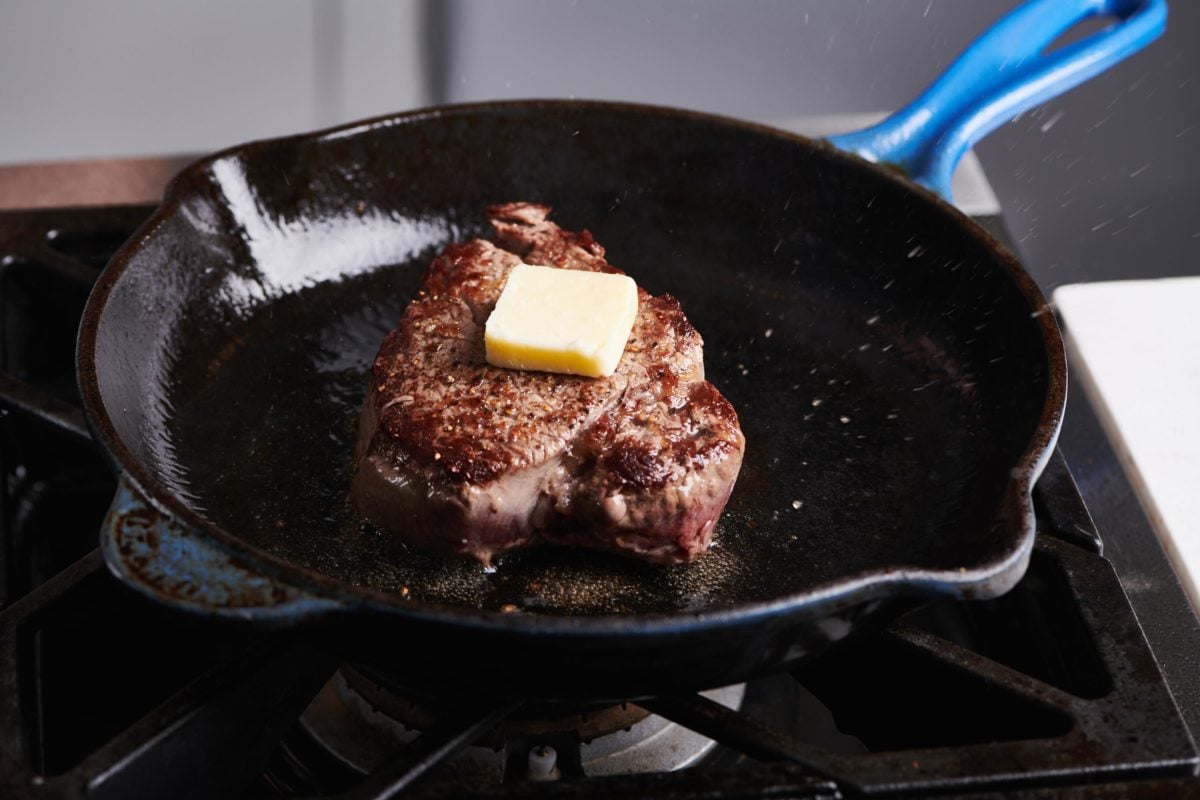 Internal Temperature for Filet Mignon
Make sure your thermometer is positioned directly in the center of the steaks for the most accurate reading.   Rare is 120 degrees and medium rare is 125 degrees.  Make sure not to go over the desired temperature, as the steaks will continue cooking once they have been moved to a cutting board, and you want to account for that carryover cooking.
A rare filet will have a final internal temperature of 125 degrees. after resting. A medium rare filet will have a final internal temperature of 130 degrees after resting. If you are thinking about cooking your steaks past medium rare, this might not be where you want to spend your cash, as the tenderness will start to get compromised, and no one wants to see that in a pricy cut of meat.
Filet Mignon Pan Sauce
If you want to make a pan sauce you might consider transferring the steaks to a rimmed baking sheet to finish cooking in the oven. Allow the rimmed baking sheet to heat in the preheating oven. There are two reasons to consider this: 1) Any of the browned bits on the bottom of the searing pan (the "fond") will not overbrown and burn when the pan goes into the oven. Two, you can start on your pan sauce while the steaks finish cooking in the oven and rest afterwards.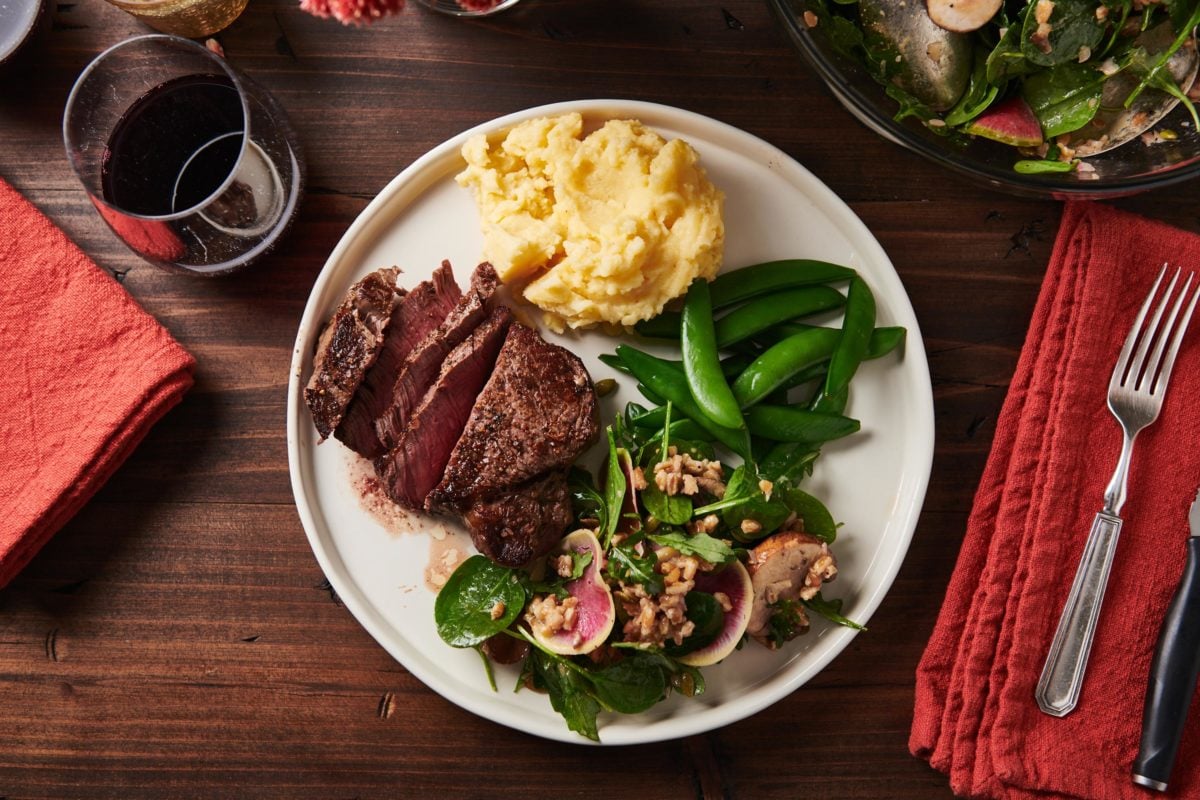 What to Serve with Filet Mignon:
Other Filet Mignon Recipes:
Like this recipe? Pin it to your favorite board on Pinterest.

Pin This
How to Make Filet Mignon
How to make tender, juicy restaurant-quality filet mignon steaks at home, for a fraction of the price.
Ingredients
2

8-ounce filet mignons

or more as desired, about 1 ½ to 1 ¾ inches thick

1

tablespoon

olive oil

Kosher salt and freshly ground pepper

to taste

2

teaspoons

unsalted butter
Directions
Preheat the oven to 450 F.

Heat a large heavy skillet, such as cast iron, over high heat. Add 1 tablespoon olive oil. Season the steak generously with salt and pepper. When the oil is hot, sear the steak for 3 minutes on each side, until a nice crust has formed.

Transfer the pan to the preheated oven and roast for about 6 to 9 minutes, until the steaks are done to your liking. The inside will read 120 F on an internal thermometer for rare, 125 F for medium rare. Transfer the steaks to a cutting board and let rest for at least 5 minutes.

Slice and serve.
Nutrition Information
Calories:
719
kcal
|
Carbohydrates:
1
g
|
Protein:
41
g
|
Fat:
61
g
|
Saturated Fat:
24
g
|
Cholesterol:
170
mg
|
Sodium:
112
mg
|
Potassium:
689
mg
|
Sugar:
1
g
|
Vitamin A:
125
IU
|
Calcium:
16
mg
|
Iron:
5
mg
The nutrition values are provided as an estimate. It is not intended as a substitute for the advice of a qualified healthcare professional.
Made this recipe? Post a photo of your delicious creation on Instagram with our hashtag #dinnersolved