Beef, Black Bean and Jalapeno Chili
Can you ever have too many chili recipes? Trick question.
Serving Size: 10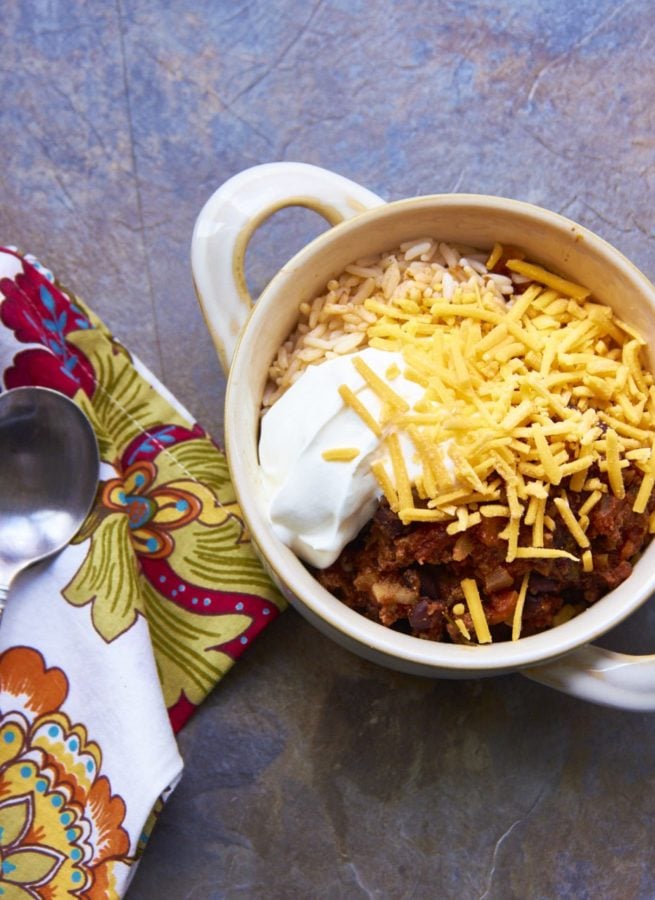 You can make this up to three days ahead (do try and make it at least one day ahead to allow the flavors to meld), and keep it in the fridge.  It can also be frozen for up to three months in airtight containers.
Save
Beef, Black Bean and Jalapeno Chili
Print
2 pounds ground beef

2 cups chopped onion, red or yellow

2 tablespoons olive oil

1 cup chopped carrots

1 cup chopped celery

2 (28-ounce) cans crushed tomatoes

2 (15.5 ounce) cans black beans, drained and rinsed

½ cup chopped jarred jalapeno, or ¼ cup chopped fresh (seeded) jalapeno

2 tablespoons chili powder

2 teaspoons garlic powder

2 teaspoons ground cumin

3 bay leaves

Kosher salt and freshly ground pepper to taste

To serve (pick and choose): shredded cheese, chopped tomatoes, sour cream, guacamole or diced avocado, chopped onions or scallions, cilantro leaves
1. In a large pot or Dutch oven brown the meat stirring frequently to break it up into crumbles, until no pink remains. Turn it into a colander to drain.
2. Return the pot to medium heat, and add the oil. When the oil is hot, add the onions, carrots, and celery and sauté for 5 minutes until the vegetables start to become tender. Add the tomatoes, beans, browned beef, jalapeno, chili powder, garlic powder, cumin, bay leaves, and salt and pepper. Bring to a simmer and simmer for about 20 minutes, stirring occasionally. Either serve immediately, or cool and refrigerate or freeze until ready to reheat and serve.
3. Serve in bowls with all of the garnishes.