This post may contain affiliate links. Please read our privacy policy.
New recipes in my house are born of various things. In this case it was a new corn kernel stripper sent to me by OXO. As I type these words they seem tantalizingly wrong ("Hi, I'm Candy. I'm here to strip your corn."). It was just a cool device, part of a lovely package they sent over to kick of the grilling season. I was ripping those kernels off those ears of corn willy nilly, and suddenly there were a pile of them waiting to be used in some brilliant fashion.
And then there was a bunch of fresh oregano starting to look sad in the fridge, and THEN the piece de resistance, some strips of leftover cooked bacon (an anomaly in our house – I must have made a lot of bacon for leftovers to have occurred.
Usually the commentary is somewhere along the lines of, "Who gets the last piece of bacon? How many pieces of bacon did you get? How many peices of bacon did HE get? Why did the dog have to get two pieces?). And since corn and bacon have always crushed pretty hard on each other, this was a union waiting to happen.
Finally I have been obsessing over my cast iron pans a lot of late, and one of the things that cast iron pans are so great for is cornbread.
And finally, finally, I had read a recipe somewhere long ago that popped into my brain, where instead of using softened or melted butter for the cornbread, tiny bits of cold butter were cut in, a la biscuits.
So there you have it. A long winded way of telling you why this Bacon, Fresh Corn and Oregano Cornbread recipe is landing on these pages. Does anyone care? Maybe, maybe not. Will anyone love this recipe? Oh yes, anyone will love this recipe.
A great way to make use of extra ears of corn – also: bacon! Crisp up some extra strips for this.

Tweet This
How to Use a Corn Stripper
And here's the step by step of the little corn stripper process. Shucked corn: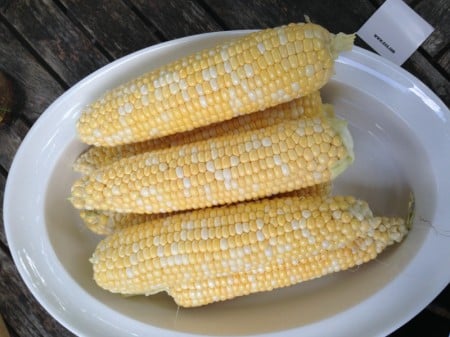 Corn with stripper (still sounds bad):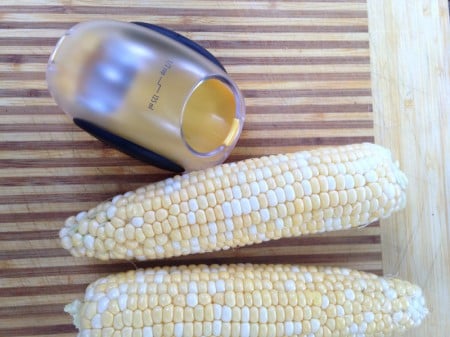 Corn being stripped: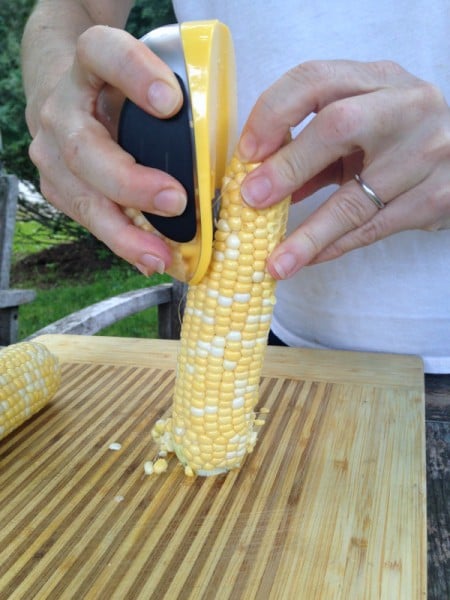 Pouring out the kernels: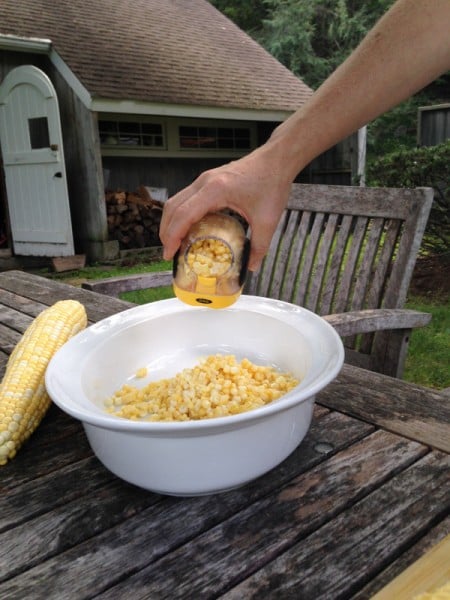 Loads of fresh kernels: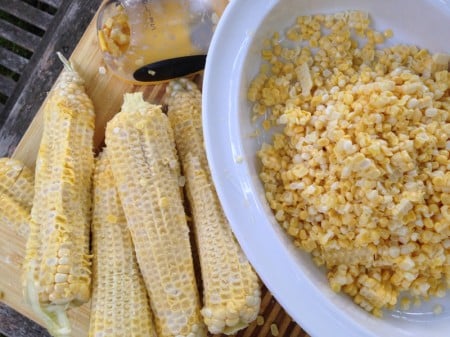 Can you use a sharp knife. Of course you can.
This was also great made with, uh, frozen corn, and served with with Apple Cider Beef Stew.
And think of it for Thanksgiving, when a good chunk of cornbread always makes the meal even better. Or try Easy Cornbread or Cheddar Cornbread.
Like this recipe? Pin it to your favorite board on Pinterest.

Pin This
Bacon, Fresh Corn, and Oregano Cornbread
Fresh corn and rosemary – plus bacon! – adds a summery note to moist, tender cornbread made in a cast-iron skillet.
Ingredients
1 ½

cups

buttermilk

3

extra large eggs

1 ½

cups

yellow cornmeal

1 ½

cups

all-purpose flour

⅓

cup

sugar

4

teaspoons

baking powder

½

teaspoon

kosher salt

2

tablespoons

chopped fresh oregano

½

cup

(1 stick) chilled unsalted butter

(diced, plus 2 tablespoons)

1 ½

cups

fresh corn kernels

(from 3 ears)

⅓

cup

crumbled well-cooked bacon
Directions
Preheat the oven to 400 F.

Whisk the buttermilk and eggs in a large bowl.

Place the cornmeal, flour, sugar, baking powder, and salt in a food processor and blend for about 5 seconds until mixed. Add the oregano and diced ½ cup butter and pulse several times until the mixture becomes a coarse meal. Add the corn and bacon and pulse a few more times until everything is nicely incorporated.

Place the remaining 2 tablespoons butter in a 9- or 10-inch cast-iron skillet and place it in the preheated oven.

Turn the mixture from the food processor into the buttermilk mixture and stir until just combined. When the pan is hot and the butter is melted, remove the pan, swirl the butter to coat the pan, and turn the mixture into the hot pan, smoothing the top.

Bake the cornbread until cooked through and golden on top, and a wooden skewer inserted in the middle comes out clean, about 25 minutes. Cool the cornbread in the pan on a wire rack for at least 15 minutes, and serve warm or at room temperature.
Notes
Oregano looks somewhat similar to mint leaves in color and size, and is in fact a member of the mint family. The green oregano leaves are flat and oval and tend to be a little fuzzy. Oregano is also commonly confused with marjoram, as they look very comparable, though the flavors of the two herbs are somewhat different.
Nutrition Information
Calories:
432
kcal
|
Carbohydrates:
57
g
|
Protein:
12
g
|
Fat:
18
g
|
Saturated Fat:
10
g
|
Cholesterol:
104
mg
|
Sodium:
367
mg
|
Potassium:
500
mg
|
Fiber:
5
g
|
Sugar:
13
g
|
Vitamin A:
593
IU
|
Vitamin C:
2
mg
|
Calcium:
176
mg
|
Iron:
3
mg
The nutrition values are provided as an estimate. It is not intended as a substitute for the advice of a qualified healthcare professional.
Made this recipe? Post a photo of your delicious creation on Instagram with our hashtag #dinnersolved