Bacon, Fresh Corn and Oregano Cornbread
New recipes in my house are born of various things. In this case it was a new corn kernel stripper sent to me by OXO.  As I type these words they seem tantalizingly wrong ("Hi, I'm Candy.  I'm here to strip your corn."). It was just a cool device, part of a lovely package they sent over to kick of the grilling season.  I was ripping those kernels off those ears of corn willy nilly, and suddenly there were a pile of them waiting to be used in some brilliant fashion.
And then there was a bunch of fresh oregano starting to look sad in the fridge, and THEN the piece de resistance, some strips of leftover cooked bacon (an anomaly in our house), and since corn and bacon have always crushed pretty hard on each other, this was a union waiting to happen.
Finally I have been obsessing over my cast iron pans a lot of late, and one of the things that cast iron pans are so great for is cornbread.
So there you have it.  A long winded way of telling you why this Bacon, Fresh Corn and Oregano Cornbread recipe is landing on these pages today.  Does anyone care?  Maybe, maybe not. Will anyone love this recipe?  Oh yes, anyone will love this recipe.
And here's the step by step of the little corn stripper process.  Shucked corn: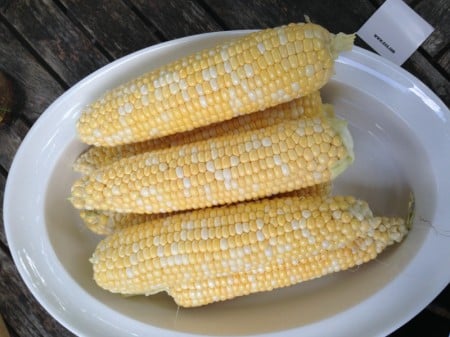 Corn with stripper (still sounds bad):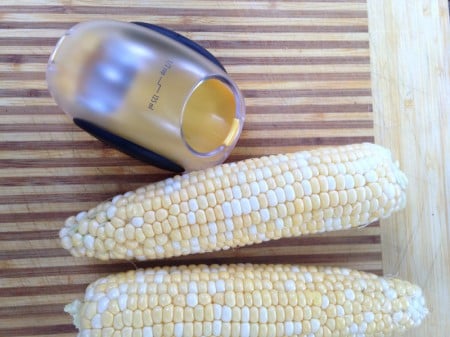 Corn being stripped: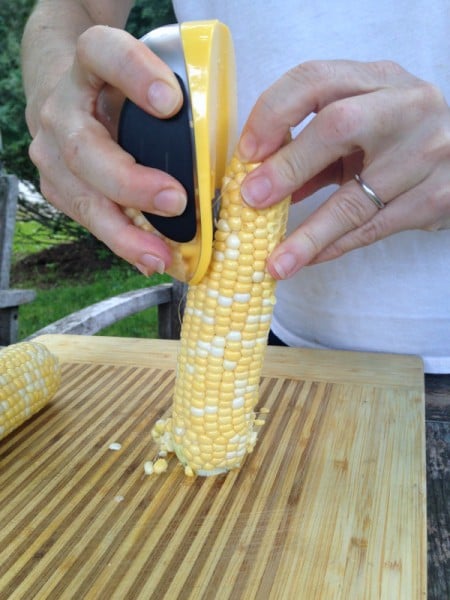 Pouring out the kernels: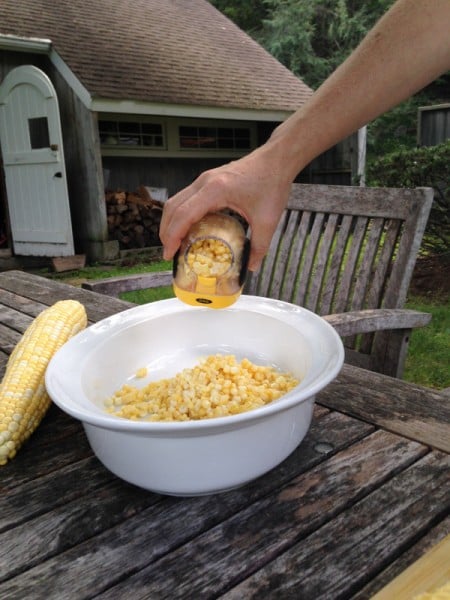 Loads of fresh kernels: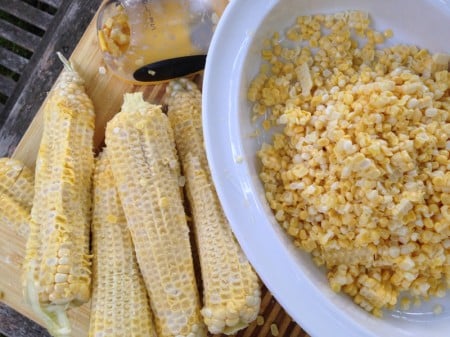 Cutting to the chase:
Bacon, Fresh Corn and Oregano Cornbread
Print
1 ½ cups buttermilk

3 extra large eggs

2 cups yellow cornmeal

1 cup all purpose flour

1/3 cup sugar

4 teaspoons baking powder

½ teaspoon kosher or coarse salt

2 tablespoons chopped fresh oregano

½ cup (1 stick) chilled unsalted butter, diced, plus 2 tablespoons

1 ½ cups fresh corn kernels (from 3 ears)

1/3 cup crumbled well cooked bacon
1. Preheat the oven to 400°F.
2. Whisk the buttermilk and eggs in a large bowl.
3. Place the cornmeal, flour sugar, baking powder, and salt in a food processor and blend for about 5 seconds until mixed. Add the oregano and diced ½ cup butter and pulse several times until the mixture becomes a coarse meal. Add the corn and bacon and pulse several more times until everything is nicely incorporated.
4. Place the remaining 2 tablespoons butter in a 9 or 10 inch cast iron skillet and place it in the preheated oven.
5. Turn the mixture from the food processor into the buttermilk mixture and stir until just combined. When the pan is hot and the butter is melted, remove the pan, swirl the butter to coat the pan, and turn the mixture into the hot pan, smoothing the top.
6. Bake the cornbread until cooked thorugh and golden on top, and a wooden skewer inserted in the middle comes out clean, 45 to 50 minutes. Cool the cornbread in the pan on a wire rack for at least 15 minutes, and serve warm or at room temperature.