This lemon cake is everything we were yearning for. Not too sweet, not too tart, perfectly moist with a sturdy crumb, and topped with that thin layer of crunchy icing. Perfection!
Why it took me so long to finalize this recipe is beyond me. It's probably the cake Gary can resist the least (notice the careful wording….I don't want to suggest that he can resist many cakes all that well); it's a favorite. I used to make all sweet lemony things for my father and grandfather, but somehow without them to bake for, I fell off the lemon train for a bit, at least when it comes to sweets.
I use lemons and lemon zest CONSTANTLY in my recipes, which you may or may not know yet. Almost everything benefits from a touch of acidity, and I think lemon is the brightest and most appealing option in most cases. I like lime, and I also use a lot of orange, but I'm always 100% Team Lemon. And yes, there are many vinegars with many wonderful uses for sure, and I love playing with all of them, but I do not want a vinegar cake.
Lemon Loaf Cake
Lemon cake is often made in a loaf pan. I think there is a very concrete reason for this: cake made in a loaf pan is absolutely appropriate for snacking at all hours of the day, whereas cakes baked in round pans seem geared towards dessert. Hey, I don't make the rules, I just calls them as I sees them. Also, lemon cake is kind of pound-cakey in texture and pound cakes are almost always made in loaf pans. So there you have it — a non-scientific explanation from a non-scientist.
You can double this recipe and bake two lemon loaf cakes, and give one to a pal, which is always a wonderful thing to do.
This lemon cake tastes definitively of lemons, bolstered by a combination of juice and zest. Some lemon cake recipes call for a lemony simple syrup (mixture of sugar and water) to be poured over the baked cake while still hot. I felt like this was just one extra step I wasn't in the mood for, and I didn't miss it one little bit, and it also kept the cake from being overly sweet.
Lemon Cake Icing
The white icing, however, is non-negotiable. It is literally a blending of lemon juice and confectioner's sugar, so takes about 60 seconds to stir together. Once you have it blended it should be somewhat runny, but once you pour it over the cake it will harden up as it spreads.
Make sure to let the glaze run over the sides of the loaf pan in that gorgeous drippy way. Just nudge it over the edges of the top of the loaf in spots, and let it do its thing.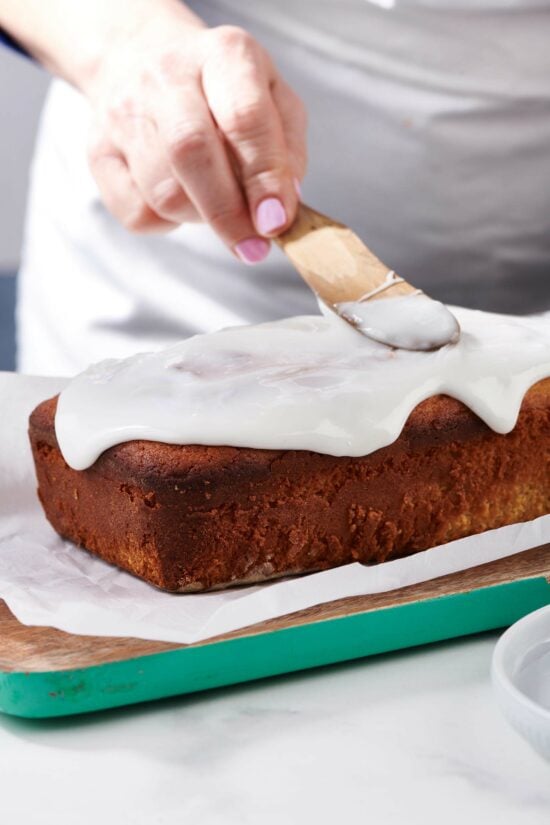 Lemon Cake: This is a nicely lemony lemon cake, just the right amount of sweet and with that wonderful sweet white icing that literally is the icing on the cake.

Tweet This
More Lemon Desserts:
Other Simple Cake Recipes:
Like this recipe? Pin it to your favorite board on Pinterest.

Pin This
Lemon Cake
This is a nicely lemony lemon cake, just the right amount of sweet and with that wonderful sweet white icing that literally is the icing on the cake.
Total Time:
1
hour
50
minutes
Ingredients
For the Lemon Cake
1 ½

cups

all-purpose flour

, plus more for flouring the pan

1

teaspoon

baking powder

½

teaspoon

baking soda

½

teaspoon

kosher salt

½

cup

buttermilk

⅓

cup

fresh lemon juice

½

cup

(1 stick) unsalted butter

, at room temperature, plus more for greasing the pan

1

cup

granulated sugar

2

large eggs

, at room temperature

2

tablespoons

finely grated lemon zest (from about 3 large lemons)

1

teaspoon

pure vanilla extract
For the Lemon Cake Icing
1

cup

confectioners' sugar

2

tablespoons

fresh lemon juice
Directions
Preheat the oven to 350°F. Generously butter a 9 x 5 inch loaf pan, then add a bit of flour and shift the pan around so that the insides are all well coated.

Combine the flour, baking powder, baking soda, and salt in a medium bowl. In another small bowl combine the buttermilk and 1/3 cup lemon juice.

Place the butter and granulated sugar in a mixing bowl and blend until well combined and fluffy, about 3 minutes. Beat in the eggs one at a time, then beat in the lemon zest and vanilla.

Add one third of the flour mixture to the butter mixture and blend just until combined, then add half of the buttermilk mixture, beat until combined, then a third of the flour, beat, the rest of the buttermilk mixture, beat, and finally the last third of the flour mixture, and beat until well blended.

Transfer the batter to the prepared pan. Bake for about 50 to 60 minutes, until you can insert a wooden skewer in the middle of the loaf and it comes out clean. Cool the cake in the pan on a wire rack for 10 minutes, then turn the cake out of the pan and continue cooling it completely on the wire rack, top side up.

When the cake is cool, or almost cool, make the Glaze. Place the confectioners' sugar and 2 tablespoons lemon juice in a small bowl and stir until smooth. Pour the glaze over the cooled cake, allowing some to drip down the sides.
Nutrition Information
Calories:
372
kcal
|
Carbohydrates:
60
g
|
Protein:
4
g
|
Fat:
13
g
|
Saturated Fat:
8
g
|
Trans Fat:
1
g
|
Cholesterol:
73
mg
|
Sodium:
180
mg
|
Potassium:
130
mg
|
Fiber:
1
g
|
Sugar:
41
g
|
Vitamin A:
440
IU
|
Vitamin C:
5
mg
|
Calcium:
53
mg
|
Iron:
1
mg
The nutrition values are provided as an estimate. It is not intended as a substitute for the advice of a qualified healthcare professional.
Made this recipe? Post a photo of your delicious creation on Instagram with our hashtag #dinnersolved