This post may contain affiliate links. Please read our privacy policy.
Watermelon radishes got their name very honestly! They are a type of radish that happens to have similar coloration to a watermelon, green on the outside, pink or red on the inside. Watermelon radishes are an heirloom variety of the Chinese Daikon radish, and a part of the mustard family. Watermelon radishes were initially grown in China but are now grown all over the world, wherever other radishes and root vegetables are grown.
Watermelon radishes can be found around the U.S. in well stocked grocery stores, specialty stores, or farmers markets. The growing season is early fall into the spring so, keep your eyes open for them at farm stands and markets then. In the grocery store they will be stocked near the other radish varieties.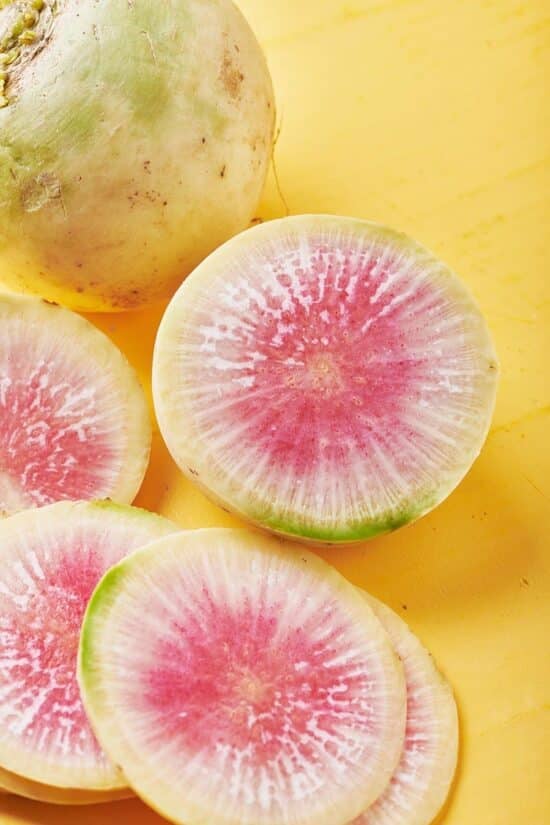 From the outside, you would never expect a watermelon radish to have the vibrant interior coloration that it does. They are round, and the outside is rather bland, beige in color. They can be quite large, often bigger than the size of a golf ball, sometimes almost the size of a tennis ball. I like the smaller ones best, though they can be hard to find. Although the skin may not be pretty, it is edible and actually very nutritious because it is filled with antioxidants, vitamins and minerals.
The interior of a watermelon radish is reflective of its namesake fruit. The interior consists of two main sections, the outer rim and the middle. The outer rim is greenish white, like the outer layer of a watermelon. The middle can range in color from red to pink to white, sometimes with a pink tie-dye effect.
When choosing a watermelon radish, choose those that are heavy for their size. Avoid those that are soft or spongy.
What Does Watermelon Radish Taste Like?
Watermelon radishes do not actually taste like watermelon at all. Like most radishes, they have a peppery kick to them, with a slight sweetness as well. Sometimes the flavor is stronger, and sometimes it is quite mild. Larger ones tend to be spicier.
Watermelon radishes are easily exchangeable with other radish varieties like the classic red , daikon, Korean , or black Spanish radish. Instead of radishes, you can use carrots or jicama which have a similar crunchy effect as a watermelon radish. However, for visual bang for the buck, nothing quite compares to its vibrant colors.
How to Use Watermelon Radish
Watermelon radishes can be used in a variety of ways. They are great raw, pickled or even roasted. Raw and thinly sliced, they are great on top of a salad or sandwich both for visual appeal as well as a peppery crunch. They have been darlings of the culinary world for years. You have probably seen them on the covers of food magazines and cookbooks, and featured in salads and other dishes in trendy restaurants.
Another way they can be served raw is on a veggie platter with any type of dipping sauce. Don't slice the radishes too thin; they should be thick enough to be able to scoop up the dip.
Watermelon radishes store best like other radishes: in a breathable container in the fridge, after the stems have been removed from the radish. Stored like this, the radishes should last for a few weeks.
When roasting watermelon radishes, you should cube them before mixing with olive oil and your favorite seasonings. You only need to roast them for 10 to 20 minutes in a 425 degree oven for an interesting side dish. The color will fade somewhat when they are cooked.
Pickled Watermelon Radishes
Wash the radishes well. Then, cut the watermelon radishes into thin slices. Place all of the slices into a sterilized jar for canning.
Put ½ cup of distilled white vinegar, ½ cup of water, 1 teaspoon salt and 1 teaspoon sugar in a saucepan. Bring it to a boil and simmer until the salt and sugar have dissolved, about 1 minute. Remove the saucepan from the heat, add 2 peeled garlic cloves and ½ teaspoon lightly crushed peppercorns. Then, pour the liquid, including the garlic and peppercorns, over the radishes in the jar. Let the contents cool to room temperature, then place in the fridge for at least one day and up to 3 months. That's it! Pickled watermelon radishes are great on top of tacos, salads, sandwiches, and anything else really. They are pungent, so use them sparingly.
Also See How to Cook:
---
Recipes with Radishes: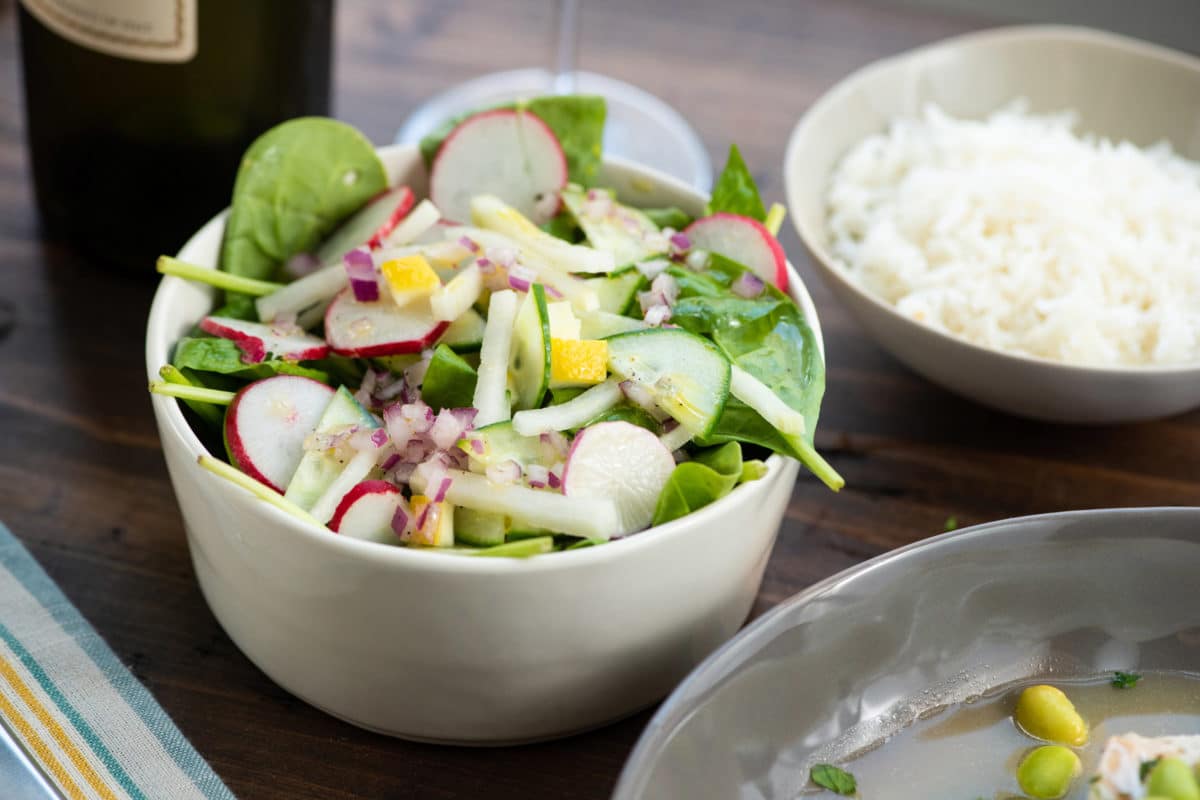 Very clean and crunchy, and me oh my is it pretty.
---
This is one of those old, classic, little culinary tricks that make the French look so clever. Swipe the radishes in the butter, give them a quick dip in the salt and crunch away. Elegant, easy and impressively sophisticated. 
---
What's green and white and red all over? This perfect little side salad.
---
A perfect salad for autumn, bursting with color and texture.
---
This substantial and beautiful salad makes the most of ingredients commonly available in cold weather months.
---