This post may contain affiliate links. Please read our privacy policy.
What Are Sweet Potatoes?
Sweet potatoes are large, starchy, sweet-tasting root vegetables. They are a member of the tuber family, and grow underground, with their leaves and shoots sometimes eaten as greens.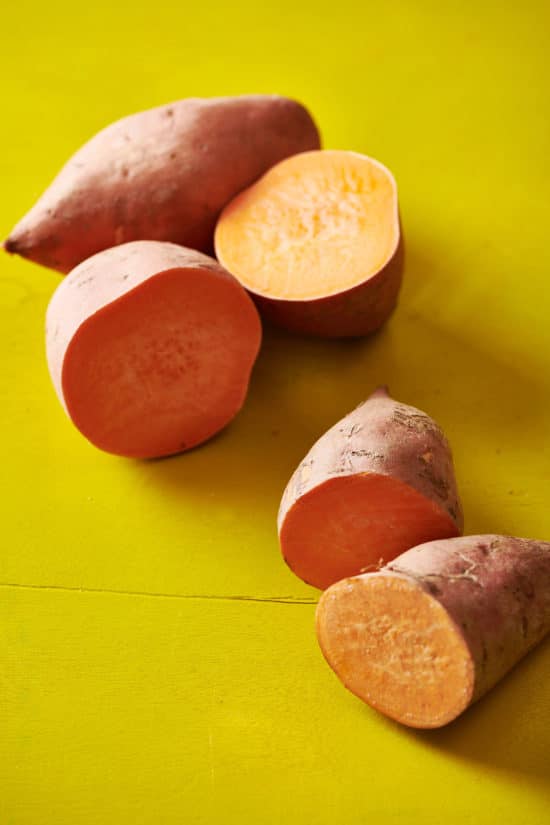 As their name indicates, sweet potatoes are, in fact, sweeter than regular potatoes, sometimes just a bit, sometimes very pronouncedly so. And while the names are sometimes used interchangeably, there are differences between a sweet potato and a yam, mainly yams being from a different species, and generally larger, starchier and drier.
What Do Sweet Potatoes Look Like?
Sweet potatoes are often long and tapered, though they can also be kind of fat. While we are most familiar with sweet potatoes that have a copper-brown skin color and bright orange flesh, sweet potatoes can actually come in a variety of colored skin and flesh tones. More specialty sweet potatoes might be yellow, red, purple, or white on the outside and white or purple on the inside.
You can also find baby sweet potatoes, which are literally just smaller versions of the larger potato. They are kind of fun for roasting whole and serving split down the middle with butter, mini versions that may make more sense as a side dish than a whole large roasted sweet potato.
How to Cook Sweet Potatoes: Everything you need to know to choose, store, and cook sweet potatoes!

Tweet This
Where Can I Find Sweet Potatoes?
Sweet potatoes are readily available and carried in most grocery stores year round, right near all of the other potatoes.
How Do I Pick the Best Sweet Potatoes?
The best sweet potatoes are the small to medium ones which are sweet and creamy. Larger ones tend to be starchier. They should be firm and free of bruises or breaks and their skin should be smooth. Go for the ones with the darker skins as these are richer in the antioxidant beta-carotene.
What Do Sweet Potatoes Taste Like?
Their name advertises the flavor! Simply put, sweet potatoes have a unique combination of special starches and sugars and as it cooks, enzymes break down the starches into simpler and sweeter sugars making for a sweet flavor. The flesh of sweet potatoes tends to also be very creamy and rich.
How Do I Prepare Sweet Potatoes?
In general, a good first step is to always wash the potatoes before cooking with them (do not wash potatoes before storing them as moisture tends to make them spoil).
After that, it's all about how you intend to use them. Keep the skin on, or peel the skin off, depending on preference or the recipe. Like other potatoes, sweet potatoes can be sliced, diced, julienned, cubed, cooked in chunks or whole.
Whole baked or roasted sweet potatoes need nothing more than piercing them through a few times with a skewer or fork, and baking them them like you would an all-purpose potato.
How Do I Cook Sweet Potatoes?
Sweet potatoes, like most potatoes, are very versatile and can be cooked in dozens of ways including baking, roasting sautéing, steaming, boiling, or frying. Cooked potatoes can be pureed or mashed.
Sweet potatoes are terrific in that they can be cooked to hold a shape (such as slices or wedges), or they can be cooked with the intention of being mashed or pureed, into soups, for instance.
Cubed or wedged and seasoned potatoes are amazing roasted alongside other vegetables and as a hearty accompaniment to various meats. Julienned sweet potatoes that are then fried or baked are fantastic alternatives to regular French fries. Boiling and mashing produce sweet potato mashed potatoes that have loads of flavor and depth.
Use thick slices as a base for all kinds of toppings or use thin slices in a sweet potato gratin. And do not forget the American classic Sweet Potato Pie! Sweet potatoes can really be used in all ways you would think to use any of its sister potatoes, so think about subbing them into your favorite potato recipes for a change of pace.
When Are Sweet Potatoes in Season?
Sweet potatoes are available year-round but their peak season falls between October through December.
How Do I Store Sweet Potatoes?
For best results, store raw sweet potatoes in a cool, dry place, unwashed but brushing off any big clumps of dirt. Like this, they can last for at least a month. Sweet potatoes tend to mold faster if washed before stored or if stored in a refrigerator so avoid doing those things. Avoid direct sunlight as well.
Once cut, they can be stored in an airtight container for a few days before cooking with them, or they can be frozen in an airtight container for up to 12 months.
Are Sweet Potatoes Nutritious?
Seriously nutritious. Sweet potatoes are an excellent source of beta carotene which converts to Vitamin A in your body and is critical to a healthy immune system, vision, and gut health. They also contain high levels of Vitamin C and potassium, with lesser quantities of fiber and other antioxidants which may help protect against certain cancers.
---
Sweet Potato Recipes:
Here are some recipes that use sweet potatoes.
Tender with crispy edges, and a pop of salty cheese and fresh parsley, these savory sweet potatoes are an easy but festive side dish.
---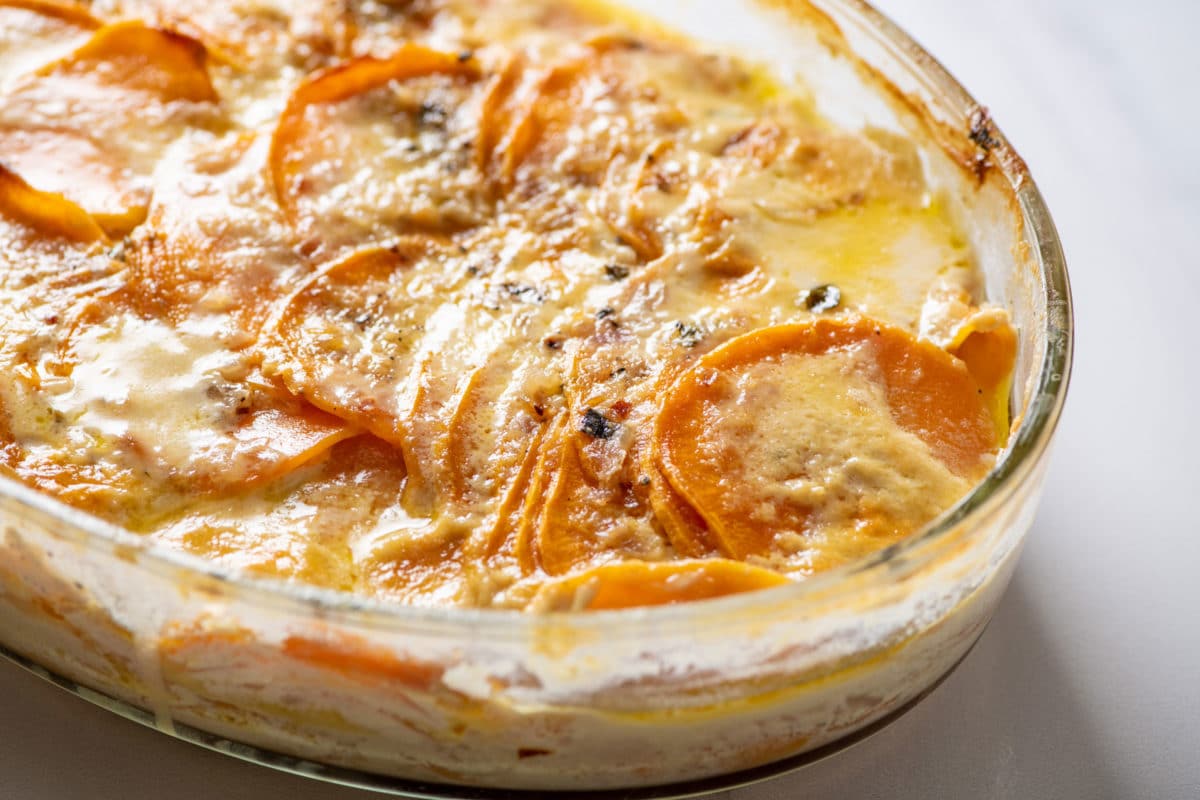 Sweet potatoes deserve many shining moments, and also to be scalloped.
---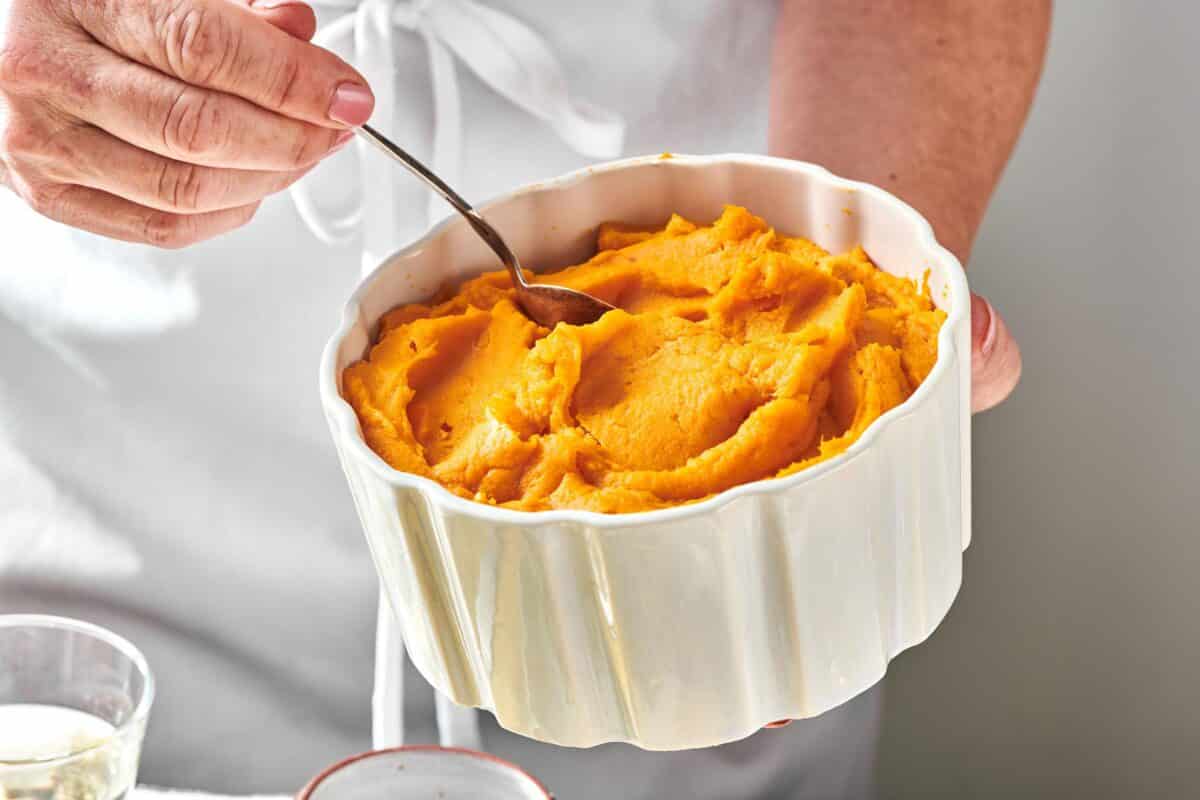 The addition of roasted garlic (which is so freaking easy to make) gives sweet potatoes a very savory twist.
---
I ate half of these before my family got home so I pretended they were an appetizer.
---
Spoon bread is a soft and comforting sweet potato casserole perfect for holiday meals.
---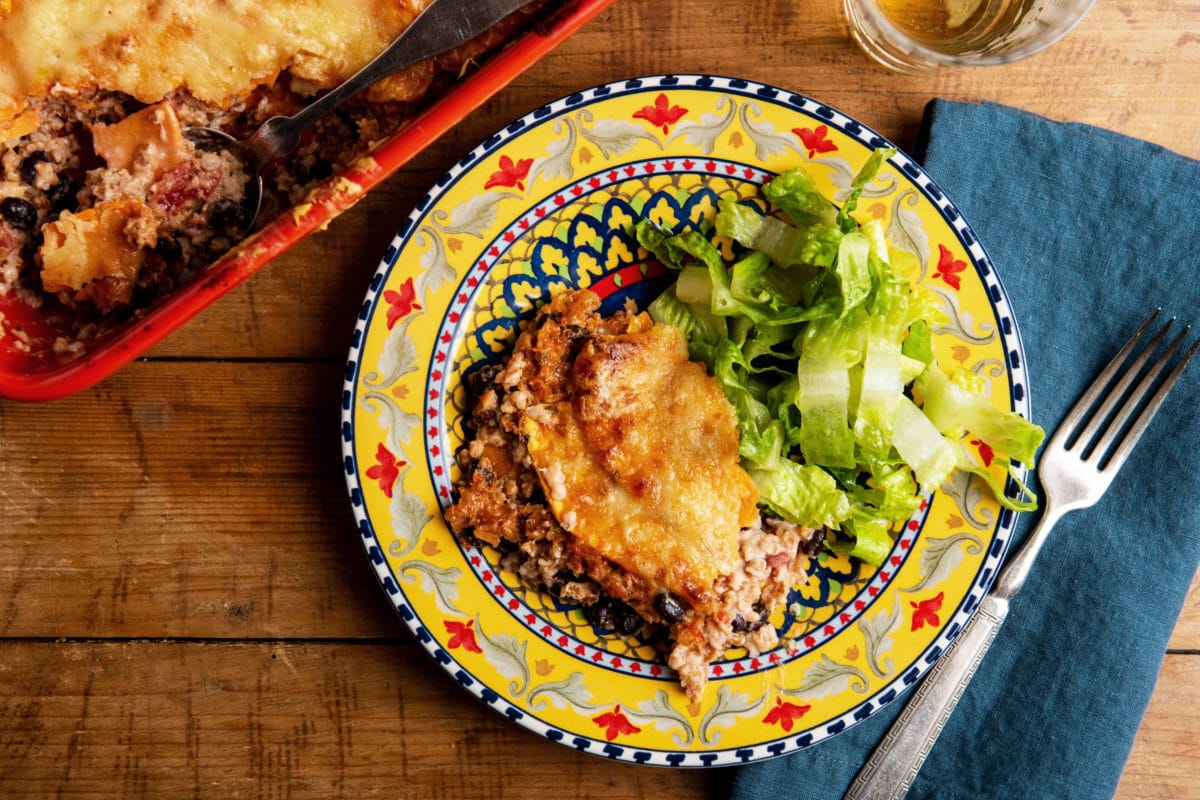 This casserole can be served as a vegetarian main course or a substantial side.
---
Do you like pumpkin pie? Then you'll like this.
---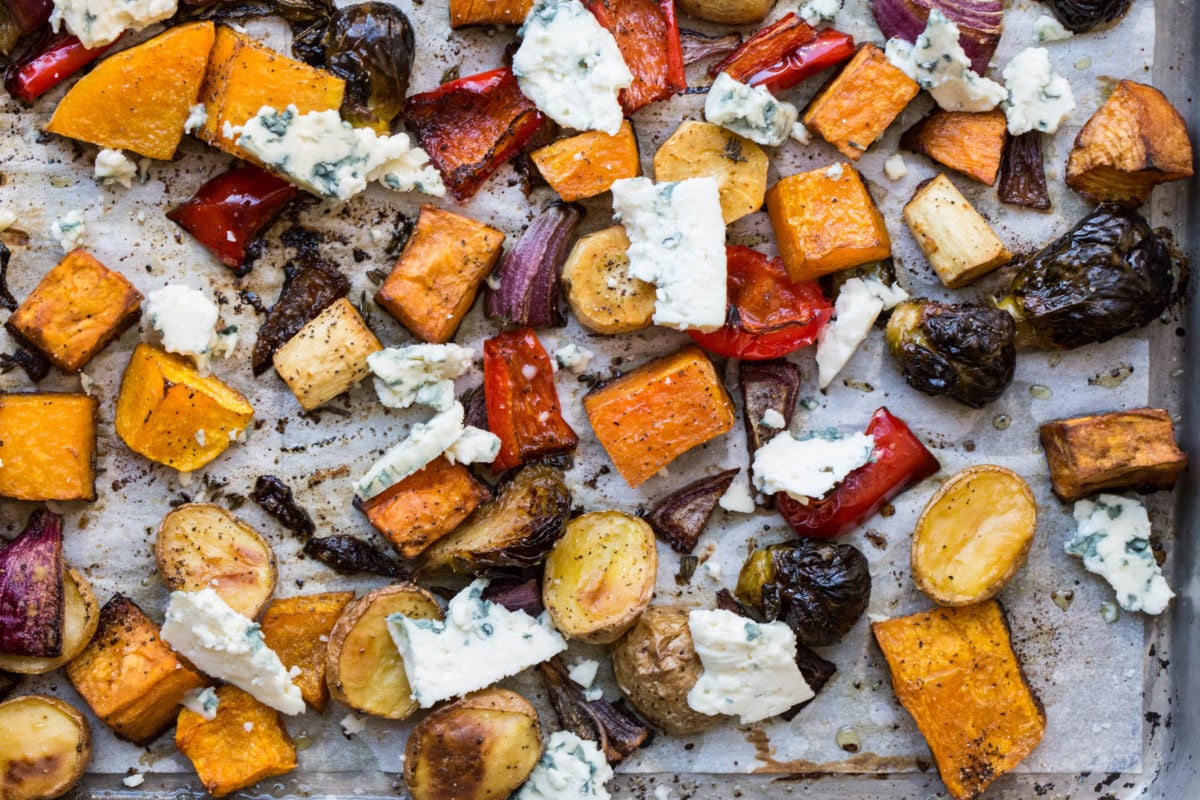 Just when you thought roasted vegetables couldn't get any better.
---
A simple sheetpan supper that features pork chops, broccoli rabe and sweet potatoes.
---
Because there will never be enough recipes for mashed potatoes. This has a nice combo of buttery yukons and sweet potatoes, plus a toussle of sliced sauteed leeks.
---