This post may contain affiliate links. Please read our privacy policy.
We were late to the Downton Abbey game, my family was, but what we lacked in timing we made up for in zeal. We slammed down the first three seasons over the course of a couple of months in what felt like the equivalent of a chugging contest (do you remember the scene where Tom's brother comes and asks for a beer? And Mr. Carson acted as though he had asked for a bottle of Jagermesiter and a funnel?).
During several seasons of Downton Abbey, when it originally aired, I decided to cook dinners to eat while watching the show that somehow felt kind of Downton Abbey-ish to me. They were by no means authentic, but it was just pure fun to think about what to make while we were watching the show.
Some of it was really Downton Abbey inspired, some of it less so, but now in honor of the soon-to-be-released Downton Abbey movie (I have my tickets purchased AND today Gary and I are going to see the cast of the show speak at the 92nd Street Y in NYC, and you bet that I'm excited) I have collected these meals here, in case anyone wants to walk down memory lane and dork out with me.
---
6 Downton Abbey-Inspired Dinner Recipes: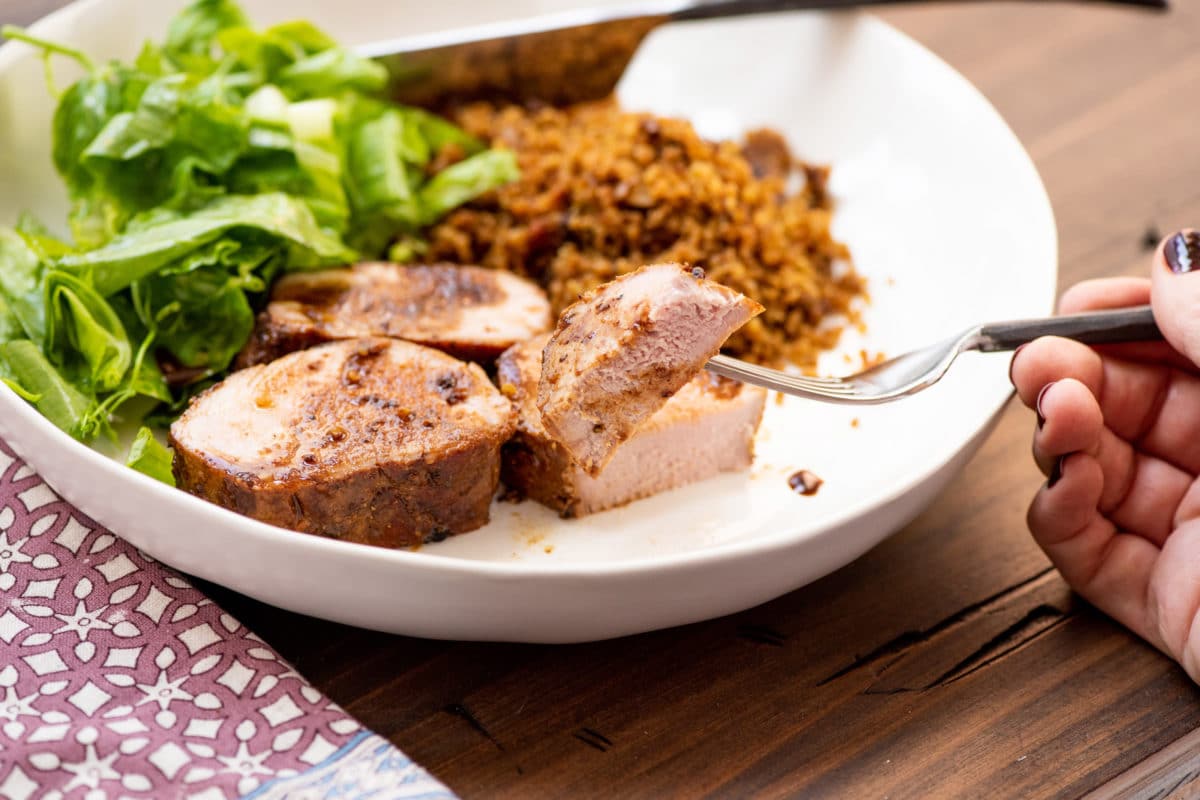 A small handful of ingredients turns inexpensive pork loins into a terrifically flavorful main course.
Though the ladies of Downton look like they subsist for the most part on tea and good manners, we do know that there is food and lots of it being served at the Abbey.  Lord Grantham looks like he is the type to enjoy a roast meat or two with regularity. 
---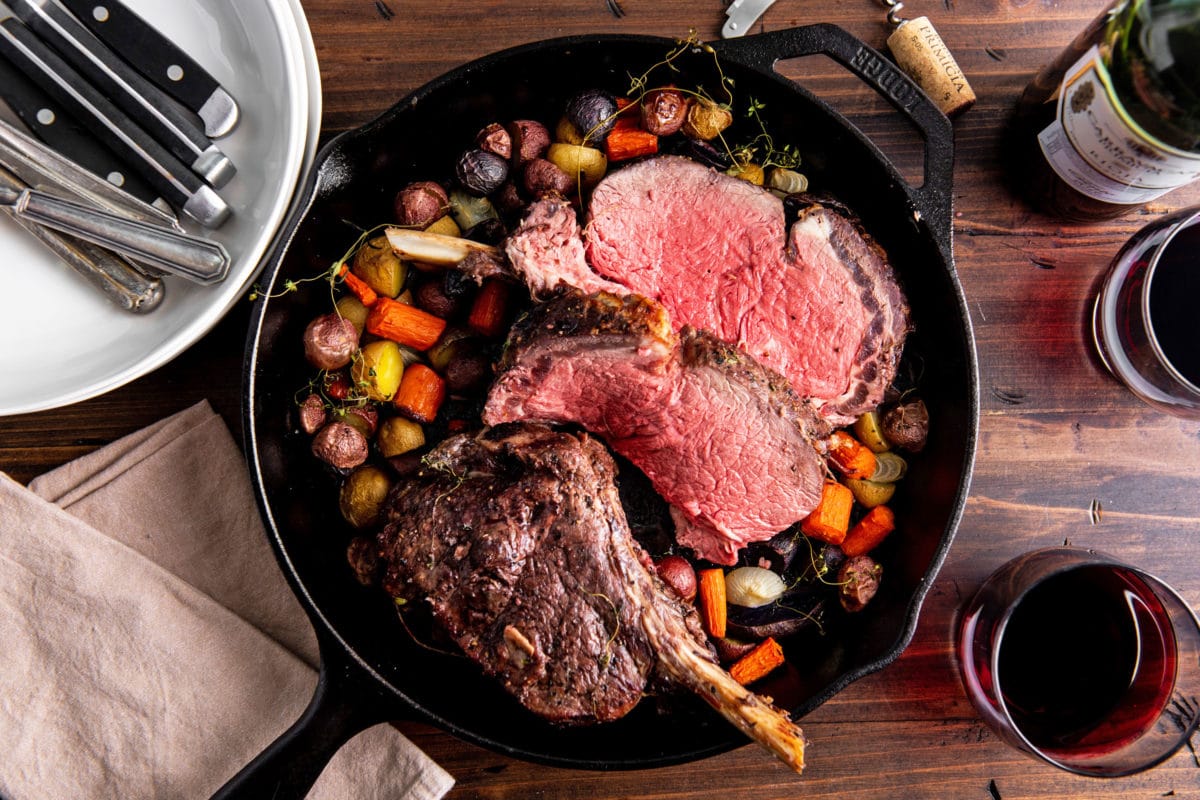 This is a stunner of a dish, and decadent holiday dinner party fare.
This post was a culinary commentary on the changing times of the English aristocracy in the early 20th century. Ok, no it's wasn't. It was a commentary on the fact the normally exorbitantly priced prime beef bone in rib roast was on crazy sale at one of my favorite supermarkets and it seemed fitting to make a patrician roast for an upper class show, even though I was working with a smaller standing rib roast for my smaller group.
---
Elegant and homey all at the same time.
Cream sauces were very stylish in the Edwardian days of Downton Abbey.  Lush and rich and decadent, much like the people who ate them.  Though Mary always looks like a stiff breeze could carry her away.  Then again, she never seems to be actually eating the beautiful food on the table.  Even when she has a fork in her hand, I feel like there's never anything actually on it.
---
It never ceases to please me how simple can be so pretty.
Mary's love looks like its getting a second wind (does she spend any actual time with her child, by the way?  Just wondering.), Edith will head for Switzerland for a prolonged vaca with Rosamond (e.g., gestation and childbirth), Robert is off to America to deal with a family mess concerning Cora's brother (in those days would it have been a tiny thought that maybe Cora should go herself?  No.).  Rose is hell bent on marrying Jack Ross to screw her mother, Tom has a bit of a spark with a local girl.
And the biggest story, in my mind: Gillingham and that very bad man Green end up back at Downton, and now, despite Green's obliviousness, too many people know.  Including Bates.  Especially Bates.  And suddenly, Green has a terrible accident.
---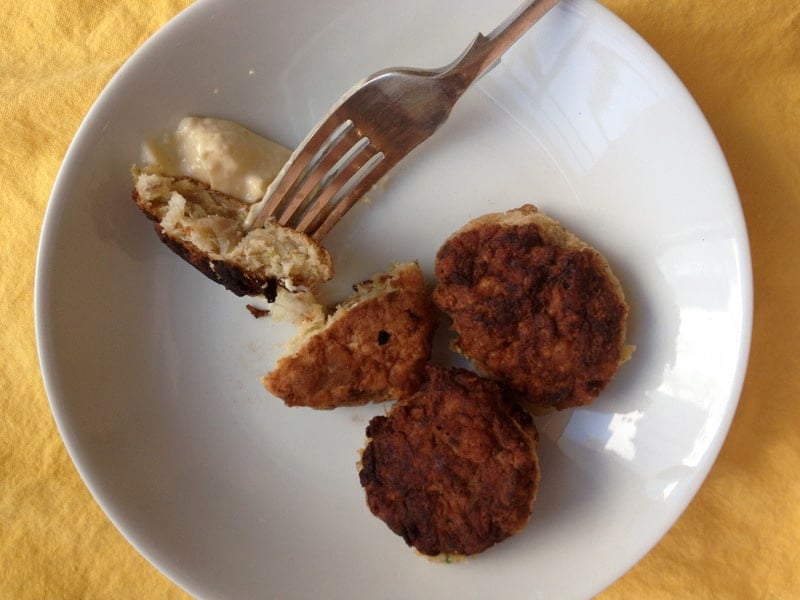 I always wanted to make Salt Cod Cakes, having tasted them a couple of times in tapas joints. My kids liked these, to my slight surprise.
I read that cod was one of the fish Mrs. Patmore would have had the most access to, and because preservation was so important in that time, salt cod probably figured prominently though I lost a little steam on the research there.  So, cod cakes seemed like a fitting thing to make for a Downton Abbey viewing meal.  I think these might have been more of a downstairs meal than an upstairs meal.
---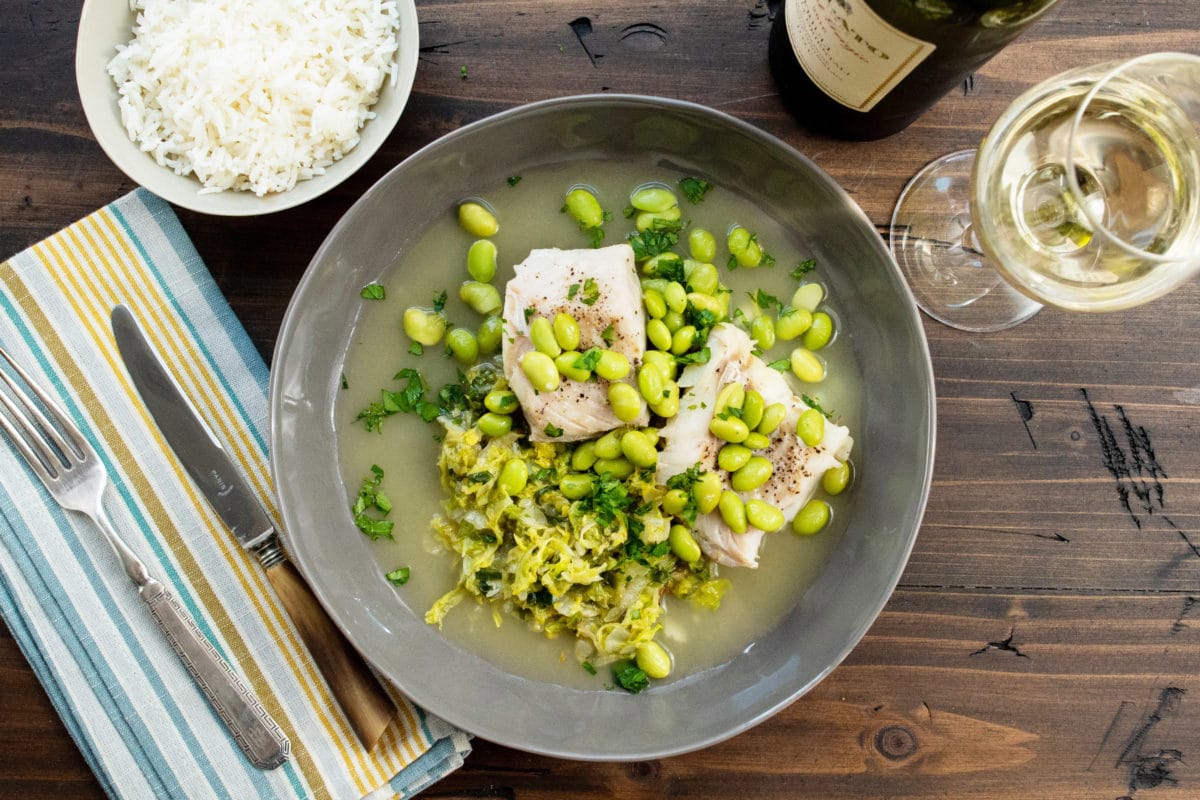 Simple and healthy, but pretty and elegant as well.
Anyway, here was the not-all-all-period-piece meal I made, and while the edamame would have probably perplexed the Crawleys, I could imagine Jimmy ladling it out with grace, and the Dowager making a snide but clever comment about how the foods of the East were working their way into the world of the landed gentry. 
---