This post may contain affiliate links. Please read our privacy policy.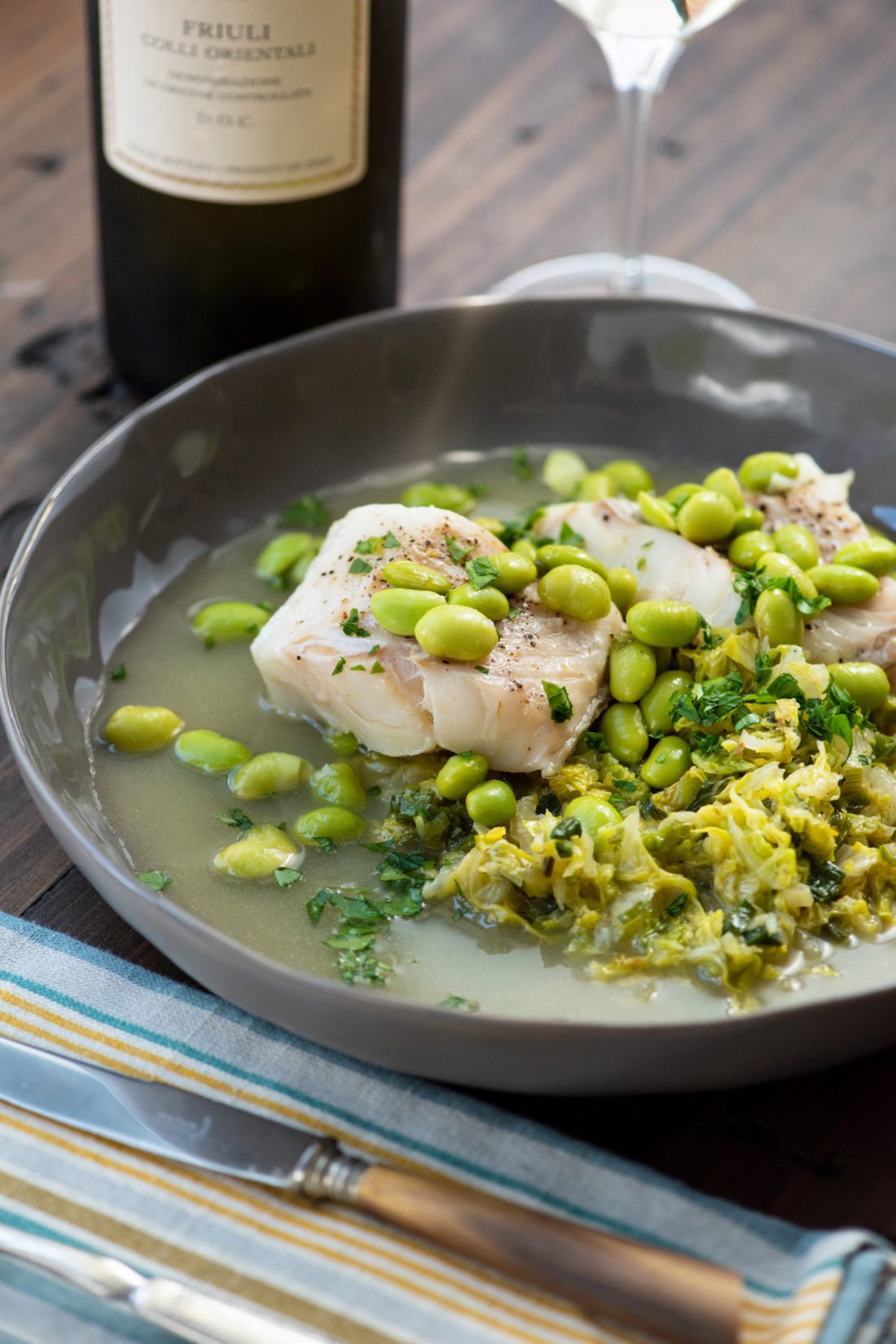 We were late to the Downton Abbey game, my family was, but what we lacked in timing we made up for in zeal. We slammed down the first three seasons over the course of a couple of months in what felt like the equivalent of a chugging contest (do you remember the scene where Tom's brother comes and asks for a beer? And Mr. Carson acted as though he had asked for a bottle of Jagermesiter and a funnel?).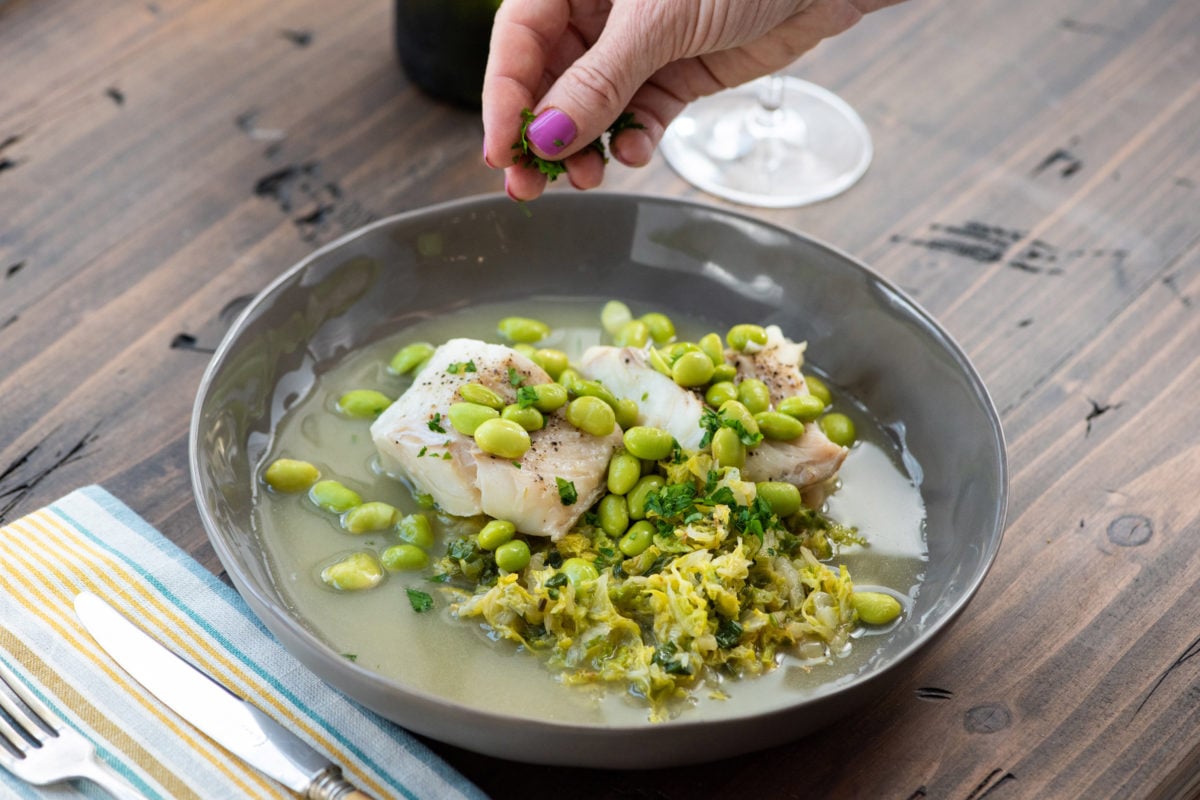 And then, with the rest of the fans, we waited for the next season to start. We waited and life certainly went on as normal, but suddenly January 5th was upon us and the waiting was over.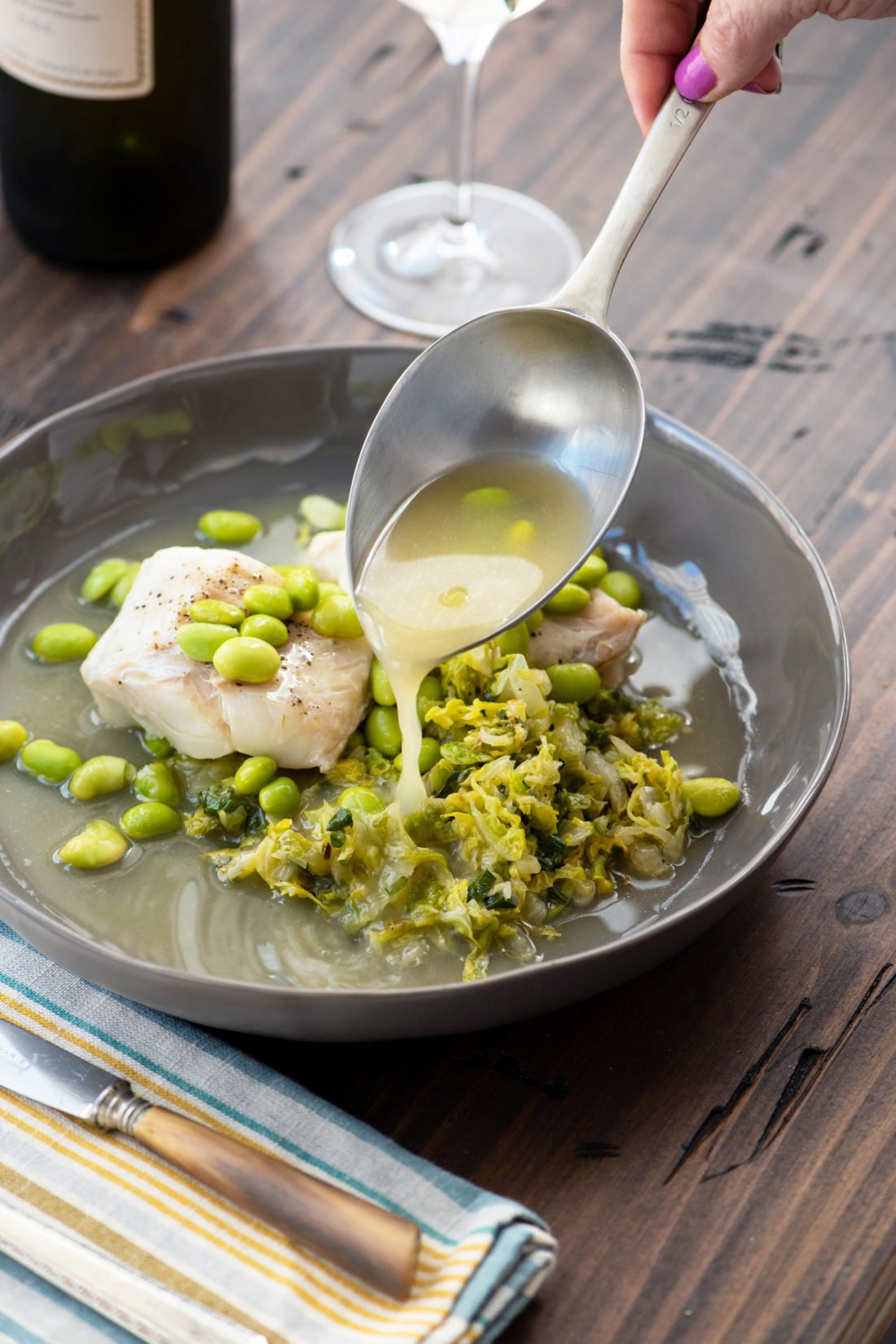 In the hours before Season 4 started (obviously several years back now) I was asked by a few people what I was making, and whether there was any Downton Abbey inspired food in my book or on this blog. I was chagrined to say no. But I did want to make something to eat while we watched, something that felt would make Mrs. Patmore proud.
UPDATE: Just announced, in July 2018 – the Downton Abbey movie is coming. OH MY GOD!!!)
I had bought some lovely Alaskan cod (#askforAlaska) and I wanted to make something that felt light and elegant. Because clearly the "upstairs" women on Downton Abbey are always and only eating things that are light and elegant, because they are just the daintiest little people in the world.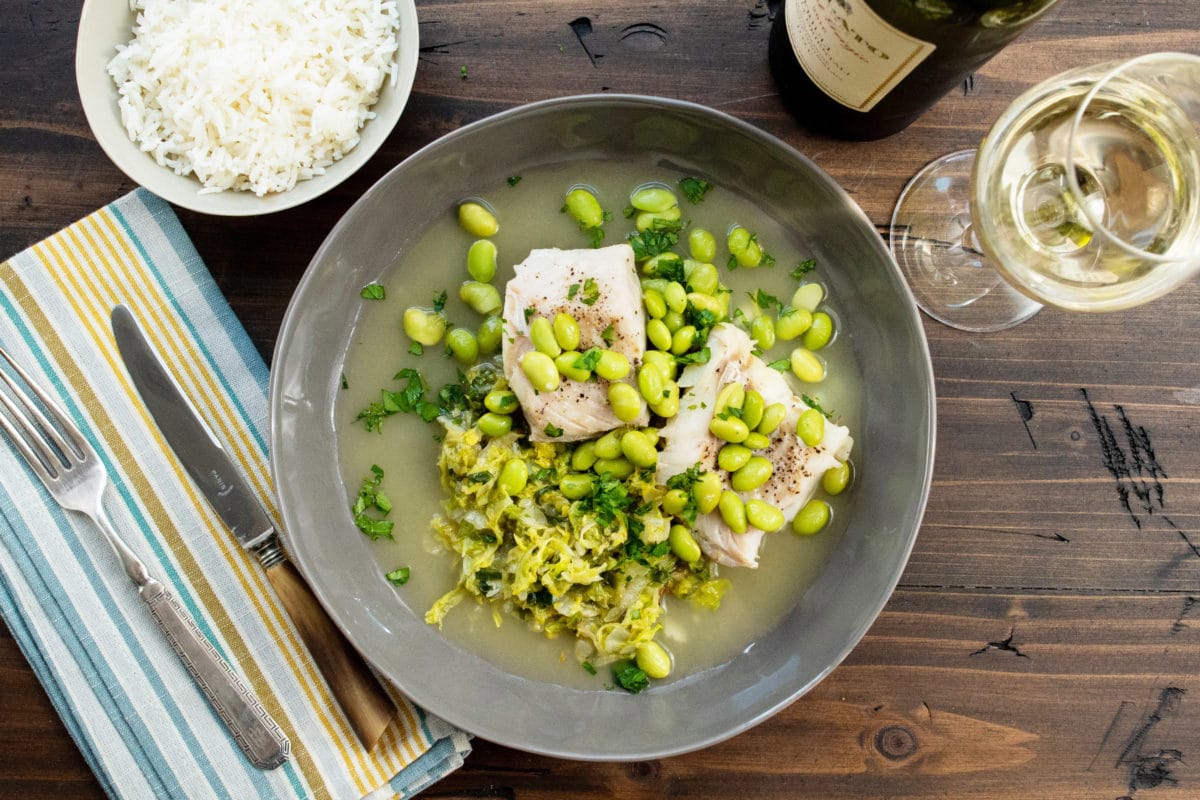 Lady Mary makes me nervous, she's so slim. I feel like I could grate cheese with her clavicle. I think she mostly spends her time at the table with a tiny glass of sherry held aloft in her graceful hand. I will have to go back and watch the whole thing again to see if she actually ate anything.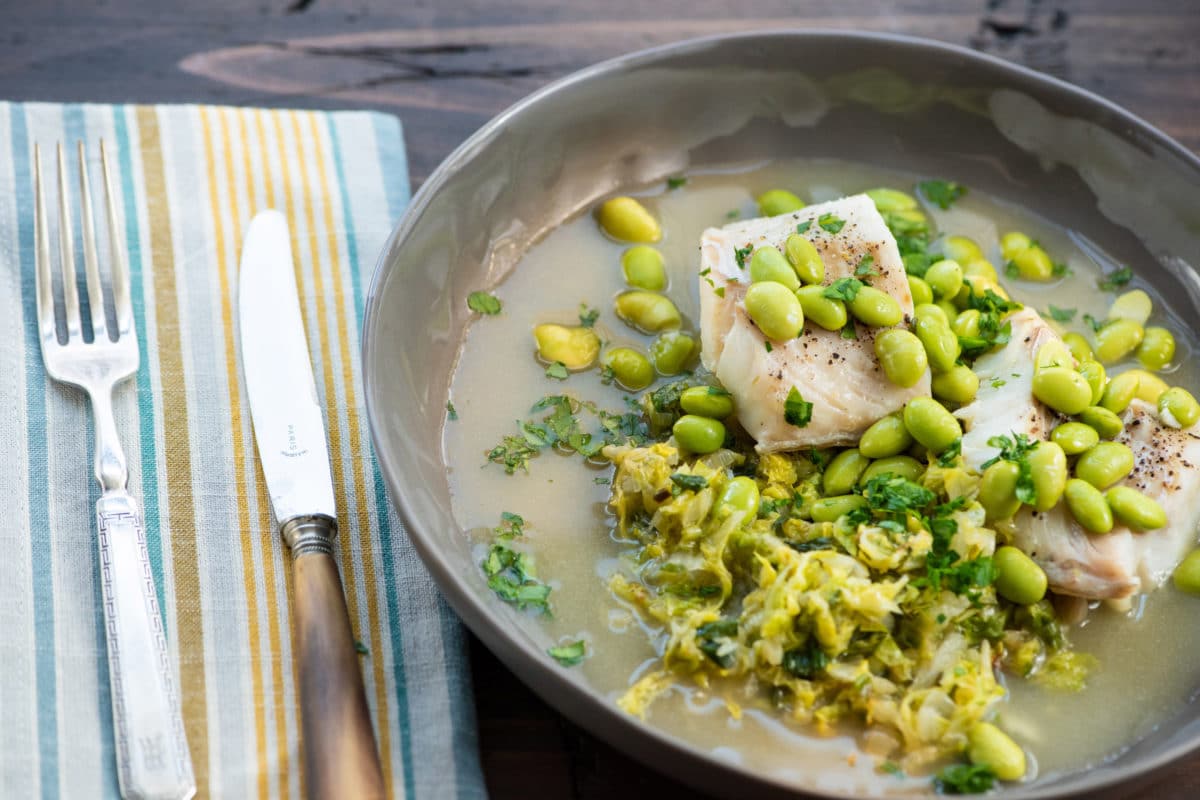 Anyway, here was the not-all-all-period-piece meal I made, and while the edamame would have probably perplexed the Crawleys, I could imagine Jimmy ladling it out with grace, and the Dowager making a snide but clever comment about how the foods of the East were working their way into the world of the landed gentry.
When most of us are cooking for our families, there's nothing easier or more natural than serving up everything family-style, which is another way of saying "help yourselves, people!" But sometimes it is easier to plate up individual servings in the kitchen: soup, for instance, or anything brothy or stewy which can be a bit messy to serve at the table.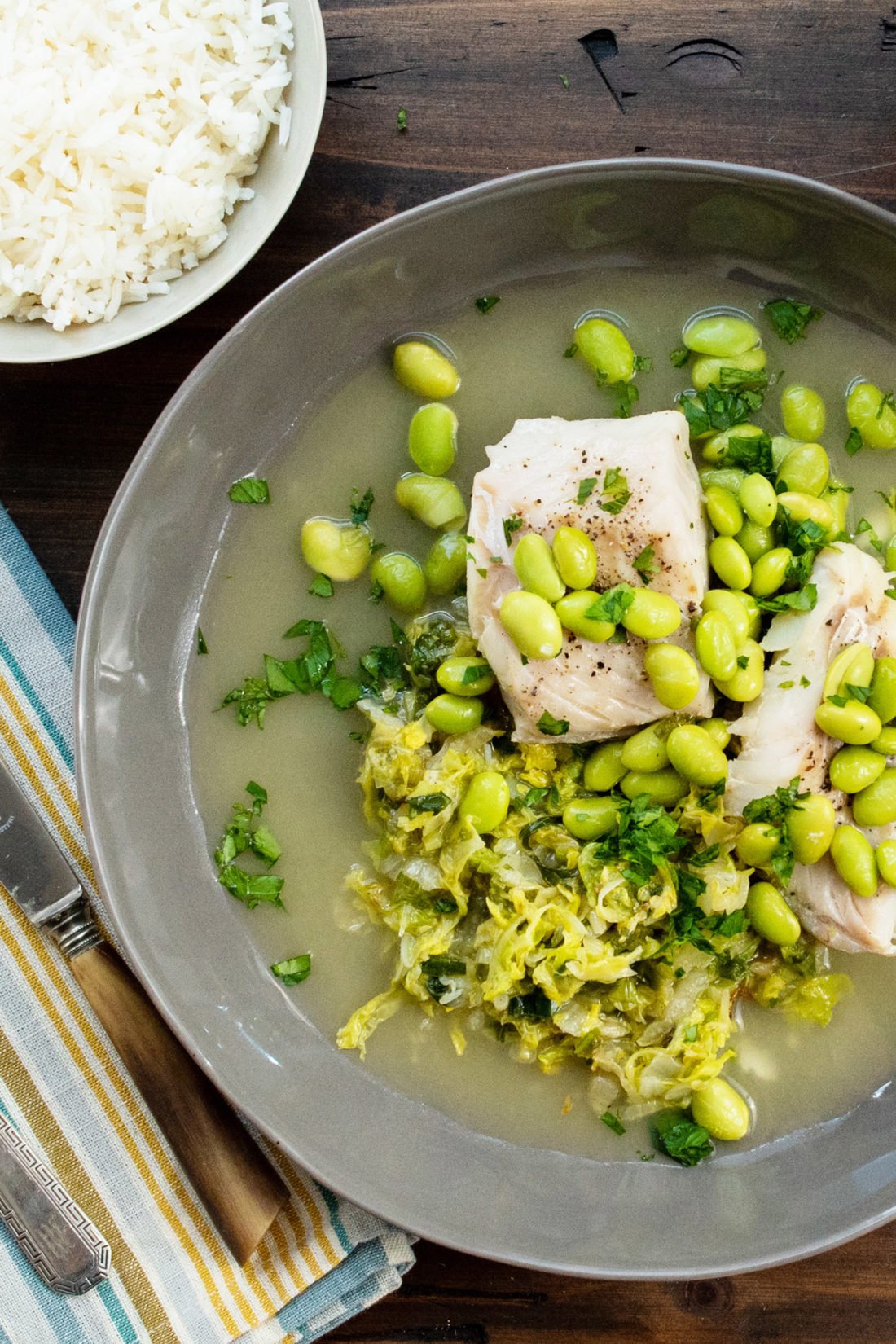 Next time I will also add a bit of finely grated orange zest to the tops of the bowls along with the parsley. #killing itmrspatmorestyle
P.S. If you haven't found the shelled frozen edamame at the market, take a tic and look for it. It's a game change, because while eating edamame from the pod is fun, shelling a few cups for a recipe can be a bit tedious.
One Pot Cod, Cabbage and Edamame is a perfect light dinner. Make this when you need something simple and healthy (but pretty and elegant as well!).

Tweet This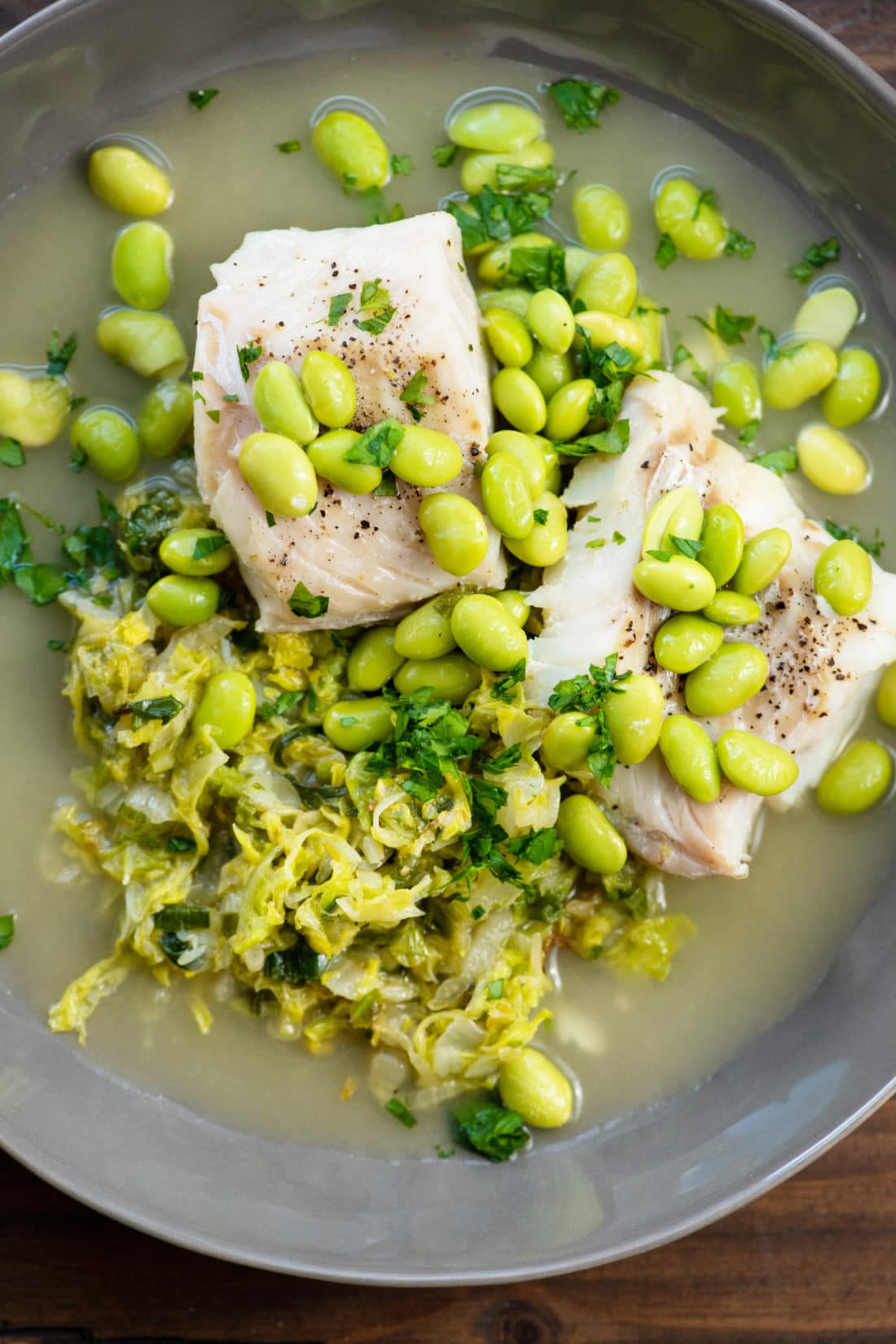 More Downton Abbey Inspired Recipes:
Downton Abbey Dinner #6: Season 4, Episode 6: Chicken with Mushrooms in a Cream Sauce
Downton Abbey Dinner #5: Season 4, Episode 5: Salt Cod Cakes
Downton Abbey Dinner #2: Season 4, Episode 2: Dijon and Honey Crusted Pork Tenderloins
Like this recipe? Pin it to your favorite board on Pinterest.

Pin This
One Pot Cod, Cabbage and Edamame
Simple and healthy, but pretty and elegant as well.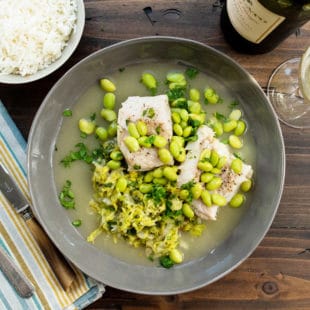 Ingredients
1

tablespoon

extra virgin olive oil

1

tablespoon

butter

3

scallions

white and light green parts, sliced

3

cups

finely shredded green cabbage

preferably savoy

Coarse or kosher salt and freshly ground pepper

to taste

½

cup

fresh orange juice

divided

2

cups

low-sodium chicken broth

2

cups

frozen shelled edamame

defrosted

6

6-ounce pieces skinless cod filets

¼

cup

minced Italian parsley
Instructions
Heat the oil and butter in a large, deep skillet or large saucepan over medium high heat and add the scallions and cabbage. Season with salt and pepper and sauté for about 6 minutes, until soft and lightly colored. Sprinkle a couple of tablespoons of the orange juice over the cabbage, toss to combine and transfer to a bowl, and carefully wipe out the skillet.

Return the skillet to high heat and add the chicken broth and remaining orange juice, season with salt and pepper then turn the heat to high and bring to a simmer. Season the cod with salt and pepper, and place the cod and the edamame in the pan, cover, and poach until the fish is opaque and the edamame are tender, about 10 minutes in total.

Meanwhile scoop portions of the cabbage mixture onto 6 serving plates. Use a slotted spoon to remove the fish and edamame and place on each plate of the cabbage (don't worry about getting all of the edamame; they rest will catch up when the broth is ladled over). Allow the broth to return to a simmer and cook for another minute or so to reduce slightly, then ladle some of the liquid and any stray edamame over each serving.

Sprinkle with the parsley and serve.
Notes
You should be able to find shelled edamame in the frozen section of your local store. Sometimes the ones in the shell are easier to find but it's quite tedious to do that work before continuing with the recipe.
Nutrition
Calories:
273
kcal
,
Carbohydrates:
11
g
,
Protein:
38
g
,
Fat:
9
g
,
Saturated Fat:
2
g
,
Cholesterol:
78
mg
,
Sodium:
144
mg
,
Potassium:
1127
mg
,
Fiber:
4
g
,
Sugar:
4
g
,
Vitamin A:
472
IU
,
Vitamin C:
32
mg
,
Calcium:
87
mg
,
Iron:
2
mg
Nutrition information is automatically calculated, so should only be used as an approximation.
Like this? Leave a comment below!