Browned butter may sound fancy or complicated, but it's literally butter that has been cooked until it starts to lightly (that's the key – lightly) brown, and take on a toasty, caramel-ley sweetness. You won't believe how much flavor it can add to any simple dish, such as this very (very) simple sautéed vegetable recipe.
What to Serve with Brown Butter Sautéed Corn and Zucchini
This is a perfect summer side dish, especially if you can make this with fresh corn. And it's quite pretty. I'd serve it with Grilled Lamb Chops and Onions with Herb Salad, Grilled Lemony Chicken and Baby Artichokes, Smoky Sweet Thai Grilled Flank Steak Salad, Salmon with Tarragon Vinaigrette, or Grilled Chicken Breasts with Lime, Roasted Garlic and Fresh Herb Marinade, to name a few. It's also lovely heaped on a plate for a lunch with a poached or fried egg on top.
Lemon zest is one of those ingredients that can really perk up a dish. Before you juice a lemon (or a lime or an orange) for any recipe, consider removing the zest and keep it in a container in the fridge for several days, and adding it to recipes to give them a pop of flavor. Stews, soups, salad dressings, sauces, marinades, and so on and so on. I actually keep it for much longer (up to a few weeks), though it does dry out – but it's still great to add to cooked dishes, since it will soften up in the heating, and still contribute that citrusy freshness.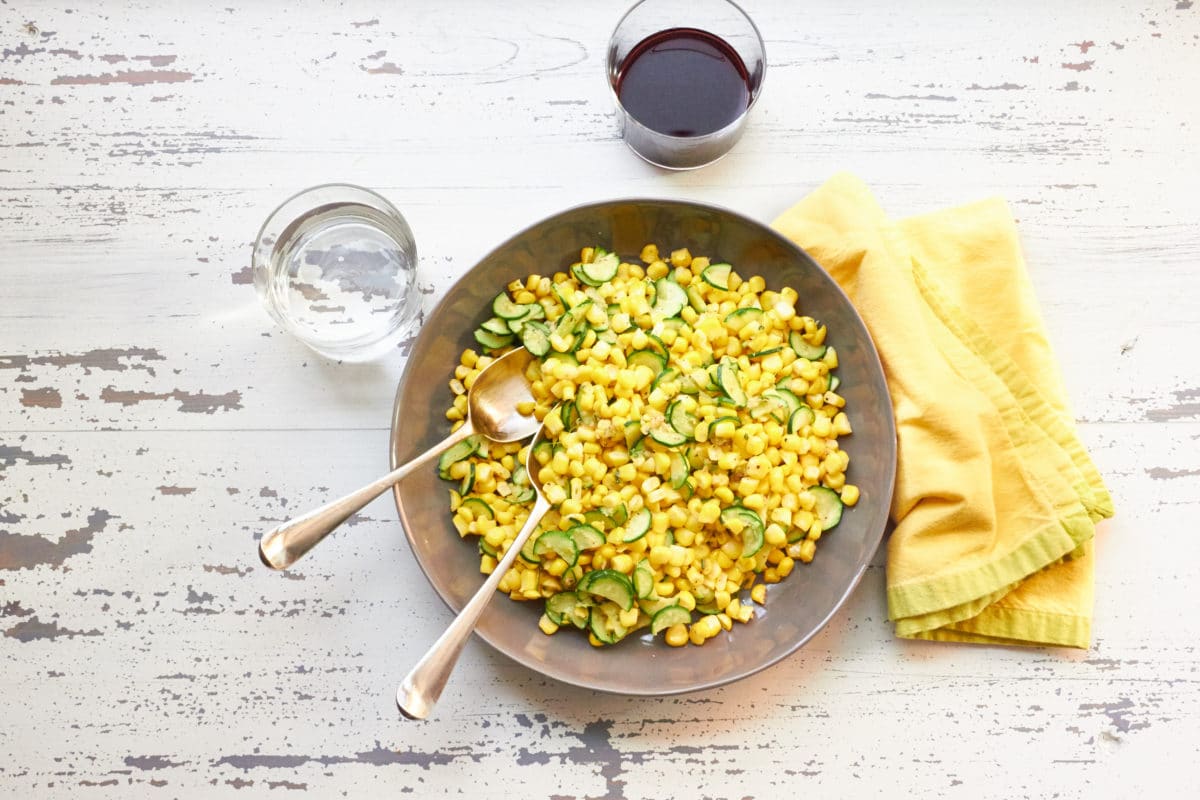 If you are using citrus zest regularly, you'll want to invest in a microplane, which is actually a very versatile and inexpensive tool. It makes lovely and fine fluffy curls of zest. It also works wonders on hard cheese, such as Parmesan, and chocolate, and is also a nice way to finely mince garlic or ginger.
The most important thing is to just remove just the thin, colored skin—called the zest—of the fruit. Don't dig into the soft, white pith that lies underneath, which has a bitter, overpowering taste. A microplane is also gentle, so doesn't dig into the pith. It's one of my very favorite tools.
Below, the sautéed corn and zucchini with leg of lamb and Endive Salad with Pear and Creamy Herb Dressing. And a bit further below you can also see the Red Onion Mint Orzo on the plate. Pretty pretty, right?
You can also use a vegetable peeler or a paring knife to remove strips of the zest. And then if needed chop or mince the zest further. Oh, and wash your fruit before zesting.
Try other herbs in place of the rosemary – oregano, basil, cilantro, sage….anything really works here.
This simple Sautéed Corn and Zucchini in Lemony Browned Butter is a perfect summer side dish, especially if you make it with fresh corn.

Tweet This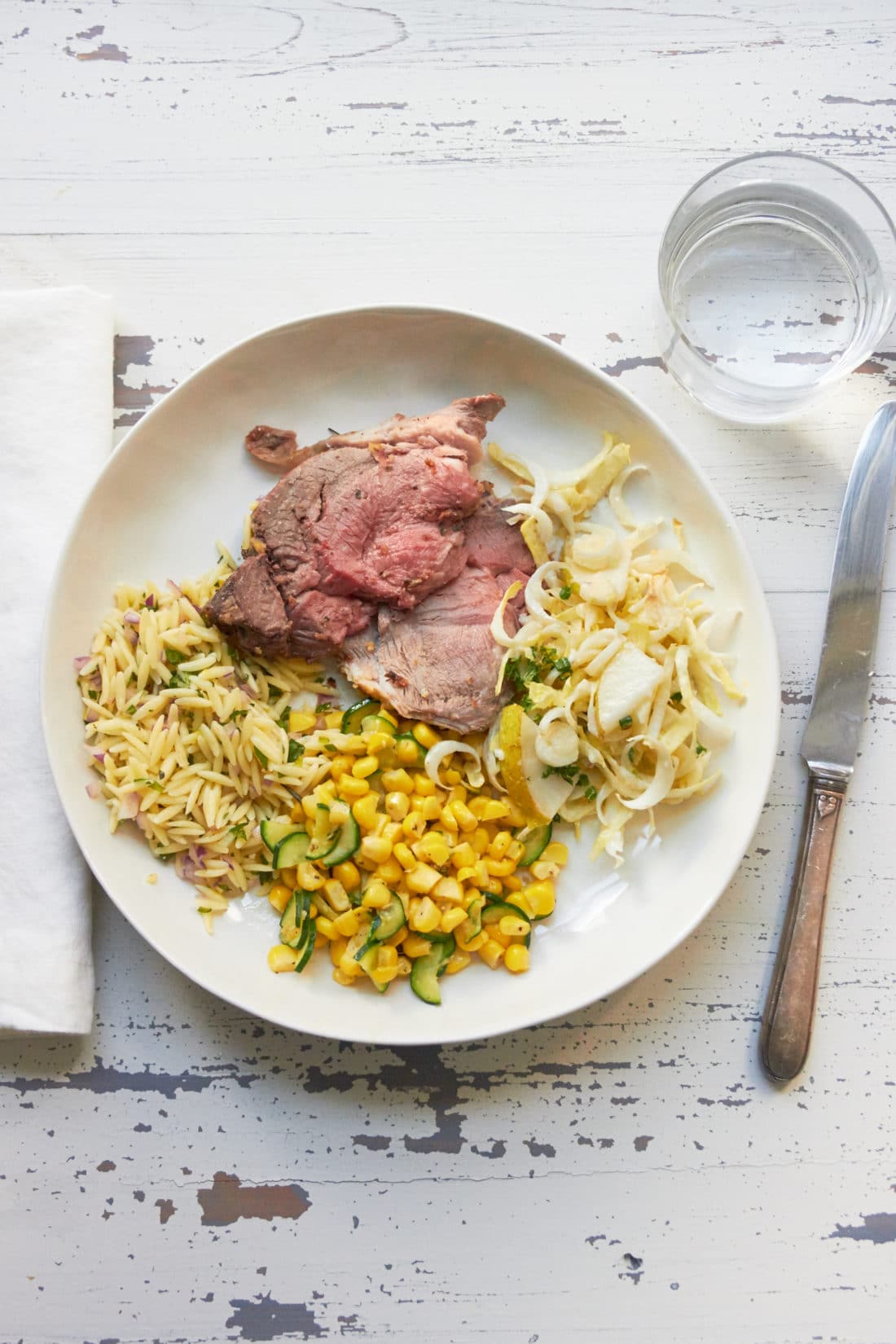 Other Simple Side Dish Recipes:
Like this recipe? Pin it to your favorite board on Pinterest.

Pin This
Sautéed Corn and Zucchini in Lemony Browned Butter
You had me at browned butter (and corn).
Ingredients
2

tablespoons

unsalted butter

4

cups

corn kernels

fresh or frozen

1 ½

cups

diced zucchini

or halved and sliced baby zucchini

1

clove

garlic

minced

1

teaspoon

finely grated lemon zest

½

teaspoon

minced fresh rosemary
Directions
In a large skillet melt the butter until slightly browned over medium heat. Add the corn, zucchini, garlic, lemon zest, and rosemary. Season with salt and pepper and sauté for about 5 minutes until the vegetables are crisp tender.

Serve hot.
Nutrition Information
Calories:
126.02
kcal
|
Carbohydrates:
20.61
g
|
Protein:
3.14
g
|
Fat:
5.1
g
|
Saturated Fat:
2.6
g
|
Cholesterol:
10.03
mg
|
Sodium:
206.46
mg
|
Potassium:
231.79
mg
|
Fiber:
2.39
g
|
Sugar:
4.12
g
|
Vitamin A:
227.82
IU
|
Vitamin C:
7.88
mg
|
Calcium:
9.33
mg
|
Iron:
0.72
mg
The nutrition values are provided as an estimate. It is not intended as a substitute for the advice of a qualified healthcare professional.
Made this recipe? Post a photo of your delicious creation on Instagram with our hashtag #dinnersolved