The full force of the summer produce season is slowing down, but not before we cram in every last tomato, zucchini and ear of corn possible. If fresh corn isn't available to you (who's to say when you are reading this?), just lightly steam some frozen corn and proceed – it will be a-okay.
And a little pause to show our love and respect for the word fritter. What a beautiful word; what a beautiful food!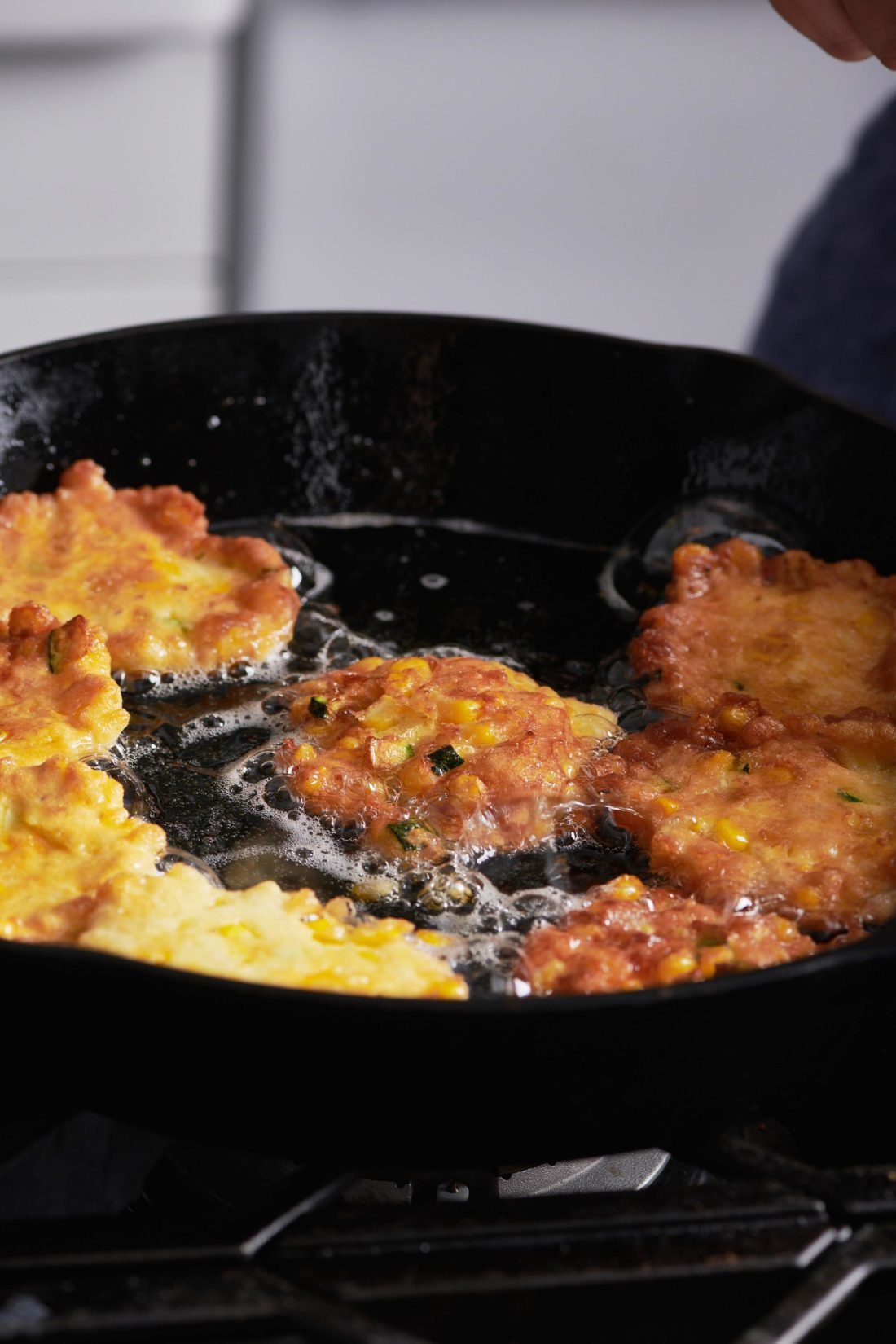 What is a Fritter?
Fritters can be sweet or savory, and they are essentially little bits of food suspended and bound together in a batter. Which then gets fried up in a bit (or a lot) of oil. Until hot and crispy. And then (if savory) salted generously. And eaten as soon as you can stand it.
Burning your tongue or the roof of your mouth on a fritter is as regrettable/non-regrettable as burning you mouth on a bite of drippy, cheesy, fresh from the oven pizza. It's kind of worth it. A badge of honor? Perhaps that's taking things too far.
I think the best time to to make fritters, especially savory appetizer fritters, is when you have a group of friends over that are hang-out-in-the-kitchen kinds of friends. Which really, upon reflection, all friends should be.
If there's anything nicer to nibble with a glass of wine at the end of the summer, I can't think of what that would be.

Tweet This
Make the batter just before people get there, then put someone in charge of pouring drinks while you fry these up and serve them as they are made. Keep going until every bit of the batter is gone. This is the ultimate fritter experience.
If you want to preheat your oven to 350°F you can keep these warm until you've finished frying up all of the batter, and then serve them all together. This is practical and pragmatic and a bit less fun, but it's also good to know if you don't want to be hitched to the stove for an extended period of time.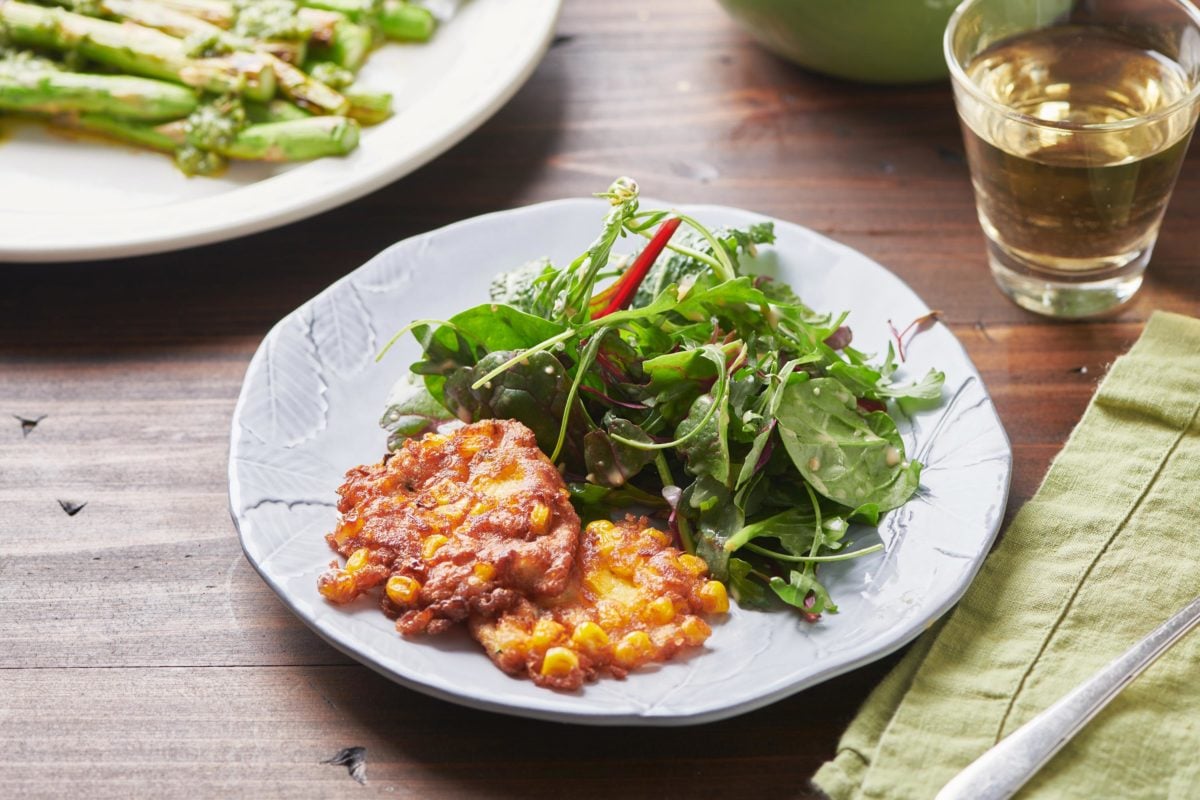 More Zucchini Recipes to Try:
Read More: How to Cook Zucchini and Summer Squash.
Like this recipe? Pin it to your favorite board on Pinterest.

Pin This
Corn and Zucchini Fritters
If there's anything nicer to nibble with a glass of wine at the end of the summer, I can't think of what that would be.
Ingredients
4

ears of corn

1

small zucchini

½

cup

light or heavy cream or half and half

4

large eggs

2

tablespoons

minced shallots

⅓

cup

all-purpose flour

Pinch cayenne pepper

Kosher salt and freshly ground pepper to taste

½

cup

Vegetable or canola oil to pan fry the fritters

approximately
Directions
Place the corn in a large pot and add about 1 inch of water. Cover the pot, bring the water to a simmer over medium-high heat, and simmer for about 4 minutes until the corn is just barely cooked and hot. Remove the corn and let cool.

When the corn is cool enough to handle, slice the kernels off with a heavy, sharp knife. You should have about 3 cups. Dice the zucchini into 1/4-inch cubes. You should have about 1 cup.

In a large bowl combine the cream, eggs, shallots, flour, cayenne, and salt and pepper. Stir in the corn and zucchini. Let the batter sit for 20 to 30 minutes at room temperature.

In a large skillet, pour in enough vegetable oil to be about 1/4-inch deep in the pan – you want a nice thick layer on the bottom for pan frying the fritters, but you're not deep frying them. Line a plate with paper towels. Heat the oil over medium high heat until shimmering, and a drop of batter added to the pan sizzles. Spoon in the batter by the tablespoon-ful, and cook for about 2 minutes until browned on the bottom. (They can splatter a bit, stand back!) Flip with a spatula and cook for another 1 or 2 minutes, until browned on the other side. Transfer the cooked fritters to the paper towels, give them a sprinkle of salt, and let them sit for a minute. Serve hot, and keep frying them up until the batter is gone, add more oil and you need it, and refreshing the paper towels as they absorb oil.
Nutrition Information
Calories:
156
kcal
|
Carbohydrates:
19
g
|
Protein:
7
g
|
Fat:
7
g
|
Saturated Fat:
3
g
|
Cholesterol:
120
mg
|
Sodium:
57
mg
|
Potassium:
316
mg
|
Fiber:
2
g
|
Sugar:
5
g
|
Vitamin A:
437
IU
|
Vitamin C:
10
mg
|
Calcium:
29
mg
|
Iron:
1
mg
The nutrition values are provided as an estimate. It is not intended as a substitute for the advice of a qualified healthcare professional.
Made this recipe? Post a photo of your delicious creation on Instagram with our hashtag #dinnersolved