Another stir fry! #sorrynotsorry! #notatallsorry.
Question: What is the difference between stir fry and sauté? Mostly language. Both involve cooking things in a pan with a bit of fat over pretty high heat, stirring often, and getting a nice browned color on the food.
There is definitely the implication that you are going to be in Asian territory when you are talking about a stir fry—flavors like soy sauce, and ginger, and garlic, and other fantastic Chinese, Thai, Malaysian, Vietnamese, Mongolian ingredients will probably be part of the equation. Which is definitely the case with this shrimp stir fry recipe.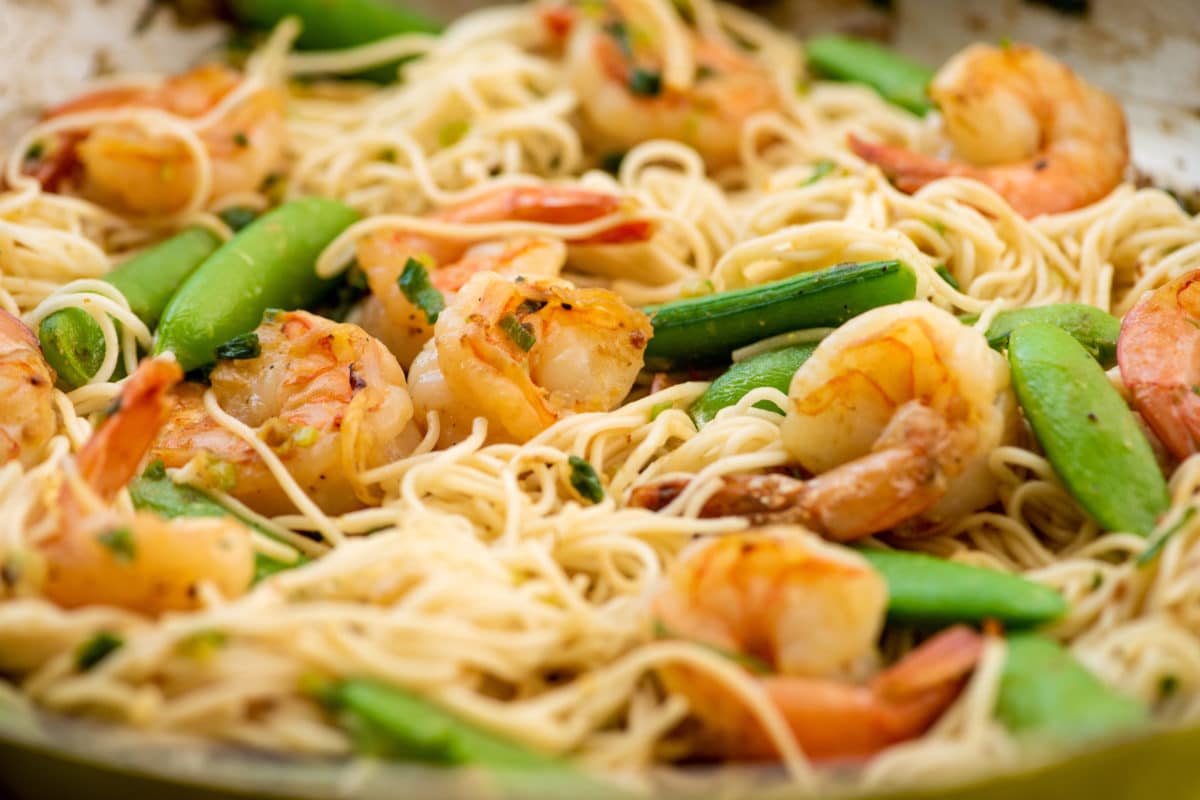 Using Mirin in Stir Fry
Mirin is a slightly sweet cooking wine made from rice, often used in Asian cooking. It's basically sake with more sweetness and less alcohol. Miso is a fermented soybean paste, that comes in a variety of colors and flavors and strengths. Start with the lighter colors, such as white or yellow, which are milder, and work your way deeper.
If you have bought mirin and miso for a recipe, chances are you spend a certain amount of time moving them around the fridge, feeling the need to find more mirin and miso-inclusive recipes to use up the package and bottle. Here is your chance.
This easy and healthy stir fry recipe takes less than 10 minutes to cook once the ingredients are prepped!

Tweet This
Substitutions for Shrimp Stir Fry
You can absolutely, positively swap out the sugar snap peas for any other kind of vegetable, or add additional vegetables to your heart's content. Sliced carrots, broccoli florets, snow peas, mushrooms, pieces of asparagus…. whatever is in season.
Variation for Vegetarian Stir Fry
Also, you can swap out the shrimp for either cubed 4 cups of cubed Portobello mushrooms or extra-firm tofu, or a combination. Or do a Vegetarian Fork-in-the-Road: after cooking the vegetables and setting them aside, divide the remaining oil between the skillet you used to cook the vegetables and another skillet over high heat.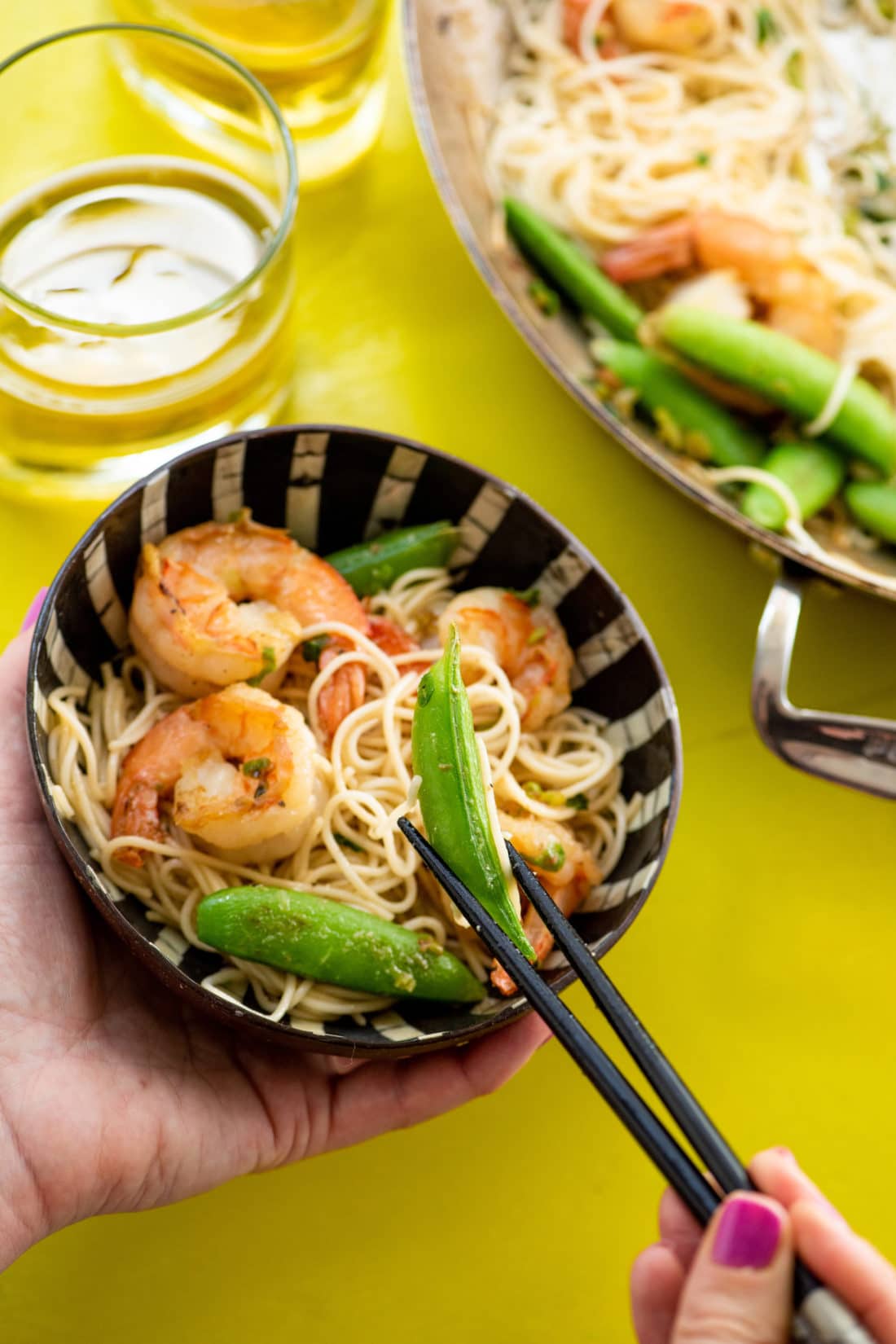 Add 1 pound of shrimp to one skillet and 2 cubes mushrooms and/or tofu to the other skillet and sauté for 5 minutes until lightly browned. Divide the snow pea mixture and the sauce between the two skillets, and sauté for another 2 minutes until everything is hot and nicely coated with the sauce.
Gary loves any stir fry, but he especially loves a good shrimp stir fry with noodles. You have the option of choosing rice or noodles here. If you choose rice, pile the stir fry on the rice or serve the rice on the side. If you choose noodles, you'll want to add them directly into the skillet or wok with the stir fry, and toss so they mix in with the shrimp and vegetables, and get nicely coated with the sauce.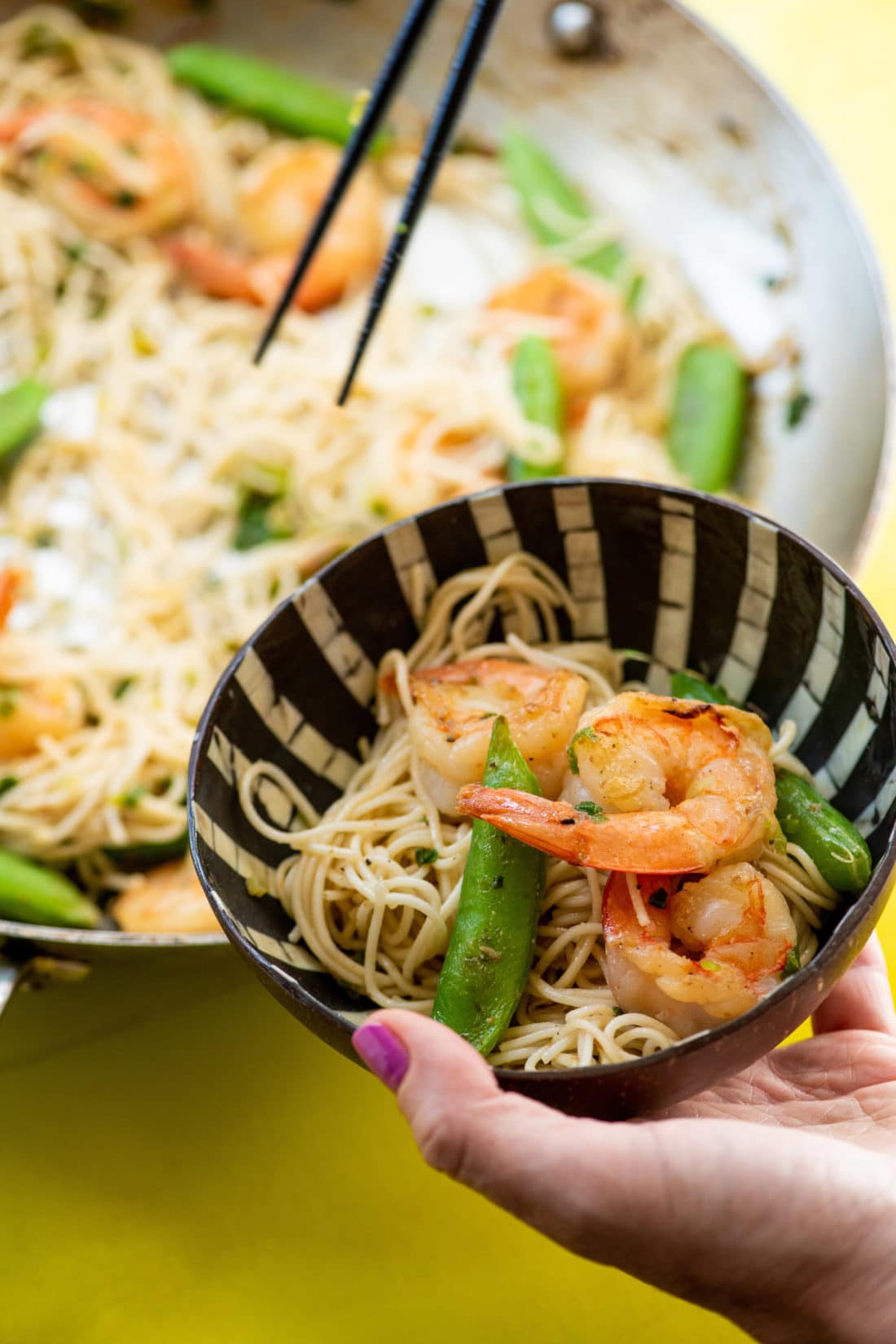 Other stir fry recipes to play with:
And you may also want to know: How to Cook Perfect Rice on the Stove
Like this recipe? Pin it to your favorite board on Pinterest.

Pin This
Shrimp, Sugar Snap Pea and Scallion Stir Fry with Miso Sauce
This easy and healthy stir fry recipe takes less than 10 minutes to cook once the ingredients are prepped!
Ingredients
2

tablespoons

soy sauce

2

tablespoons

mirin

see recipe intro or dry sherry

¼

cup

fresh orange juice

2

tablespoons

miso paste

1

teaspoon

sugar

3

tablespoons

canola or vegetable oil

divided

10

scallions

approximately, trimmed, thinly sliced (white and green parts both)

12

ounces

sugar snap peas

trimmed

2

pounds

medium shrimp

peeled and cleaned (see Vegetarian Fork in the Road above)

Cooked rice or noodles

to serve
Directions
In a small bowl, stir together the soy sauce, mirin, orange juice, miso paste, and sugar.

In a large skillet or a wok, heat half the oil over high heat until it's very hot. Add the sugar snap peas and sauté for 2 minutes, until just barely crisp-tender. Stir in the scallions and sauté for 1 more minute. Transfer the vegetables to a serving bowl.

Return the skillet to the heat and add the remaining oil. Add the shrimp and sauté for about 2 minutes until the shrimp turn pink. Return the vegetables to the pan, toss everything around to combine, and then add the sauce and cook, stirring, for another minute until everything is just cooked and the sauce coats everything nicely. Turn the stir fry back into the serving bowl and serve with rice or noodles. You can also place the cooked rice or noodles in the serving bowl while the stir fry finishes cooking, and then spoon the stir fry over the starch in the bowl, or in the case of noddles add them into the pan with the stir fry and the end and toss until combined and warm.) Serve immediately.
Nutrition Information
Calories:
273.73
kcal
|
Carbohydrates:
11.66
g
|
Protein:
34.19
g
|
Fat:
9.58
g
|
Saturated Fat:
0.89
g
|
Cholesterol:
381.02
mg
|
Sodium:
1770.15
mg
|
Potassium:
334.84
mg
|
Fiber:
2.35
g
|
Sugar:
6.05
g
|
Vitamin A:
836.38
IU
|
Vitamin C:
49.15
mg
|
Calcium:
261.25
mg
|
Iron:
4.98
mg
The nutrition values are provided as an estimate. It is not intended as a substitute for the advice of a qualified healthcare professional.
Made this recipe? Post a photo of your delicious creation on Instagram with our hashtag #dinnersolved