This post may contain affiliate links. Please read our privacy policy.
Oh, happy accidents that turn into delicious dishes, we love you so!
Ok, not really an accident per se. I knew what I was doing; it wasn't like that old terrific Reese's Peanut Butter Cup ad where a cool 80s gal is strutting down the street snacking on an open jar of peanut butter (as one does) and a cool 80s guy is also grooving his way down the street munching on a chocolate bar (more reasonable) and they turn a corner and collide and the guy says, "Hey, you got your peanut butter on my chocolate!" and the gal responds, "Wait, you got your chocolate in my peanut butter!" And then they each take a bit of the peanut butter dipped chocolate bar and their eyes widen and they say, "DELICIOUS!" And then a kindly storekeeper who's been watching the whole thing hands them a Reese's Peanut Butter Cup so they can see that this is, indeed, a real thing.
(I actually looked up this ad, and this is the actual dialogue. In case you are not as old as I am and you think I am making this up. I am not.)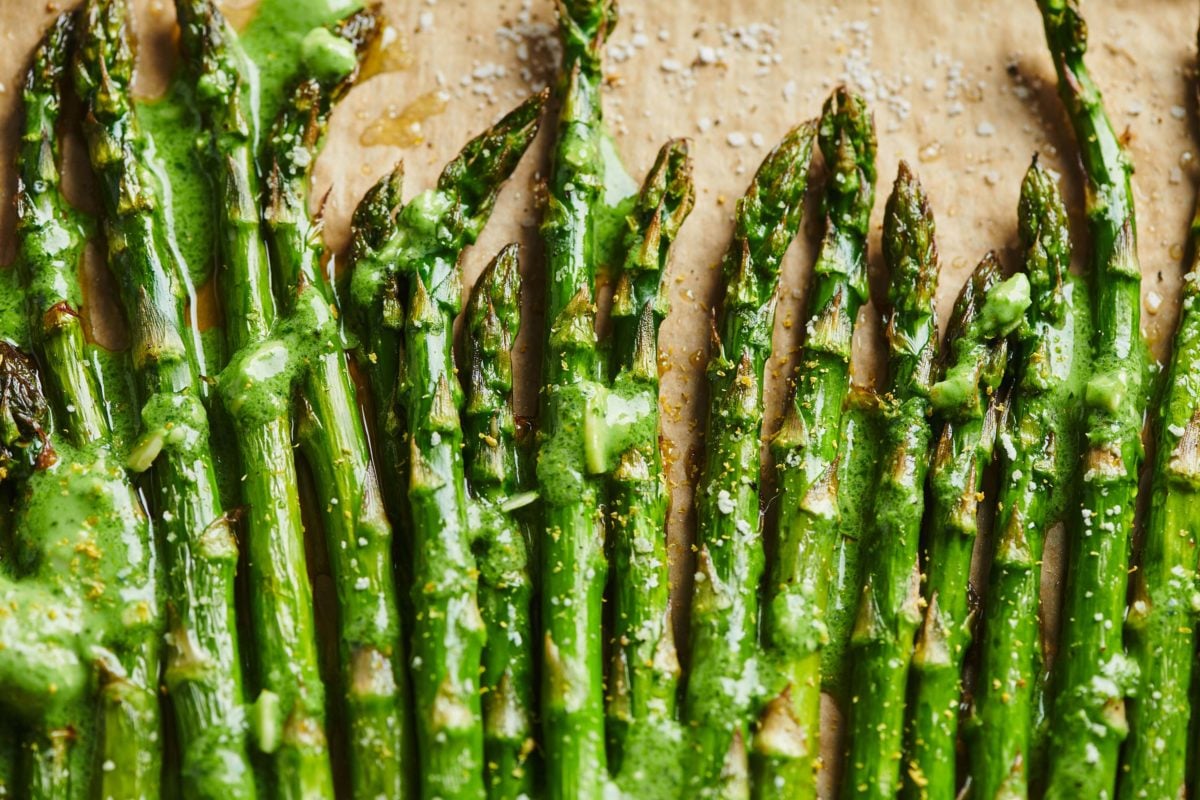 (Also, if that scintillating bit of Madison Avenue ad copy made you crave a peanut butter cup, after you make this, make these for dessert).
Pesto Creme Fraiche
But when a simple sauce I made for a lovely little salmon puff pastry appetizer (oh, please make these) was lurking about at the same moment that I was making one of the best and simplest spring vegetable dishes in the world (roasted asparagus), the universe whispered to me.
A word about mixing and matching different pieces of recipes. DO IT. Do it often, do it with abandon. Not only will you probably end up with all sorts of new dishes (see: Open Faced Flatbread Breakfast Sandwiches with Herbed Mayonnaise you will also prevent waste – and every time I have to toss a jar of Olive Drizzle that's past its prime (and olive drizzle lasts for a long time and believe you me I can push the envelope on it) a little star splutters out in my heart. Or something like that. And I think to myself, why oh why did I not drizzle that over some roasted cauliflower when I had the chance?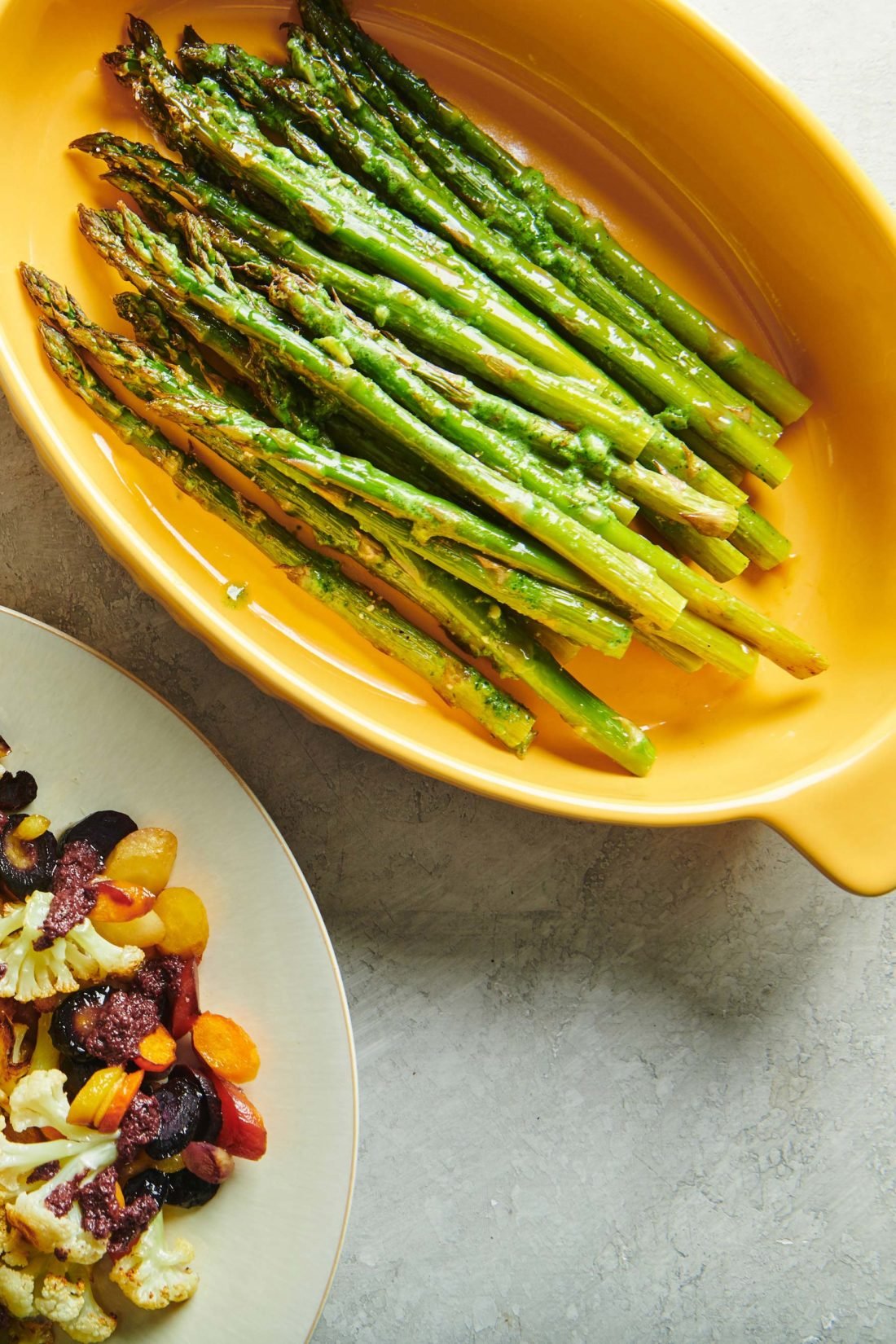 I recognize that these things don't keep everyone up at night.
Ok, did you really just read all of that? I love you. Anyway, a little tub of crème fraiche blended with a nice amount of Spinach Parsley Pesto was the intentional base for a salmon puff pastry appetizer, but the leftovers were downright magical when dolloped onto a row of warm simply roasted asparagus.
Substitutions for Spinach Parsley Pesto
You can use the same pesto I used, or another pesto of your choice, like Mint Basil Pesto, Caper-Olive Pesto, Nut-Free Basil Pesto with Pecorino Romano or Kale Pesto Recipe. Or, use a nice store-bought pesto. The Spinach Parsley Pesto is pretty mild, and other pestos based on stronger herbs will have more potent flavor, so start with a tablespoon mixed with ¼ cup crème fraiche and add more as desired.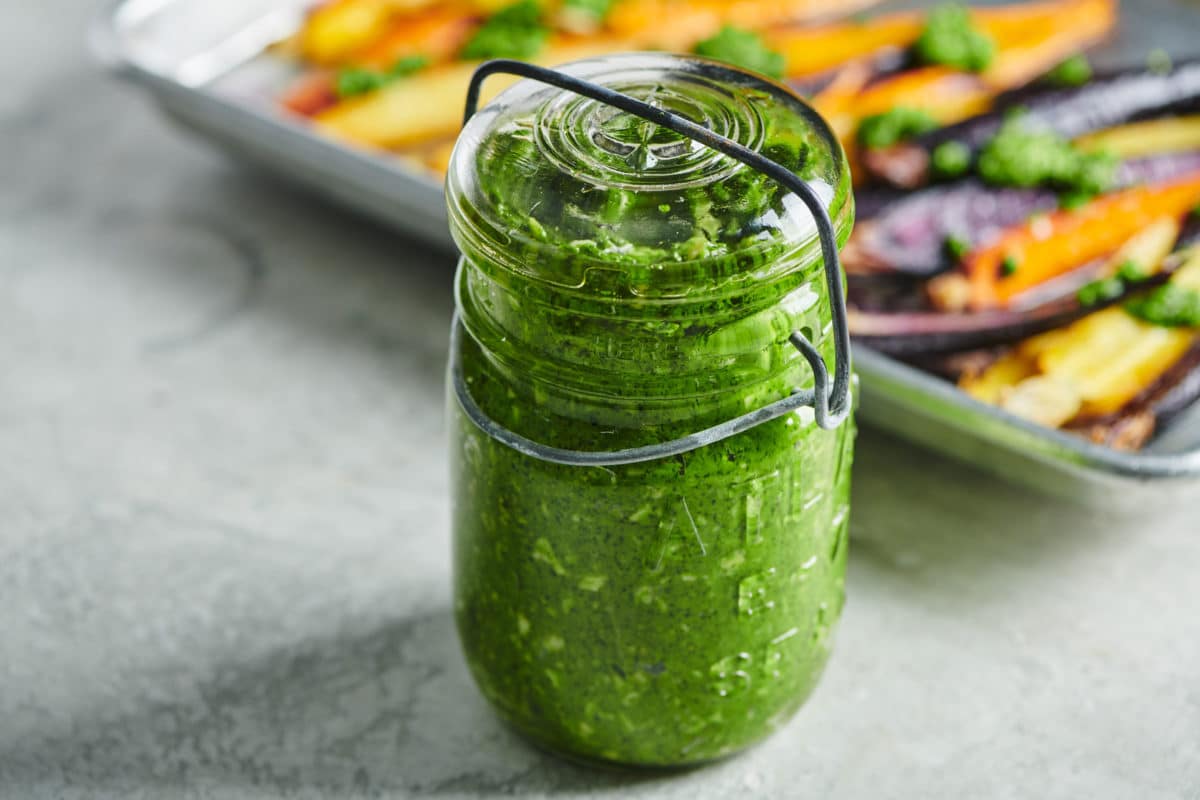 Roasted Asparagus with Pesto Creme Fraiche: Simply roasted asparagus become downright magical when drizzled with a creamy herby sauce.

Tweet This
How to Serve Pesto Crème Fraiche
You can serve this with the sauce softly draped over the asparagus or give them a toss with the sauce so that everything is nicely coated and creamy. Both work, both are beautiful, both are delicious.
Because the sauce is thick, and because I wanted to distribute it somewhat delicately over the vegetables, I transferred it to a plastic bag, snipped off the corner, and squeezed it over the asparagus. If you are not in the mood to be so deliberate, use a spoon and dollop over small spoonfuls.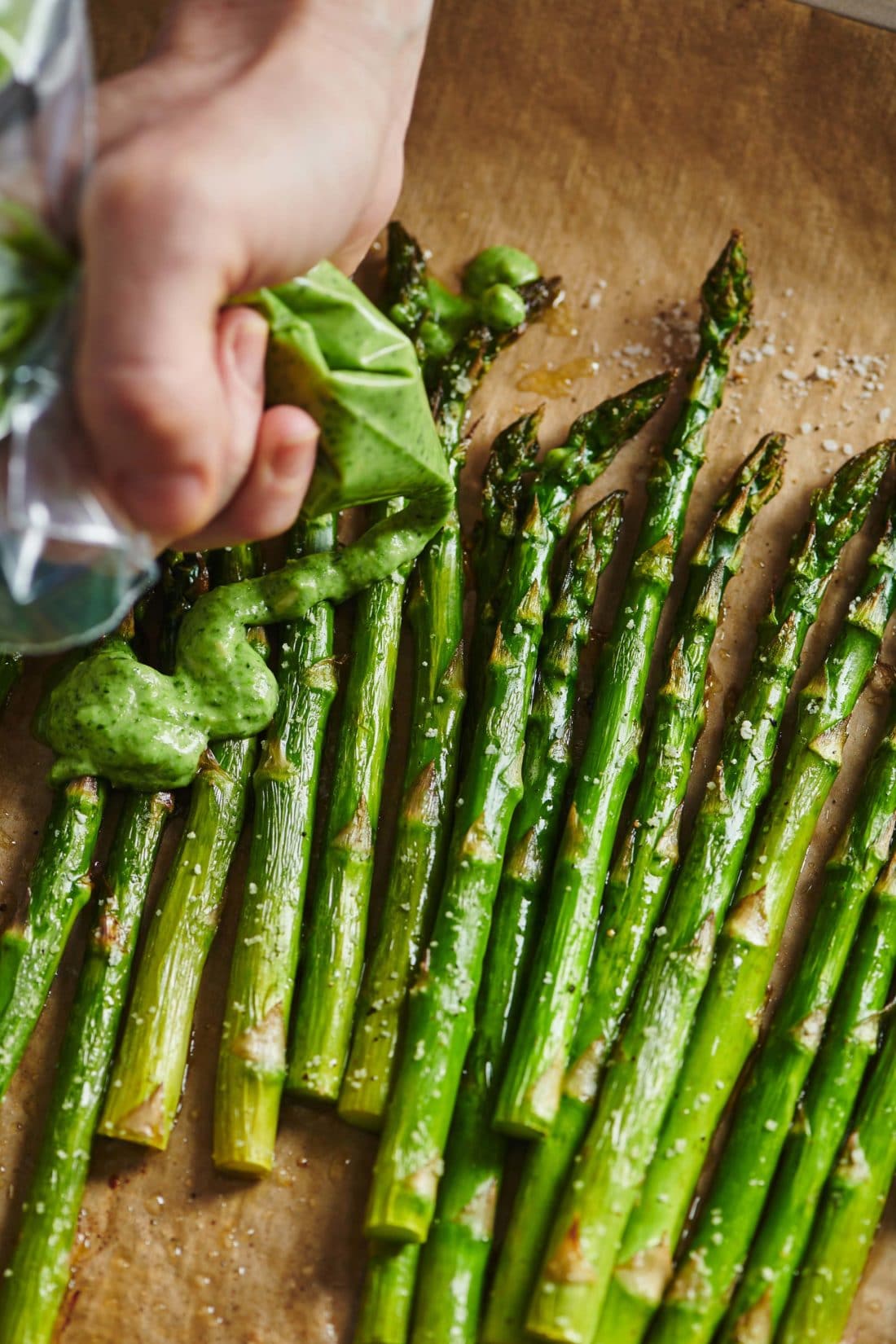 Ands below they sit, actually tossed with the sauce, with another little assort of veggies: Roasted Cauliflower and Carrots with Olive Drizzle (there's that olive drizzle!), and Green Beans Nicoise Salad.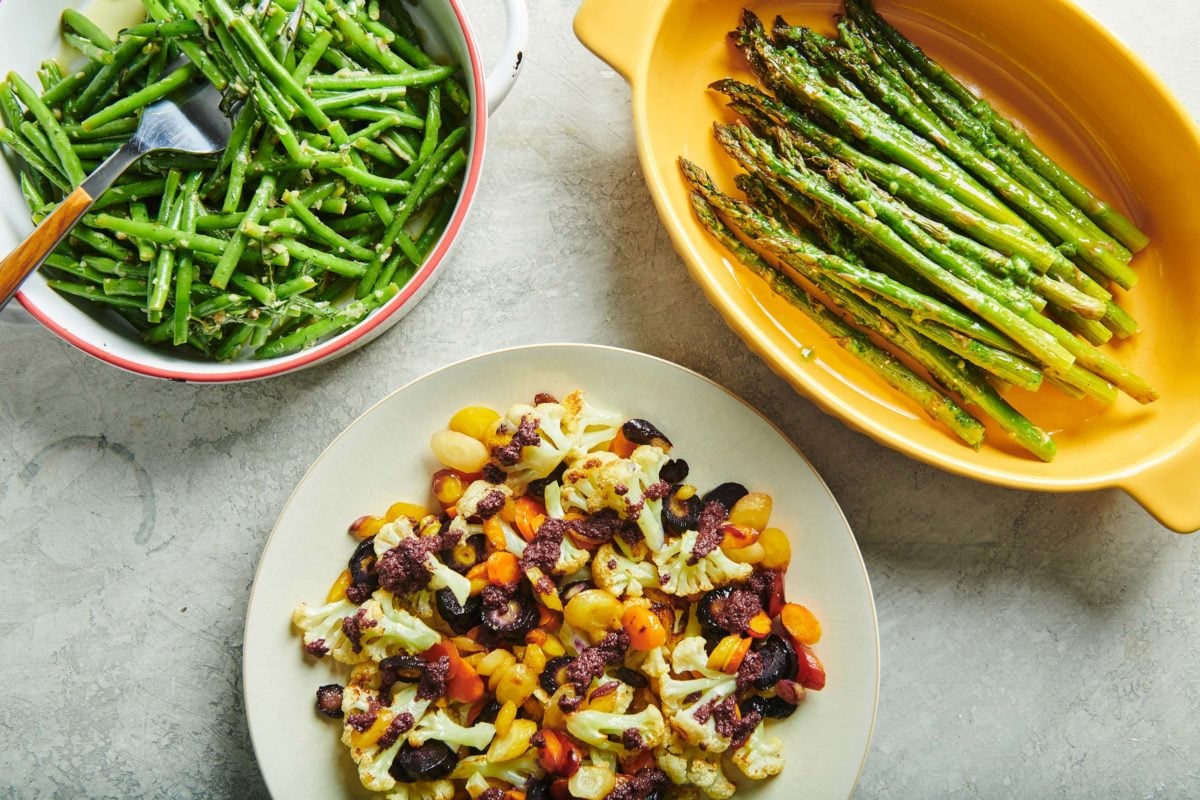 What to Serve with Roasted Asparagus with Pesto Crème Fraiche:
These would be amazing with:
Like this recipe? Pin it to your favorite board on Pinterest.

Pin This
Roasted Asparagus with Pesto Crème Fraiche
Simply roasted asparagus become downright magical when drizzled with a sauce made from creamy creme fraiche and herby pesto.
Ingredients
1

pound

asparagus

trimmed

2

tablespoons

olive oil

¼

cup

crème fraiche

2

tablespoons

Spinach Parsley Pesto

or 1 to 2 tablespoons other pesto recipe or store-bought pesto – different pestos have different intensities

Kosher salt and freshly ground pepper

to taste

Zest of ½ a lemon

or to taste
Instructions
Preheat the oven to 425°F.

Place the asparagus in a baking pan. Don't worry about finding a pan large enough to hold the asparagus in one layer – the stalks can overlap a bit. Drizzle the olive oil over them and toss gently to coat the asparagus evenly. Sprinkle on the salt, and toss again.

Roast the asparagus for 8 to 10 minutes for thin stalks, 10 to 14 for thick ones. If they overlap, just give them a little shuffle with a spatula halfway through the cooking time so they all have a chance to brown a bit. Remember that they will continue to cook a bit after you remove them from the oven, so take them out while they're still a little firmer than you would like.

While the asparagus are roasting, blend together the crème fraiche with the pesto, taste and see if it needs additional salt and pepper. (Remembering that you seasoned the asparagus.)

When the asparagus are cooked you can either drip over the thick creamy sauce, or you can transfer it to a small plastic bag, snip off a little corner of the bag and squeeze out the sauce over the asparagus. Serve just like that, sprinkled with lemon zest, or toss the asparagus so that it is coated with the sauce, and then sprinkle the lemon zest over.
Nutrition
Calories:
142
kcal
,
Carbohydrates:
6
g
,
Protein:
3
g
,
Fat:
13
g
,
Saturated Fat:
3
g
,
Cholesterol:
8
mg
,
Sodium:
84
mg
,
Potassium:
249
mg
,
Fiber:
3
g
,
Sugar:
3
g
,
Vitamin A:
1098
IU
,
Vitamin C:
7
mg
,
Calcium:
55
mg
,
Iron:
2
mg
Nutrition information is automatically calculated, so should only be used as an approximation.
Like this? Leave a comment below!