The mere fact that these little Smoked Salmon Puff Pastry Tarts now exist in my repertoire is now reason enough to throw more parties. There are few things more festive than buttery, flaky puff pastry, but few things more daunting to think about making from scratch. So, just head to the refrigerated dough or freezer dough section of your supermarket, grab a package of puff pastry and you are more than halfway to these stunning little hors d'oeuvres.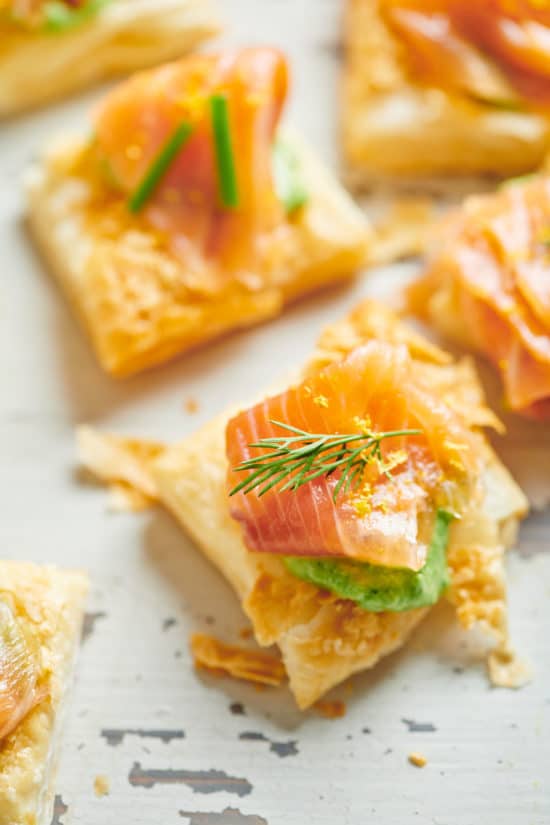 You cut the puff pastry into small squares , give them a quick brush of cream of milk, and into the oven they go. When they are freshly baked, give them a gentle press with your fingers to make the surface a bit flatter, so the toppings stay put.
Meanwhile you will have blended up some crème fraiche with pesto, and then each square gets a little dollop of this pretty green creamy spread.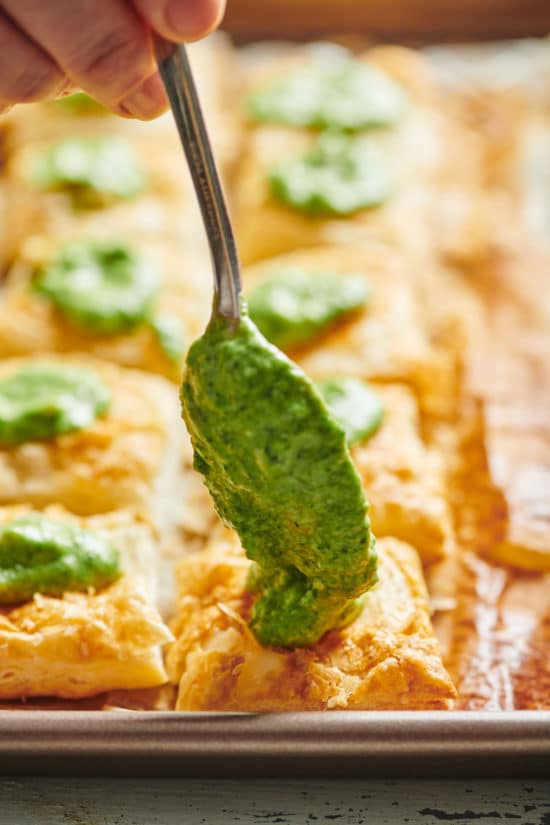 Perfect Smoked Salmon Tarts for a Crowd
Small pieces of smoked salmon are draped over the puff pastry squares. Smoked salmon just looks enticing no matter how you fold or drape it, so while you can take your time and be as artistic as you want, you're going to end up with some fine looking little apps no matter what. The colors are so Spring-ey – pink and all of that green (though i will not be forgetting these when the holidays approach).
Especially once you garnish them with some fresh herbs or capers, and a bit of lemon zest. Adding a tiny sprinkle of lemon zest to almost any little hors d'oeuvres is just downright classy (she said, classily)—it looks pretty, it adds a touch of freshness and there is something pretty sophisticated about this very accessible ingredient. A sprinkle of lemon zest is a little go-to trick I fall back on often. Not to mention the fresh herbs thing—hardly ever the wrong move.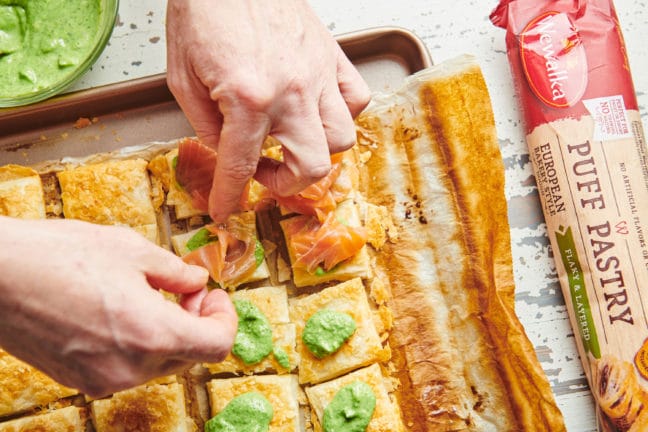 These gorgeous elegant little bites are so simple to put together—perfect for a party appetizer.

Tweet This
Make Ahead Smoked Salmon Tarts
You can make the crème fraiche spread up to 2 days ahead of time, and you can make the puff pastry squares earlier in the day and leave them at room temperature until it is time to serve them. Assemble just before serving or the puff pastry will get soggy. And tell your friends to bring over some bubbly.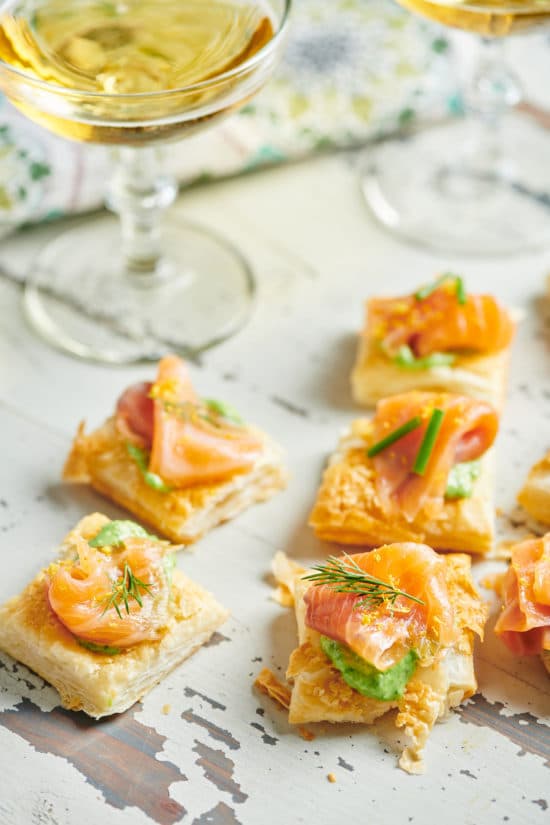 More Puff Pastry Recipes:
Like this recipe? Pin it to your favorite board on Pinterest.

Pin This
Smoked Salmon Puff Pastry Tarts
These gorgeous elegant little puff pastry bites are so simple to put together – perfect for a party appetizer.
Ingredients
2

tablespoons

milk or cream

approximately

⅓

pound

thinly sliced smoked salmon

approximately

½

cup

crème fraiche

¼

cup

pesto

store-bought, or try Spinach-Parsley Pesto, which is what I used here)

½

teaspoon

fresh lemon juice
To Garnish (Pick and Choose!)
Zest of 1 lemon

Snipped fresh chives

Little sprigs of dill
Directions
Preheat the oven to 400°F. Let the puff pastry sit at room temperature for 20 minutes to warm up slightly (make sure it is defrosted first if it was frozen). Unroll the puff pastry onto a rimmed baking sheet. Cut the puff pastry into 30 squares. Brush the tops with milk or cream. Bake for 15 to 18 minutes, until puffed and golden brown and cooked through.

While the puff pastry Is baking, cut the salmon into smaller pieces, about 1 x 3 inches each. Blend together the creme fraiche, pesto, and lemon juice in a small bowl.

When the pastry is cooked, place the baking sheet on a cooling rack and use your fingers (wrapped with a paper towel to protect from the hot puff pastry) to gently press down on the warm squares to make them a bit flatter. Let the puff pastry cool to just barely warm or to room temperature.

Top each square with a couple of teaspoons of the creme fraiche mixture, spreading it over the top, but not quite to the edges. Attractively drape a piece of salmon over the crème fraiche on each piece. Top with capers, chives, or dill – you can definitely combine two or three of these as well. Give each tartlet a tiny sprinkling of lemon zest.

Arrange the tartlets on a platter and serve.
Nutrition Information
Calories:
430
kcal
|
Carbohydrates:
29
g
|
Protein:
9
g
|
Fat:
31
g
|
Saturated Fat:
9
g
|
Cholesterol:
18
mg
|
Sodium:
386
mg
|
Potassium:
91
mg
|
Fiber:
1
g
|
Sugar:
1
g
|
Vitamin A:
317
IU
|
Vitamin C:
1
mg
|
Calcium:
39
mg
|
Iron:
2
mg
The nutrition values are provided as an estimate. It is not intended as a substitute for the advice of a qualified healthcare professional.
Made this recipe? Post a photo of your delicious creation on Instagram with our hashtag #dinnersolved