This post may contain affiliate links. Please read our privacy policy.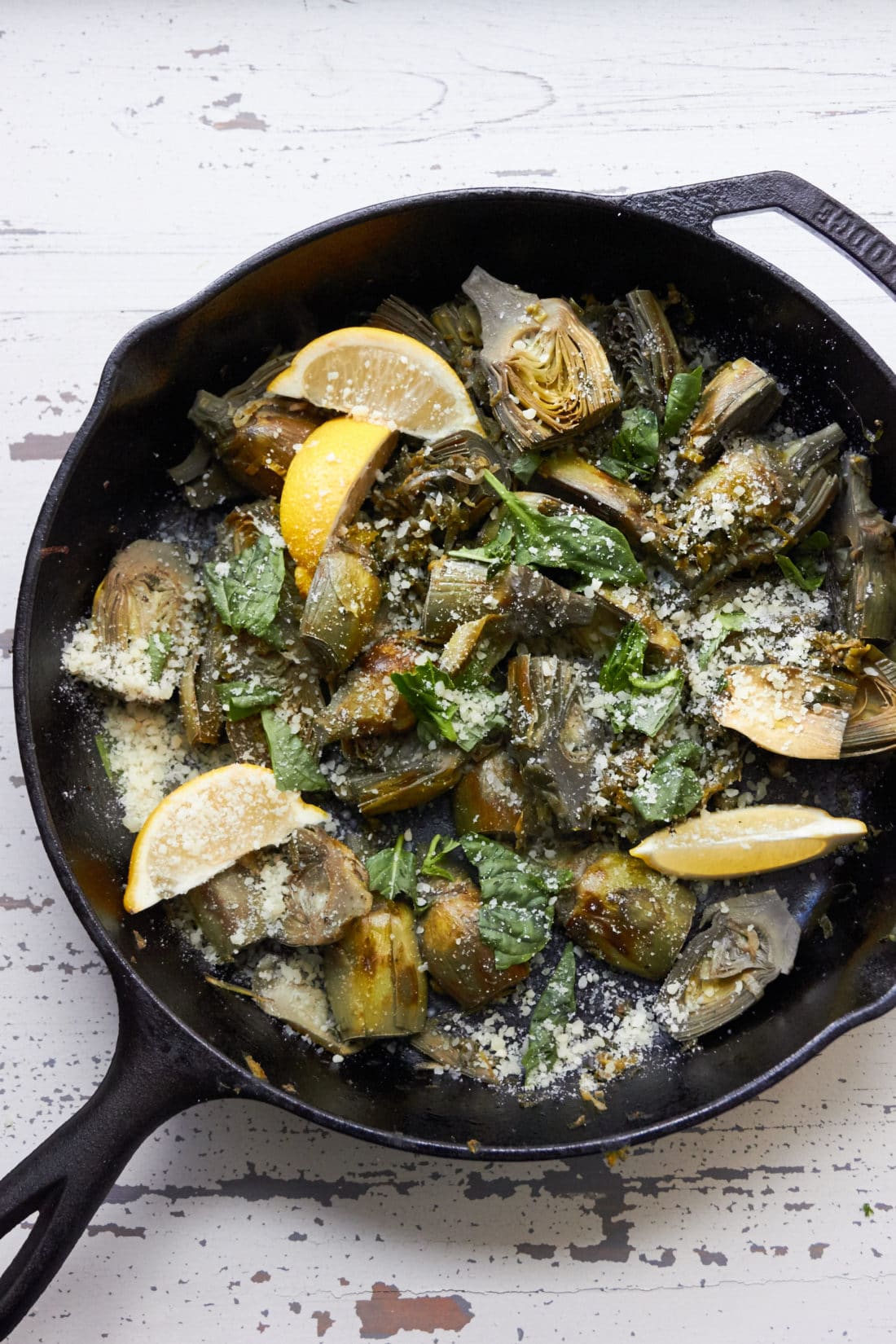 I will never knowingly lie to you.
Baby artichokes are a little bit of a pain in the ass to prepare. But since I am willing to own up to facts such as this, you hopefully will also believe me when I say they are so delicious and so worth it that when you see them, you should buy them immediately, and then figure out what to do with them.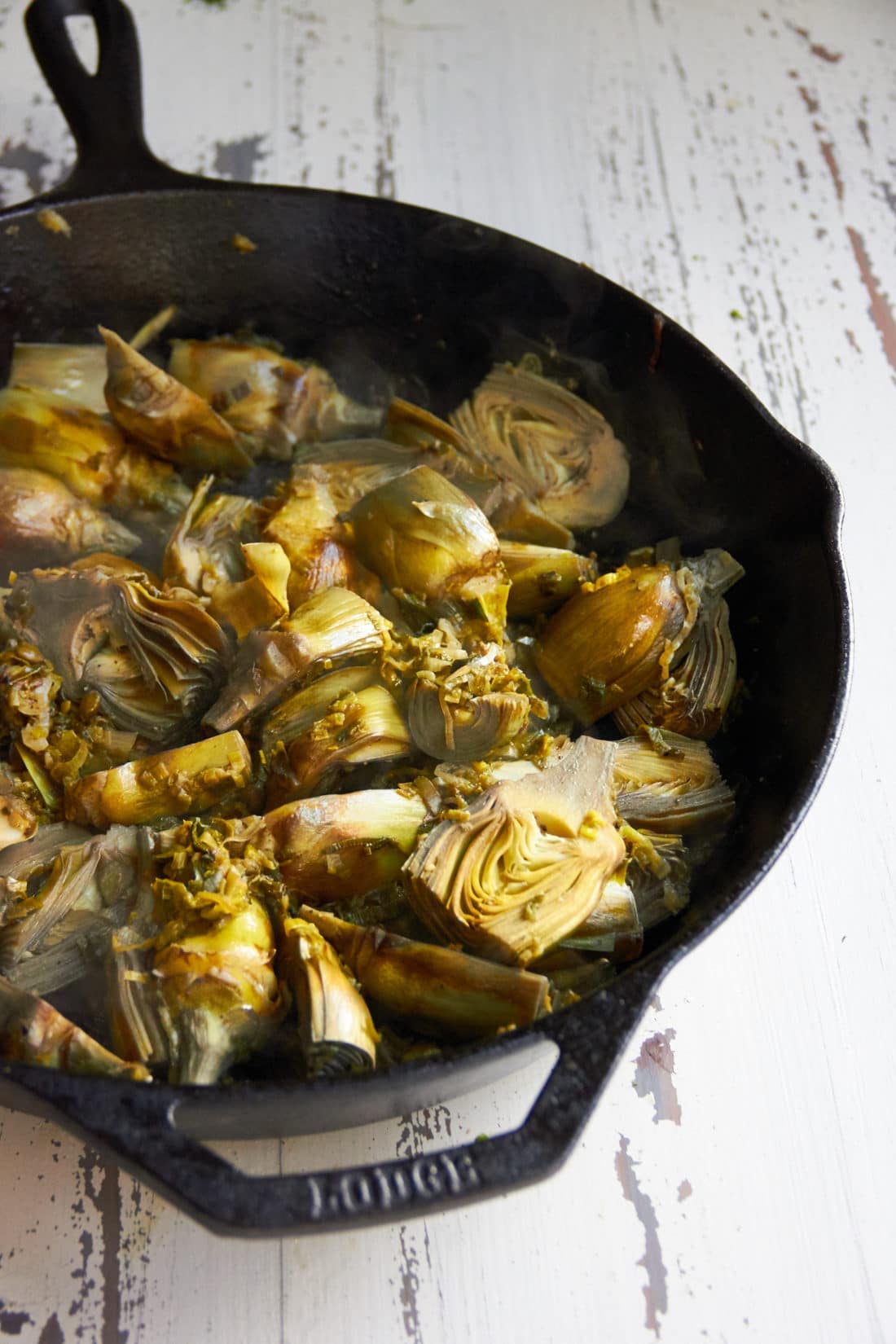 This preparation is delicate and clean and tender and smacking of spring. You could also serve these braised baby artichokes on crostini or bruschetta. And as far as baby artichoke preparations go, this is a pretty simple one. You do have to clean them and keep them from browning no matter what recipe you choose, and while a plate of fried artichokes is one of the greatest pleasures in my world, THAT my friends, is a pain in the ass.
(Though I was willing to go there for fried calamari, so probably fried baby artichokes are in my future as well.)
This dish is like Spring decided to have a sit-in in your mouth.

Tweet This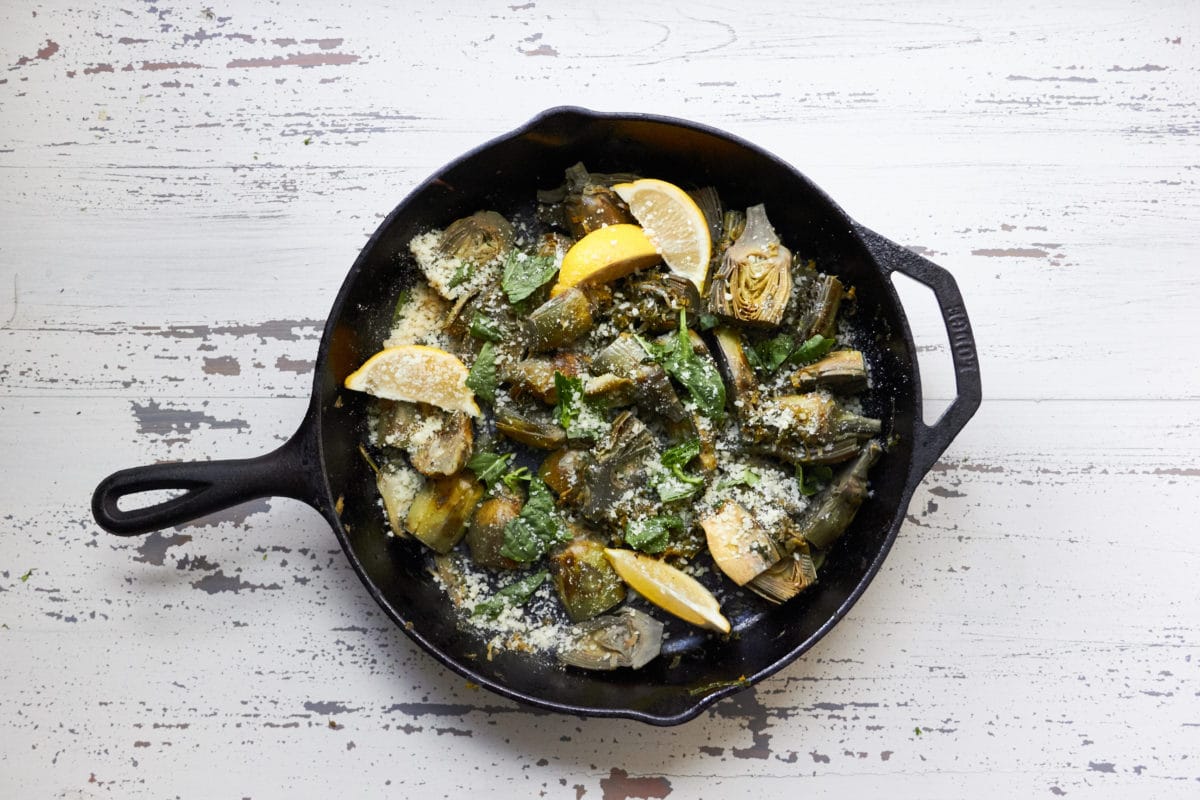 How to Prepare Baby Artichokes
How much of a baby artichoke needs to be trimmed and tossed depends on the size and age of the artichoke. It's painful to throw out too much of the little orbs, but a tough baby artichoke is just no fun to eat.
Start by filling a bowl with cold water and a nice amount of lemon juice, probably two lemons worth for 12-20 baby artichokes, in enough water to cover the artichokes.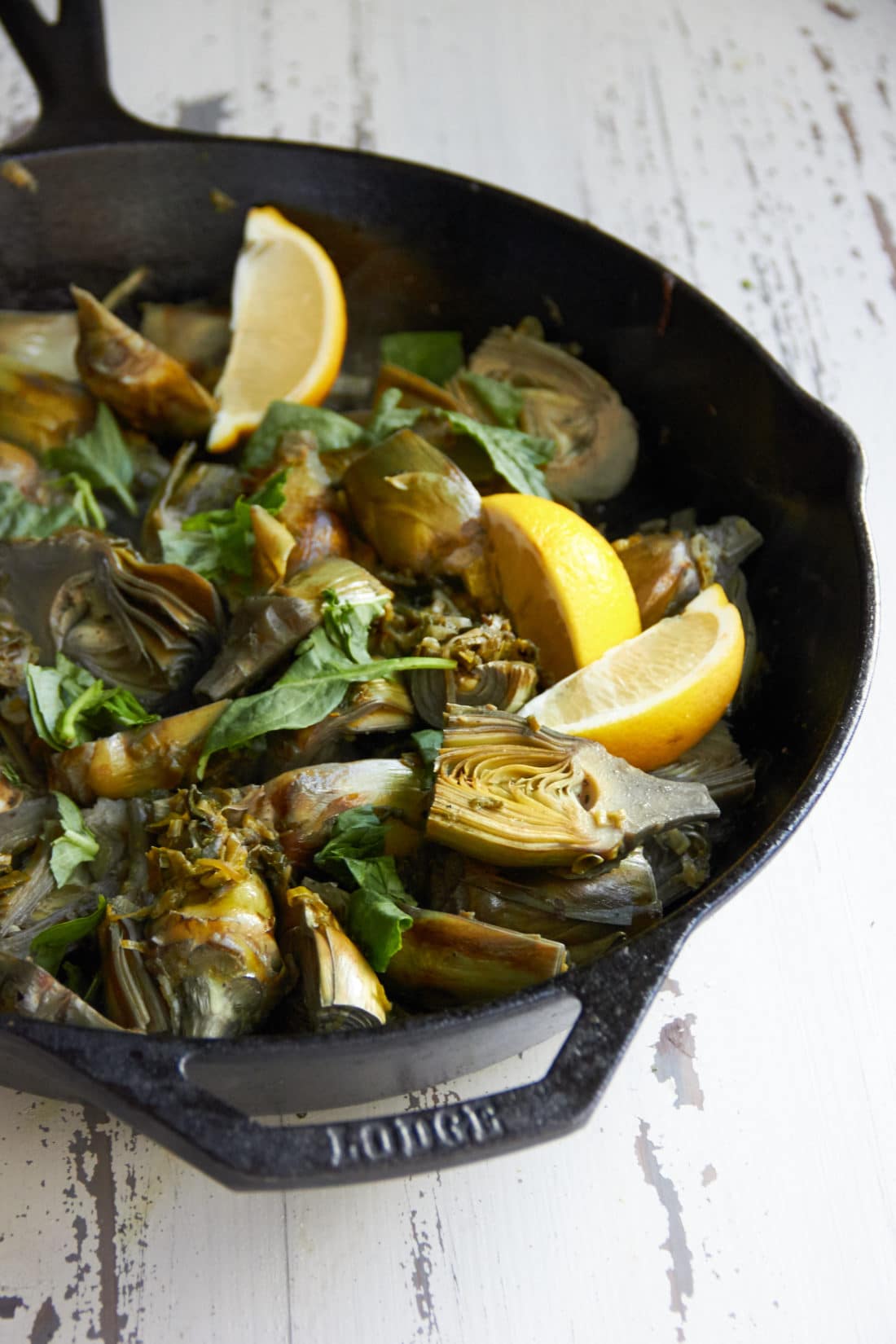 Then pull off any tough outer leaves until you get to the paler more tender leaves beneath – the leaves will of course soften in the cooking process, so it takes a little bit of trial and error to discover which outer leaves will get tender, and which should have hit the cutting room floor. You can always pull off any undesirable leaves after the artichokes have been cooked, while you are getting your artichoke legs.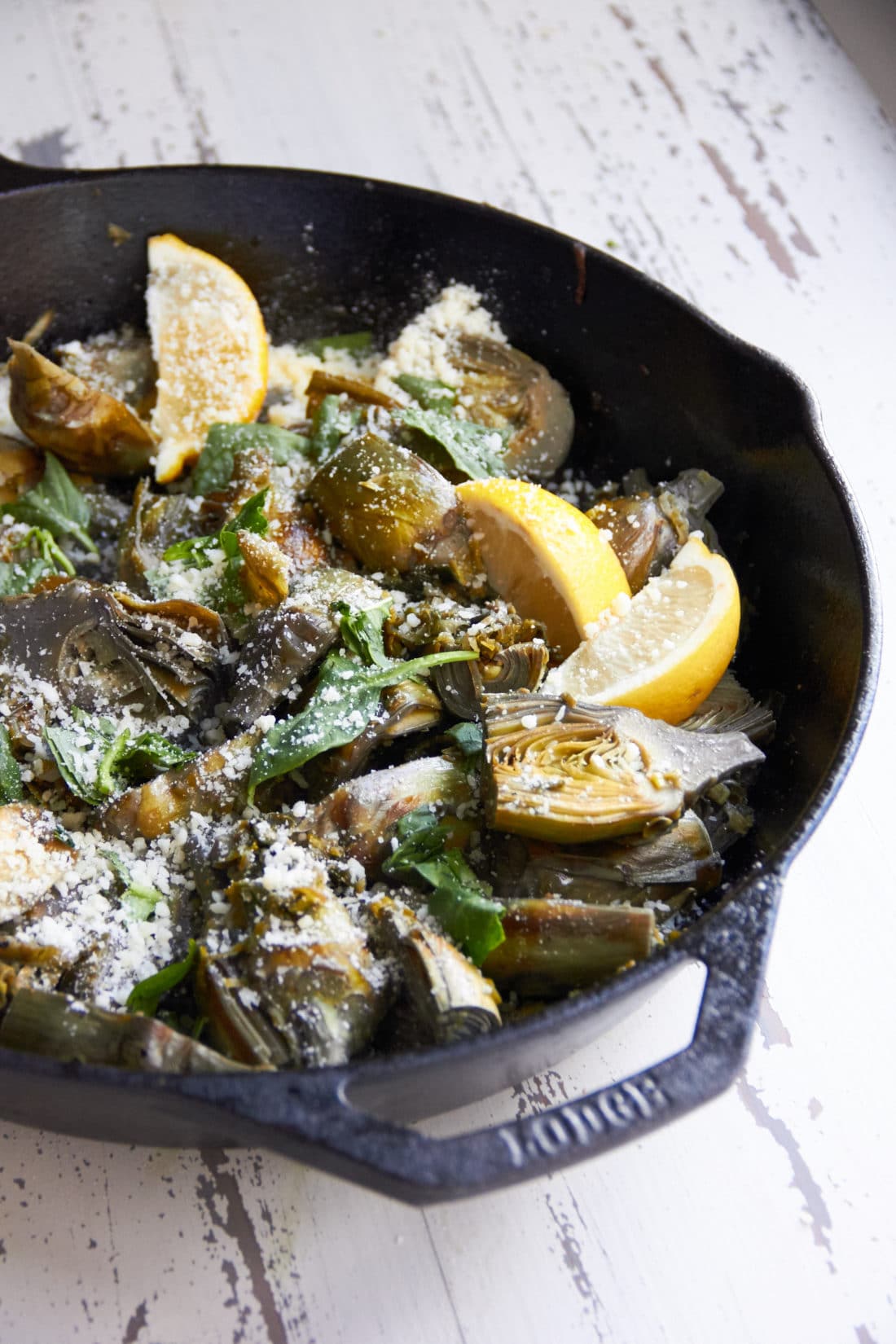 Use a heavy sharp knife to cut off the top 1/4 to 1/2 inch of the artichoke leaves. Use a parting knife to trim off the bottom of the stem, and also to trim off any jagged or tough or undesirable bits, then immediately submerge the artichoke in the lemon water (if the recipe calls for halving the artichokes, you can do that before submerging them, or right before cooking).
You can keep the artichokes in the lemon water in the fridge for a day if you like, which is a nice way to get the pestery part of baby artichokes out of the way.
Like this recipe? Pin it to your favorite board on Pinterest.

Pin This
Braised Baby Artichokes with Leeks and Capers
This dish is like Spring decided to have a sit-in in your mouth.
Ingredients
2

lemons

cut in half

1

dozen baby artichokes

2

tablespoons

olive oil

2

leeks

trimmed, sliced and cleaned (white and light green parts only)

Kosher salt and freshly ground pepper

to taste

1 ½

cups

less-sodium chicken or vegetable broth

1

tablespoon

drained capers

1

tablespoon

minced fresh parsley
Instructions
Fill a medium sized bowl with cold water and squeeze the juice of the lemon into the water. Toss in the squeezed lemon rinds.

Trim the tops and the bottoms off the baby artichokes, pull off any tougher outer leaves, and cut them in half lengthwise, tossing them into the lemon water as you prep them (this will keep them from turning brown).

Heat the oil in a large skillet over medium heat. Sauté the leeks for 4 minutes, until they start to soften, seasoning them with salt and pepper. Add the artichoke hearts, transferring them to the pan with a slotted spoon, and sauté for 1 minute, then add the broth and 1/2 cup of the lemon water, as well as the capers. Cover the pot, bring to a simmer over medium high heat, then lower the heat to medium low, and continue to simmer, covered, until the artichoke hearts are tender, and can be pierced easily with a sharp knife, about 20 minutes. The liquid should be almost gone at this point; if there is still some left, uncover the pot and allow the artichokes to simmer for another few minutes until the liquid is almost evaporated. Taste and add salt and pepper as desired.

Transfer the braised artichokes to a serving dish and sprinkle with the parsley. Serve warm or at room temperature.
Notes
You could also serve these braised baby artichokes on crostini or bruschetta. 
Nutrition
Calories:
129
kcal
,
Carbohydrates:
15
g
,
Protein:
4
g
,
Fat:
8
g
,
Saturated Fat:
1
g
,
Sodium:
119
mg
,
Potassium:
231
mg
,
Fiber:
4
g
,
Sugar:
4
g
,
Vitamin A:
1016
IU
,
Vitamin C:
36
mg
,
Calcium:
51
mg
,
Iron:
2
mg
Nutrition information is automatically calculated, so should only be used as an approximation.
Like this? Leave a comment below!