This post may contain affiliate links. Please read our privacy policy.
Large Batch Paloma Cocktail
Who loves alliteration? I do, I do!
I also love a fruity cocktail but I do not love a sweet cocktail. And I know a lot of you are with me. You can almost feel the headache coming on when you sip a sugary boozy drink, and that's no fun. I want something bracing, almost acerbic, with the fruit providing flavor and maybe tanginess but not sweetness. One clear direction to go in for this goal is citrus. And lots of it.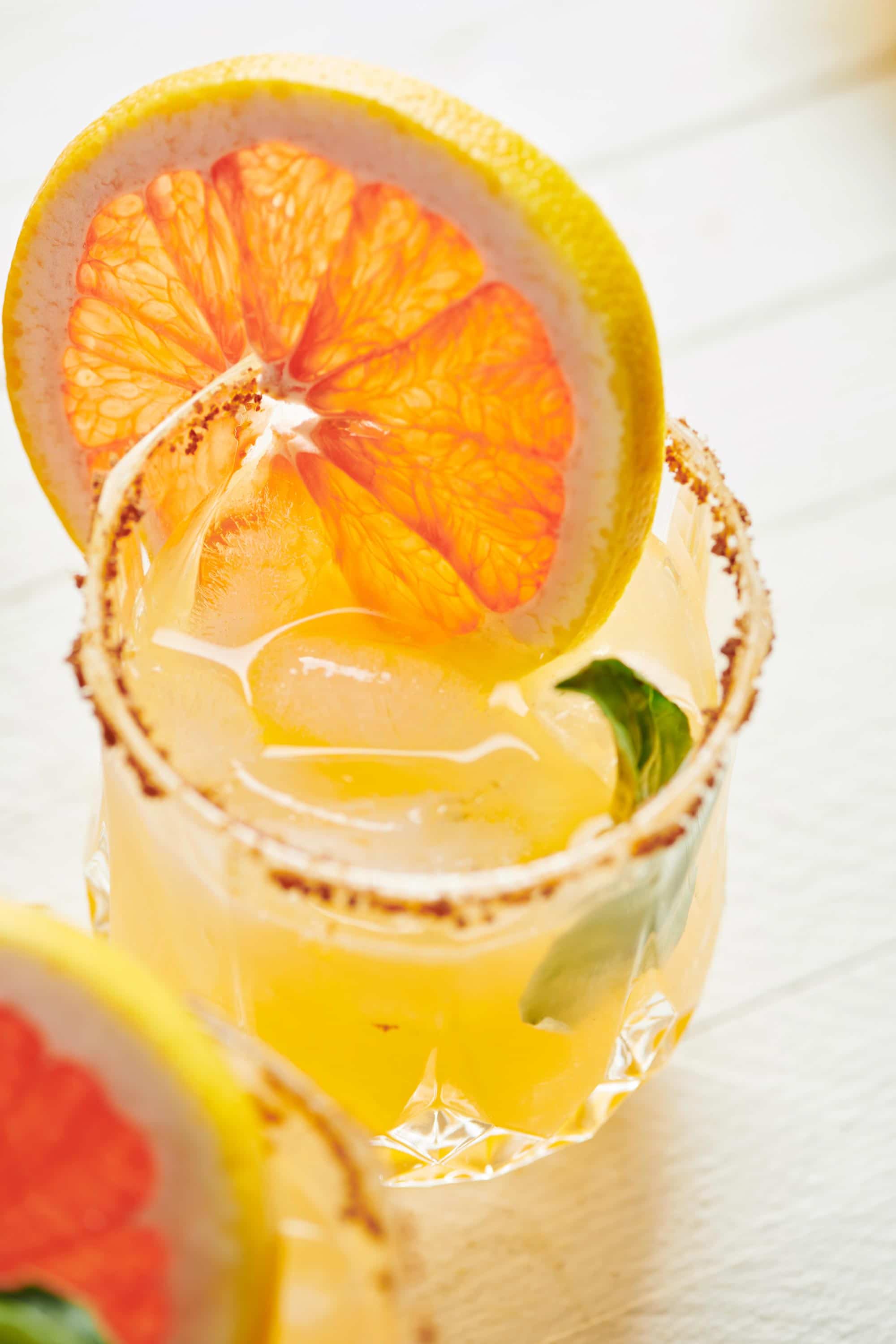 Palomas
Traditionally a Paloma is made with grapefruit juice and tequila, but I got my hands on a bunch of pomelos, so I used those, supplementing with a bit of grapefruit juice. I also played around with a couple of versions—one with vodka and one with tequila. Both were terrific. So is a Paloma with pomelo juice subbed in for the grapefruit juice and vodka subbed in for the tequila still a Paloma? Probably not. It's more like a Greyhound, I guess. But with pomelo juice. And also sparkling water. And simple syrup and lime juice. Whatever. I'm not getting into an argument.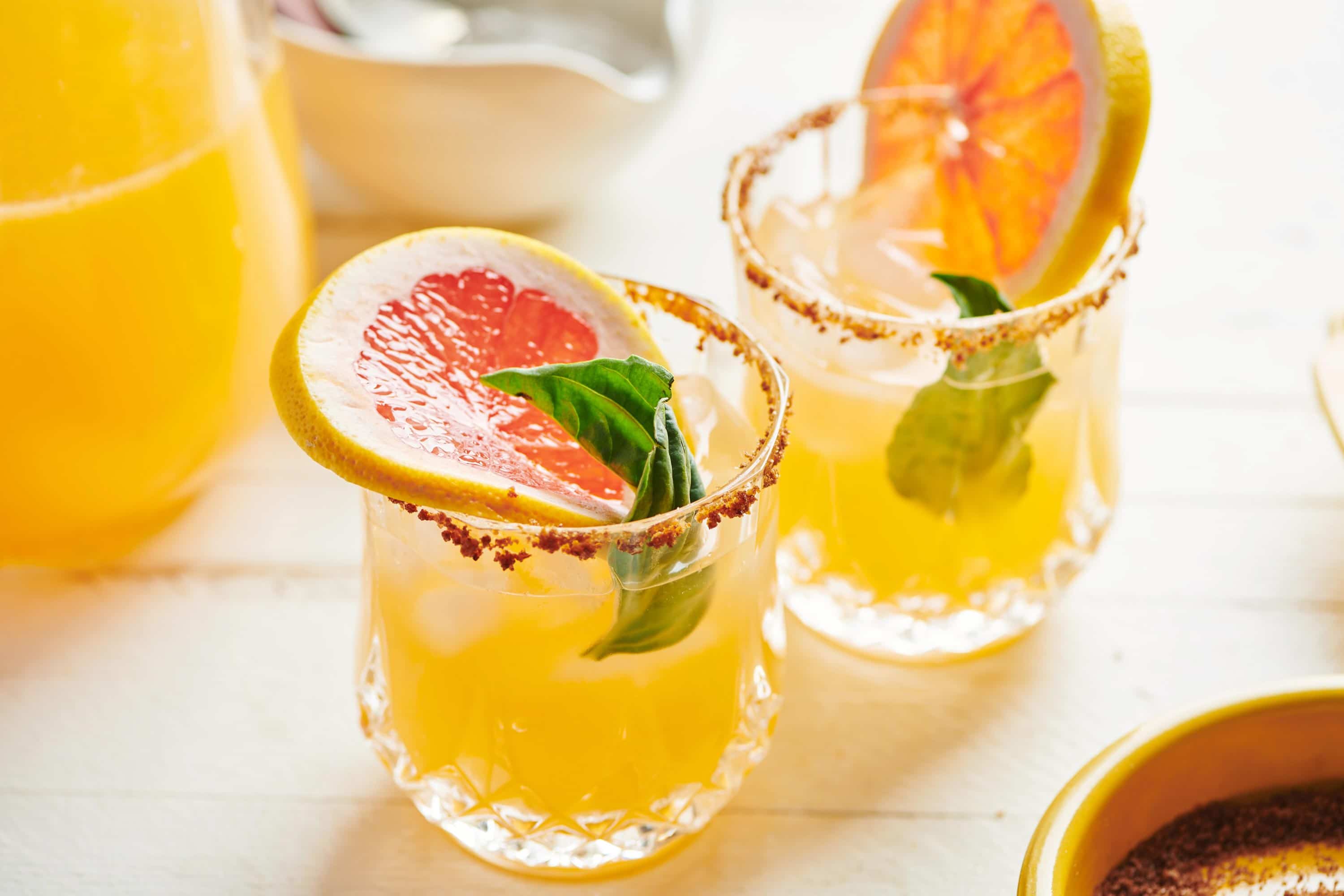 What's a Pomelo?
A pomelo (sometimes spelled pummelo) is a member of the citrus family, larger than a grapefruit, sometimes almost twice as big. The rind is insanely thick, often over an inch thick, and other than a thin outer layer, it's all bitter pith, so unfortunately not all that useful for eating or cooking. The edible part inside is kind of small compared to the overall size of the fruit, and you don't get a whole lot of juice from a pomelo—the size is deceiving because of the thickness of the rind. One pomelo might produce only 1/3 cup of juice, so plan accordingly. The taste, however, is terrific.
What is the Difference between a Pomelo and a Grapefruit?
Pomelos are, in general, sweeter and mellower than most grapefruits, a little bit like an orange and a grapefruit combined. The rind can be a pale green or yellow.
The flavor of grapefruit is sour-sweet, sometimes tipping more into sour territory depending on the type of grapefruit and the crop. Red grapefruits are usually sweeter than yellow. The rinds range from yellow to orangey-pink in color and aren't always that indicative of the color of the fruit inside.  
Sweetening the Drink
You will see that you have the choice of using agave or making a simple syrup with yuzu paste. Yuzu is a type of Japanese citrus, often featured in Ponzu. This sounds obnoxious and I apologize. I did recently take a trip to Japan, returning with a tube of yuzu paste (and a thousand other food things), and that's why I'm offering it as an option. It is actually available in Japanese markets and also online, so it's not impossible to get, but I'm also not assuming it's sitting in your pantry, or that you want to own a tube of the stuff. Honey is also an option.
Salting the Rims of the Glasses
Salt or no salt, that's up to you. It really, really adds something to this drink, though. I bought a Sriracha Salt, which was unbelievable as a compliment to the tart citrusy cocktail, and I promise if you buy a jar for this purpose alone, you won't regret it. You can, of course, use regular coarse salt (don't use table salt – it's too fine and will just be too salty and not have that cool little crunch). And you can also play around with salts like black salt and Himalayan pink salt, which will look SO cool around the rim of the glass.
All you have to do in terms of salting the rim is place some water (or booze if you prefer) in a small plate with a rim, large enough to let the upturned glass fit right in there. Place some salt in another small rimmed plate. Dip the rim of the glass in the liquid, then dip it into the salt, swishing it back and forth so the rim is evenly coated with the salt. That's it. Fill your glass with the Paloma, and sip away. I used rocks glasses and also filled them with ice.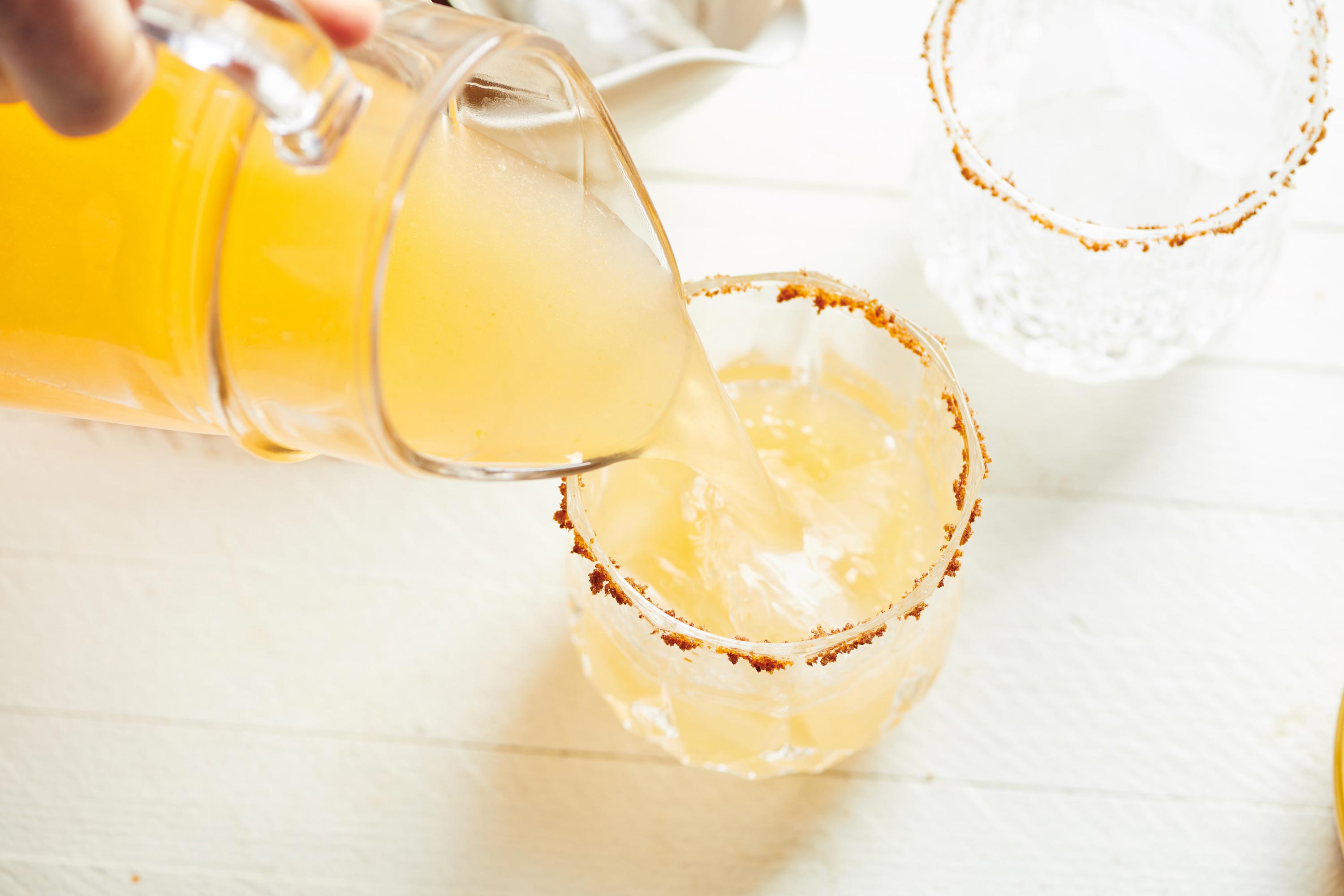 Make Ahead Paloma
One of the reasons to love a pitcher drink is that you can make this drink several hours ahead and keep it in the fridge.  If you want to make it more than a few hours ahead, just leave out the club soda or sparkling water until just before serving and give it a good stir.
If you are making it just before serving, if possible, start with all of the ingredients chilled, even the pitcher. This means when you pour the palomas into the ice-filled glasses, less of the ice will melt, and the drink will not become diluted (unless you want to dilute it, in which case go for that).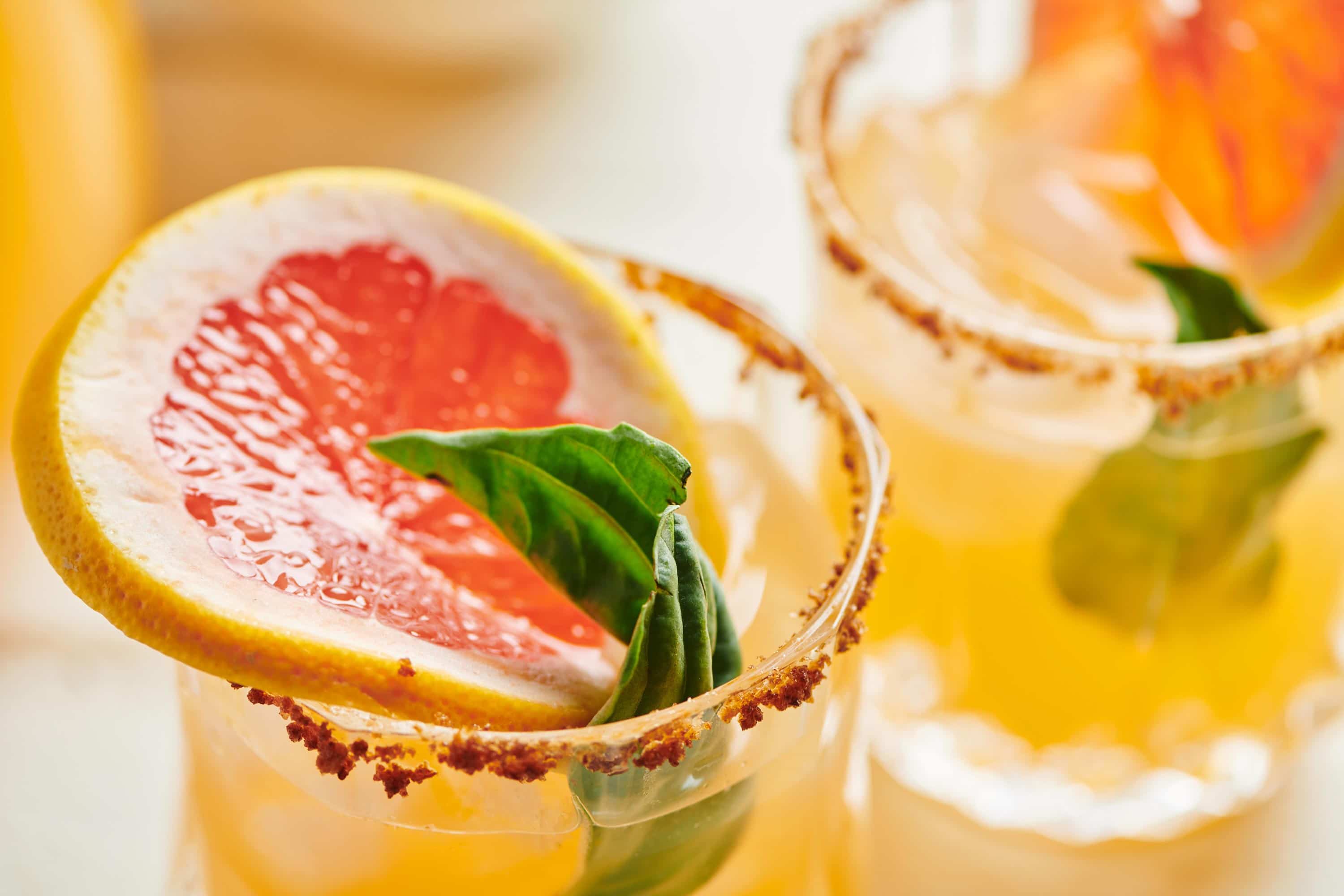 Other Great Drink Recipes for A Crowd:
Like this recipe? Pin it to your favorite board on Pinterest.

Pin This
Pitcher Pomelo Palomas
Citrusy and refreshing and customizable with your choice of alcohol. Not to mention drop dead gorgeous. Perfect for a party.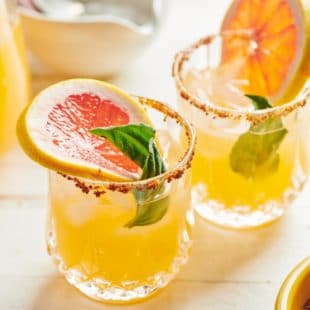 Ingredients
2 ½

cups

pomelo or grapefruit juice

⅓

cup

fresh lime juice

2

tablespoons

yuzu simple syrup

see Note, honey or agave

1 ¼

cups

tequila or vodka

1

cup

club soda or sparkling water

Sriracha salt or Kosher salt

see headnote for other salt ideas

Grapefruit slices or wedges and fresh basil

for garnish
Instructions
In a large pitcher, combine the pomelo or grapefruit juice, lime juice, simple syrup, tequila or vodka, and club soda and stir to combine. Keep in the fridge until ready to serve.

Fill a small plate with a rim with water (make sure the plate is large enough to fit the rim of the inverted glass). Place a couple of tablespoons of coarse salt in another (same thing about the size of the plate). Dip each glass into the water, and then into the salt, making sure it coats the rim fairly evenly. Fill the glasses with ice, and pour the drink into the glasses. Garnish with the citrus wedge or slice and a basil leaf or two.
Notes
For the Yuzu Syrup
Combine ½ cup water with ½ cup sugar in a small sauce pot over medium high heat. Bring to a simmer and stir until the sugar is dissolved. Stir in 1 tablespoon yuzu paste and remove from the heat. Let cool to room temperature, then transfer to a clean glass container and refrigerate for 24 hours.
Nutrition
Calories:
139
kcal
,
Carbohydrates:
13
g
,
Protein:
1
g
,
Fat:
1
g
,
Saturated Fat:
1
g
,
Sodium:
15
mg
,
Potassium:
131
mg
,
Fiber:
1
g
,
Sugar:
13
g
,
Vitamin C:
23
mg
,
Calcium:
10
mg
,
Iron:
1
mg
Nutrition information is automatically calculated, so should only be used as an approximation.
Like this? Leave a comment below!