Now that I've discovered that tenderizing London Broil as well as marinating it results in a seriously juicy steak I am a big fan of this lower priced cut. I've also now learned that not all London Broils are created equal.
What is London Broil?
There is big discussion about how London Broil is not actually a cut of meat, but a method of preparing it. Having said that, it used to refer most commonly to a flank steak, broiled and sliced across the grain.
Now you might find a number of different cuts with this label, from sirloin to bottom round — always cut in a big thick steak– but the one I've had the most success with is a top round steak or roast.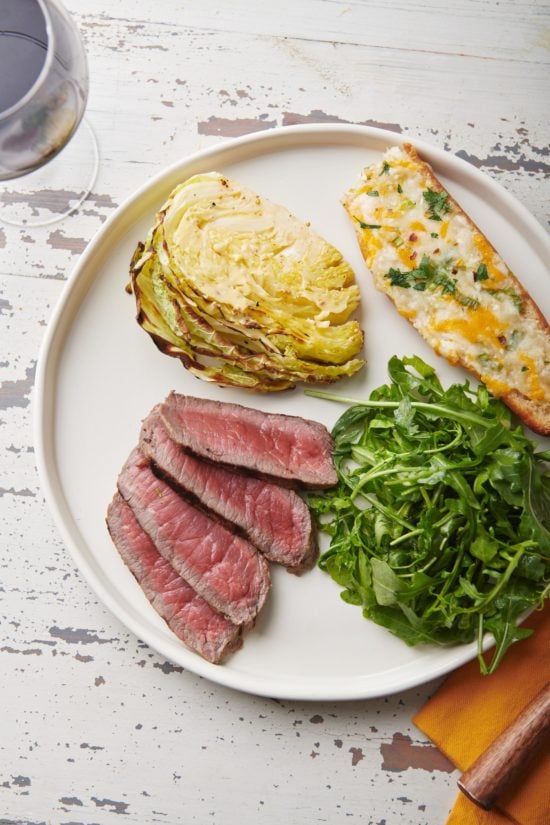 I know this because I got the info and the steak from a butcher….a butcher in the middle of a supermarket, but a guy who knew his meat and could help me understand once and for all how to make London Broil my family's new favorite steak. It was a great reminder that talking with a real live butcher can make all the difference in how you shop for and cook meat.
Dijon mustard mingles with onion, Worcestershire, and thyme in this flavorful marinade for steak.

Tweet This
How to Perfectly Cook London Broil
London Broil really benefits some tenderizing (a light pound with a meat mallet, some quick stabs with a sharp knife, or this funky little tool from a soak in a marinade.
You want to cook London Broil quickly over high heat. You can grill it, broil or sear up in a heavy skillet, preferably a grill pan, for about 4 to 5 minutes per side.
Leave it on the rare side (and for this reason, get a nicely thick steak).
And cut the meat against the grain.
Well-Done London Broil = Don't Bother.
And by the way, leftovers make great steak salads the next day.
What to Serve with Mustard Marinated London Broil:
Other Steak Recipes:
Like this recipe? Pin it to your favorite board on Pinterest.

Pin This
Mustard Marinated London Broil
A hefty dollop of Dijon mustard mingles with onion, Worcestershire sauce, and thyme in this deeply flavorful marinade for steak.
Ingredients
1

2-pound London Broil steak

1 ½-inch thick

¼

cup

finely minced onion

2

tablespoons

minced fresh thyme

2

tablespoons

Dijon mustard

¼

cup

Worcestershire sauce

¼

cup

olive oil

Kosher or coarse salt and freshly ground black pepper

to taste
Directions
Using a sharp knife stab the steaks to create little incisions all over the meat, or use a

bladed meat tenderizer

. Combine the onion, thyme, mustard, Worcestershire sauce, olive oil, and salt and pepper in a large sturdy zipper top bag or large container.   Place the steak in the marinade and turn to coat well.  Cover and refrigerate for at least 4 hours, and up to 12.

Let the steak come to room temperature for at least 30 minutes before cooking.  Preheat the grill or heat a grill pan over high heat.  Grill the steak, covered, until the meat is well browned on the outside but medium rare on the inside, 4 to 5 minutes per side. Let the meat rest for 5 minutes before thinly slicing across the grain.
Nutrition Information
Calories:
292
kcal
|
Carbohydrates:
4
g
|
Protein:
35
g
|
Fat:
14
g
|
Saturated Fat:
3
g
|
Cholesterol:
92
mg
|
Sodium:
266
mg
|
Potassium:
686
mg
|
Fiber:
1
g
|
Sugar:
1
g
|
Vitamin A:
120
IU
|
Vitamin C:
6
mg
|
Calcium:
58
mg
|
Iron:
4
mg
The nutrition values are provided as an estimate. It is not intended as a substitute for the advice of a qualified healthcare professional.
Made this recipe? Post a photo of your delicious creation on Instagram with our hashtag #dinnersolved