This post may contain affiliate links. Please read our privacy policy.
I am always looking for substantial vegetarian dishes that can serve a both a main and a side. My mom and my sister are vegetarians, and so while many of my dinners do include meat of some sort (my boys and husband are decidedly NOT vegetarians) I want them to feel like they aren't just eating side dishes as a meal, but rather getting something with substance to anchor the plate.
This vegetarian dish may not win any beauty pageants but if you are a mushroom lover, than this should scratch that itch perfectly. This could easily be a vegan main course, if you skip the small amount of optional cream. It's a great dish to remember during the holidays when you need a meat free option (also see dozens more vegan recipes for Thanksgiving and the holidays!).
Serve this over rice or polenta or pasta. And this also would be a terrific side alongside a steak or piece of roasted or grilled salmon, or some chicken. Or maybe even heaped on a burger.
A ragout is basically just another name for stew, and usually (like most stews) it has meat involved, but I am using the word loosely here.
Fresh vs. Dried Mushrooms
You can use fresh or dried mushrooms in this recipe. You'll notice that this calls for either 2 pounds of fresh mushrooms, or 6 ounces of dried, and that may seem like a very big difference in weight. It is a very big difference in weight.
Mushrooms are actually made up of mostly water, so when mushrooms are dried they end up being extremely light, and get bulkier and heavier when they are reconstituted in water. You can use any mushrooms you like, from button mushrooms (cheap and accessible) to any type of wild mushrooms, or a mix.
Cooking with Dried Mushrooms
They may look like little unappealing shriveled up nuggets, but dried mushrooms are quite simply mushrooms that are dehydrated, or dried. As they dry, the flavor of dried mushrooms becomes concentrated and intense. When they are rehydrated they have a meatier texture than fresh.
Unlike fresh mushrooms, dried mushrooms do not need to be refrigerated, and they have a longer shelf life and richer flavor, making them an ideal pantry ingredient.
There are many varieties of dried mushrooms, the most common being shiitakes, porcini, morels, and chanterelles. Sometimes dried mushrooms come in a mix. Shiitake and porcini tend to be more affordably priced while morels and chanterelles are pricier. They are available year round.
In general, dried mushrooms are brown and dark tan in color, with some varieties being a dark or light cream color. Often, dried mushrooms have their stem intact. Look for the containers or packages that have nice, intact mushrooms and are not crushed. There should be no signs of moisture or mold as that indicates they were not preserved well.
Dried mushrooms can then be used in almost all ways as fresh mushrooms can but add extra flavor and a more substantial texture. Always start by giving dried mushrooms a good soak in hot water to rehydrate and clean them. Read here for more about cooking with dried mushrooms.
What Kind of Beans to Use in Ragout
Any kind of white beans would be perfect here, Navy, Cannellini, whatever you got. I used small White Northern Beans. You could also make this with chickpeas.
This substantial and satisfying vegetarian dish can serve as a main course, or a side. It can be made without the optional cream for a vegan version.

Tweet This
Herb Choices for Ragout
Instead if the tarragon you could use basil, sage, thyme, parsley, whatever fresh or dried herbs are in your arsenal at the moment. Flexibility is always the name of the game.
What to Serve with Mushroom, Tomato and White Bean Ragout: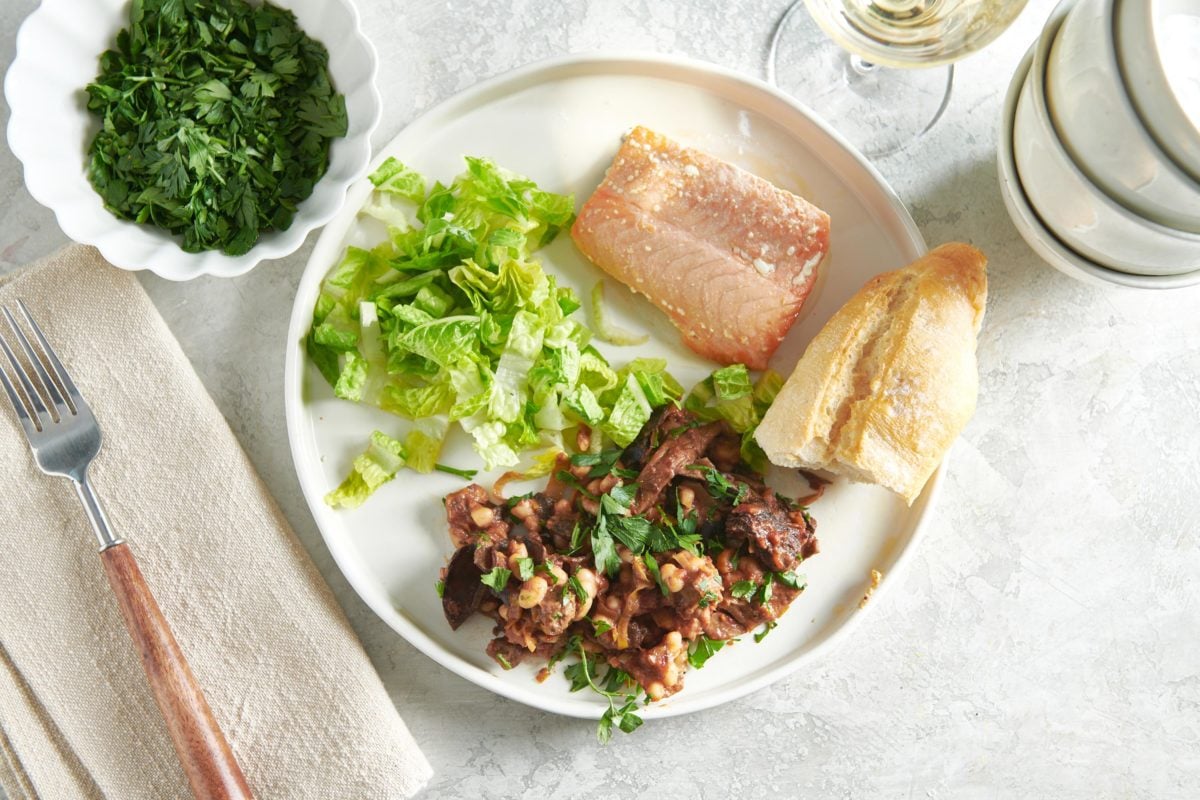 Other Stew and Ragout Recipes:
Like this recipe? Pin it to your favorite board on Pinterest.

Pin This
Mushroom, Tomato and White Bean Ragout
This substantial and satisfying vegetarian dish can serve as a main course, or a side.
Ingredients
2

pounds

mushrooms

, any kind (or 6 ounces dried and reconstituted; see package directions)

2

tablespoons

olive oil

3

leeks

, white and light green parts only, cleaned and sliced

1

14.5-ounce can diced tomatoes

1

14.5-ounce can white beans

, such as cannellini or small White Northern beans

1

tablespoon

tarragon

or 1 teaspoon dried

Kosher salt and freshly ground pepper

2

tablespoons

balsamic vinegar

2

teaspoons

harissa paste

(optional; see Note)

2

tablespoons

heavy cream

, sour cream, or plain Greek yogurt (optional)

Chopped fresh parsley

to garnish
Instructions
If using fresh mushrooms, wash and slice them. If using dried soak them in hot water to cover for 30 minutes, then drain the mushrooms (reserve and strain that lovely soaking liquid for making soups!). Squeeze them to remove excess liquid.

Heat the olive oil in a large skillet over medium high heat. Add the leeks and saute for about 6 minutes, until they are wilted and tender. Add the mushrooms and saute for about 8 minutes. If using fresh mushrooms they will brown slightly, and become tender. If using reconstituted dry mushrooms they won't brown, but they will become tender.

Add the tomatoes, beans, tarragon, and salt and pepper and bring to a simmer, stirring frequently, for 5 minutes. Add the balsamic vinegar and stir to deglaze the pan, meaning pull up any little bits stuck to the bottom of the pan. Stir in the harissa, if using, and cream and allow to heat through for another minute.

Serve hot or warm, sprinkled with fresh parsley.
Nutrition
Calories:
193
kcal
,
Carbohydrates:
20
g
,
Protein:
9
g
,
Fat:
11
g
,
Saturated Fat:
3
g
,
Cholesterol:
10
mg
,
Sodium:
64
mg
,
Potassium:
920
mg
,
Fiber:
4
g
,
Sugar:
9
g
,
Vitamin A:
1314
IU
,
Vitamin C:
14
mg
,
Calcium:
74
mg
,
Iron:
3
mg
Nutrition information is automatically calculated, so should only be used as an approximation.
Like this? Leave a comment below!