This post may contain affiliate links. Please read our privacy policy.
I am medaling in denial as summer comes to a close. The denial is not just about the summer ending – which is definitely how I feel each and every year as Labor Day creeps towards us. It's also because my older son Jack is…. going…. to… wait, what's that over there? A butterfly? So pretty!
My older son is going to college. I said it.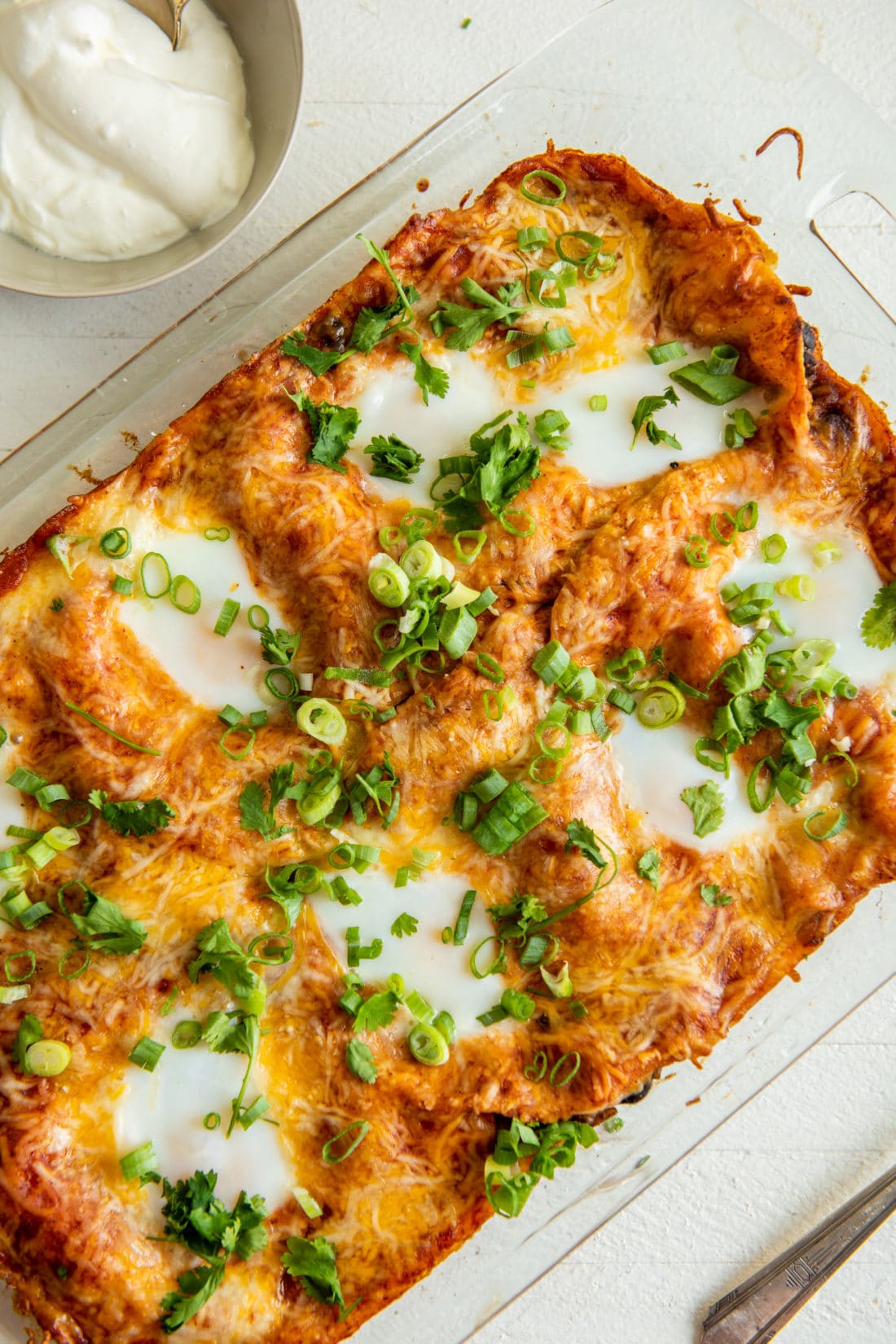 I'm happy for him, and this is of course the way things should unfold as kids grow up and start their independent lives, but right now I'm cooking as fast as I can.
But he's still home for a few more weeks (his quarter-system college starts late), and meanwhile other things are ramping up for rising Sophomore Charlie. Pre-season football started yesterday, the lists of what school supplies each kid needs have yet to be tackled, and I'm sure I have to send some medical forms in to someone.
So, as the less structured days of summer morph into more of a routine, I'm very much wanting to make meals that we can spend a bit of time enjoying together, and take less of my time in the kitchen.
I am very happy to be partnering with Zatarain's and working with their great line of Rice Mixes. Yes, these mixes are a great side on their own that take all of 1 minute to get going, and less than 30 minutes to get to the table. And they include a thoughtful and balanced selection of seasonings that save you adding this, that and the other to the mix – it's all built right in.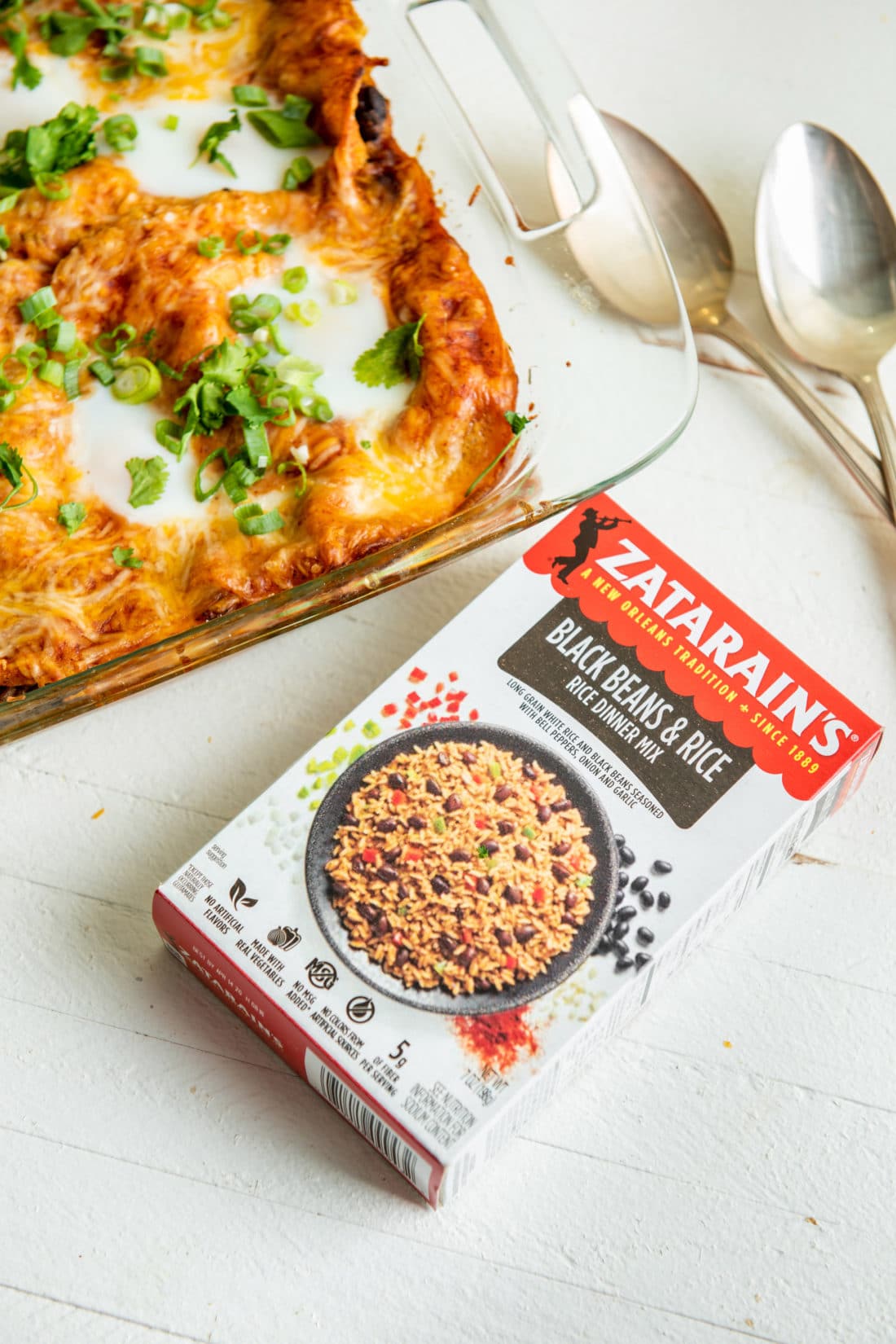 But these mixes are also smart springboards for creating new dishes. And while I will take a good shortcut any day of the week, I will definitely grab a smart hack right about now.
For a great weekend brunch, or a fun breakfast-for-dinner moment, this flavorful casserole checks all the boxes.

Tweet This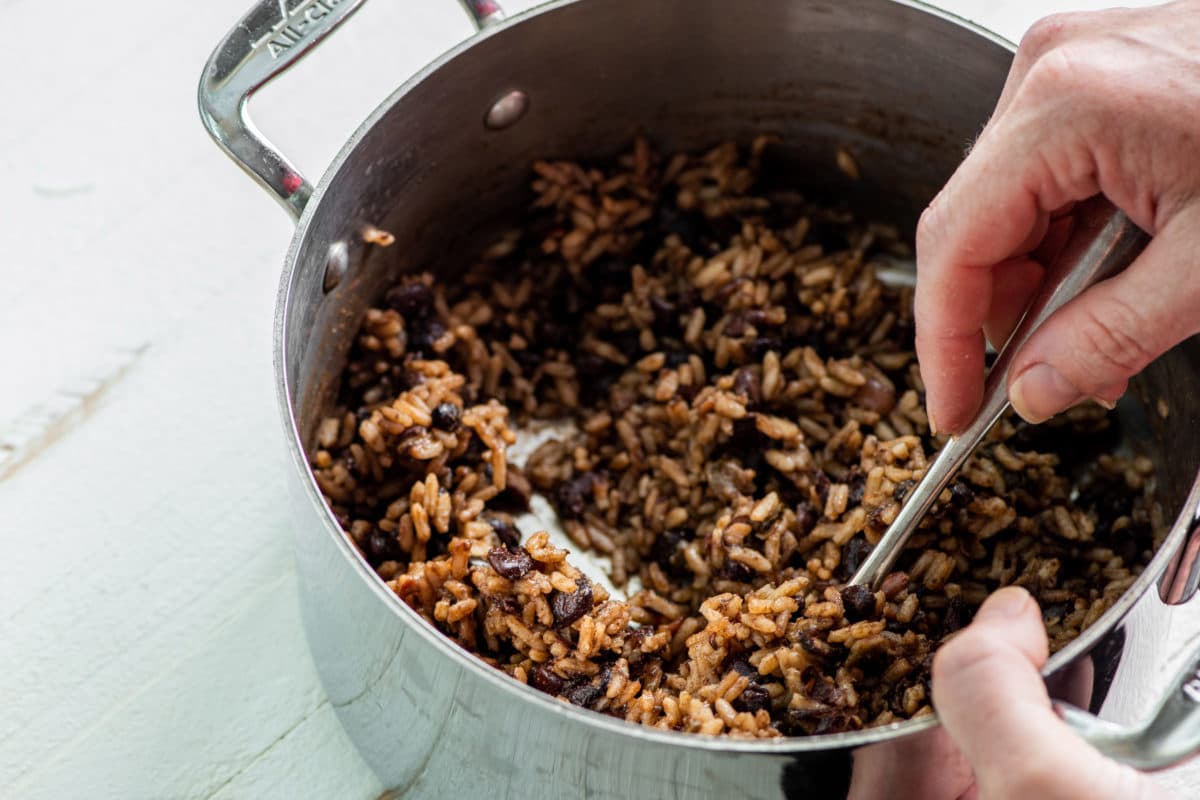 This Huevos Rancheros Breakfast Casserole can come into play in two ways (probably more, but two I am thinking of at this moment). One, when weekdays become more hectic, weekends become more valuable. So starting a weekend with a real family breakfast is a treat, and a way to gather the troops at the table when everyone may be running hither and yon in the evenings.
Two, breakfast for dinner. If you've never tried this, it's definitely a fun way to shake things up at night. And when you look at what is in this casserole, you won't see any reason why it wouldn't make a good dinner. Eggs (huevos), sure pretty breakfast-ey, but then Zatarain's Black Beans and Rice Mix (more protein! Good fiber!), cheese, tortillas, enchilada sauce. I'm just saying, this is one savory and substantial casserole at any time of day.
You could add crumbled cooked sausage to the enchilada sauce, to make this an even heartier casserole. Use chicken, turkey, pork, chorizo, andouille whatever sausage is available and that your family likes. You could also mix in some cooked corn kernels or sautéed bell pepper.
The rancheros sauce for this casserole starts with canned enchilada sauce which is a terrific shortcut convenience product, but you can add a bit more kick and flavor with the addition of a few extra ingredients…. and guess what? If you don't have any of them, just leave them out, and you will still have a super flavorful huevos rancheros casserole.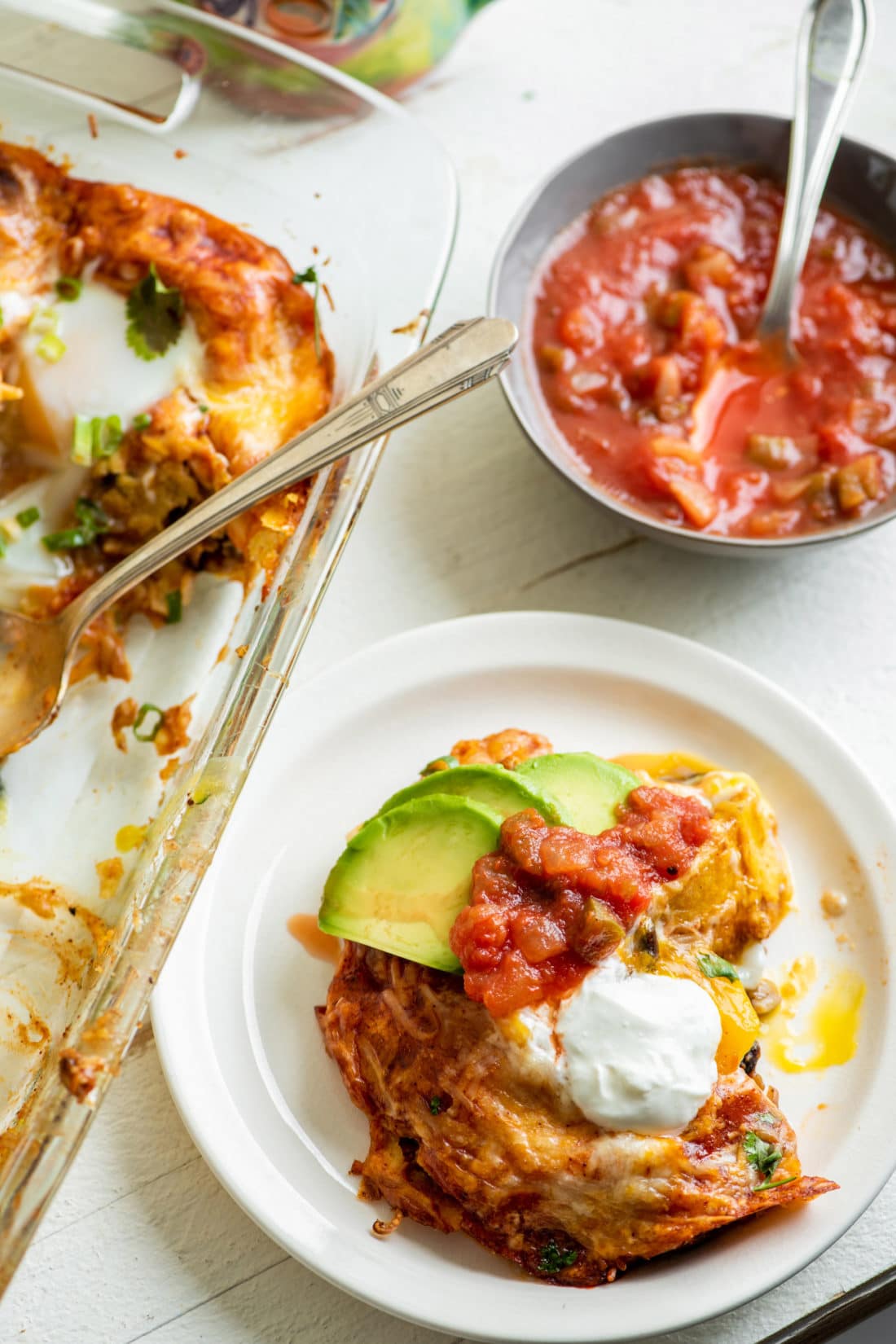 Other Breakfast Recipes:
Like this recipe? Pin it to your favorite board on Pinterest.

Pin This
Huevos Rancheros Breakfast Casserole
For a great weekend brunch, or a fun breakfast-for-dinner moment, this flavorful casserole checks all the boxes.
Ingredients
1

package

Zatarain's Black Beans and Rice Mix

2

tablespoons

unsalted butter

2

tablespoons

vegetable or canola oil

or as needed

12

6-inch corn tortillas

1

15-ounce can enchilada sauce (red or green)

½

teaspoon

ground cumin

½

teaspoon

garlic powder

½

teaspoon

chili powder

8

ounces

(2 cups) shredded cheddar or Mexican blend cheese

8

large eggs

Kosher salt and freshly ground pepper to taste
To Serve
1

cup

salsa

1

avocado

thinly sliced

½

cup

sour cream

4

scallions

trimmed and sliced (white and green parts)

½

cup

cilantro leaves
Instructions
Preheat the oven to 425°F. Grease a 13 x 9 inch baking dish, or spray with nonstick cooking spray. Place the Black Beans and Rice Mix in a medium-sized saucepan with 2 1/2 cups water and the butter. Bring to a simmer over medium high heat, then reduce the heat slightly, cover and keep at a simmer for about 20 to 25 minutes, until the rice is tender, making sure to stir occasionally. Remove from the heat, and let stand for 5 minutes. Remove the lid and fluff with a fork, and set aside.

While the Rice and Beans are cooking, prepare the tortillas. Place paper towels on a work surface. Heat 1 teaspoon of the oil in a skillet over medium high heat, and cook the tortillas one at a time, for about 1 to 2 minutes on each side, or until just crisp and browned in spots (they should also start to smell nice and fragrant).   As they are cooked, transfer them to paper towels. Add more oil, 1 teaspoon at a time as needed until all of the tortillas are cooked.

Combine the enchilada sauce with the cumin, garlic powder, and chili powder. Layer half the tortillas in the bottom of the prepared pan, overlapping them to cover the bottom of the pan. Drizzle over half of the enchilada sauce, then sprinkle over half of the cheese. Spread the Black Beans and Rice Mixture over the cheese. Repeat layering the tortillas, enchilada sauce and cheese.

Use the a spoon and your fingers to create 8 evenly spaced little wells in the top of the casserole, breaking holes through the top layer of tortillas so that the eggs have enough room to sink into their indentations. Use the spoon and your fingers to create these wells, making them about 1 inch deep. Crack the eggs carefully into the wells, and season them with salt and pepper.

Bake until the whites of the eggs are set, but the yolks are still loose and runny, about 25 minutes.

Serve the eggs with the salsa, avocado, sour cream, scallions and cilantro leaves. You can divide everything over the top of the baked casserole, or spoon out individual portions and let everyone top their own plate as they wish.
Notes
Feel free to use red or green enchilada sauce and to alter the spice to your liking.
Nutrition
Calories:
386.16
kcal
,
Carbohydrates:
23.81
g
,
Protein:
15.96
g
,
Fat:
26.36
g
,
Saturated Fat:
13.23
g
,
Cholesterol:
205.61
mg
,
Sodium:
524.99
mg
,
Potassium:
413.88
mg
,
Fiber:
4.93
g
,
Sugar:
2.89
g
,
Vitamin A:
958.49
IU
,
Vitamin C:
4.66
mg
,
Calcium:
275.95
mg
,
Iron:
1.88
mg
Nutrition information is automatically calculated, so should only be used as an approximation.
Like this? Leave a comment below!