What Are Caramelized Onions?
Caramelized onions are just onions that have been sliced (sometimes chopped, usually sliced) and cooked with a bit of butter or oil and salt over low heat for quite a while, until they are very soft and nicely browned – but not too dark. Some cooks add a bit of sugar to help the browning process and enhance the cooked onions' natural sweetness. That's optional, but I find it helpful, and it doesn't take much to bump up the sweetness.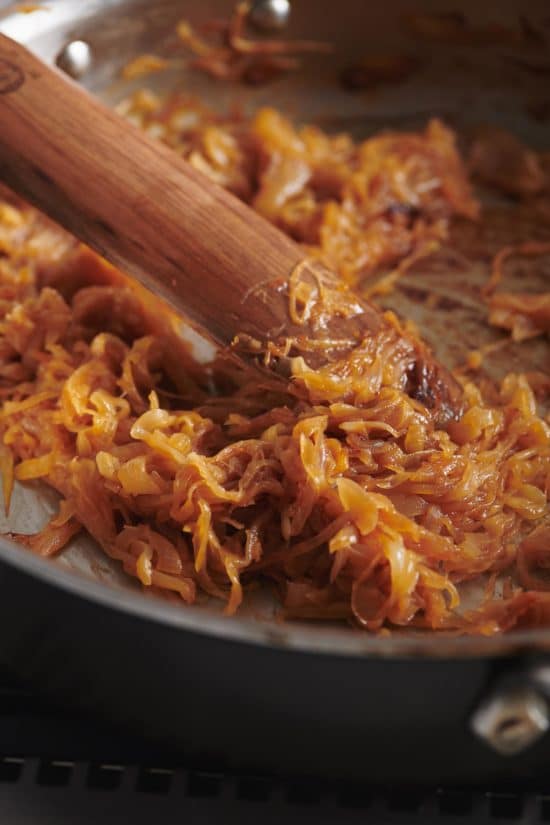 What Kind of Onions Are Best for Caramelizing
You can use any onions for caramelizing, red, yellow, white, sweet varieties all work. If you are using sweet onions, like Vidalia, which are already sweeter than your basic yellow or red onions, then you can skip the optional sugar.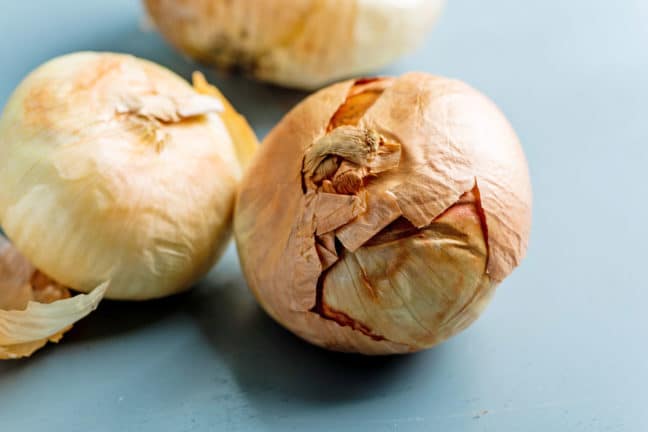 Tips for Caramelizing Onions
Use a large skillet
You want the skillet to have as much surface area as possible so that the onions can have as much contact as possible with the bottom of the pan. This is what makes them brown.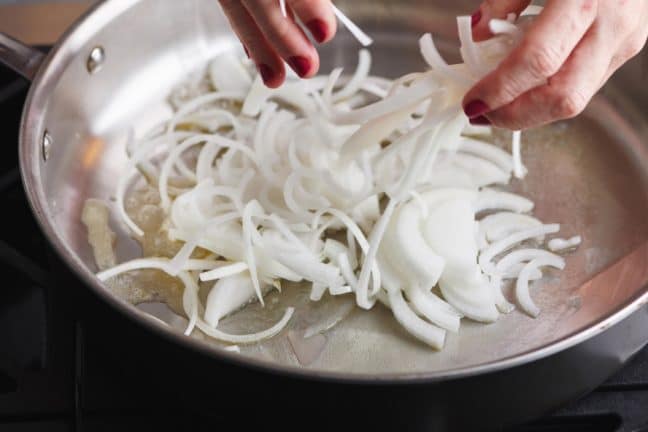 A Bit of Fat
You don't need much fat in the pan to slowly cook onions, but you do need some. I would say about 2 teaspoons of fat per onion is good, and you can use olive oil or butter or a combo of both (which is lovely!). You could also use ghee or another cooking oil.
Keep the heat medium to medium low.
You'll probably want to start with the heat at medium, and then once the onions start to brown, lower the heat so that they continue to cook and soften and get sweeter, but don't get too brown or burn.
Take Your Time
Properly caramelized onions need to cook low and slow to really release their sugars without burning, and get that wonderful silky texture and sweet flavor. You can cook onions over high heat, stirring much more often, and get nicely browned onions, but they won't get that softness and sweetness that a long cooking time over low heat yields.
How to Perfectly Caramelize Onions: A step by step guide to making perfect caramelized onions every time, with photos (and how to use them!).

Tweet This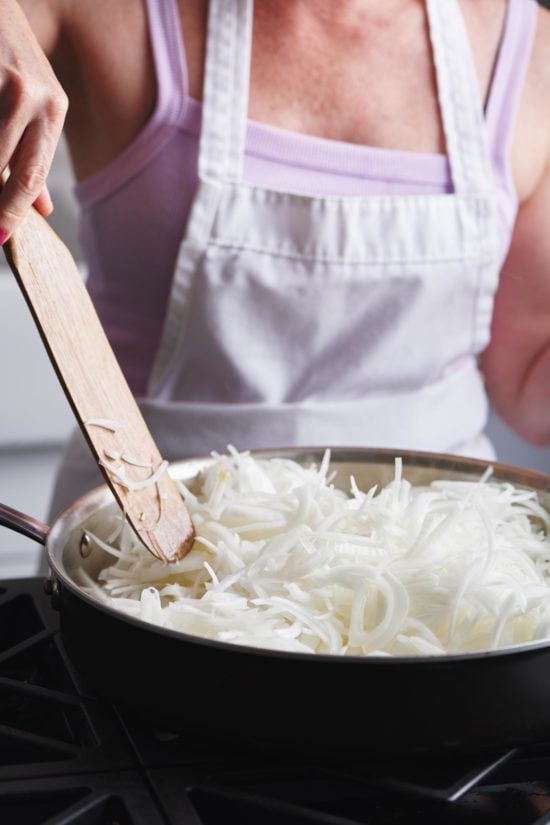 How Long to Cook Caramelized Onions
Caramelized onions take between 30 and 50 minutes to cook, depending on how soft and browned you want them to be. Stir often, but not too often. You want to allow the onions to sit on the bottom of the pan for a bit of time between stirs, so that they have a chance to take on color, but not let them sit without stirring for long enough for them to darken too quickly. At the end you will need to stir more frequently, as the onions reach their final level of brownness.
Here are the onions at 10 Minutes of Cooking Time: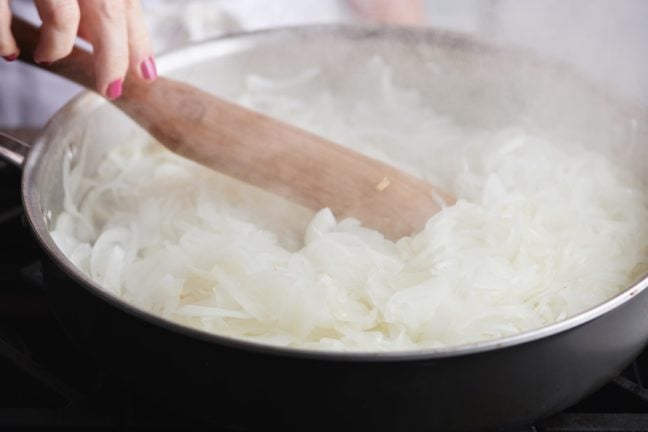 20 minutes: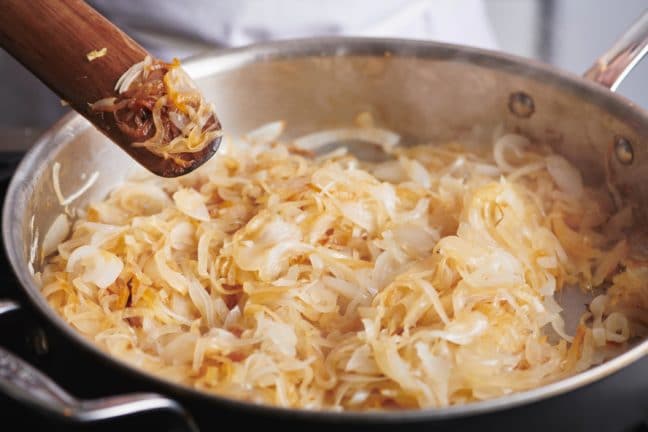 30 minutes: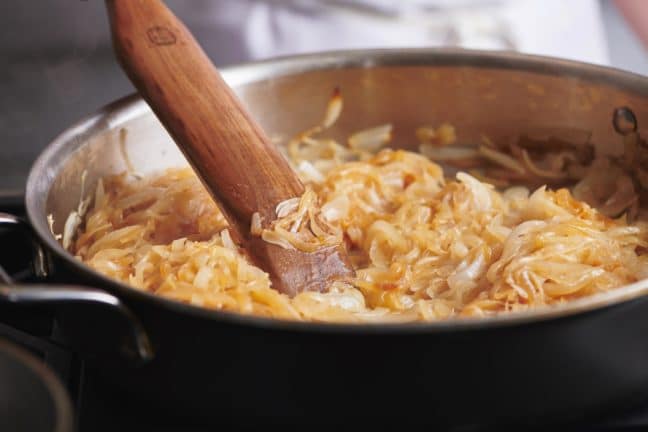 40 minutes: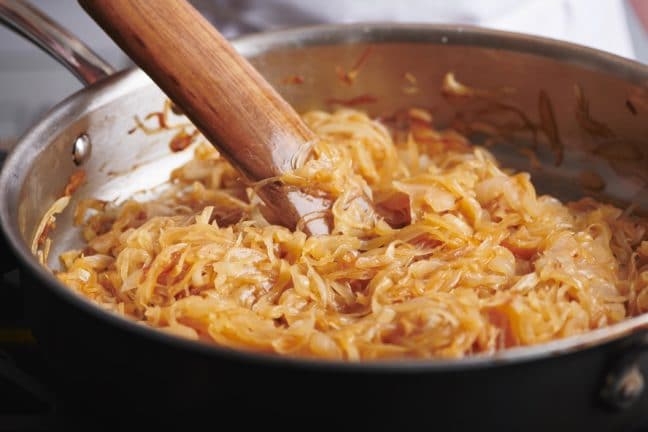 50 Minutes: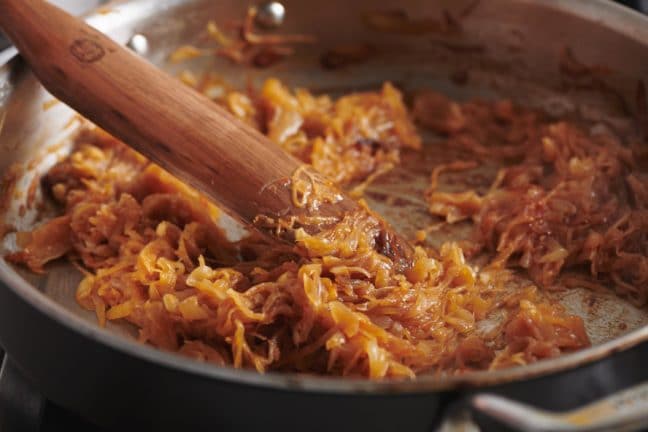 And this is what you are looking for! Soft, fairly collapsed, and pretty evenly browned with no burnt spots. Having said that, you may not want them to get super soft and richly brown, and you can stop cooking them whenever they reach your desired level of doneness.
Add the Sugar Towards the End, If Using
Adding the sugar for the last 15 minutes of cooking or so ensures that it bumps up the natural sweetness of the caramelized onions, but doesn't cause them to burn.
Add Water As Needed
As the onions cook, they may start to stick to the bottom of the pan a bit. As you go, if sticking seems to be an issue, add a couple of tablespoons of water periodically to release the onions from the pan.
How to Use Caramelized Onions
Oh boy, is a little container of caramelized onion in the fridge a wonderful opportunity. Warm them up (pan or microwave is fine) and use them to top burgers, sloppy joes, pulled pork sandwiches, all kinds of heros and sandwiches. Use them in omelets, frittatas, quesadillas, on bruschetta and crostini.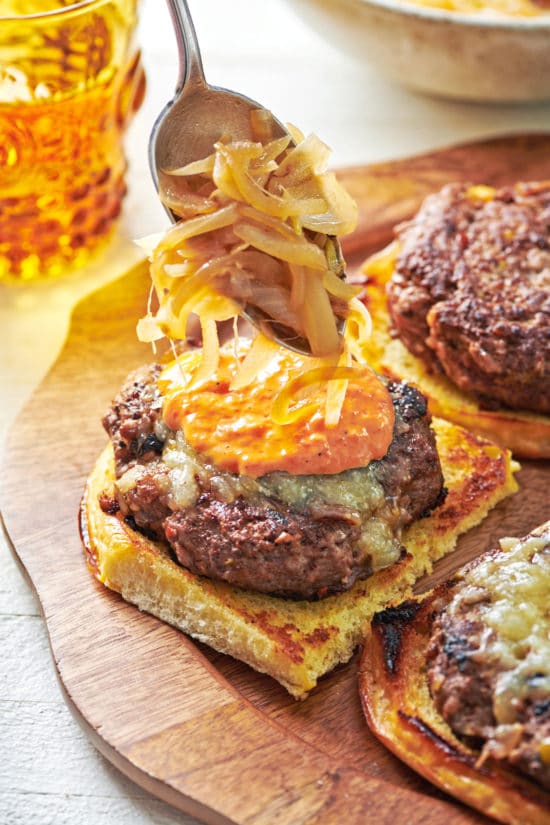 How Long Will Caramelized Onions Last
They will last for up to 5 days in a sealed container in the fridge. Don't let any go to waste—they are precious!  You can also freeze them for several months in an airtight container or freezer proof zipper top bag.  Label them, because once frozen it's not readily obviously what they are!   Defrost in the fridge or at room temperature.
Recipes with Caramelized Onions:
Here are some other recipe ideas that use caramelized onions.
Other Good to Know Kitchen Smarts!
Like this recipe? Pin it to your favorite board on Pinterest.

Pin This
How to Caramelize Onions
A step by step guide to making perfect caramelized onions every time, with photos (and how to use them!).
Ingredients
5

large onions

2

tablespoons

olive oil

butter, or a combination

Kosher salt

to taste

Freshly ground pepper

optional

1

teaspoon

sugar

or more to taste
Directions
Peel and halve the onions. Slice the onions about ¼-inch thick.

Heat the oil or butter or a combination in a very large skillet over medium heat. When the oil is hot, add the onions. Season with salt and pepper, if desired. Cook, stirring occasionally, for about 30 minutes. Make sure the onions aren't burning, but that they are getting darker. If needed, add a couple of tablespoons of water, if the onions seem to be sticking. See above for more tips on how to caramelize onions evenly.

After 30 minutes, sprinkle over the sugar, if using. Either way, continue to stir and cook for another 15 to 20 more minutes, until the onions are as browned and soft as you like them. Taste and adjust the seasonings as needed. Remove from the heat and use.
Nutrition Information
Calories:
60
kcal
|
Carbohydrates:
7
g
|
Protein:
1
g
|
Fat:
4
g
|
Saturated Fat:
1
g
|
Sodium:
3
mg
|
Potassium:
100
mg
|
Fiber:
1
g
|
Sugar:
3
g
|
Vitamin C:
5
mg
|
Calcium:
16
mg
|
Iron:
1
mg
The nutrition values are provided as an estimate. It is not intended as a substitute for the advice of a qualified healthcare professional.
Made this recipe? Post a photo of your delicious creation on Instagram with our hashtag #dinnersolved