Grape Buttermilk Cake
Grapes in a cake....who knew?
Serving Size: 8 to 10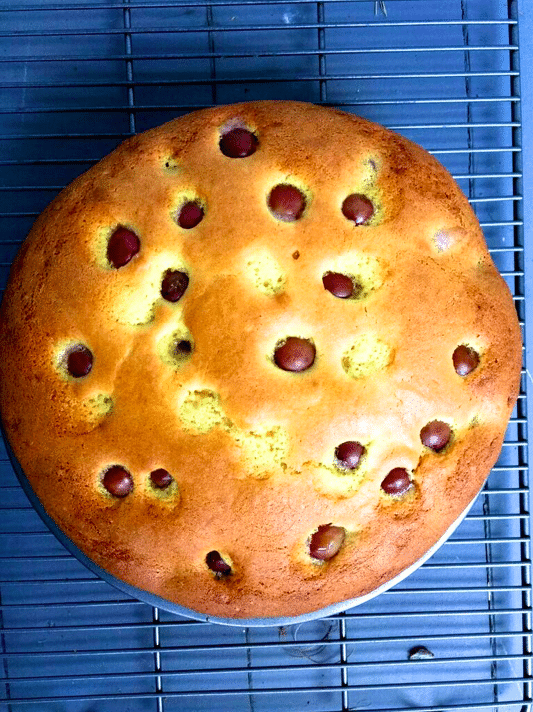 There are certain ingredients that we all tend to buy for one specific recipe, and then….what to do with the leftovers?   It can be a source of frustration or annoyance – no one likes to throw out a half bunch of wilted basil – or you can let those ingredients turn into a course of inspiration. Some ingredients that fall into this category are unusual spices, half a can of tomato paste (but if you don't know how to store your leftover tomato paste, this tip will be a game changer for you), a cup of heavy cream (that's how I got to this great berry fool), and fresh herbs (that's how I got to these chicken breasts and this shrimp and corn salad). One of the ingredients I buy on occasion for a particular dish, and then find myself wondering what to do with, is buttermilk.  It usually comes in a quart sized container, and recipes usually call for a cup of two.
This cake was born of a half container of buttermilk that was nearing its expiration date, and a bunch of grapes that I had over-purchased because they were on crazy sale.
Grape Buttermilk Cake
Print
½ cup (1 stick) unsalted butter, at room temperature, plus more for buttering the pan

1 cup sugar

3 large eggs

2 cups all-purpose flour

1 teaspoon baking soda

½ teaspoon kosher salt

3/4 cup lowfat buttermilk

2½ cups red seedless grapes
1. Preheat oven to 350°F. Butter a 9-inch metal cake pan that is 2-inches deep, and line the bottom with a round of parchment paper. Butter the paper.
2. In a medium bowl, stir together the flour, baking powder and salt.
3. In another medium bowl use an electric mixer to cream together the butter and sugar until light and fluffy, scraping down the sides of the bowl at least once. Beat in the eggs one at a time. On low speed, beat in the flour mixture in three additions, alternating with the buttermilk and scraping down the sides of the bowl on occasion. Stir in 1 ½ cups of the grapes. Pour the batter into the prepared pan.
4. Distribute the rest of the grapes over the batter. Bake until the cake is golden brown on top and springs back when pressed lightly with your finger, about 45 minutes.